Uddevalla, Sweden
MXGP of Sweden
FIM Motocross World Championship
They say a week can be a long time in racing. Just imagine a year. Honda HRC's outgoing World Champion Tim Gajser may have won the 15th Grand Prix of his career (the third this year) in Sweden and has yet to turn 21, but it was the second moto victor and runner-up at Uddevalla, Monster Energy Yamaha's Romain Febvre, who provided the more fascinating narrative.
The 2015 World Champion last trod the MXGP rostrum over a year ago—at the 2016 Swiss Grand Prix—and had not grasped a chequered flag for 14 months, but he resurrected his profile and eased some of the lingering questions that have shrouded his number this season with his performances and flowering confidence at Uddevalla.
Almost every interview and inquisition about his 2017 campaign has involved the question: "What's happened?" and in the post-race press conference Febvre shed some light on a complicated scenario after his return to form (and decent starts in Scandinavia).
"It has been a tough season so far for me," he stated. "We made some changes in the winter that were fine for me in practice, but I had some difficulty when racing. We finally made a good step forward and we can start at the front. The main point is that I'm almost making the holeshot every time now and can ride how I want. We finally got on the podium after finishing fourth three times. I'm really happy and I want to thank the whole team. When things are going badly then you see who has your back and is really pushing you."
Febvre's discomfort was due to set-up issues with the engine character of the YZ450F and the resulting influence on the rest of the chassis/suspension configuration. It took some time for the factory crew to work through the problems and for the Frenchman to get the nigh-on essential starts needed to make results in the premier class of Grand Prix. Unlike the satellite Wilvo Yamaha team (Shaun Simpson back in action in Sweden after recovering from a broken arm and taking 13th overall, while Arnaud Tonus missed the race due to a broken rib sustained last week in Switzerland) that are already running 2018 YZ450F models, Febvre and teammate Jeremy Van Horebeek (sixth in Sweden) are ploughing ahead with the 2017 works specs while off-track development goes on back in Italy with the '18 production bikes.
Febvre had allegedly even dialed the motorcycle back to the settings that worked so effectively for him in 2015 and the first half of 2016. The return to prominence is almost complete and the presence of the double Motocross of Nations winner back at the front of the field could have some interesting connotations for the championship run-in. His spar with Gajser in the second moto in particular was juicy stuff and a throwback to their jousts of early/mid 2016.
Staying out of the mix was Red Bull KTM's Antonio Cairoli. The 31-year-old might sit equal with Stefan Everts on six victories at Uddevalla, but he admitted that the Swedish date normally comes earlier in the calendar and permits more of an "attack" mode. The Sicilian was riding cautiously through the frequent showers and a fine, shifting soil with a hard base that was typically slippery and was mindful of his hefty lead over teammate Jeffrey Herlings. Cairoli was second fiddle to a charging Dutchman in the first moto as Herlings flew back from a bad start to take second. A ninth by Cairoli allowed a slight numerical gain by Herlings. The advantage was wiped out and dumped early in the second moto as Herlings whipped past Gajser for second spot, but then wheeled off the track due to a chain that had been dislodged by a stone.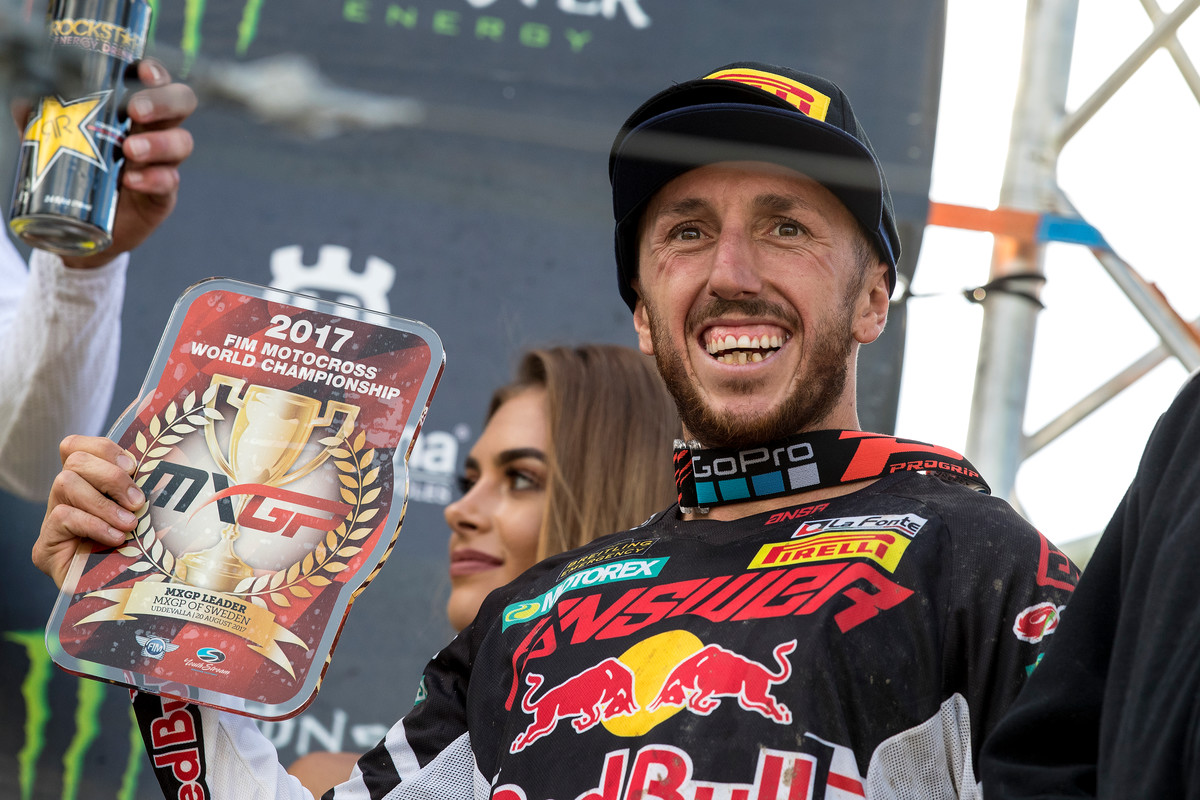 A frustrated Herlings had a flashback to his 2015 MX2 GP at Uddevalla (the last time MXGP came to the venue with the club missing out on the '16 schedule) where a win was followed by a crash and mangled little finger—just one tale in a season of sorry woe. Cairoli took a seventh to go with his earlier ninth and inflated his cushion to 101 points (just 150 remain).
"We are nearly at the end and it is easy to make a mistake and hurt yourself and we really want to bring the title back to KTM," Cairoli said. "I'm really looking forward to that and I don't have any pressure to make it happen quickly. We are experienced and can deal with some average results like today."
The USGP is poised to be a memorable stage. Three of the last four championships have been confirmed on American soil. This means that U.S. fans might not see Cairoli in glorious full flight as on many occasions this season, but could witness a rider celebrating a ninth world championship and something pretty special. Get down to WW Motocross Park in two weeks to experience that.
Away from the KTM dispute, Rockstar Energy IceOne Husqvarna's Gautier Paulin posted a second podium finish in a row. With seven trophies Paulin is the third most successful rider in the series this year and he increased his slight advantage in the standings over Monster Energy Kawasaki's Clement Desalle, who made a 4-4 to partially forget his off-day the previous weekend in Switzerland.
HRC's Evgeny Bobryshev is one of a pack of riders still to confirm employment for 2018 and the Russian had a strong start in the second moto, but was swamped by the aggression and proactivity of Febvre, Gajser, and company. Hopefully Bobryshev and the likes of Max Nagl, Kevin Strijbos, Tommy Searle, Valentin Guillod, and Jordi Tixier will have some news on their futures by the time MXGP gathers again in Florida. Incidentally motocross fans in the region will catch a large contingent of Grand Prix riders riding and acclimatising to the Floridian heat and humidity with several big names planning to head across the Atlantic well in advance of round 17 of 19.
One athlete to watch carefully will be Rockstar Energy Husqvarna's Thomas Covington. Like Febvre, the American did not win the GP in Sweden (that MX2 honor went to Suzuki's Jeremy Seewer with a 2-2), but his sensational charge and last-lap-last-jump pass on the Swiss to ace the second moto by five tenths of a second was inspiring stuff. Covington had dumped chances of a podium after getting jammed behind a fallen rider in the first moto and then also crashing himself. Sixteenth place forced a change and a re-think for the second race and he was the most exciting and attacking rider on the course. A TV replay of his move to snare the checkered flag is easily one of the core shots for any 2017 highlight reel.
"I saw that Jeremy Seewer had a steady pace," he said in the Husqvarna statement. "I decided to go for it and on the jump before the last corner I stayed on the gas and managed to make the pass for the win."
Seewer's consistency paid off for a fifth triumph of 2017—just one win behind Red Bull KTM's Pauls Jonass. The Latvian took third place and trailed the startling holeshot prowess of teammate Jorge Prado—the Spaniard now having taken 14 awards from 32 motos—and thus prevented his MXGP-bound rival from snipping too many points away from his margin at the top. The red plate on the KTM was only reduced in size by four points and the gap is 45. Jonass himself has totaled 14 podium appearances from 16, 12 of which in a row. The MX2 fight will likely go down to the last race in France.
Now to the States. The USGP might have been milestone events for the likes of Gajser and Herlings in the last two years, but it has also been a polemic and much-discussed fixture. Will WW Motocross Park invigorate the Grand Prix after some good, but poorly supported editions at Glen Helen? Who from the AMA series will turnout and possibly convolute the MXGP and MX2 stories? Key questions for what will be a much anticipated and one of the more curious happenings on the international motocross agenda this summer.
MXGP Overall Finish
| | | | | |
| --- | --- | --- | --- | --- |
| OVERALL FINISH | RIDER | RACE 1 POINTS | RACE 2 POINTS | BIKE |
| 1st | Tim Gajser | 25 | 22 | Honda |
| 2nd | Romain Febvre | 15 | 25 | Yamaha |
| 3rd | Gautier Paulin | 20 | 20 | Husqvarna |
| 4th | Clement Desalle | 18 | 18 | Kawasaki |
| 5th | Glenn Coldenhoff | 16 | 16 | KTM |
| 6th | Jeremy Van Horebeek | 14 | 15 | Yamaha |
| 7th | Antonio Cairoli | 12 | 14 | KTM |
| 8th | Evgeny Bobryshev | 13 | 11 | Honda |
| 9th | Arminas Jasikonis | 11 | 12 | Suzuki |
| 10th | Jeffrey Herlings | 22 | 0 | KTM |
| 11th | Max Anstie | 8 | 13 | Husqvarna |
| 12th | Tanel Leok | 7 | 10 | Husqvarna |
| 13th | Shaun Simpson | 10 | 7 | Yamaha |
| 14th | Tommy Searle | 6 | 9 | Kawasaki |
| 15th | Alessandro Lupino | 9 | 0 | Honda |
| 16th | Kevin Strijbos | 0 | 8 | Suzuki |
| 17th | Maximilian Nagl | 0 | 6 | Husqvarna |
| 18th | Filip Bengtsson | 2 | 4 | KTM |
| 19th | Harri Kullas | 0 | 5 | Husqvarna |
| 20th | Ken de Dycker | 5 | 0 | Honda |
MX2 Overall Finish
| | | | | |
| --- | --- | --- | --- | --- |
| OVERALL FINISH | RIDER | RACE 1 POINTS | RACE 2 POINTS | BIKE |
| 1st | Jeremy Seewer | 22 | 22 | Suzuki |
| 2nd | Jorge Prado | 25 | 16 | KTM |
| 3rd | Pauls Jonass | 20 | 20 | KTM |
| 4th | Conrad Mewse | 18 | 13 | Husqvarna |
| 5th | Thomas Covington | 5 | 25 | Husqvarna |
| 6th | Thomas Kjer Olsen | 12 | 18 | Husqvarna |
| 7th | Benoit Paturel | 14 | 14 | Yamaha |
| 8th | Darian Sanayei | 15 | 12 | Kawasaki |
| 9th | Hunter Lawrence | 9 | 15 | Suzuki |
| 10th | Brian Bogers | 16 | 7 | KTM |
| 11th | Calvin Vlaanderen | 11 | 11 | KTM |
| 12th | Michele Cervellin | 10 | 10 | Honda |
| 13th | Ben Watson | 13 | 4 | KTM |
| 14th | Brent Van doninck | 6 | 8 | Yamaha |
| 15th | Davy Pootjes | 3 | 9 | KTM |
| 16th | Anton Gole | 4 | 5 | TM |
| 17th | Alvin Östlund | 7 | 2 | Yamaha |
| 18th | Brian Hsu | 2 | 6 | Husqvarna |
| 19th | Julien Lieber | 8 | 0 | KTM |
| 20th | Ruben Fernandez | 1 | 3 | Kawasaki |
MXGP Championship Standings
| | | |
| --- | --- | --- |
| STANDING | RIDER | POINTS |
| 1st | Antonio Cairoli | 631 |
| 2nd | Jeffrey Herlings | 530 |
| 3rd | Gautier Paulin | 526 |
| 4th | Clement Desalle | 519 |
| 5th | Tim Gajser | 453 |
| 6th | Romain Febvre | 441 |
| 7th | Jeremy Van Horebeek | 377 |
| 8th | Max Nagl | 364 |
| 9th | Glenn Coldenhoff | 352 |
| 10th | Evgeny Bobryshev | 344 |
MX2 Championship Standings
| | | |
| --- | --- | --- |
| STANDING | RIDER | POINTS |
| 1st | Pauls Jonass | 669 |
| 2nd | Jeremy Seewer | 624 |
| 3rd | Benoit Paturel | 504 |
| 4th | Thomas Kjer Olsen | 497 |
| 5th | Julien Lieber | 436 |
| 6th | Thomas Covington | 417 |
| 7th | Jorge Prado | 392 |
| 8th | Brian Bogers | 331 |
| 9th | Hunter Lawrence | 284 |
| 10th | Brent Van doninck | 273 |