Mechanicsville, MD
Budds Creek
Lucas Oil AMA Pro Motocross Championship
Blake Baggett | Rocky Mountain ATV/MC-WPS-KTM | 5-2 for fourth overall in 450MX
Racer X: Your thumb's hurting you and not much you could do in that second moto, but I guess based on how things are going, you'll take the second?
Blake Baggett: Yeah, for sure. I said it before and I hate to reiterate myself, but just surviving. Surgery scheduled for after Indiana [Ironman] and just going to put up the best fight I can and fight everybody to the bitter end and see where we end up.
This one may be the worst one so far with the hills? Millville, but this one might be the worst one?
I would say Millville was probably the worst. The thumb honestly just keeps getting weaker and weaker. Southwick was probably the easiest, but that was right after it happened. It was still nice and swollen, and you're always on the gas there, so you're never loading the thumb. You're kind of always on the gas, so you're always pulling. Then it's been tough since. But no excuses. It's motocross. Everybody's got to race the same track and the same obstacles and we're still fighting.
We saw Velcro last week and your dad was just telling me you got a new system this week to keep the hand on?
Yeah. We did Velcro last week, Velcro this morning and then we finished off the day with spray adhesive. We're searching. It's not good, by all means, but trying to make the best out of it and represent all the sponsors and everybody. Just … we're trying.
The first moto, Eli finishes seventh or something. You get fifth, fourth. Both of you guys take off into moto two and go 1-2 with a nice ride. Was it just starts, this track is tough for passing? Or did you both do you think somehow found something?
I don't think we found anything. We've won races this year. I know people hype on it and it's a sore subject, but the tracks, just the way that they're doing it there's no passing. From the fans and spectators and they can say whatever they want, but when you look at a track where not many people move around, that's why NASCAR repaves the tracks and does whatever they can, so there's passing. It's tough to pass. That's the bottom line. Sometimes it's not tough and you can get passed by three or four guys and you can get them back, but here you just couldn't go anywhere. You were stuck in that main line. It's just tough, so it depends. I think that it works in your favor or against you, but of course it's better when you can pass. I think it's better racing. The fans like it. There's more action other than when it's one inside sloppy groove that's got a big cushion built up and it's just slippery. It is what is it. Not complaining about it, but I have my own private facility that I've invested a lot into and there's ways that you can make it so it's passable. That's the bottom line.
Sometimes I wonder if that's something to do with the rain. Before they got a lot of rain this week, so everything gets pushed off. But I agree, I think they need to look at it a little bit.
Yeah. You get rain, but just there's always an answer for that. Get a bigger tractor. Push all the dirt off. If you push three feet of the top dirt off and then you get a power tiller in there with a big tractor … you've got to get bigger tractors and disc it. Eventually you get to brand new dirt that's untouched. You'll till it up. The biggest thing is the racetrack might be 20 feet wide, but really what you can actually race on … and they say, oh yeah, well you can go outside. But you lose so much time that it's really not a late race line. So, the race line is down to three feet. Honestly, the track's 20 feet wide, but what you can race on and if you went out there and you said, okay, somebody go inside every lap. Now you take every outside and try to set a lap. That same person cannot do it, so evidently the race line is only that three feet.
It's a bit of a frustration for sure not just for you. You're two points up on Marv [Marvin Musquin]. You want to win. You're not happy unless you win, but does that matter, getting second in the points? Is something you'll be like, yes, I want to get?
Yeah, I'd much rather be the first loser. So, I'm going to give it everything I got. Indiana's muddy. Anything can happen. We can still win the thing. I haven't given up on the dreams of being a little kid and winning an outdoor motocross championship on a 450. It's right there. We just need a little bit of luck. I feel like my thumb, I haven't been lucky, but at the same time maybe things will turn around, maybe they won't.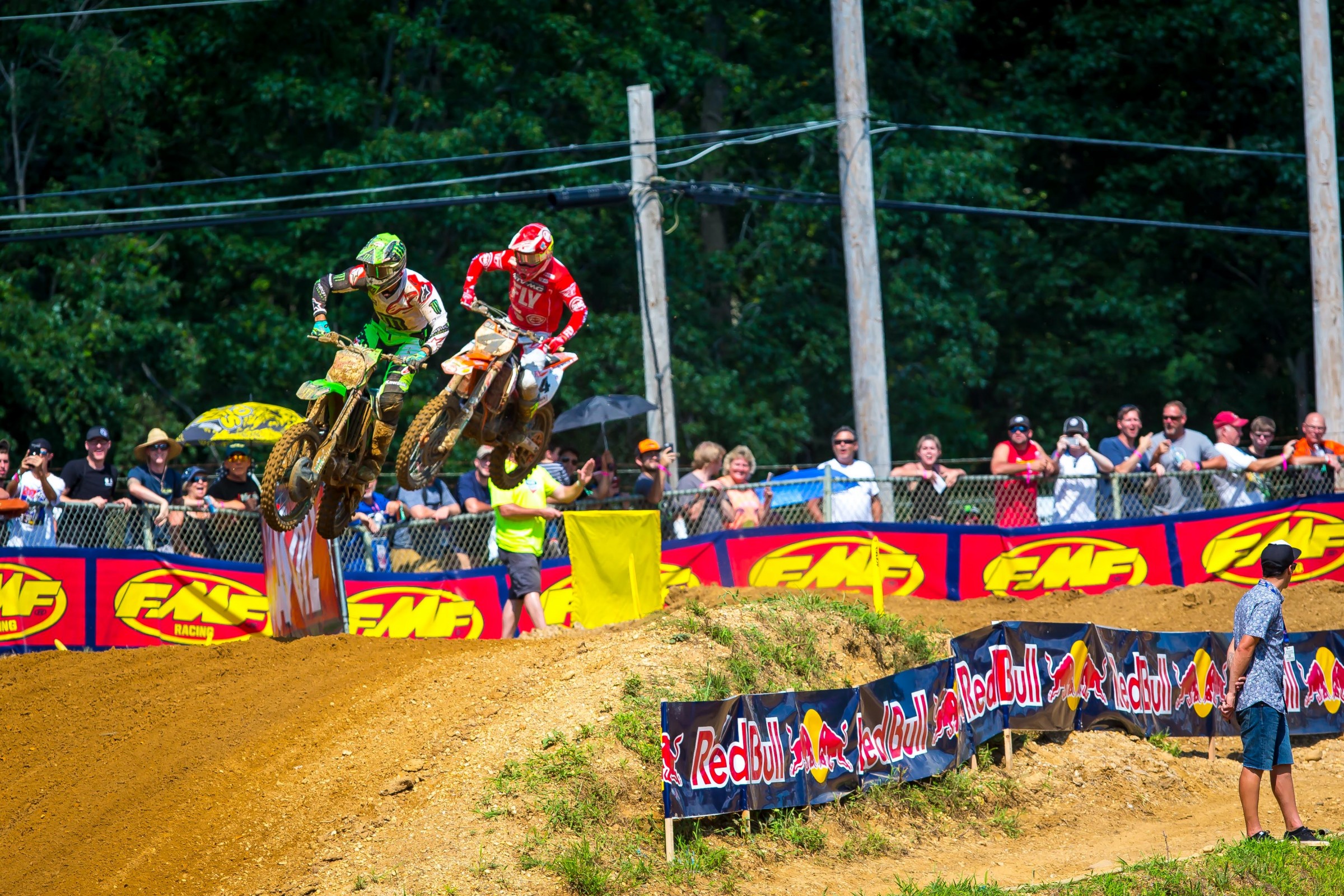 Benny Bloss | Rocky Mountain ATV/MC-WPS-KTM | 11-11 for 11th overall in 450MX
Racer X: Eleventh place overall. Coming from the back kind of both motos, if I remember correctly. What'd you think of your day?
Benny Bloss: My day was all right. I struggled a little bit with some dehydration. Felt a little sick. But I enjoyed the track. It was pretty good, especially from practice to the races. I feel like it shaped up pretty nicely, especially second moto. Finally got a decent start though second moto, inside the top 20, maybe even 11th. So, I was pretty stoked with that. I had a lot of fun. I enjoyed it.
You mentioned this before, but the track, when we saw muddy practice like we saw, does it kind of hurt the passing because everything gets pushed out?
Yeah, definitely. Well, the problem is it wasn't like super, super deep mud this weekend, but in practice it was like concrete with just slop on top a little bit, but it was one line around the whole track. The track workers did a really good job. I think they prepped almost the full track in-between practice and the motos. So it got some different options. It shaped up really good.
So 11th overall. You're happy with your day?
I wouldn't say happy, but we survived. It was pretty hot.
I'm no super trainer, but perhaps you drink some more next time.
Yeah, probably going to be a good idea. I'm probably going to work on that.
Dylan Wright | Honda GDR/Fox Racing | 13-13 for 13th overall in 250MX
Racer X: Dylan Wright, Canadian, repping the flag proud here. Thirteen-thirteen in the MX2/250F class. Nice work. You have to be happy.
Dylan Wright: Yeah, obviously solid day here at Budds Creek. Didn't really know where I was going to fit in coming into today, but I guess now we know. Just a little bit off the pace of getting a top 10, which is just kind of where I want to be. Hopefully next weekend we can make that happen. But solid day. Super stoked with how I rode and kind of my first good round with the big guys. I rode Indiana last year, but had a few crashes and stuff but felt solid today.
What about the extra five minutes? Plus it's so humid here. Did you notice it?
No. We've had such cold weather in Canada all summer. It's just been cold and rainy. Then you get here yesterday and we were unpacking the trailer and I was like, I am dying. I'm not even riding. I don't know how I'm going to do it tomorrow. But I guess all the training and hard work pays off. Like I said, we didn't really have any hot ones this summer in Canada, but coming here shows that my hard work pays off.
First moto there was a big pileup on the start. How close were you to getting involved? You came around eighth or ninth or whatever, so I guess you probably benefited from that?
Yeah. I was like the one guy over from no going down. Some guy got like sent off his bike and he landed right in-between my tires. I kind of hit him and I was like, oh shit. So, I was like the last guy on the inside still standing. I got an awesome start. I ran like seventh for a while and then a couple of those factory guys started picking it up and kind of got by me. Just tried to ride my own race. Now I know where I stand. I belong here. I was pretty stoked.
I would be too. What surprised you? The aggression of the guys? Some of the guys around 13, 12, 10, the aggression of those guys?
Oh, man. Some of those guys coming through the pack, the top guys, they don't screw around. You're in the way? They're moving you. In Canada we tend to be a little nicer I guess, but I guess it shows they don't come here to screw around. It was kind of an eye-opener. A few times guys cross-jumped me and scrubbed. I was like, holy crap, you're going to clean me out. But it's good fun. I like riding aggressive. It fits my riding style a little bit.
What'd you think of the track?
The track was good for the amount of rain we got. It was a little one-lined, but she was rough after the 450's too. Shaped up super good. They had to water. Hats off to those guys. They did a great job today.
Your mechanic is your team owner, Digger, and I've never seen him work this hard. He looks like he's about to pass out. I love it. He's getting life as a mechanic now.
He worked his ass off today. He didn't have to come down and do this, but hats off to him and Cole. They came down to support me. We're a team, so we stick together and that's what kind of we did today. Having him as a mechanic and watching him sweat and then in the mechanics' area he's just going crazy. It was kind of cool to see and have him down kind of in the trenches a little bit with us and kind of see what goes on. Obviously, I had my teammate Cole. He was like a team manager today. He's just running the show, telling our team manager from back home like, "Hey, get to the bike. Go do your work." It was kind of a cool dynamic.
Maybe finally Digger will appreciate his own mechanics.
He appreciates them.
Nice job. Killed it. We'll see you next week.
For sure. Obviously, I can't do it without my whole team back home. Honda Canada, GDR, Fox Racing, Yoshimura, Proven Moto, SSS Suspension. Just everybody helping us out up home. Then obviously my girlfriend. We do a lot of hard work during the week to keep us going and to place where we do. So can't thank her enough, and then Cole and Digger for coming up here and supporting me. And obviously my girlfriend's parents for kind of lending us the rig for the weekend to work out of. Can't thank everybody enough.