Hurricane Mills, TN
Rocky Mountain ATV/MC AMA Amateur National Motocross Championship (Loretta Lynn's)
Amateur National Motocross Championship
"I love the sport. I love everybody. I just love the sport. I love hanging out here."
Illinois' Greg Geistler is a businessman, and a family man, who's built a full-fledged amateur-support race team based on similar ethics and values. When you attend the Rocky Mountain ATV/MC AMA Amateur National Motocross Championship at Loretta Lynn's you'll see factory-support rigs from just about every manufacturer in the industry, all there to help guide their riders to championships. However, just off to the side, parked directly across from the swimming pool, you'll find another team—Rides Unlimited.
Rides Unlimited sort of flies a bit under-the-radar in terms of manufacturer support and big-time contracts (although KTM was able to offer the team some help this year), but upon taking a closer look one will find a well-oiled, structured race team capable of competing with the rest. In many ways, Rides Unlimited is the satellite team of the amateur set—not quite full factory, but much better than racing as a privateer. While the team is only in its third year, Geistler is no stranger to the sport. He brings business experience, racing knowledge, proper connections through friends, colleagues, and sponsors, as well as the down-to-earth ethics he tries to instill in his riders.
WHY
What makes a businessman from Illinois decide to start up an all-out amateur motocross team? The simple answer? His kids, and their racing. The more in-depth answer?
"I kind of felt like there were some teams out there—Team Green, Orange Brigade, Blu Cru, Rock River, all those guys. They're doing a fantastic job. They're direct with the OEMs, but I'm like, man, there's not really an amateur team that's just helping out just anybody," says Geistler. "I'm thinking, there are some kids out there that are maybe not number one right now, but maybe they're number five. Maybe they're number 10. Maybe they're coming in 15th, but with a little bit of structuring and a little bit of involvement in a team, making them feel like they're part of something, that could boost them."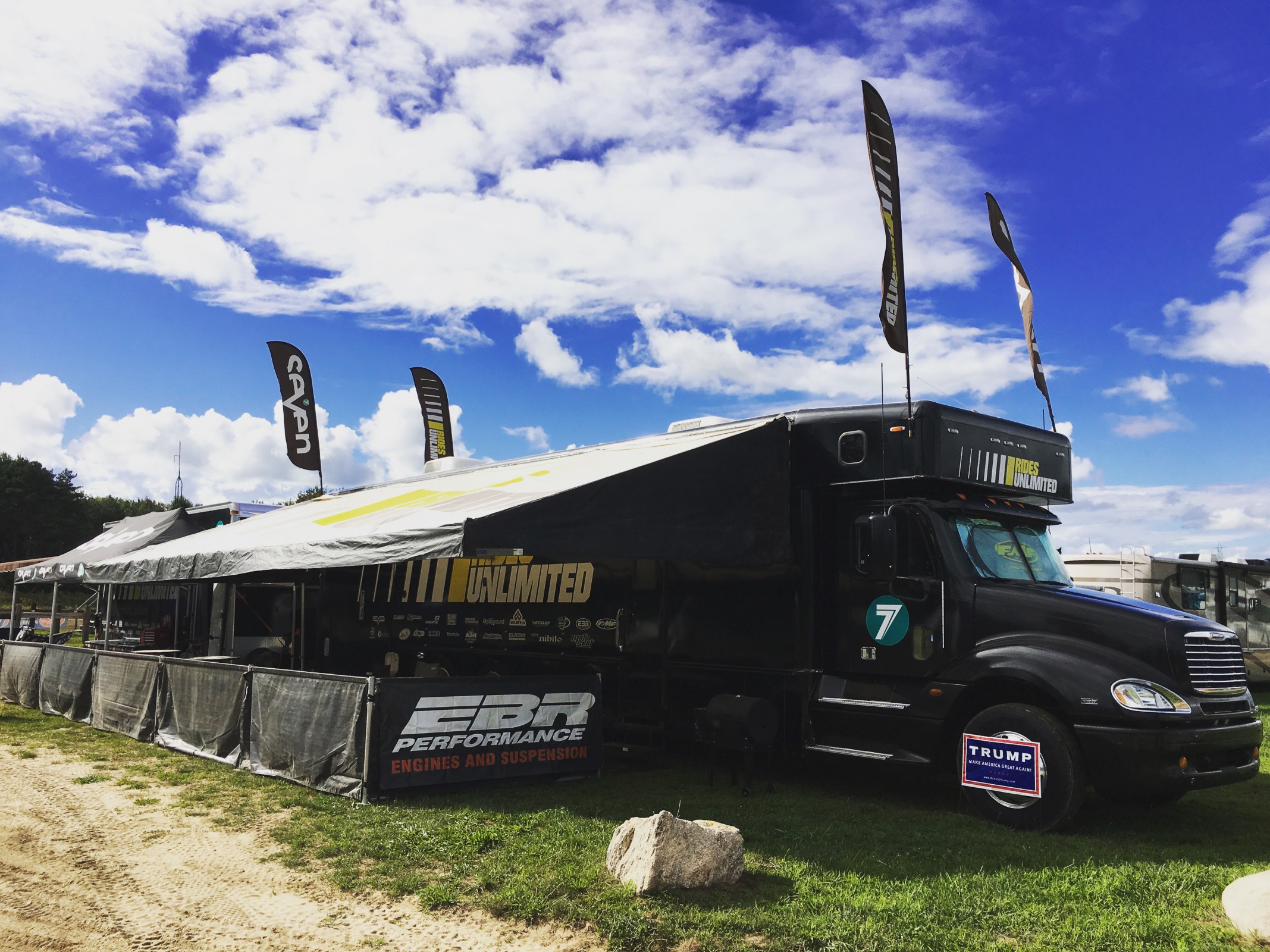 THE TEAM
Rides Unlimited is a five-rider team, consisting of riders on 85cc machines through 250 four-strokes. Ran as a team that emulates the look found in the pro pits of a Lucas Oil Pro Motocross, each rider dons the same gear, goggles, boots, and helmets, and use the same parts and products. The number one thing that you'll notice about this team is the uniformity of everyone—from riders to mechanics everything is prim and proper.
Aside from Greg and his wife, Dave Dukey and Kyle Regal play integral roles on the team as well. "Duke" as head mechanic, and Regal handling mechanical duties as well as helping out with some rider training at Underground MX for team rider Clay Quick.
"Usually it's just two, maybe three guys, then myself, and my wife," says Geistler. "The family members, they kind of pitch in a little bit. Everybody just kind of throws a hand in if needed. Basically, the kids show up. They got new gear, helmets, goggles, boots, it's a good deal. It's like a pro setup in an amateur world."
At the beginning of the year, the team explains which races it will go to, and when you show up the bikes, gear, food, pit, etc. are already set up for you—similar to the factory-support teams parked just feet away.
GOALS
Racing and results go hand in hand, but Giestler lists separate goals—winning, yes, but also representation off the track. That's especially important when grooming kids into responsible young men, and racers.
"I wanted to make it to wherever we went people were impressed with what we were doing, where our sponsors were like, 'Man, we are happy that we're part of that team. They're not only good representatives of our sport on the track, but off the track as well,'" he says. "I guess you could say we want our kids to be role models to the younger kids. When you see a Rides Unlimited kid in the pits [you'll see] that he's respectful to everyone. But obviously we want to be fast. We want to get championships. We want everything that everybody else has. [We] want that number one plate."
FEEDBACK
Three years in, what do the parents and racers think of the team?
"They like the fact that we have a pretty structured environment," Giestler says. "They know when they come to the races that everything is going to be ready to go, that they're going to have a race bike that's ready to go. New tires, fresh grips, bars … the bike is clean. Graphics. They're going to have their gear ready. They're going to have their goggles dialed. They're going to have everything they need to perform on the gate.
"They like the camaraderie at the truck. Everybody gets along," he continues. "We got the Quick family, Jeff Quick and Dana Quick. They're awesome. Missy and Craig Amerine. Tim Kniffing, Kaeden's dad and his girlfriend Brittney. Everybody just comes there and we all just hang out and have a blast."
RACING AT THE RANCH
The team was founded with the intention of granting riders who are in that fifth through 15th range the support and structure needed to elevate to the top. This objective would come into fruition in 2017 as Kansas' Kaeden Amerine, who came to Loretta's having never scored a podium finish, went 2-1-2 in the Mini Sr 2 (12-14) class, winning his and the team's first ever Loretta Lynn's National title.
"I'm happy with Kaeden's performance," Giestler says. "He's one of those kids that just doesn't say much and kind of lets his riding do his talking. He's kind of mild-mannered, very soft-spoken, but when he gets on the track he's a silent killer."
Amerine would go toe-to-toe with Kawasaki Team Green's Nathaniel Thrasher to fight for his championship. It was especially thrilling for the Rides Unlimited crew, because Thrasher rode for the team last year before getting the call from Kawasaki. Either way, Rides Unlimited would come out on top—either by Amerine winning for the team, or Thrasher winning, and thus proving Rides Unlimited offers the structure to get the rider to the next level. Ultimately, Amerine won, a major feather in the cap for the squad.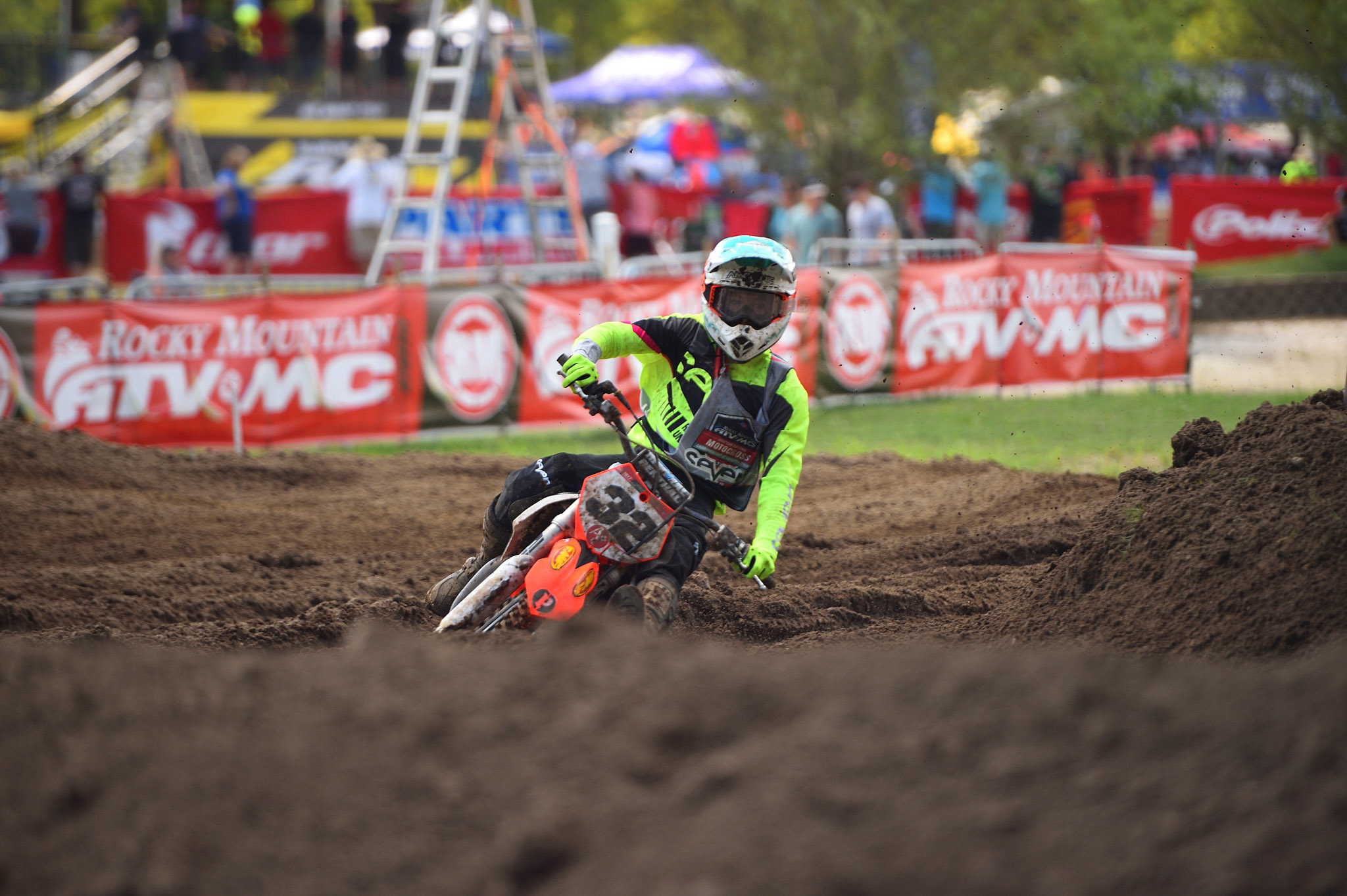 HAPPINESS
The championship was huge, but as the team manager of Rides Unlimited, Giestler is interested just as much in the entire experience, from the beginning of the week to the end, instead of just winning at all costs. What makes him the happiest? Seeing all of the hard work and sacrifices by his riders, his crew, the families, sponsors, and everyone involved come to life.
"I hope that everybody standing around [and supporting us] from KTM, from FMF, from wherever, they're all like, 'We're glad we're with those guys. Not only are they good people and that we're behind [them], but they're also representing up in the front.'"
Having spent a few days observing this team from a quiet distance, and also speaking with not only Greg, but also others around the industry, there is no question in my mind that those who are involved with this team are happy. To witness this team, and a rider who works hard, earn their first Loretta Lynn's National Championship together truly is a special thing—and signifies exactly what racing at Loretta's really is all about.