Budds Creek Motocross Park
Mechanicsville

,

MD
Budds Creek
Lucas Oil AMA Pro Motocross Championship
Soaring Eagle/Jimmy John's Suzuki's Ken Roczen clinched the 2016 Lucas Oil Pro Motocross 450 National Championship on Saturday at the Budds Creek National, matching up to his 2014 450 triumph. However, this title came after a rough 2015 season, which left many questioning his decision to leave the team and trainer he won with in '14.
This title—won in dominant fashion—helped prove Kenny's decisions weren't as bad as they first looked.
But Kenny's never one to worry about what outsiders think. To prove it, he showed up at the post-race press conference shirtless and drinking a Coors Light! Here's what he had to say.
Racer X: Take us through moto one and moto two.
Ken Roczen: First of all, I felt pretty relaxed coming into this weekend, which was a bit hard, because of the championship, to just go here and plan on getting another 1-1 like we had been doing all year. I didn't want to come here thinking about the championship and all that kind of stuff. So my practice went great. I'm usually not that good with one fast lap, but I was. Went into the first start with a lot of confidence and I actually pulled off another holeshot, which was amazing because when you think about where me and my team actually came from during supercross… we struggled really bad. We figured a lot out right now. It's fun getting holeshots. I haven't been having too many. Getting a holeshot made it a lot easier on myself and I raced to another win, which was amazing. I knew the championship wasn't done so I went to the start gate again and told myself I've got to go out there and win. That's what we did. I didn't have the greatest start in the second moto but I made it work and just put in a quick sprint in the beginning and just kept that same gap and rode it home. It's amazing to get the title, but to also stamp it, kind of. In 2014 I barely won because I was beat towards the end of the year. I finally feel like I'm exactly where I wanted to be. And I won the championship going 1-1, and that's all I could ask for.
You won in 2014. How do the two compare.
Any championship is great. Knowing where we came from in 2015 and the struggles that we had, and we turned it all around to the positive. I got to give it up to those guys because it was so much fun this year to race. We've just been communicating so well. We were able to rack up a bunch of wins, not just moto wins, but 1-1 almost every single weekend. That doesn't come without putting in hard work, and it paid off. We have a saying in Germany that the first one is easy but the second championship is actually the hard one, but now we've got it. I usually don't like to say it, because I don't like to be cocky, but we've done it in a dominant performance. There's nothing more I can ask for than what we have accomplished during this year.
This is your first overall win at Budds Creek, correct?
I believe so. I think I won maybe one moto last year but this was my first 1-1. Actually for a lot of the races we went to this year, usually the first half of the season I like all the tracks and most of the second half there are certain tracks that I didn't really connect with, but one of them was Millville and I did really good at Millville. It just shows me that if I have the bike the way I want to, I can go fast on any track.
You said you turned the bike around a lot in supercross and everyone found out you went back to stock triple clamps. I'm sure there was more than that. Was it a whole change to a ton of things?
No, not really, to be honest. I tweaked my triple clamps, obviously went back to the stock ones. I believe we might have changed the gearing a little bit and it was the same for outdoors. Just my engine package together with the gearing, it worked out really well and that's exactly the way I liked it. Obviously the skills pay the bills and in combination with that we obviously accomplished everything we wanted. I couldn't have asked for really a whole lot more. Every team has their little struggles and this and that and I still have mine with certain things, but it was definitely good enough. Definitely a way better bike than last year. That's why I hardly ever complain about anything.
Basically exactly a year ago it was like, "Oh my god, the sky is falling, walls are crashing down, Kenny and this team are falling apart." Just talk about how you guys stuck together when you probably could have all said, "This is not working."
We want to make it work. We had a rough year last year but I never gave up on them, they never gave up on me. I got a new mechanic and he is pretty smart, I would say. He helped out a lot. Combination of that, obviously my personal program has changed a lot too. I've tweaked it big time compared to the previous years. I think just all that, we're a great team. It's fun.
It's also, I think, the first privately owned team to win this title. Private teams have won it in supercross. This is something that a lot of people doubted. "He came from factory KTM, can this team compete with the factories?" Even though you do get factory parts, it was still an accomplishment this team has not even really contended for. And you guys proved that wrong.
Yeah, there are a lot of band-waggoners. Last year people said I should have never switched. It was like, I'm pretty much gone now, I can retire. And then all of a sudden this year it's complete opposite. So I don't really care what some of the couch potatoes say and whatnot, but it's what I think is right for me, not what anybody else is thinking. Obviously it worked, so I'm sure there was a lot people that jumped ship at times.
I saw when I was down by the podium Ricky [Carmichael] came up to you. What were you guys saying?
I like to make people speechless, and I feel like that's what I've done. There wasn't a whole lot to say besides "Good job." Obviously it was great to have him and a few other people from the team here that are not there every weekend, but they came because I could have technically clinched the title at this race, which luckily I've done. But I've always tried to block all that out because I wanted to come here thinking that it's a normal weekend, like every other weekend, as if we had ten more races to go. So to go to the finish line, it was a monkey off the back. I think I asked my girlfriend to hose me down with some Coors Light but there was no Coors Light there! But everybody was so stoked, I don't know if they really had anything to say. It was just the fact that it happened. It just takes a little bit of time to really think about it. With that kind of performance luckily I think everybody should be happy and there's nothing really to say. So I was happy to be able to have Ricky here. We're great friends besides all the team stuff and all the motorcycle racing. He's a great guy and I love talking to him, so it was great to have him here and be at the races.
One thing I've noticed this year is that right from the gate, right from the start, you get going so quickly. It's incredible. What's your secret? In the first couple laps you could be half a lap in the lead.
The big difference is that I eat, and I eat a lot! I'm just not fried. That is how I am. That's how it was before I came to the US. When I was in Europe I had my program dialed and my dad taught me once the gate drops, you race. You don't settle in and wait for a little bit. You go to the front. That's what I've done this year. I'm eating good. I'm eating a lot. I have the perfect fuel and I'm keeping my tank full. I think I have the best communication together with my trainer and my training partner, Blake [Savage]. We have this crazy good relationship and communication especially. When Blake is there, he knows what I'm doing and he rides with me so he actually knows what it feels like to go out there and do two motos or do sprints and this and that. It takes a lot of toll on the body so we adjusted our program based on that. So I finally found what I need to keep my body almost at 100 percent—obviously it's a long season and everybody's going to have their lows. Not every week you're going to feel like a million bucks, but it's about making it work and we've definitely made it work.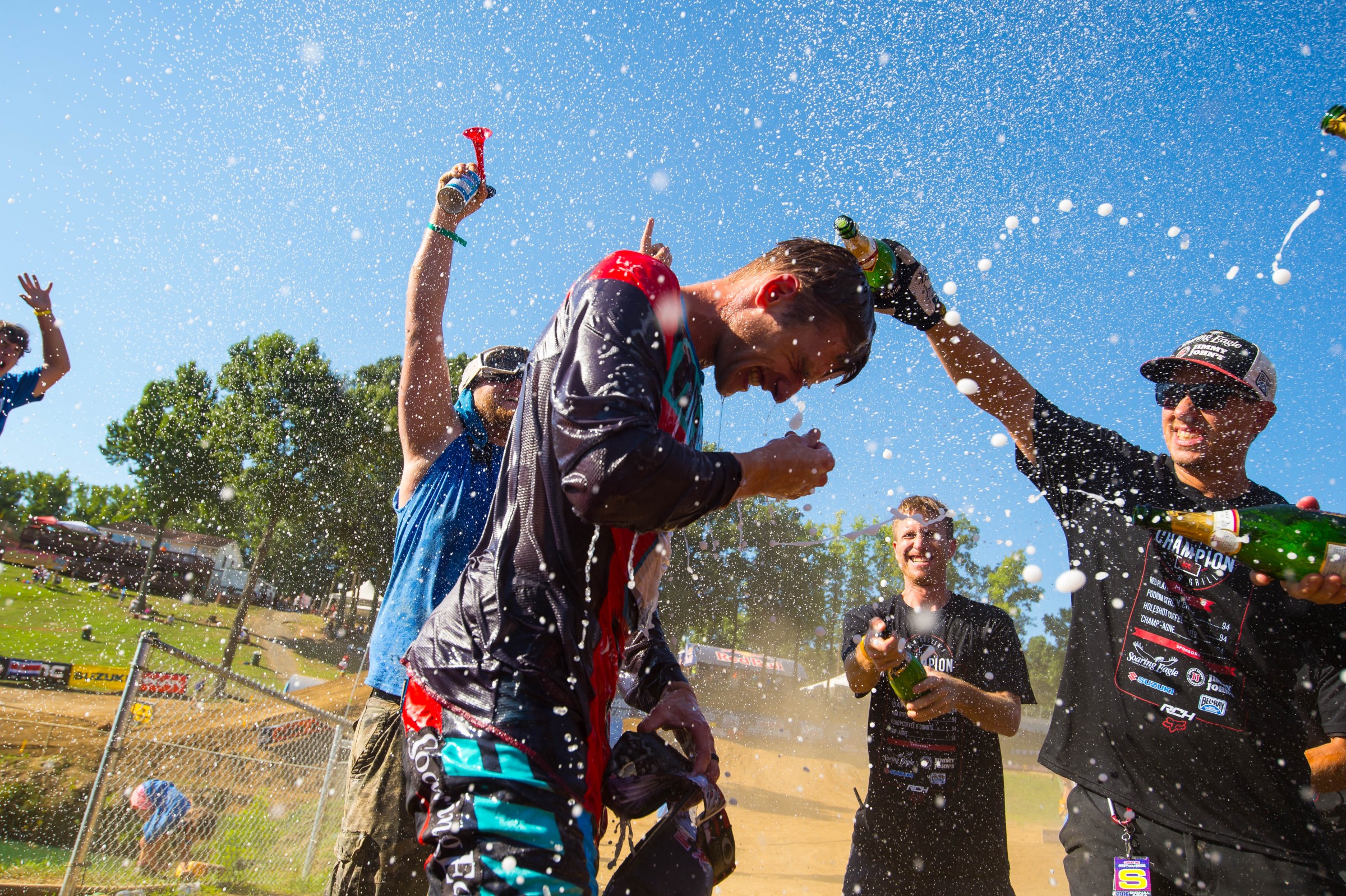 When you left Aldon Baker a while ago, I think a lot of people thought the ship was going to sink. You know the questions: What's he doing? Why is he doing it?
Yeah, that's what a lot of people thought but I could have been wrong. Aldon is a good guy. I like the guy as a person and whatnot, but I personally feel like he's just uneducated and I finally am with a guy that is educated to its max. The communication we have, and especially not being narrow-minded, I think is a very important point. For certain people it works, for others it doesn't. For me it didn't and a lot of people thought it was going to go downhill, but there is not just one way to get to the top. Obviously I'm glad I proved people wrong, but I believe in myself and I believe in the people that I work with. And I'm not hiring a trainer or whoever for no reason—it's because I believe in him and the work that we can do together. That's ultimately what it's about.
Besides the Coors Light, how do you celebrate this?
Well the Coors Light is not a one-time thing just because I won the championship. I have my Coors Light after every weekend! It doesn't hurt me. I'm going to let it sink a little bit. We've got another job to do next weekend, so it's not like the season is over. I want to finish strong. I'm not just going to go there and lollygag, so I want to give another 1-1 performance. So I'm just going to have a couple tonight and enjoy what actually happened today together with my team and all the people that support me. I had a few and I think we're going to have a few more. I'll be back on Monday, back to business, and it's going to feel great.