Biggest News of the Week
The biggest news of the week dropped on Tuesday. No, not Jorge Lorenzo leaving Yamaha after three titles in nine seasons. We'll get to that later. No, not Ryan Dungey's record setting pace. We've discussed that plenty. What I'm referring to was the announcement made by Supercross Live that Rob FREAKING Gronkowski will be attending this weekend's round of Monster Energy Supercross.
I came thisclose to booking a plane ticket that day, just for the chance to party with the Gronk (if you're one of those stick and ball haters, just know that Gronk is known as one of the best players and best partiers in the NFL. He doesn't hide from this). When you think about it, it makes sense. Gronk plays for the New England Patriots (the race is in Foxborough, in case that didn't give it away) and is a Monster Energy athlete. Plus, Gronk is a dude that just likes to have fun, which is why supercross is the perfect place to spend Saturday night. The best part: It's a day race, which means there is plenty time left to party after the race.
Ski Treadmill
Former Canadian resident Steve Matthes loves to talk about how great his homeland is. How they have the best hockey teams (except they don't). How fries and poutine is the greatest combination since peanut butter and jelly (except it isn't'). How the Canadian Football League—okay, okay, even Matthes can't defend the CFL. Last week, I found maybe the greatest Canadian thing—well, ever!!! Ski treadmill! This is amazing. Yes, they have them in the U.S., but this has to be a Canadian invention, right?
This Mountain Bike Onboard is Sick
I don't know much about this video, or mountain biking for that matter—other than it's the favorite hobby of 99.99999 percent of riders. But, dang, look at this dude just shredding this mountain. Or maybe this is how all mountain biking is done? I wouldn't know.
Cairo, GA
The small town of Cairo, Georgia, houses two of the largest moto training facilities in the world in the Millsaps Training Facility and the Georgia Practice Facility. In March, we spent three days finding the untold story on how these facilities came to be, how they nearly got shutdown by the town, and ultimately how much impact they have on the Cairo economy. Check out the first two episodes of the three-part series we're running.
Also, the June 2016 issue of Racer X Illustrated, on sale now, has a more detailed look at how the town nearly pushed the tracks away completely—you can find all the data behind the tracks, the town, and the economic study that proved the sport's worth.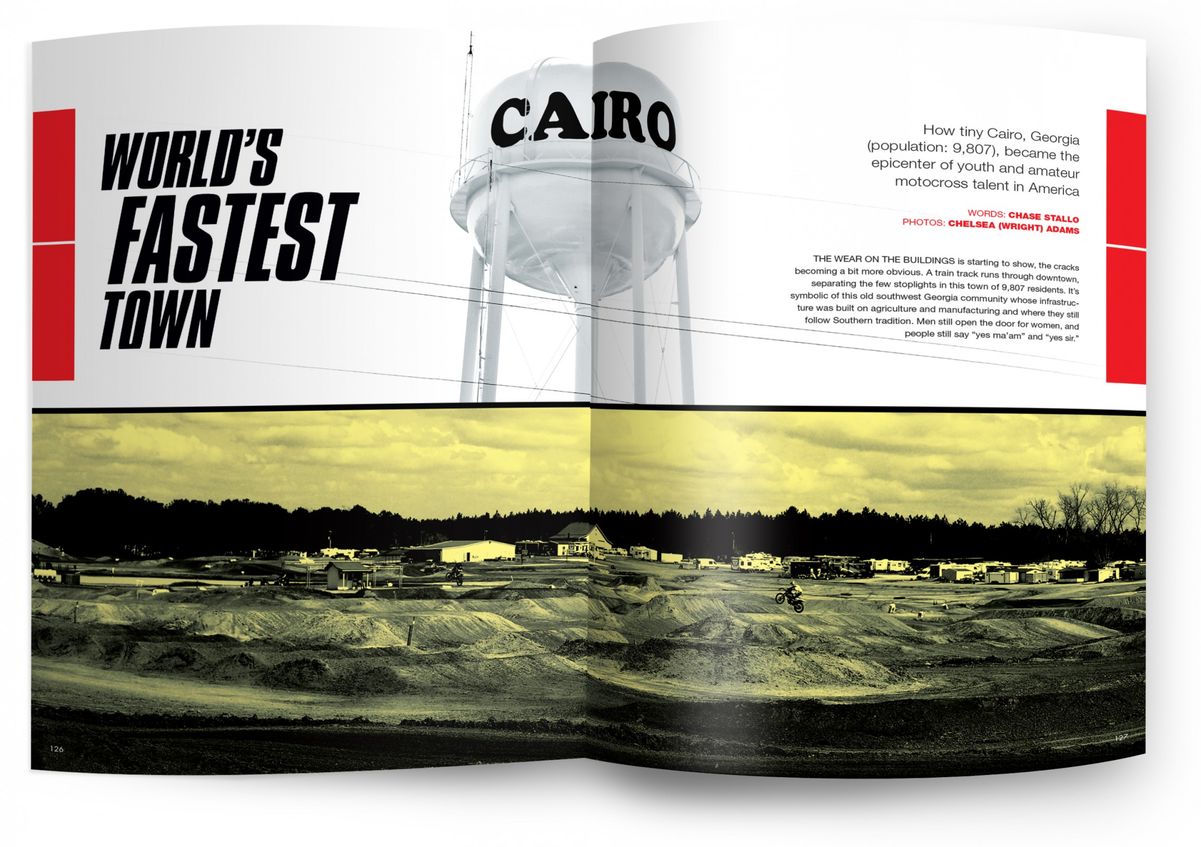 Supermoto Is Still Pretty Rad
Supermoto used to be a pretty big deal. Guys like our own David Pingree, Jeff Ward, Troy Lee and many others used to compete and probably made some pretty good money doing it. It had a prominent spot at X Games, and then—boom, fell off the map. I'm not sure why, maybe Ping can elaborate in his Ask Ping! column. After watching this video, maybe we should pay more attention to the road guys.
Brett Cue Crash
Don't turn left, Brett. Don't turn left, Brett. For the love of God, don't turn left, Brett.
He turned left.
Racing Radio Communication is Great
Although the FIA introduced new radio restrictions between driver and the pit crew in Formula 1 for 2016, the ability for the two to communicate is still there—and it's amazing. Formula 1 Paddock put together the best from driver Kimi Raikkonen over the years and it's so, so, so good. Can you image if they aired what riders said during the races? Oh, man, that would be great. Which is why it will probably never happen.
Lorenzo to Ducati
Back to that other big news. If you pay any kind of attention to MotoGP, then you knew Jorge Lorenzo was destined to leave Yamaha after the season for Ducati Corse. Like most things in the paddock, it got out rather quickly and grew from there, with the official announcement finally coming this week. Lorenzo, the defending MotoGP Champion, is expected to get PAID with some reporting the deal to be worth as much as £15m-per-year. This is a big deal, not only because one of the biggest stars is leaving, but also due to Ducati's history. Casey Stoner won there, but he was about the only one. Valentino Rossi couldn't, although the bike is much, much better now. David Emmett at Asphalt and Rubber has a really good article on what this all means.
Can Lorenzo beat the Yamahas on the Ducati, though? Or will his stint at Ducati turn out as badly as Valentino Rossi's? There are many reasons to believe that this time, things are different.
Both the Desmosedici GP and its predecessor, the GP15, are competitive bikes, with multiple riders scoring successes on the bike.
In 2010, Casey Stoner may have been winning on the Ducati, but that had far more to do with Casey Stoner than with Ducati. Today's Ducati is clearly capable of winning, a task which will be all the easier when it has one of the best four – arguably, one of the best two – riders in the world, on board.
Check the rest out here.

Topher Ingalls Gets Heat for Awesome Video
Hopefully you caught the video of former supercross racer turned real-estate-agent Topher Ingalls ripping to work down the 101 Freeway, because it has been taken down by Ingalls due to an investigation into the video by the California Highway Patrol, reports the LA Times. The video—which was fantastic by the way—was a way to spotlight Ingalls' new (and old) line of work. He was filmed wearing a helmet, tie and boots on a KTM 350 dual-sport riding to work.
After viewing the video Friday, Seebart said the Templeton CHP office would investigate the incident to determine whether any traffic laws had been broken.
Reached by telephone Friday, Ingalls told The Times that he just wanted to share his experience of transitioning from racing to real estate and that he didn't intend to do anything unsafe.
He said he has gotten mostly positive feedback from riders and fellow Realtors, but said he was taking the video down.
"It depends on how you look at it. It's not a video of destruction or reckless stuff," said Ingalls, who rode professionally for six years. "None of it felt dangerous to me."
You can read more about it here. Hopefully it works out for Ingalls.
Sliding the Length of a Football Field
X Games gold medalist Tom Wallisch is a bad dude.
Pros on Pros
The crews at Fox Sports and Feld Motor Sports have run some really good off the track features this year. Profiles on Andrew Short, Chad Reed, Cooper Webb and the Chasing the Dream series have been great, as have the more central ones like: What keeps riders motivated? The one this past weekend, with riders giving their somewhat honest opinions of each other was fantastic. If you missed it, check it out here.
Honda Closes Due to Earthquakes
If you've been following the news, you know twin earthquakes that struck the Kyushu region have devastated Japan recently. The Kumamoto region has also been effected and according to Asphalt and Rubber Honda has halted operations to its Kumamoto factory through the rest of the week.
In addition to the devastating movements in Ecuador, Japan has been rocked by a series of earthquakes as well, two of which have centered on the Kumamoto prefecture of the country.
If that names sounds familiar to motorcycle enthusiasts, it is because Kumamoto is Honda's mothership for motorcycle production. As such, Honda is halting the operations of its Kumamoto factory, thru the rest of this week (ending April 22, 2016).
Honda says that its subsequent production plans will be determined according to facility restorations and component supply.
Everyone at Racer X sends our deepest sympathy and condolences to the victims in Japan and Ecuador.