Angel Stadium
Anaheim

,

CA
Anaheim 2 (A2)
Monster Energy AMA Supercross Championship
Dirty Little Secrets
Welcome back to Anaheim! A few years ago this would be the second of three trips to Orange County. This year's schedule sent one of those races down the way to Petco Park and helped to take some of the pressure off of ticket sales. Still, though, supercross is pulling from the same base market for all of these SoCal rounds. That's a tough financial strain for most families as they surely want to go see the show that is supercross but with so many events in a row, live television from the couch becomes more and more appealing. Even if ticket sales lag a bit, there is an advantage to Anaheim's multi-event approach. Feld is able to keep all of the dirt inside Angel Stadium and piggyback with Monster Jam events on the alternate weekends. That offers a huge break on moving dirt, which is a massive cost, and ties the whole project in with the huge revenue stream that comes from the Monster Jam Trucks. The dollars keep rolling in and there is far less work and cost for everyone involved. Besides event saturation and tougher ticket sales, the other disadvantage comes with the dirt. After so many weeks inside the stadium, the integrity of the dirt can take a hit.
The dirt sits and sits and sits, baking in the Southern California sun for days on end. This dirt is already a bit lacking in traction, and getting compacted by monster trucks and then locked in by the sun doesn't help. It just leaves the dirt hard and blue-grooved. It's an Anaheim staple, sure, but no fun for the riders. The one variable here is the El Nino weather pattern this year. If the storms keep rolling in from the Pacific, the rain will keep the dirt softer and alleviate all of the problems with the soil. Ideally, nature will provide the perfect balance between rain on race day, which would ruin the event, and some rain during the week to keep the dirt moist.
Looking at the track map, I found some interesting aspects. First and foremost, the start is followed by a right hand, 90-degree first turn. As we have learned, these right hand first turns are a recipe for disaster. A rider can't use his rear brake because his foot has to come out for the turn, and this dramatically decreases stopping power. I would almost guarantee several first turn pile-ups this weekend because of that simple fact. I hope I am wrong but history tells me that I will be proven right.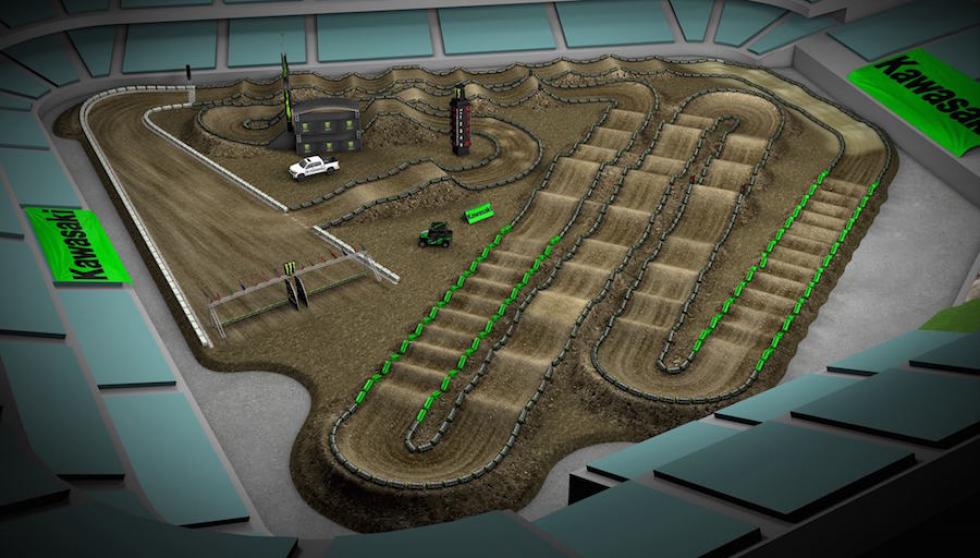 There's a rhythm section just after the start that will be fun to watch unfold. Riders will have to try different ways to hop on and over the tabletops to find the quickest option. Just after that is a basic sand section leading into the first of two whoops sections. We don't know how tough these whoop sections will be, and the decision on that will be instrumental in the results. That level of difficulty will entirely be up to the men inside the bulldozers.
There is one more rhythm section to figure out but the rest of the track is fairly straightforward. I was happy to see the design incorporate as many 180 degree corners as possible. It's difficult to do this with the baseball field dimensions but there is always more passing when you get more 180s. Case in point, last week's San Diego course had far too many 90-degree turns and we ended with a lot of bumping and aggressive moves. Those passes were almost forced because of the lack of clean passing opportunities. Hopefully this track offers better options than making contact.
---
Who's Hot
So Ryan Dungey basically lives in this column. I can't remember a week where he wasn't in the Hot column, but he deserves it. We are witnessing Dungey at his peak.
Chad Reed came out and struggled in practice at San Diego but once the gate dropped, it was irrelevant. He kept Dungey honest for 20 laps and once again has laughed in the face of father time.
Cooper Webb is two-for-two this season and I don't see much changing. Sure, he could make a mistake and lose a race or two but he is clearly the best in class right now.
Jason Anderson's ride was much better than the final result shows. He was penalized two spots for a red cross flag violation, moving him from third to fifth. He is riding as well as anyone right now.
Joey Savatgy bounced back from a subpar A1 to a runner-up finish in San Diego. If anyone has a chance to beat Webb, it's Joey or Wacko Zacho.
---
Who's Not
Ken Roczen needs to get this turned around and quickly. He was in position to get in the mix in San Diego but made a mistake and went off the track. That cost him any chance at a podium, something he and his team sorely need.
Alex Martin came in with high hopes this year but it just hasn't worked so far. He looked a bit off in Anaheim and then a crash relegated him outside of the top ten in San Diego. He will turn it around but with a short series, every point counts.
Trey Canard has had a head scratching couple of weekends. Blazing speed doesn't seem to be lacking but he hasn't been able to put it all together. He will be in the fight at some point but time-is-a-wasting.
---
Questions I Want Answered
Can Chad Reed maintain the level we saw last weekend, firmly planting himself in the title fight?
When will the real Ken Roczen and Trey Canard please stand up?
Will Weston Peick still drop the gate for the Wienerschnitzel pups even though he's back in the race this weekend?
Can anyone stop the Cooper Webb train?
Will I always find the unveiling of the Charlotte MXGP this hilarious? Filthy, fireworks and a double!
---
Bold Predictions
Ryan Dungey wins yet again.
Cooper Webb makes it three-for-three.
The AMA awards Kevin Windham the holeshot award, mindless of the fact that he retired in 2013.
Phil Nicoletti repays the favor to Mike Alessi, while teammate Weston Peick rekindles an old flame with Vince Friese. The AutoTrader/Monster Energy/Yamaha team and the SmarTop MotoConcepts team all erupt into a Royal Rumble after the main event. Coy Gibbs escapes unharmed, once again proving that is impossible for him to lose consciousness. Mike Genova says he hopes that Coy will suspend himself from the next event. Jason Weigandt has never been more entertained.
---
My Picks
250
1. Cooper Webb
2. Joey Savatgy
3. Zach Osborne
450
1. Ryan Dungey
2. Jason Anderson
3. Cole Seely