Angel Stadium
Anaheim

,

CA
Anaheim 2 (A2)
Monster Energy AMA Supercross Championship
At the 2009 Steel City National, a fan handed Christophe Pourcel a cutout of a Joker face, mounted to a stick. For the rest of the weekend, Christophe could hold that face up over his own, further adding to the mystery he had become. Pourcel's unorthodox approach to racing had made him the ultimate wild card.
That hasn't changed. After missing five full seasons of supercross, Pourcel marked his return to U.S. stadiums—and his debut in the 450SX class—by lapping faster than anyone in the final qualifying session at Anaheim 1. He nearly did that again in San Diego's first timed session. Five years off, and Pourcel was immediately able to go faster than the fastest, most seasoned and well-prepared supercross riders in the world. Even James Stewart, perhaps the all-time master of sprint speed, wasn't able to do that, and he only missed one year of racing.
When we asked the Joker how this is possible, his answer, predictably, gave away nothing.
"I'm getting lucky," he said after practice.
We found him again after the San Diego main event, and proposed nearly the same question.
"It's a good question," he said after the race. "Like you said, it's been five years, so it's a long time. I've been working very hard for the past three months. It's very, very nice to have the speed. It's pretty amazing that I still have my speed! It's nice because I know that I have a lot to improve, so that's even better for me for the future."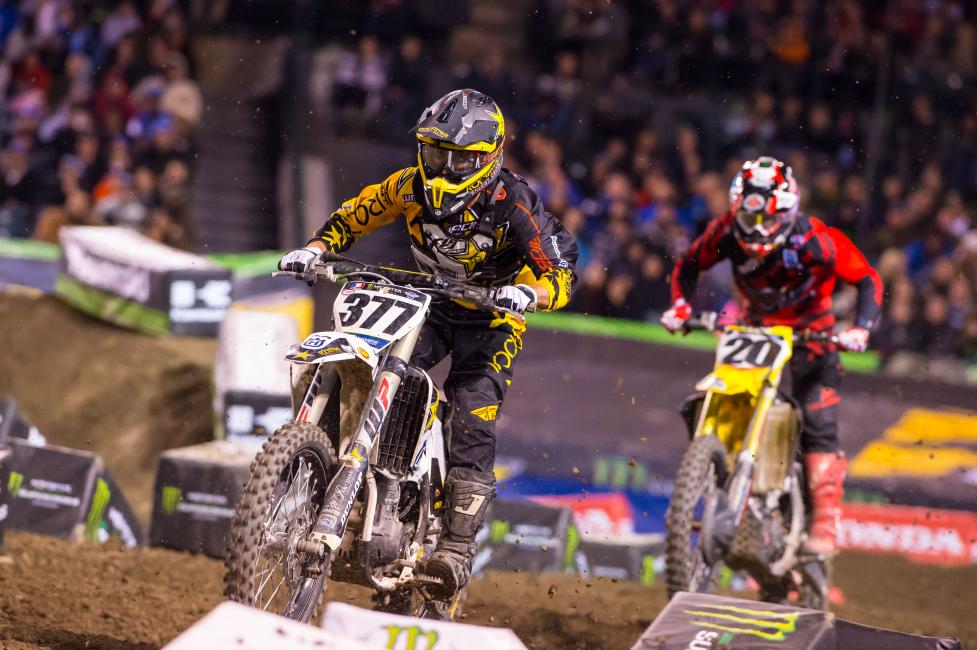 His future is going to have to involve some results in the mains, too. He was a lowly eighteenth in Anaheim following a handful of bad starts. There was some hope that with better starts he would run toward the front in San Diego, but he actually gated okay there a few times, and ended up going backwards. He finished thirteenth in the main.
The pure speed has come back in practice, but Pourcel says it's in the races that he really feels the impact of all that missed time.
"I feel pretty rusty when there's all the guys with me on the track," he says, and indeed, he looks hesitant when there are riders around him, and not nearly as aggressive as he does when out by himself on a qualifying lap. "Sometimes I get a good start and get passed, so whenever I get passed, like tonight, I try to learn from the other guys. I'm not here to win right away. I'm just here to learn at least the first six [rounds]. We all know it's a long championship and I think being safe early on is good. I ride very, very smooth. I've won a lot of races in the past, I've just got to put everything together, get more aggressive, good starts, ride with the top guys. They've done so many main events and that's only my second one, so it's been a while."
Last summer when Pourcel jumped to the 450 class in Lucas Oil Pro Motocross, he told us it would take five rounds before he started challenging at the front. True to his word, it was at that fifth race, High Point, where he battled hard against the likes of Ryan Dungey and Ken Roczen for the first time.
A week earlier he went 14-38 at Muddy Creek.
At High Point he went 3-5.
So when he tells us now that "I'm just here to learn at least the first six," there's a reasonable chance that he can actually nail that prediction, and suddenly be a contender at round seven.
"Yeah, whenever we are in the West Coast I think I'm going to learn a lot," he says. "I think when we go back east the goal is for us to be probably in the top five and just keep learning from the top guys. Like we saw today, everyone is so fast and it's so tight from the number one spot to probably number twelve in practice, so this is pretty intense this year. It makes good battles. I think it's good for you guys to watch."
Yes, it is fun to add another champion like Pourcel to the already-stacked 450SX lineup. It's amazing to see his tricks in qualifying, where he rolls around, barely even doing the jumps, only to wick it up once and nail a fast time. It's not much different than what he's done in the Nationals the last two years, first on a Valli Motorsports Yamaha in the 250 class in 2014, then last year on his Rockstar Energy Racing Husqvarna 450. He'll cruise all day, usually hovering just around the top 30 in times, before putting the hammer down in the final two minutes of each practice session and shooting straight to the top.
Fun to watch, but also frustrating at the same time, because while adding Pourcel to this season's field only makes the roster deeper, it also reminds you that he should have been there all along. And, if you need a reminder of something else: back when Pourcel was in the 250 class, he was matching Ryan Dungey stride-for-stride. Oh, what could have been if Pourcel had just entered the 450 class when he was supposed to!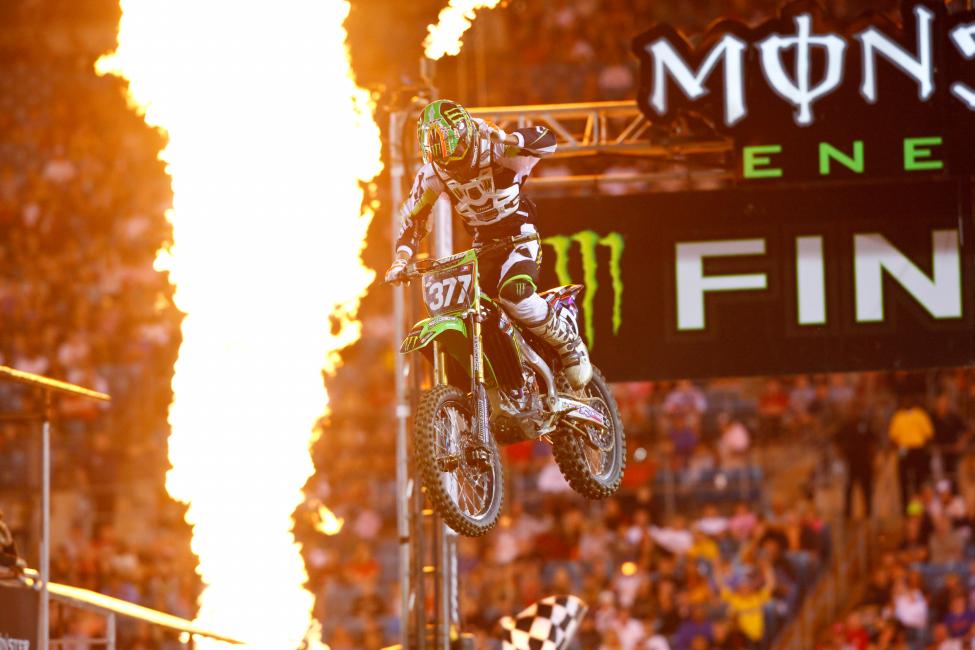 That story has many sides. Several teams at that time said Pourcel's salary demands were simply too high in a down economy. Pourcel has said he really only wanted to race for Kawasaki, the brand he had grown up with, and has denied even getting to the point where money was even part of the discussion. At the end of 2010, Kawasaki re-upped their commitment to Ryan Villopoto as the lead dog, and Jake Weimer was brought it to complete the two-rider lineup. Pourcel, fresh off of two 250SX East Region Championships, never even suited up for supercross.
Pourcel signed briefly with MotoConcepts on a Yamaha for the Nationals in 2011, but called it a season after a few races on the new YZ450F, which was quickly garnering a less-than-stellar reputation. He tried returning home to France and racing GPs on a Kawasaki, but says he really wanted to race in the U.S. Then he missed a whole season with injuries. By 2014, he was finally ready to return, but he never found exactly what he wanted with the Yamaha YZ250F outdoors that summer. Pourcel still wanted a talk with Kawasaki for 2015. The team had already signed Davi Millsaps, but Villopoto was headed to the GPs. Pourcel hoped for an opening, but it went to Wil Hahn. For five years, really, Pourcel has been looking for the right fit. For such a mercurial rider, finding it wasn't easy.
"I really wanted to race in 2011 but I kept waiting and waiting. We all make mistakes. I wish I would have just went a different way but I wanted to stick with Kawi and it just didn't happen," he says now.
By the time this Rockstar Energy Racing Husqvarna deal came around last spring, the vultures were already circling. So many deals had gone south for Pourcel since 2010 that few believed this one would work—especially not on board a Husqvarna. Team owner Bobby Hewitt, though, known fiercely for his loyalty to his riders, assured us that it would be fine. A few races into the Nationals last year, Pourcel had not quit, but instead started saying it was the best team he'd ever ridden for. That's a bold statement, considering he won two 250 East Region Championships with Monster Energy/Pro Circuit Kawasaki while that team was in its prime years of dominance.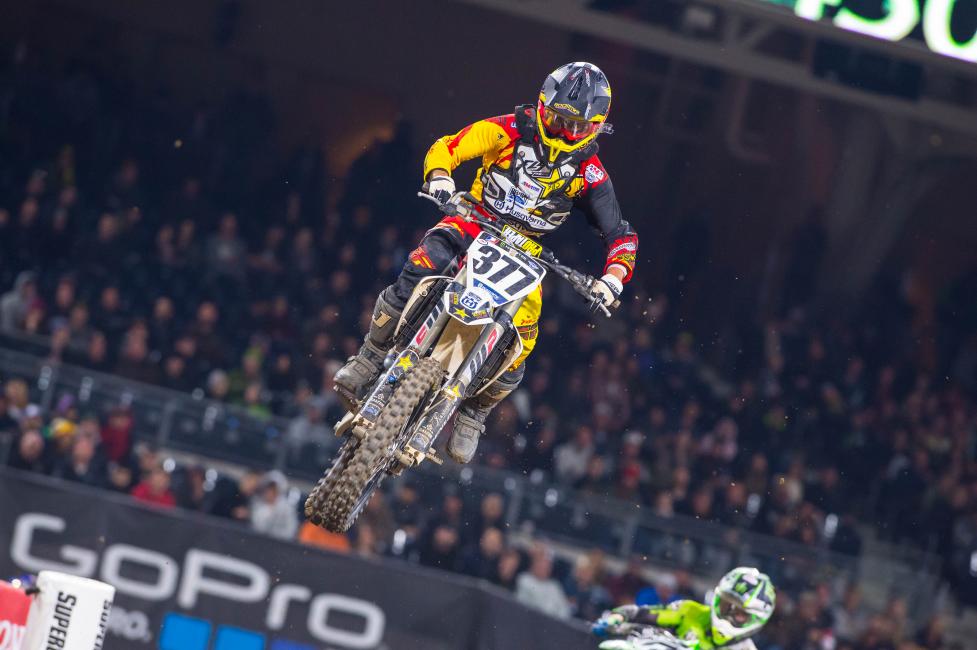 Before this season, Rockstar Energy Husqvarna re-signed Pourcel to a new two-year deal. For now, the man has only been scintillating in 50-some second qualifying laps. He's looking to build something for much longer.
"I'm just happy to be back," he says. "I have two years. I have the speed. Two years, so finally I can learn from this year, go for the following year. The team is amazing. I've never been on such a good team. We've got two semis at the races, and all those guys working so hard for us. Everybody's friends. Me and Jason [Anderson, teammate], we talk a lot. I just learn a lot from him. He's doing well right now so our bike I think is good and running up front. I think hopefully we can get a podium this year, me and Jason together. That would be sweet for the team."
Just a few years ago, two Husqvarnas on the podium in supercross was an impossible dream. Pourcel racing supercross at all, also seemed lost. But when you're dealing with the Joker, anything is possible.