Raymond Demy
Ernee

,

France
Motocross of Nations
Motocross of Nations
During the late summer of 1981, Johnny O'Mara placed second overall to the then omnipotent Mark Barnett in the AMA 125cc National Championship. A first-year rider for Team Honda at the time, O'Mara, along with teammates Danny LaPorte, Donnie Hansen, and Chuck Sun, was asked by the AMA to represent Team USA at the storied Motocross des Nations, which was slated to run in Beilstein, West Germany, that September.
O'Mara barely even knew what the Motocross des Nations was. Nonetheless, he showed up to race against the world's best 500cc racers—a class he had never even competed in before—and just plain went for it. In arguably the greatest upset the sport had ever seen, Team USA won the event for the very first time. It was a history-making overall result to say the least, and the impact it had on motocross is still felt today—especially by O'Mara.
This past Sunday in Ernée, France, Johnny O'Mara was once again back at the des Nations, this time in the role of mentor to two-time AMA 250 National Champion Jeremy Martin. Not one to travel much these days (let's just say the man straight up detests it), the former supercross and 125cc champion was compelled to go to France so he could help put Martin—and the team—in the best possible position to win the race that has, throughout his entire career, meant so much to him.
Just a few hours removed from landing back home, O'Mara, both tired and bummed out over Team USA's runner-up finish at the sixty-ninth annual version of the Motocross of Nations, spoke about just what had played out in France.
Racer X: Johnny, well, you've been back in California for a few hours now. How do you feel?
Johnny O'Mara: I'm not too bad. I have that typical jet-lag feel. You don't get used to European time for a week, and I was there for a week. I don't feel too bad right now. I'm sure it will hit me hard a little later.
I'll hit you with the big question first: what did you think of the whole Motocross of Nations deal?
I'm probably a tough one to ask on this whole deal because, dude, I''ve never lost the Motocross des Nations. I actually took it pretty bad. I took it worse than the riders. I hated to watch it, to be honest. I know that's probably pretty blunt.
People like to hear the truth.
I mean, I knew the whole scenario. I didn't talk to the whole team, but my guy, Jeremy Martin, and I communicated quite a bit, and we could see the cards were dealt on Saturday. We could see the French were unbelievable on their home soil. I told Jeremy, "Dude, our team has to be perfect to beat them—bottom line." And we weren't. They were pretty much perfect. Sure, there might have been a few little issues that they had to deal with, but we had to be perfect. I'll just be honest—I had a gut feeling that nobody had anything for [Romain] Febvre. In my opinion, he's on another level. He's every bit the world champion that he is, and I give him a lot of credit. I have a lot of respect for the guy. I could just tell with his swagger and his riding that he's the real deal. No doubt about it.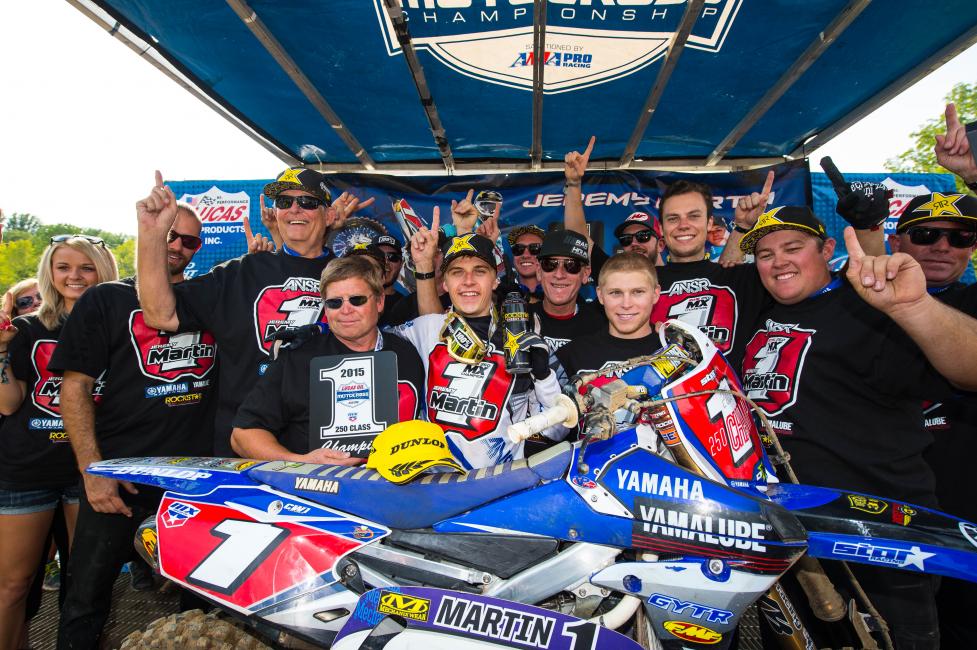 What makes him so good?
Probably his commitment to excellence. He's not the most natural guy on the bike. He doesn't have the skills of James Stewart or anything like that, so you know that came from a lot of hard work and commitment. I just think he's every bit prepared for a battle, and that's probably why he's world champion. At the Motocross des Nations he just railed everything. He had so much more momentum than any of the other guys.
What did you think of your guy's performance?
Just to be honest with you, Jeremy and me weren't too happy with how he felt. He felt terrible all day. That wasn't a Jeremy Martin-type performance in my opinion. He'd probably tell you that also. That's no excuse. He just wasn't able to rise to the occasion. Sure, he did pretty good with a couple of fifths and was the second 250, but he was not even close to being able to give Marvin [Musquin] a run. It's kind of like what I said earlier: I had a feeling that Romain would just win the Open class pretty easily—which he did. In speaking with Jeremy I said, "It's up to you to you and Justin [Barcia] to beat the other guys—you guys have to beat Musquin and [Gautier] Paulin. That's the only way we're going to win." We weren't able to do that. And Coop [Cooper Webb]…. I actually thought Coop did really good. Coop was amazing on that big bike. Sure, he made a little stall and had a small tip-over deal, but I don't believe that lost the game for us.
In that first moto, Barcia went out and won, and Musquin and Paulin both made pretty significant mistakes. I would think that afterward you guys, as a team, had to be feeling pretty good about everything.
Yeah, for sure. We were in it. We were in it all the way to the end. It was just frustrating. In that first moto, because Marvin crashed pretty good and Jeremy came right up on him, I thought, Okay, perfect. This is what Jeremy needs to kick him in the butt to go to that next level. Jeremy was tight all day long and was struggling on the course, and he couldn't take the lines he wanted, and the bike was kind of riding him. That's not Jeremy. He couldn't compete with Marv, and that was pretty frustrating for him and he was pretty down after the race.
"Just as a fellow past racer, I think anytime we go to the Motocross des Nations we should win."
Was the track itself more suited to the French riders? There was some talk that the French team had been able to get some testing time on the track in the days leading up to the Motocross of Nations. Did any of this play a role in the grand scheme of things?
Probably. We all heard that there was a possibility that they had been riding the track during the week. I don't know. Maybe they were on it a couple days during the week like we heard. But you know me good enough to know that I still think those guys—Barcia and Coop and my guy—are all champions and they should be able to adapt to anything. That's how you win that stuff. To beat the home team there was a tall order—bottom line.
Team USA had a 2-point lead going into that third and final moto, and it was very evident that Webb and Barcia were more than capable of running up at the very front. Did you still believe that the American team could pull it off?
Each team still had a throw-out score, and Paulin had a seventh in the opening moto, right?
Yes.
I knew they'd throw that score out, so I wasn't looking at it like we were ahead. I looked at it like we were basically even. That's how I looked at it. I don't know how anybody else actually looked at it, or if it was even talked about. Jeremy and I knew the scenario, but that was just me and him. It wasn''t like there was some big powwow, other than maybe Roger [DeCoster, team manager] told Coop and Justin the scenario. I think those guys obviously knew that they needed to go one-two.
Then, at the start, they were just barely inside the top ten. That's a tough order right there alone, because that track was actually hard to pass on. It wasn't super-easy to pass on. To give them that much space? Those guys were gone. Those guys were out front, and we were just watching to see how far our guys could come up through the pack. There was nothing we could do. Then Coop stalled it and he lost momentum. Maybe he could have gotten a couple more guys. Then [Ben] Townley had the moto of a lifetime to stay in second. Barcia was kind of creeping up and going faster, but he didn't have enough time to get Townley. Ben rode awesome. Credit it to him. He rode excellent.
What would have happened if Webb and Barcia would have had gotten better starts?
I think we would have had a good shot. I think we needed both of them to be in the top five at the start. They need to be there and sitting in the top five. Just like Coop rode in the first moto with Romain. Dude, he battled with him; he passed him. Unfortunately. the guys just didn't get the start and that's racing.
At what point did you feel that it was all over with for Team USA?
I think the last ten minutes I kind of knew. To be honest, at the halfway point, I knew that we'd need a miracle. They weren't forty-five-minute motos, and thirty minutes goes by pretty quick out there. There just wasn't enough time. The deficit was too big. We were too far back on our heels.
"I just think the Motocross des Nations is a win-or-lose-type deal. They did great to get second, but I guess I'm a really terrible loser."
Team USA lost it by 2 points in the end. It was a hell of an effort. Did our guys do better than people expected?
Just as a fellow past racer, I think anytime we go to the Motocross des Nations we should win. I've been on teams where they didn't expect us to win. You know that. We somehow always pulled it off. I expected our guys to go there and get the job done. I know Coop pretty well and I know Barcia pretty well, and I know they wanted to win that race bad. There's no doubt about it. There's no question in my mind. That's why my guy, Jeremy, was so disappointed and was saying, "I should have been better," and I said, "Yeah, definitely. Everybody needed to be a little bit better. You did win the national championship, so maybe that was motivation for Marvin. I'm sure Marv looked at that and was here before his home crowd to put it to you."
Those are little things, where, as racers, you look to for motivation. I'm sure Marv looked at that. Cooper rode really well. I looked at his situation as much like the scenario I had when I went over there as a rookie in 1981 and rode the 500 for the first time. I thought he was very impressive on the big bike in all reality. Justin rode good. He won that first moto where Marv tried to push him around a little bit, and he didn't tolerate that. I personally told him, "Dude, that was awesome! You did exactly what you should have there. He went by you on the small bike, and you couldn't be shown up like that." Justin got him back and did great in that moto.
I know you well, and I know you really wanted to see our guys win in France. Losing the Motocross of Nations really bummed you out, didn't it?
Personally, for me, it was hard. I was on seven winning Motocross des Nations teams and I never lost. Afterward, I was like, "This really hurts." I mean, I felt I was hurting as bad as some of our guys. I know Jeremy wasn't happy, and that's who I was hanging out with. We were both sobbing a little bit. We were disappointed we didn't have that feel that was necessary to get the job done.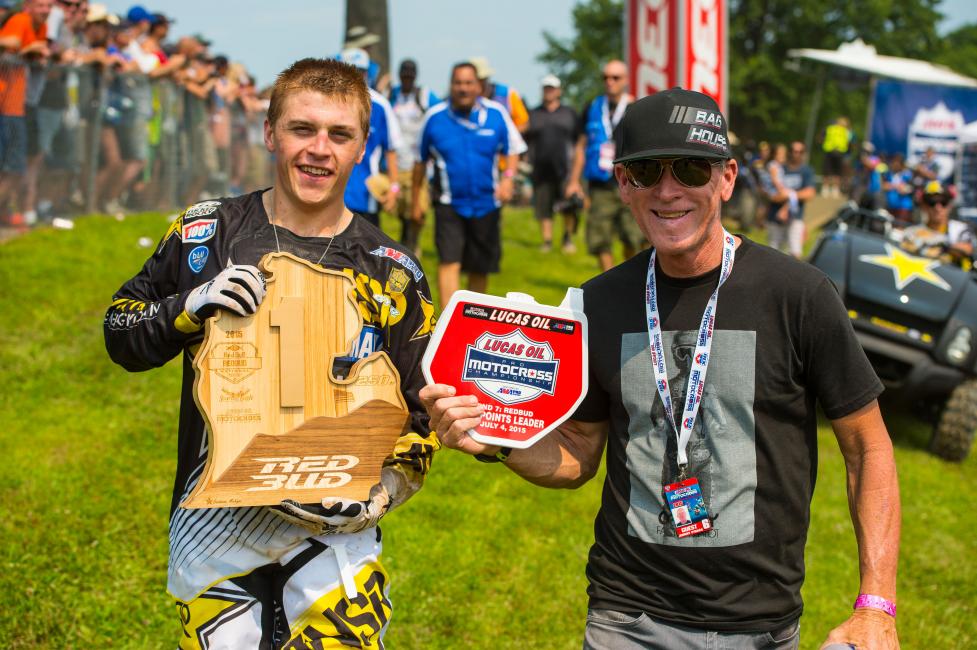 Would Ryan Dungey have made a difference over there?
[Long pause] In my honest opinion, yes. In my honest opinion, I'd say yes. I think we missed him. He was the best guy in the United States. He should have been there. I don't know how else to put it. You know how much I love the Motocross des Nations. We could have used him, and that's the bottom line.
Next year the Motocross of Nations will be held at Maggiora, Italy, and we all know what you did there on the 125 in 1986.
Yep, they were already talking up a storm about it. I can't believe it's been thirty years since '86. Giuseppe Luongo is inviting me, David Bailey, and Rick Johnson. I even told Jeremy, "Hopefully you're on the team next year. You'll love Maggiora. It's a one-of-a-kind track. It's beautiful and Italy is beautiful." I think it will be a great track for all the countries, and I think we'll have a great chance to win there next year.
You still sound pretty bummed about what happened on Sunday.
I just think the Motocross des Nations is a win-or-lose-type deal. They did great to get second, but I guess I'm a really terrible loser. You go there to win. Sure, you have to get over it and the guys did their best, but they were all bumming. I could tell. Every one of them. I think they felt like they were better than the other guys. The task to beat those guys on their home soil was tough. Like I said, they just weren't perfect enough. They needed to be perfect. They did good, but they didn't win. I felt bad for the guys. I wanted them to take home the trophy. I wanted them to bring it back to America.