Raymond Demy
Ernee

,

France
Motocross of Nations
Motocross of Nations
Last weekend marked the sixty-ninth running of the Motocross of Nations. This year's edition was held in northwestern France, near the small city of Ernée. Being in the area for four days, I certainly had plenty of insight as to what went down. Here are some of my thoughts.
The track is in the smallest area I have ever seen for an event on this level. It basically lies in a valley between two hills, almost in a stadium-type arrangement. The track winds onto the flat and on one hillside, leaving the other hillside for the spectators. Even with the track utilizing every area possible, the lap times were still only in the 1:40s. It was also very narrow in many spots, making passing incredibly difficult. None of this is meant to be criticism, but it was definitely a talking point for the weekend.
The crowd was incredibly involved. This year's race saw the same situation as that of the event Germany hosted in 2013. Coming off a win in 2014, the French reveled in hosting the event with possibly their best team ever. Their fan base showed up en masse, creating a surreal atmosphere all weekend long. Every single time a French rider was in view, the crowd responded. Even though they were cheering for USA's rivals, I have to give kudos to the French fans for their enthusiasm.
This year's event seemed to lack the star power of previous years. Looking at the starting list, it is glaringly obvious that many of the sport's heroes weren't there, including Ken Roczen, Chad Reed, Ryan Dungey, Eli Tomac, Clement Desalle, Antonio Cairoli, Tommy Searle, and Jeffrey Herlings.
There was a good vibe amongst the American team this year. All of the riders and crew seemed to jell, and everyone seemed happy to be there. In past years, I have gotten a "this race is a hassle" feeling, but not this year. Everyone came prepared to leave it all out there—and that's what they did.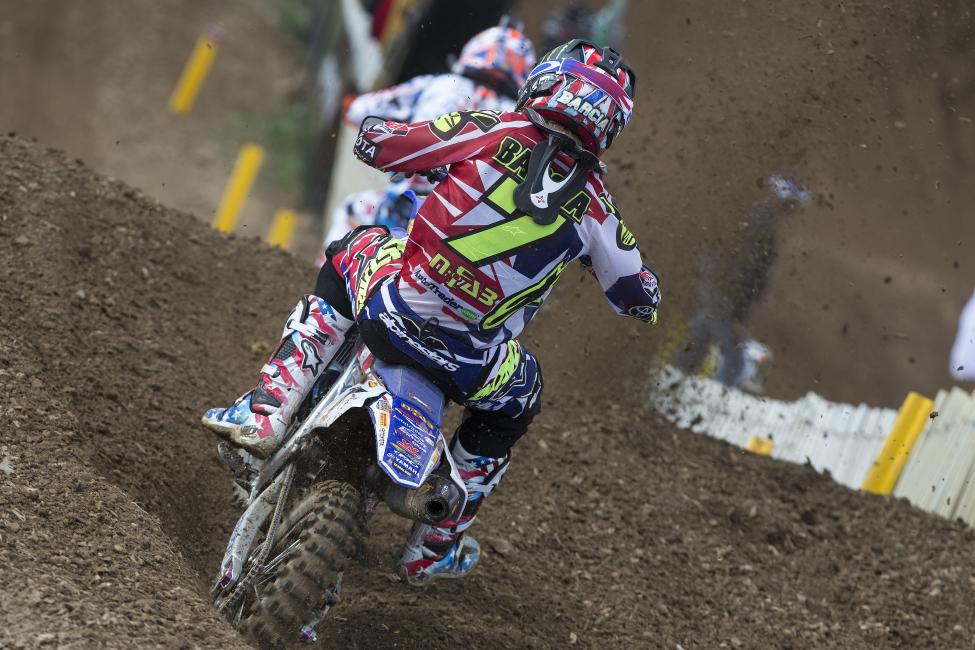 But I always wonder how some of these smaller teams even make it to the event. The stipend from Youthstream is not even worth talking about when considering the immense expense for each country. A team like Israel, for example, has to spend tens of thousands of dollars to be there, right? Flights, hotels, car rentals, food, motorcycle expenses, etc. all add up quickly. I would imagine there are differing situations from country to country, but it seems like a big expense to cover each year. Government funding and outside sponsorship could surely play a part, but I bet it's tough to sell a company on funding a team that doesn't typically qualify for the event's actual racing. I just can't see the Moroccan team manager pounding his fist on the table demanding that their juggernaut be sent to shock the world. I have heard that the Venezuelan government, which also owns Citgo, for you fossil fuels buffs, funds their national team. With Anthony Rodriguez and amateur star Lorenzo Locurcio both hailing from Venezuela, they have a legitimate chance at making A finals for years to come.
Poor Puerto Rico. After fielding strong teams in recent memory, this year just wasn't meant to be. The team was missing the likes of Jimmy Albertson, Phil Nicoletti, and Zach Osborne, but did bring Michael Leib over in hopes of salvaging an A final. It was all for not, however, as Lieb was the only rider to actually finish his qualifier.
This was the best Justin Barcia we have seen at the MXoN. He has been multiple times now, always with mixed results. He was super solid this year, winning the MXGP class overall and giving the USA a chance to win.
I really hate how hard it is in France to get coffee early in the mornings. Maybe I am just whining, but 7:30 a.m. is far too late for a coffee shop to open. I want coffee and I want it early, dammit. Please forward this message to Yelp or wherever real changes are born. Obama probably knows, or he seemed to in 2008.
I read a paragraph from Geoff Meyer where he claimed that Justin Barcia was "begging him to find a MXGP ride." Sentences like that keep people from taking Geoff seriously. No one with any sense would buy that load of nonsense. First, Justin just signed a multi-year extension with JGR (for more money than anyone in Europe makes…. A lot more). Second, if Justin wanted to go race MXGP, he wouldn't need Geoff Meyer to find him a job. He would have multiple offers after the way he performed in Ernée. It was such a poor attempt at undermining the American moto scene and portraying Geoff's series of choices (and employer) in a dominating light. Typical, I suppose, and I shouldn't even care, but somewhere out there, someone is reading that and believing the propaganda. That's too bad.
Hosting the press conferences with the teams is a good idea. I give Giuseppe Luongo and crew credit for organizing the teams and media. Giving the journalists a chance to ask pointed questions is something we can all benefit from in all corners of the globe.
Gautier Paulin was a shell of the rider I saw a year prior in Latvia. He dominated everyone a year ago, but this year he was actually France's weakest link. I am not sure if it's the bike change or his ailing knee, or if he just had a stale baguette Sunday morning, but he was not the same rider.
Marvin Musquin was impressive. He was making lines work in ways that no one else was. Justin Barcia actually picked up on a few of these, propelling him back around Musquin on the bigger 450 in the first moto. I do have to say that it was the only time all season (outdoors) where he looked to be noticeably better than Jeremy Martin.
Romain Febvre is going to be winning for a while. His calm demeanor and incredible corner speed will serve him well on the GP scene for the next decade or so. It's early, but I think he will be the heir to Cairoli's year-in-year-out dominance.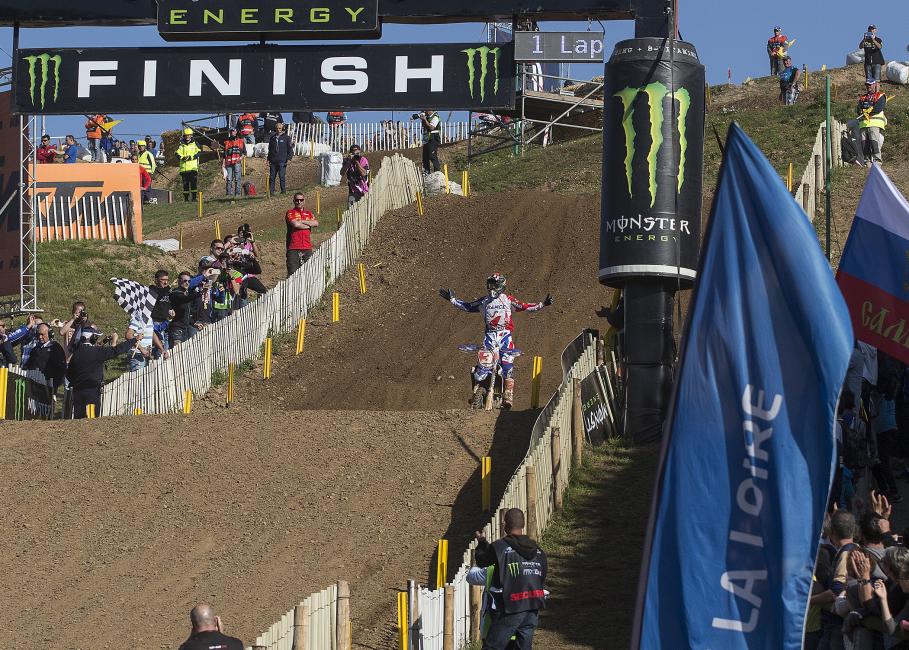 The level of riding at this event varies on a scope not seen at any other race all season. Some of the riders on the track Saturday shouldn't have been out there. I know that sounds harsh, but purely on a safety level they were a danger to the elite riders coming around to lap them. Organizations both in the USA and abroad have worked tirelessly to raise the level of pro riders by setting standards that amateurs must meet before gaining their pro licenses. They did this to ensure that all riders on the track are capable and safe. With the MXoN, those rules don't really apply, and it opens the door for novice-level riders to be right in the middle of the sport's stars. I saw a couple of incidents Saturday that could have ended very badly but luckily didn't. I am not sure how to fix that, but it would be tragic for a contender-level country to be eliminated due to a rider's inexperience while being lapped.
Alpinestars' hospitality truck is, in a word, awesome. Having been to this event many times, and also to their similar setup at MotoGP, it is such a Godsend for industry people without a place to call home on the weekend. They are so helpful and welcoming, regardless of whom anyone works for or rides for. I know I speak for many when I say thanks.
Next year's event, in Maggiora, Italy, isn't going to be any easier for Team USA. Maggiora is a very Euro-style track, and we will once again have the odds stacked against us. To win in Italy, we will need our best effort. I will once again be there, along with with my buddy Steve Matthes, hoping against hope that we can reclaim the Chamberlain Trophy.