It's rare to see a start-up team compete, and win, the premier series in any country, but GDR Honda, in only its second year of existence, did just that last year when Colton Facciotti won the Rockstar Energy Drink Canadian CMRC Championship in the MX1 class.
This year he battled with Matt Goerke and finished second in the championship. The team's other rider, Jeremy Medaglia, raced MX2 and finished third in the series. Last week while on a mini-vacation in Toronto, I went to a couple of ball games with team owner Derek Schuster, and afterward we sat down to chat about his year, starting this adventure, and more.
Racer X: Derek, you've won a title with Colton and you're one of the younger team owners in the sport. Why'd you start a team? And how'd you get to the point where you actually had Canada's best rider on it?
Derek Schuster: I actually just started the team doing a favor for a friend, as a little privateer deal. He had a deal fall through last minute in 2010, so I told him I'd help him out the best I could to get through the year. It just kind of kept snowballing from there. I started doing a big team thing with Honda in 2012; they had been looking at getting back into the game with racing. They'd been out for a few years. So we did a little trial run in 2013 with some good support from them and then they wanted to sign a heavy hitter for 2014; we did the deal with Colton. They wanted to have one of Canada's best guys, and I think that's one of the best guys available. So we went from there with it.
Winning the title in your second year of existence must have been pretty cool.
Yeah, it was cool. Because of that we had to do a lot of growing really fast. You always run into little issues along the way because you're trying to figure things out on the fly as you go. We had to make sure that having a small crew like we do that everybody was a good guy to have and pulling their weight to make sure everything was good for Colton. We learned a lot from Colton, too, because he's rode for a lot of good teams and had a lot of insight to give us on the bikes, so I think that really helped. It worked out well for us last year, and we came pretty close this year.
Honda was the force in Canadian moto forever with the Blackfoot guys, and then they decided they were done, and there really hasn't been much red support for a number of years now. How'd you get them back in?
Yeah, Honda Canada was out for probably eight years—something like that. They kind of wanted to dabble back into it and figure out a good game plan for doing it. They didn't want to just jump in right away, so that's why we kind of did the little test run, doing a privateer season with Tyler Medaglia just to kind of figure out where everything was at with sponsors. They were coming out checking out races, spending a little bit of time there to figure out if that was something they wanted to get into and then figured that if they could land a big enough rider—which I had been talking to Colton—that they'd want to get into it and do it and go after a championship. So it was kind of like a three-way deal that we did from the start. Kind of when I got Colton, got the Honda deal, and then it all came together from there.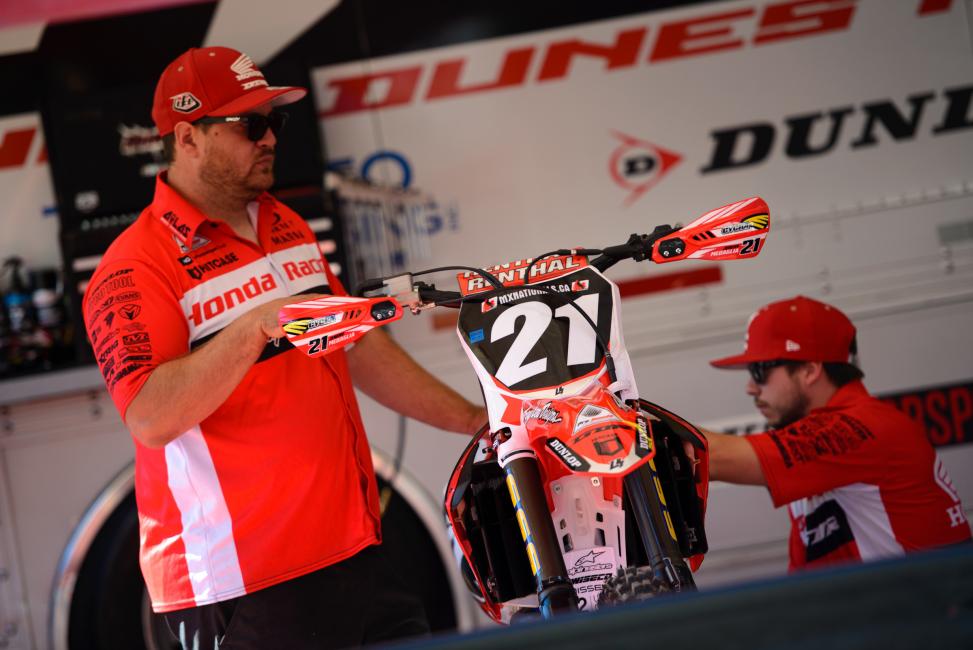 Your team wears Troy Lee Designs gear. You bought your truck from TLD USA, and the TLD USA guys promote your team a little bit, which is cool to see. I guess that's one of your really big sponsors, right?
Yeah, TLD has been huge for us. They've actually been a part of the team longer than Honda has. It's just kind of like an ongoing deal that we have. We don't really even renegotiate at the end of each season, that kind of thing. They're always there for us. They give us a lot of exposure through the U.S. That's big for us. We want to make sure that our sponsors are getting the maximum amount of exposure possible. They've been great to work with right from the get-go.
This year Colton came in a bit banged up and started slow. You guys caught fire on the East, but I guess you want a few of those early West Coast races back, right? You could be sitting there with another #1 plate.
Yeah, that'd be nice to have a few of those back for sure. Colton fractured his pelvis right around the start of March. It was something that initially we thought was going to be like a few weeks off the bike and getting going pretty quick. A lot of people were asking us what was going on, and we truly expected that he'd be back on the bike quick. It just seemed like every week I'd talk to Colton, he'd tell me he'd need another week off the bike. It wasn't healing as quick as what they had originally told us it could be. And then when he did get going he was kind of riding in pain, so it really slowed down our testing process.
So I feel like we went in the season with Colt not necessarily on his A game and then also with a bike that wasn't set up quite as good as what we had the season before. There were a few changes to the new bike, and I felt like we just didn't have them dialed in. We spent those first few rounds just kind of helping get him healed up better, but then also pretty much making pretty big bike changes from week to week for the first three to four rounds. And then that two-week break in the series after round four seemed to really help him. He took a little bit of a breather in between. Then Gopher Dunes, he had a big crash in the first moto there, but you could tell that he was a different guy there already. And then after that he went on to win six of the last ten motos and the last three overalls. I think out of the motos he didn't win, he was probably leading them at some point. Had a couple little tip-overs and stuff, which cost him. But, yeah, got it down to 6 points. I think it was at 30 at one point. There was definitely a couple times where I feel like we left some points on the table for sure early in the season, but that's the way racing goes.
And Jeremy Medaglia was your MX2 guy. What'd you think of his year?
It was good. Honda didn't really put any expectations on him because he did have a tough season the year before and was on 450s before that. So they didn't really know what to expect, but between Jeremy and myself we were planning on going after the championship right from the get-go. We knew that was going to be tough against [Kaven] Benoit. We do feel that the two-stroke is probably a little bit of an advantage in that class, so we knew that the bike was going to have to be spot on for him, which, I think if you look at it as far as the bikes go in that class, we probably had the fastest four-stroke. I know he had the second most amount of holeshots next to Kaven. He was battling a little bit of a back injury through the season and had a hard crash at the final round. That kind of messed up his whole day. I think he finished outside the top ten and dropped from second to third in the points because of it.
The two-stroke rule—what do you think of that? Honda doesn't sell a two-stroke anymore, so you don't have the option to build one. What do you think of the CMRC doing that?
Personally, I'm not a big fan of it, regardless of Honda having a two-stroke or not. There's a lot of speculation about it when guys aren't racing on the same bikes in the same class. It does make it tough because we don't really know what we're necessarily up against. I don't know if I necessarily like the changes that they made this past year with the stock rule. I think it's pretty easy to cheat on one of those engines. To be honest with you, I wasn't totally satisfied with the way they did the random teardowns, and I definitely let them know that throughout the season. I feel that they definitely weren't thorough enough with it, and it could easily make guys get away with making modifications anyway, which makes it pointless to have the rule.
Your family's been involved forever as the promoters at Gopher Dunes. You busted your ass at Gopher Dunes for years. Now you're a team owner. What's the status of the series? What does CMRC do well, what can they do better?
I think they've been making good improvements each year. There's definitely stuff that Mark's [Stallybrass] been talking to the team managers and manufacturers about some improvements he wants to make in the future. Some of them sound really exciting that involve TV and getting things sped up a little bit, because that's been a little bit of a complaint, seeing the races on TV six weeks after they happen. I don't think that's the way of the future, but they plan to work on that. But I think seeing a few more teams pop up the last few years and I like some of the changes they made with the points structure and a few things like that. It gives incentive to guys who are riding around in twentieth to twenty-fifth spot. It's more incentive to show up at the races and ride them. Turnouts have been not very great the last few seasons, and the entries have been a little bit low. So I think that will improve it over time, going back a little bit further with points. Payout could be a little bit better maybe in MX2, but I think no matter what everybody's always going to say it could be better. But overall I think the series is heading in a really good direction. He seems to have some good sponsors on board right now, and I know there's talk of him adding a few for next season, which is pretty exciting as well.
Fastest guy you've ever seen at Gopher Dunes?
I've seen [Matt] Goerke race twice there now. I'd say he's probably the best guy I've ever seen there. This year he was pretty unbelievable. In 2012, he was really good as well. It was pretty cool watching him and [Brett] Metcalfe and Colt pretty much a lap ahead of everybody out there this year. That's got to be the fastest I've seen anybody go around there.
Even back in the Rollerball days and all that?
I think so, yeah.
What do you know now about running a team that you wish you would have known two years ago or three years ago? What was one thing that you were like, I didn't know it was this hard or I wish I would have known this?
I think there's probably a few little things that I picked up. I don't think there's one that sticks out in my mind, but just moving quick on making decisions and some stuff like that on the business side of things with sponsors, riders, all that kind of stuff. You can never really sit on things and delay too long with things. I think that comes back to haunt you later on. I think it's not as good for your sponsors. I think the other thing I learned is I know I took chances on things when I started just to kind of get the ball rolling with the team, and now that I've got that going on we've been taking other chances as far as going attending races that maybe we wouldn't have attended in the past.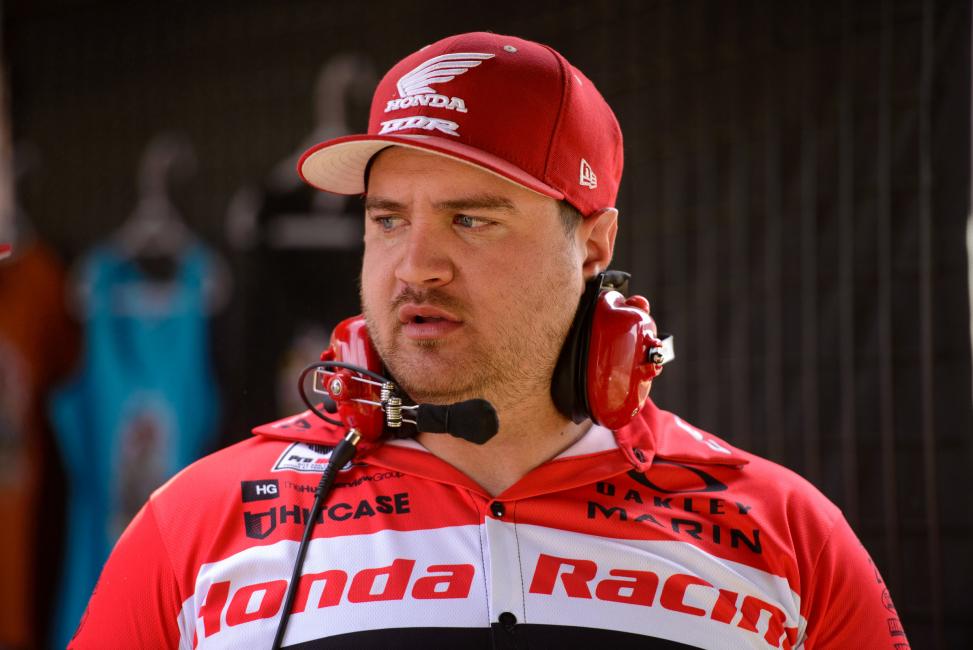 You took your guys and some other riders down to Crawfordsville for the last Lucas Oil Pro Motocross national—how was that?
Indiana was good. It was a good experience for the team. Colt's done several AMA nationals. Jeremy's done several as well. [Kyle] Keast has tried for one, but never made it in. It's the first time that we did it as a whole team. I really wanted it mainly for an experience for everybody, like the mechanics and everybody. Neither one of our mechanics had worked at one, so it was a good experience for all of us, and I think it just helps make us stronger as a team. We learn little things there at a race that we can take and use when we get back home for the Canadian Nationals.
So any Canadians reading this that want to race AMA Supercross starting 2016, contact you for this program we talked about where you take guys down to race?
Yeah, I guess you got this plan for me to take pretty much all of Canada to supercross races.
You can be the PT Barnum of Canada!
Maybe we can get Pulp MX and Racer X to sponsor that for me.
Next year, '16, you're locked in with Jeremy and Colton again?
Not locked in with Colt yet. Working on a new deal with him. Jeremy was on a multi-year deal, so we're bringing him back.
What about Donk?
Well maybe if we're adding a guy we might need an extra mechanic.