Sam Boyd Stadium
Las Vegas

,

NV
Las Vegas
Monster Energy AMA Supercross Championship
Red Bull KTM's Ryan Dungey, the new Monster Energy Supercross Champion, ended the year as he should, winning the Las Vegas main event for his eighth triumph of 2015. Of course a new challenge looms with Lucas Oil Pro Motocross kicking off two weeks from now at Hangtown, so Dungey gets to both celebrate this and get to work on the next title bid. His Vegas race showed he'll be no push-over.
Here's what he had to say after the race.
Racer X: Pretty good show there the first few laps.
Ryan Dungey: It was a good battle with Eli [Tomac] there. I knew I had to try to stay in front of him or it could be over….then I'm eating his roost. I was really glad I got back around him when he passed me.
That's kind of a wild pass to make in basically the fastest section there.
Yeah. When he went underneath me he went to get on the gas and it was really loose, so he lost the rear and I almost ran in the back of him. Right when I saw that I kind of went left, but the bike took me left, which was good. I got out of his line and carried the momentum and had the drive to pull a taller gear and get by and then had the inside on that next corner.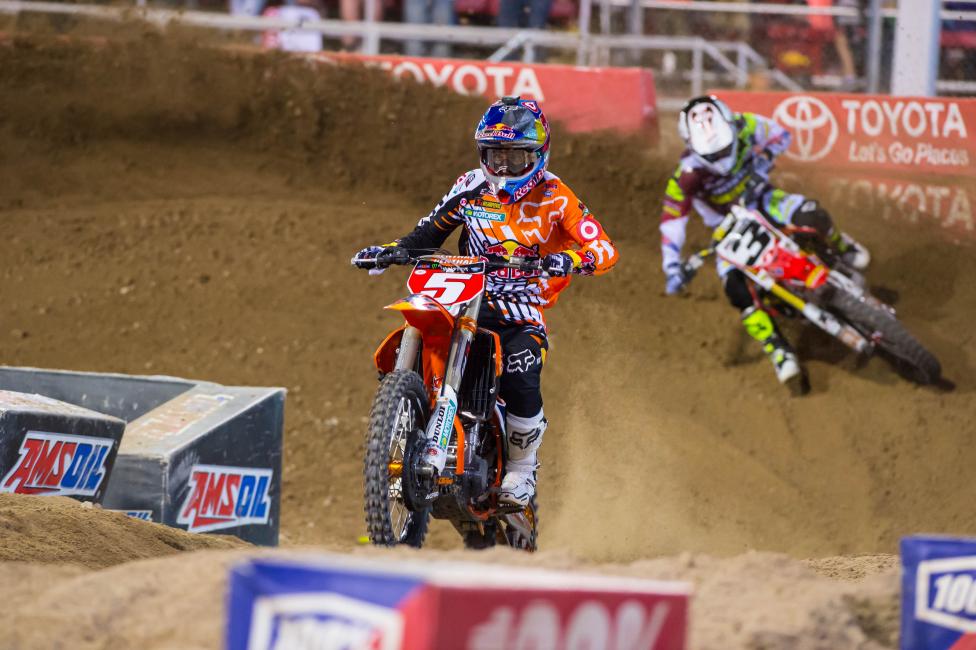 There was the triple over there off the dragon's back; I think that's where he closed in.
Yeah, we were doing that all day. We just weren't doing it consistently. He was the first guy to do it really consistent, so I tried to step up and do it as consistent as well. I think we hit it about seventeen out of twenty laps, so a couple mistakes. I think that was a couple tenths every lap right there.
When you hear the roar from the crowd, you looked like you got to the next corner and you were looking, okay, where is he?
Yeah, obviously he's going to put the pressure on. He's a fit guy, and he pushes the pace really good. I have to step up and push that pace and then some. So I was just trying to maintain that and then be mistake-free and be consistent. The track was really easy to make a mistake. There were a lot of tight turns, but you were coming to almost a dead stop, and then you had to accelerate up the face of a bigger rhythm to get over it. It was really choppy coming up to it, too. Really technical and tough. By the last race of the day the track was pretty chewed up and slippery, and traction was hard to find. But we kept it on two wheels.
How do you adapt during the day? I know they water it heavy and then it dries out. Do you try to anticipate or do you change your bike each time you go out? Or do you just say, Oh, it's muddy; don't even think about it?
Anticipation's key of what it's going to be like. All the practices except the last one were kind of tacky and mucky and wet and a lot of variation. But, then again, when you get to our main event it's dry as a bone and slippery, but the traction's a little more consistent than a wet base. So that's what I tried to set it up for. Right away everything felt good. Actually, we made a couple clicks. We made one change in press day and one change today, and that's where we ran it. It felt great all day, no complaints.
Has this place changed over the years? It seems like it was a little less blue groove this time around.
The dirt was a little bit better it seemed. I think the big ticket was getting the water into it Friday press day. I think they did a good job of that, and it definitely was dry, but it wasn't dry like most. The whoops were skatey. That was about the nastiest part of the whole track. They kind of did a good job slowing it down too, making it more like slow, technical rhythm and a flow. It wasn't really super fast either. That was kind of nice. But I think it was the best layout so far.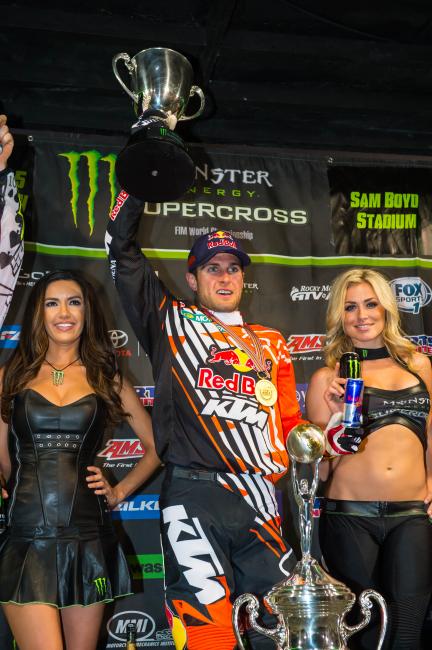 Your bike obviously has been really good for supercross. The little bit of outdoor you've gotten to do, does it seem like the same type of step ahead of where it was last year?
Well, that magic word "comfort"… No, we actually did some outdoor testing this week. Two days we rode. And I've been riding outdoors the last three weeks prior to that one day a week. We don't want to give up too much in supercross, but you want to prepare for the outdoors. So we're making good progress right away. I think we found some good stuff that's really going to help us for outdoors and get a good setup and consistent. We need to be right there from the get-go. That's the main deal and that's what we're working for. We've got two weeks, so not very long. Less than two weeks if you include press day. But everybody's in the same boat, so we're going to work hard, do what we can, and prepare. It's a long season, too, on that aspect of things. Get a little down time though first.
Your 100th supercross—how does that make you feel?
I didn't know it was my 100th until yesterday. All these statistics and stuff, I don't keep count. Pretty amazing. One hundred races. When you think of one hundred main events, that's two thousand main event laps, and then some. It's amazing. That's a lot of races. The statistics are the statistics; we'll keep racing.