Las Vegas, NV
Las Vegas
Monster Energy AMA Supercross Championship
They've been calling Roger DeCoster "The Man" for over forty years now, dating back to his days as a five-time 500cc World Motocross Champion, when the 500 GPs were the absolute pinnacle of the sport. What's amazing is that his post-racing career has actually produced greater achievements, first turning Team Honda into the most dominant force in the sport's history during the 1980s, then resurrecting Suzuki into a championship machine in the 1990s and 2000s. But even DeCoster's Midas touch was in for a challenge when he became Red Bull KTM's team manager in 2011. The Austrian brand was rarely more than an also-ran and bit player in the US market, especially in supercross.
Now KTM has the Monster Energy Supercross Championship, and Ryan Dungey and Marvin Musquin's domination on both 450s and 250s bring to mind past juggernauts—like the previous ones run by "The Man."
We talked to Roger near the podium after Dungey and Musquin captured more gold in Vegas. The Midas touch had worked again.
Racer X: Did you ever think it would work out quite like this?
Roger DeCoster: I knew that we could do it, but I didn't know how much time it was going to take. It's going maybe a little bit quicker than I even hoped. These things are not easy, but Ryan [Dungey] really stepped it up this year. We were able to make a big step forward with bikes also. Everything came into place. Ryan, everything is on his side as good as it can be. Everything is clear. He is totally focused on racing, and he is taking a lot more responsibility in what he can do on the track himself. He can start thinking. Of course we can always make the bike better, but the rider can do a lot more than what we can do with the bike. In this sport the rider is still the biggest factor.
I think to some of us we look at him and he looks like a different guy this year.
Believe me, he is a different guy. He clearly is. Everything is in alignment. His relationship with his parents, his wife, Aldon [Baker, his trainer], the bike. He's become a man before this season.
He went five years between titles. That's a long time for a guy to just stay at his peak and not get burned out and still be motivated. You've been around a lot of guys, but that's an impressive run, without missing races.
Absolutely. And so consistent. The lowest finish was third place in any of the championships, indoor and outdoor. It's impressive. And this year also in supercross he only missed the podium once, and that was the first race, and that was fourth. He's been fantastic this year.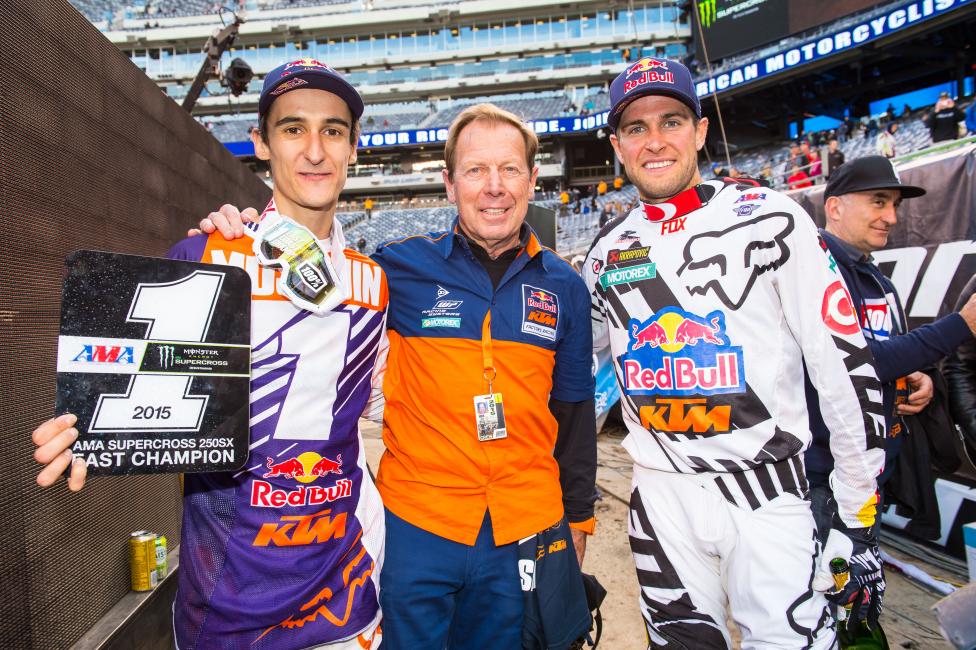 You've been around through a lot of the evolution of the sport. The amount of effort that they put in at KTM—where does that rank with Honda or Suzuki or some of the other brands that you've worked with?
It compares with the best years at Honda. When I stopped racing and got involved in running the team with Dave Arnold, first it was Honda R&D in Japan that we are building the race bikes, and then they started HRC. That company was built only for racing, and the next five years were awesome. It was a lot similar to what we have at KTM now. We deal directly with the engineering stuff. We know who is responsible for what part of the bike, and we have direct access. I have a really good crew here. I was able to bring, I feel, the best people together and they're all pulling in the right direction. Everything lined up this year. It's an awesome feeling.
We often ask riders how long they're going to hang around or how long their career is. How long's your career?
As long as I feel that I can be competitive and share what I am supposed to do. I love what I do. I don't look at it as a job. For me it's like a hobby. I can make a decent living at it, and I do what I love to do. I don't look at my watch. Many times I'm at the shop for ten, eleven, twelve hours and I look at my watch finally because everybody is starting to leave and I see we have been here for twelve hours today. It's a good feeling to be part of something and feeling that you have something to do with the results, with the outcome of things. Like I said, I have a great crew and it's fun to support them. They put in a lot also. Nobody ever leaves at 5:00 on our team. It's really amazing that there are so many guys that are happy to work late so often.
KTM has reached some heights in a lot of series, but supercross has always been the hardest thing for them to adapt to. Do you get the sense that this was extra special out of the all the things they've won to finally get supercross?
No doubt. This was the big one and they were never even coming close. Until I got Ryan on board they never had even won a single race in the main class. Last Wednesday there was a celebration for the championship at the factory in Austria—they basically closed the factory at lunchtime and there was a bunch of people. Of course the race team was there and the leaders, but also our owner was there and spent a lot of time with the engineers and the crew that helped with this. It's been really good working with all of those people.