Fairplex
Pomona

,

CA
Red Bull Straight Rhythm
Red Bull Straight Rhythm
Justin Brayton, BTOSports.com KTM, Second in Open Class
Racer X: When you had to go up against some of these guys, those whoops made a difference. I know that you sort of pride yourself on whoops. Talk about the pressure knowing that you've got this guy right here and you've got this last chance. How was that?
Justin Brayton: I think the track for me, for all of us, was kind of split up into two sections. The first one you had to clear the quad, and if you cleared that good, then the next few sections were pretty good. If you were still side by side with the guy, you just knew that it was just going to come down to the whoops, and whichever guy entered the fastest. They were so small that they were kind of sketchy. It was almost like outdoors; you'd click fourth or fifth and just lean back and hope for the best. Towards the end they got pretty dry so I was actually running fifth, and I think that made a difference, especially towards the end when they got further apart. That made the difference on a couple of rounds. Me and Dean [Wilson] were so close, but I beat him in the whoops the last two rounds, and that's what made the difference.
Yeah, because you were actually a little behind him when you got into them.
Yeah for sure. The second round I was definitely a little bit behind. Then the last round was fairly close too, but I had a pretty decent run. I think the second run was my best of the day. I did a pretty good lap time, so I was pretty happy with that.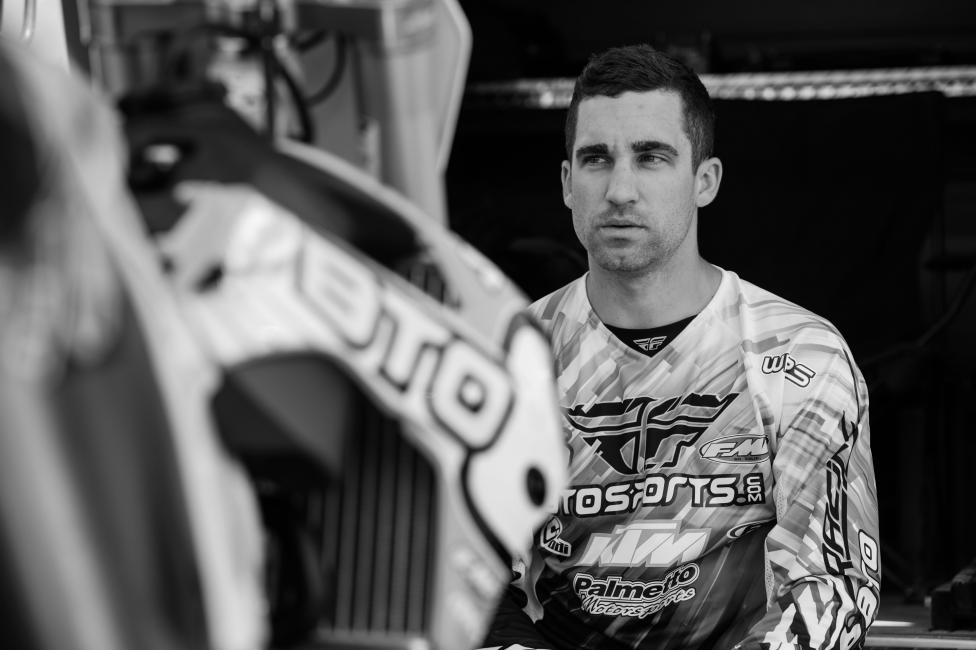 From your perspective going into the final, obviously you know James [Stewart]—he's gnarly and everything—but was there anything that you thought you could have maybe uncorked or tried to in a head-to-head type thing that maybe would have made a difference?
For one, James is obviously unbelievable. And his bike setup, everyone knows he runs really, really stiff suspension, so that here is a huge advantage. And for me, obviously only having a couple days on the bike, I just basically rode with what I've ridden. It's the exact same setup that they gave me [to start with]. It's really good; it's awesome on the track. I just think for here, if I do it again, which I'd love to, you just [have to ] come with a stiffer setting that helps you go through the jumps better. That's where he would beat everybody. And in the whoops he was obviously unbelievable. I knew going into the final I was really going to have to uncork something, but my lap time in the second run with Dean, I think, was the best of the day out of anyone, so I knew I had a shot. Our second run, I think if I had been on the right side of the whoops, I think I would have definitely had a shot. The left side was getting really chewed up. But up until then I was real close to him, but that left side, I swapped the third or fourth whoop and then swapped again, I was like, okay, "He's got it." I knew he would be really tough to beat; even yesterday he was the guy to beat. But I was happy to be in the final with him.
You're doing Monster Cup, right?
Planning to do Monster Cup. I'm really gelling with the new team. I'm so pumped. Scott and JR out here and the whole KTM crew have been awesome. I love the bike. It's weird, you always have a bike that you gel with the most, and I really enjoyed riding the KTM '09. The reason why I left was they weren't going to have a team the following year and I'm super happy to be back. I'm thankful that those guys have me back, and I'm excited for the year.
And you get to keep your tires, too? That makes a difference, doesn't it?
For sure. I've been testing with Pirelli for the last three years or so. It helps that I've been helping them, they've been helping me, and now they basically built an awesome tire, and now I'm reaping the benefits. It would have been a bummer to test and come up with something awesome and then someone else is racing it and I'm not getting a chance to. I'm excited. It's all really coming together. I couldn't be happier.
Malcolm Stewart, Team Seven, Third in Open Class
Racer X: Your brother just said you suck.
Malcolm Stewart: I know he didn't say that. Or we're going to have a talk when we get home!
It's interesting because you guys were paired up in practice this whole time and pushing each other, pushing each other.
It was actually pretty cool. He didn't really want to pair up against anybody else because nobody really wants to help their competition out. At the end of the day we didn't know that we were going to be head to head, like only one of us was going to make it to the final, which kind of sucked. But at the end of the day it was fun. We got down to the semifinals, I was like, "This is going to suck." It's either me...we were like, trying to make bets. Let's split it fifty-fifty, so we know we come out on top even. I had to beat him in the second one, and then I made that huge mistake. Hands down he beat me straight up. At the end of the day he crossed the checkered flag first, so hats off to him. But I got next year. So we all know what I'm capable of. I was the fastest person today.
You did put down the fastest lap, right?
I did put down the fastest lap, but not always the fastest person gets it done either. At the end of the day I'm happy for him and we're all happy that everybody stayed safe.
Talk about that mistake.
All I know is, I come in that thing wide open and I went to go shift down, but when I went to go shift down it hit false neutral, which sped it up even more and I locked every brake I had, the clutch included. I remember coming off that thing and the front wheel was locked. I was like, "Here we're going for a ride! I'm going to crash in front of everybody down there!" It's not that big of a deal if I crash over here [down by the start], but all the fans are in the stadium [down on the other end]. Like, "This is going to suck." Everybody's like, "He's riding over his head because of his brother."
But you probably were a little.
I was, because I wanted to beat him! I ain't going to lie. I was riding over my head a little bit. I didn't want to lose. I wanted to go one more round. At the end of the day he beat me. It would have been cooler if I went to a final round, then we would have shook hands, but he beat me so whatever.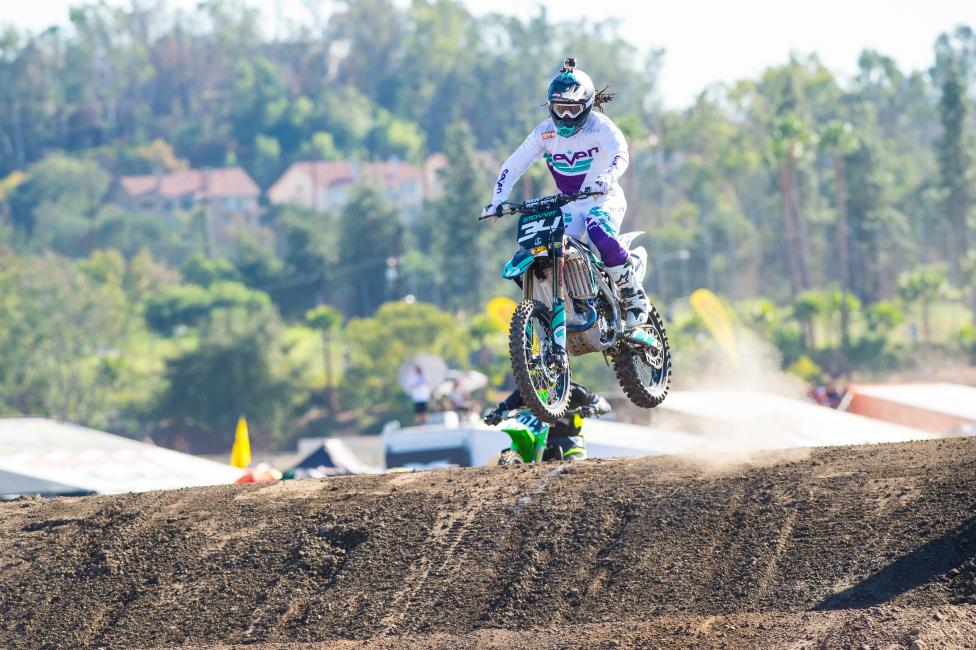 Here's the thing: I brought it up to James already, but nobody knows how good James is better than you do. You see him all week every week; you see him all the time. How do you do that? How do you make it in your head? You have to live in that shadow.
I've got to live in his shadow, it makes me mad; don't get me wrong. Sometimes I'm like, "Dude, no way, you can't be faster than me by this much." I understand if you're faster than me by a second or two, not four or five seconds. But that's the thing that he's doing. He's one of the most talented people on a dirt bike. But at the end of the day we try to push each other around the supercross track and stuff like that. I'm learning everything he's doing. I'm trying to do everything he's doing, and it seems to work for [me] here and there. That's my goal is to try to catch up to him. Even though I will never get out of his shadow, I will never accomplish the things that he's done but at least I can try.
He did say you stepped up about five levels from practice.
I had to step it up. At first he was ruining me in practice. My dad comes in, he's like, "Son, you got to go through the whoops faster. You didn't shift up!" I was like, "All right, how many gears I got in this bad boy?" Then I saw [Travis] Pastrana get down. Pastrana got nasty against [Josh] Hansen. I was like, "I ain't going that fast!" That 500 was moving; I can tell you that. Ain't nobody went faster in the whoops than Pastrana.
What's cooking for next year?
I wish I could say I was riding for this team or that team. I don't have anything right now. Only thing I got right now is Spy and Seven. Of course it's going to be Seven. Everybody knows that. I may not have a ride, but I'll have the best looking gear out there; I can tell you all that. I'll be 2016 promo stuff, all fresh stuff. Hopefully something comes up, but right now we're trying to work on something and getting my own little privateer ride. It's in the works right now, so that's the good thing. It's money when it comes down to it. I'm not really focused on outdoors; I'm just focused on seventeen rounds of supercross. That's the main thing I'm trying to get done right now.