Fairplex
Pomona

,

CA
Red Bull Straight Rhythm
Red Bull Straight Rhythm
Ken Roczen? Nope. Justin Barcia? Nope. Lots of riders were involved in bidding wars for 2015, but we don't think anyone upgraded their stock more than Justin Hill, who, a year ago, appeared to be clinging to his spot on Monster Energy/Pro Circuit Kawasaki. But an impressive 2014 season, complete with a bunch of 250SX wins, made him a hot commodity, and Red Bull KTM came calling with an offer he couldn't refuse.
He made his debut on orange at Red Bull Straight Rhythm, and rode to second in the 250 Class. He revealed some of the reasons for his brand switch after the race.
Racer X: Not a bad debut!
Justin Hill: Not a bad debut. I got strep this week so I wasn't sure if I was going to race. To get on the podium is nice. Once it was to the end, where it was just me and Marvin [Musquin], I just had a big deep breath and I was like, "This is good; this is fine." It was fun, though. It got down to me and Marvin and we just had a good little time with it. I had a blast.
How were some of those brackets?
Sometimes it was lopsided and sometimes it wasn't. I think they did a pretty good job. It was the first time, so it's trial and error for them. But I had a blast nonetheless. This I think is a good idea for a riders' race. It's something that's fun for us. I think it was fun to watch, too. When I saw it on TV and I saw [Travis] Pastrana wheeling all the whoops and then back-flipping in front of [Josh] Hansen, I was like, "Okay, this is entertainment." I think everybody did a good job and I can't wait for next year.
Going in you knew that Marvin had been fast, was there any part of you that thought you could maybe try something anywhere that would have made a difference?
Not really. Like I said, I didn't come in in the best of conditions, so when I got to the end, I was really nervous for the last race with Marvin because sitting there and I'm weak and shaking. I was like I'll just do what I can do. Not discounting Marvin—he was riding awesome today. It was one of those things where I was just like, "Let's go for it," but I didn't take any chances. This was supposed to be a fun race, and for me to blast myself here and not be able to get ready for Monster Cup and into next year is pretty stupid.
But then they throw some money at you.
Exactly, then they throw money at you and it changes the whole thing.
But that's the thing about head to head is you know...
He's trying to take your money. But me and Marvin, it's like a friendly poker game. To win, it's a little bit more coin, so that's a little bit of a bummer, but that's all right. I had fun anyway. At this point in the last two years of my career with the other team, I didn't have any opportunities to race otherwise than the actual series. So for me to race this and make a little bit of money and then go and race Monster Cup and then I'm going to go to Africa and do all this stuff, I'm excited anyway. I'm cool with it all.
Talk about switching over to the new bike. How's it going so far?
Everything is great. I really like the bike. I think it's a good decision for me because the team attitude is just a little bit geared more towards me... I like everything to be a little bit more positive. Everything's gelling really well. I've known Jade [Dungey], my mechanic, for years, since I was a little kid, so that's easy. I really like the bike. I've rode a ton of different bikes between the 350 and 450 and everything that they pretty much have. Every time I get on a new bike I'm more and more impressed with the brand and how they do it and how everything works. So I'm really excited for it.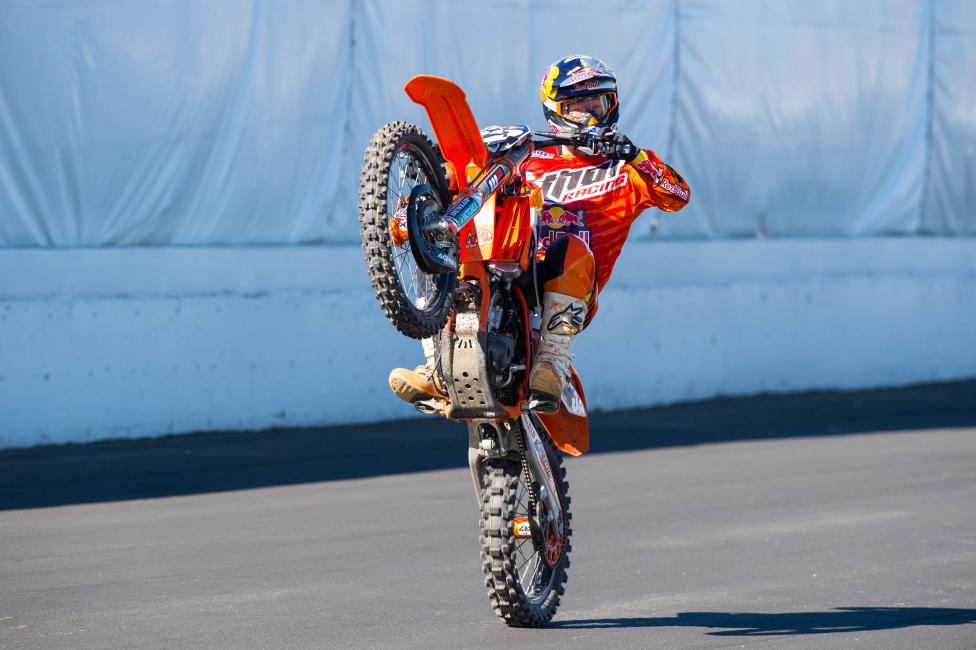 Was that wrist injury at the end of the season a little overblown?
No, I legitimately couldn't do it. I tried for a few weeks. It was actually my shoulder. I had swelling over a nerve pocket, and it was just making my hand shut down pretty much to where if I really used it, it was just blocking signals to where I couldn't ride. It was just one of those things where I didn't know enough about it yet to where if I had known if you just chill for a couple weeks, it'll be fine. I wasn't sure, so I thought maybe I could just ride it out and we'll see if it needs to be fixed or whatever. I tried to ride it out when I shouldn't have really, and then it probably would have got better quicker. But it wasn't too bad. I think a lot of people thought it was really bad, but it wasn't that bad. It just needed time honestly.
I'd heard there was a little disagreement with the old team and you over...
No. That was one thing Mitch [Payton] was always was good with. If you were injured he wanted to do everything he could to help you get better. Before you ride he wanted to talk to the doctors; he wants to make sure you're okay. Mitch was always caring with us that way. So there was never anything between us with that. I think I just flew off the map so everybody starts talking.