Northern California's Rodney Smith is one of the most versatile racers ever, grabbing wins at the highest level in motocross before switching to off-road, and carving out one of the greatest careers ever in the woods and the desert. Now 50, Smith went racing again at Loretta's, and finished second behind Earl May in the 50+ Class with 2-2-1 scores. We found Smith during the week and chatted with the five-time GNCC champ.
Racer X: You're at Loretta's, and everybody's all pumped up. Everybody's like, "Look out, he's 50, and he's coming to win!" But you're a pretty busy guy nowadays. You're not headhunting for titles necessarily.
Rodney Smith: No, actually the only reason I'm here is because I had to make the trip out with a couple of my clients. I've been here before for GNCCs and it's nothing like this, so I'm glad I made the trip.
Since you're 50, you're just old enough to have missed this race when you were coming through the ranks.
Nineteen eighty-two was the first year they raced here, but I went pro back in 1982. In 1980 and '81, I did ride an AMA amateur national, but I think one was at RedBud, and the other one was at Millville before it was a National track.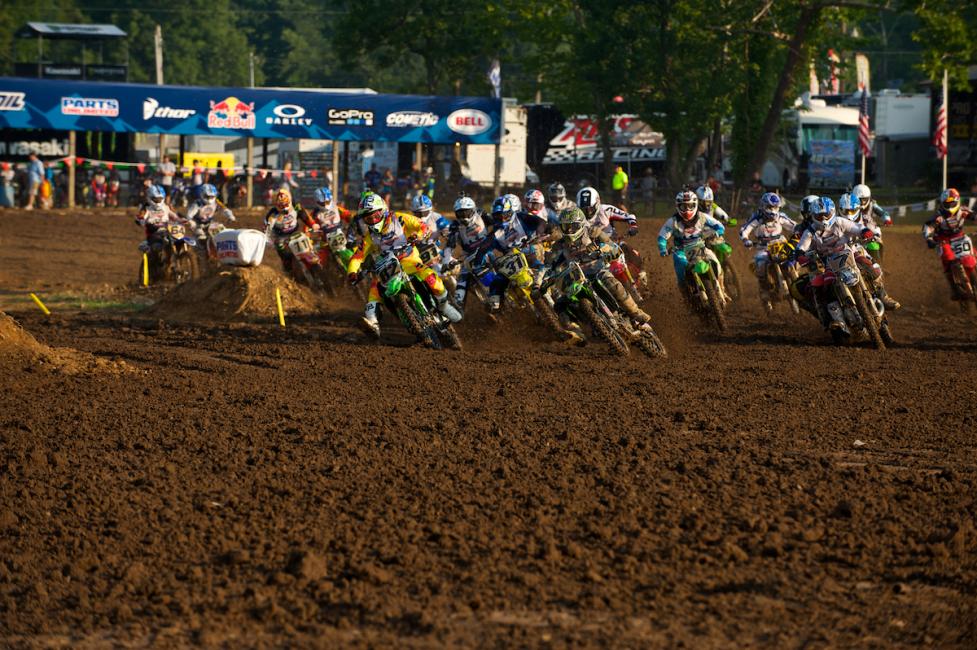 So you've actually seen Loretta's for a GNCC, but dude, it is nothing like that right now.
Nothing, nothing. This place is insane. It's incredible. The industry that's here, the people, the fans, the spectators… It's unbelievable. It's pretty cool.
Talk about the whirlwind experience you've had as a racer. You're in the 50+ Class, but you've got like 100 years of racing experience with all you did.
Yeah, but I still make mistakes! I still showed up here unprepared. It's all experience. I've been to all the Regionals and the Areas out in California, and just to get to here is one thing, but when you do get here it's a different race. The motos are a little bit longer; you don't get much time on the track for practice. There's a lot of kids that are real finicky, and they get caught up in the bike setup. When you get here there's no time for that. You better show up here ready to go and you better be able to can get on a bike and go even if it's not 100 percent.. It's going to be hard to have a bike 100 percent out here because the track's changing all the time. I got my hat handed to me yesterday by Earl May; I got second. I couldn't get my groove going because the track changed! The lines that I had on Monday did not work.
Just talk about where your pro career took you. It's so bizarre.
Yeah, and just for different reasons. Eighty-three and '84 were my first two full years as a pro here in America, and I was doing pretty good, getting just a little bit of help from Yamaha. I went to the Daytona Supercross and I think I got an eighth or a ninth in the 250 Class, which was the elite class.
They didn't have 125 supercross back then.
No, it was 250 only. And then I went on to Gainesville—the first outdoor national of the year—we were on YZ125s. It just happened to be a bad year for those bikes. Yamaha wouldn't let me switch classes; I didn't want to struggle all year on the 125. Somebody from Brazil, a scout, offered me to come down there and make some pretty good money. I decided to make the trip and it turned my whole career around. Went down and spent three years in South America, chasing Brazilian national championships. I won five of them. When the GPs came down there, I did real well at the Brazil GP races, which earned me a ride to go to Europe for three years. I finished third in the 250 World Championships in '88, then seventh the next year, and I had a pretty good career there. I didn't really enjoy the lifestyle though. I remember I still had a contract for the next year, 1990. I called up my parents and told them I wasn't happy, and they said come home. So I came back home, kind of retired, dabbled around a little bit. Went out on the road, riding as kind of a privateer for Suzuki. I got some thirds and fourths, won a moto here or there in the 125s, but again, I was a privateer. It was hard being on the road, so I quit. Took a little bit of time off and went back to my grass roots and rode a couple off-road races for fun. I actually rode four big, major off-road races and won all four of them. It opened up the eyes to Dave Bertram and a few other people, Mike Webb, and them. They wanted to put me on the 1992 Six Days Enduro, ISDE team. They talked the AMA into doing it. Back then it was unheard of to bring a motocross guy into that race because they didn't know how to work on their own bikes. But a few of them knew my background, knew that my family did off-road and stuff like that. They said we needed a guy like that, that we need to change the sport. So they brought me in. I went to Australia that year and got second overall at the ISDE.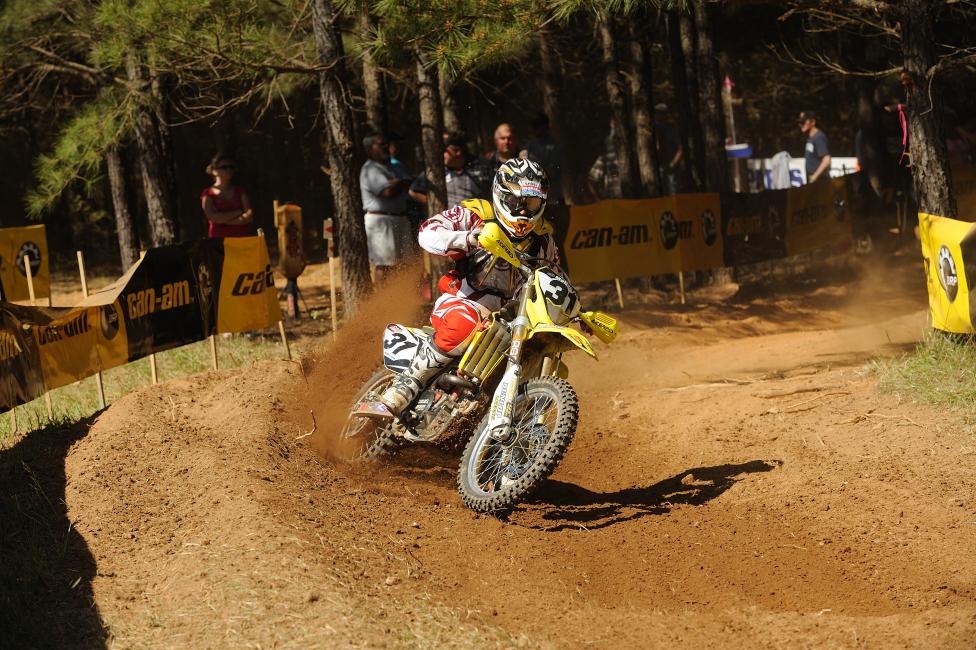 Best American ever probably at that point?
It still is. I don't think anybody ever beat second overall. I got second in the 500 Class. I battled with Giovanni Sala all week long. I won the final moto. Me and him switched off winning tests. I lost the whole six days by thirty-three seconds. But it was a good experience. Then Suzuki hired me in 1993 for off-road. I went on to win thirteen AMA titles, five of them being GNCCs, some other National Hare Scrambles, and some Reliability Enduro Championships.
What's funny is that you didn't even intend to do the off-road thing as a job.
No, matter of fact our first conversation with Mike Webb [then the Team Suzuki off-road manager], he said, "We want you to ride for us for next year for Suzuki." I said, "Sorry, I just retired from motocross because it became a job, and I didn't even enjoy riding a motorcycle anymore." I remember sitting in my apartment in Italy going, "God, it's noon and I don't want to ride." There's something wrong with that when you don't want to go ride your motorcycle. So a week or two went by and Mike called me back. I said, "If you let me do it my way and keep it fun… don't get me wrong, I'll get the job done, but let me keep it fun and I'll do it." And you hear these guys, Bubba [James Stewart] and [Ryan] Villopoto and [Ricky] Carmichael, all talk about when they have a good year that their trainer helped them and they had a good program. That program is a balance, a balance of work and fun. There were some years later, five, six, seven years later in my career of off-road that I was struggling and we were testing and we were testing and we were trying different things. You're working twice as hard and the results aren't coming. You need to step back and kind of go back and have fun again. When you start working too hard it doesn't come, it doesn't work.
I almost never hear a guy, when they break through and they get a win, they never say it's because they did more miles on the bike that week.
No, when you're doing more miles on the bike—when you're doing more training—is when you're looking for something. Do you remember the last few years of Johnny O'Mara's career and Jeff Ward? They all started becoming big trainers, because you're starting to lose that desire, and desire is the best thing you can have. Jason Lawrence can have desire to win a moto not being in shape. You can't win championships that way, but desire can get you through a moto once in a while, when the conditions are right. But when people start training harder and you start getting older, you're searching for that desire again. Physical strength does play a big key; it does help you out. That's what helped me out through my last couple years of GNCCs, being strong, being conditioned, being a little bit more older kind of helped me get through those years. But you start losing that desire.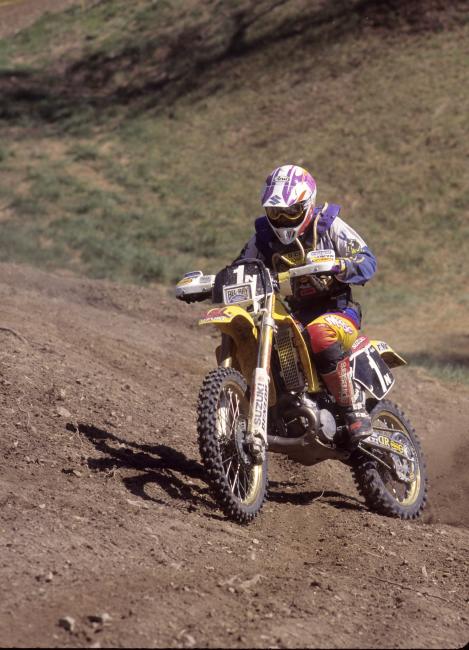 So how was the money racing all these different places?
Money in Europe in those days was real good back then. We were getting $5,000 just for start money to do an international race. Even as I retired in '89, 1990, I came back home, and I think about six, seven, eight times I flew back to Europe making almost seven, eight, ten grand a trip, and they'd pay the whole trip. Those were some good years there. A lot of us racers, Larry Ward, a lot of us at that era were still going to Europe making good money, and it was fun.
And the Brazil years were probably pretty good, too.
Brazil years were good too. A matter of fact they're even paying off good now. The fact that I went to Brazil and learned that language is making me a lot of money today because I have a lot of Brazilian kids that come here and train with me because I can communicate with them. That's part of education. I look back every day, and the fact that I took extra time to learn another country… I even learned Italian. I don't remember as much Italian as I do Portuguese—Portuguese I'm fluent. I'm fortunate enough that I was smart enough to take that on because it's helping today that I'm 50 years old—to be able to have another career.
So, that's what you're doing—you're working with riders now?
Yes, I've got RSMX 31. It's Rodney Smith Motocross Academy, motocross and off-road. I have a good group of sixty-five riders, a good group of eighty-five riders, some novice, and I've got a bunch of pros I work with at home too. So I've got all levels. It's good. Sometimes I like working with the pros; sometimes I'd rather work with the beginners. It fluctuates. It's been another learning curve, trying to take my education I've earned over the years and what I've learned in different countries, being on the start line, to being off the start line, working with parents, even. Trying to educate them all.
That's a big part of it.
Even at a race like this, I remind the parents that this is a big race, a big expense, but at the end of the day it's got to be fun for the whole family to be here. You've got to step back and not get so caught up into the racing, because only a few kids are going to walk away here with championships. But the experience of being able to come here and enjoying it while you're here is just as important as coming here and winning. Go to the concert tonight. Enjoy what's here. What I've learned in my career, now at 50, is it's our memories; it's not how much money we made or spent along the way. It's the memories, the people you met, the things you've done. That's what I have to live back on, the stories.
How's the family?
Good, matter of fact they're flying in tomorrow. They're watching my last couple races. Probably one of the only major races my daughter will ever get to see me do. And it's our anniversary today, so that was pretty cool. Lori and Linda are coming in tonight.
And Lori's a trainer also?
Lori's my personal trainer. She has kind of a neat group. She works with my racers and riders, and then I do a little bit of cardio stuff with them sometimes. I even step in and train her groups. But for the most part she trains all my racers and I watch our daughter. Then in the afternoons I go to the tracks with the racers. So we got a good thing going; it's nice.