Muddy Creek Raceway
Blountville

,

TN
Tennessee (Muddy Creek)
Lucas Oil AMA Pro Motocross Championship
By Jason Weigandt and Chase Stallo
Eli Tomac's rookie year in the 450 Class hasn't gone close to what was expected. He was down on the first lap of the first heat race of the year in Monster Energy Supercross, and a shoulder injury set him back. He finally started getting back in the groove toward of the end of that campaign, only to break his collarbone just before the Lucas Oil Pro Motocross Championship began. He used Muddy Creek to get back into the game.
Justin Brayton's supercross season actually started out brilliantly, as he battled within the top five and threatened for podiums. He crashed near the end of the season, though, and broke his foot, then tried to race through it before crashing again and hurting his knee. Muddy Creek marked his first motocross race of the season, as well.
And they rode well. Tomac contended in both motos and grabbed 3-3 scores for third, and Brayton went 8-15 for tenth. The best from both is probably yet to come, considering they're just getting back into it. We chatted with them after the race.
Eli Tomac (GEICO Honda):
Honestly I was just getting bored at home. When you're sitting on the couch you watch the races and it kind of just drives you nuts. You need to watch the races to obviously learn things but at the same time you just kind of want to take your mind off it, you're watching the other guys kind of steal your show. For me this is everything I was hoping for when I came here, to get on the podium and go fast in practice. I got great starts all day. The orange bikes were just on it. You can tell those guys are dialed in right now. They're in good shape, holding that 4 or 5 lap sprint pace the whole time and that's where I was a little bit off.
Let's talk a moment about moto number 1. Not only did you get a great start like you mentioned, but you had a chance to run in quite a bit of clean air for it. What was it like to be back and know that the 39 riders you've been watching on TV a little distance behind you?
That's always the way you want to start but at the same time you're like, "Man, I'm up front now, I've got to make it happen!" But for me, winning some races last year, I did get a little bit used to that. So I didn't get super tight but around the halfway point I actually did end up getting a little more tight then those two guys got by me. I just kind of stayed there in third.
It's actually your first 450 race outdoors. Talk about the bike, setting it up. What was is like? How long you've been testing it and stuff like that.
Coming in I finally had a pretty good setup, just from testing at home. I didn't really spend any time in California testing outdoors, but I was in a pretty good spot. This morning in the first moto I was a little bit, I'm going to call it tail-dragging [bike was low in the rear] because the ruts were so deep. Had to make a change in the second moto to kind of steepen up to get it to turn. That's what I changed. It was a little bit better. I did get beat by the same amount of time in the second moto but I did feel more comfortable on the bike. Another thing that was kind of wild was some of the ruts were so deep I was catching my boot on my plastic the whole time. My issue was catching my boot on the side plates. That's where I struggled a lot in the first moto. And there's only a few tracks that ever get ruts that deep and this is one of them. So that was kind of an issue all day too.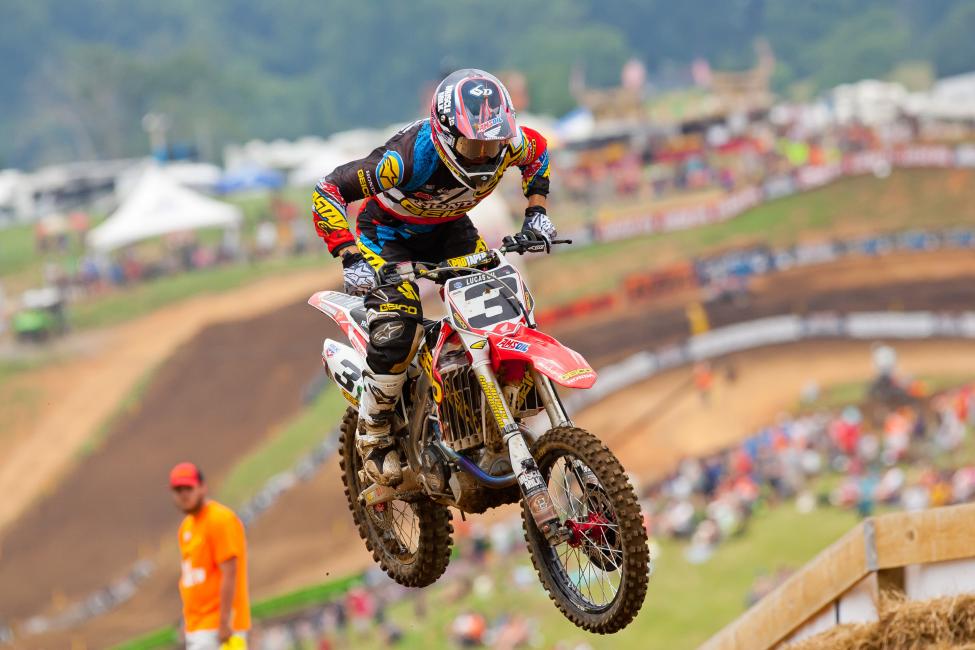 Is getting tight a something that you can just fix in a week or is it going to take months and months of training, fitness, time on the bike?
The second moto I didn't really get tight; it was more just a little bit of fatigue I'd say. The first moto it was like legit a little bit of arm pump, so that was more of a setting thing but I seemed to fix that for the second moto.
You were talking about the track. Obviously when they do something like this you're not sure if it's going to rain, did they dig it and rip it deep enough? What do you like or not like about the surface today?
Honestly I thought it started out a little bit too wet. Sometimes when it's that wet … there's a lot of lines out there, there's a lot of muddy ruts, but usually it gets just to be one fast main line. The track turned out to be okay later in the second moto. There were a lot of lines out there. I thought it was going to be worse than it was. I thought it turned out to be okay. – Jason Weigandt
Justin Brayton (JGR Toyota Yamaha):
First race back. How'd you feel?
It was good to be back. It was awesome to be back at the races again. But I definitely struggled, for sure. It was a tough one to come back to with all the ruts and things like that. Still a little bit cautious with my knee but overall I felt pretty good. There were times where I felt pretty good and fast and there were times where I really struggled. Understandable but I'm excited for the week. I really enjoy the tracks coming up. To get out of here with a 10th overall is not great but it's not the end of the world. I'm excited to get back to work.
Is it just a trust issue with your knee?
Yeah, kind of. I've been riding the past few weeks and I just hadn't rode anything like this, with ruts that long. The tracks that I've been riding are really controlled ruts. Like you'd come in, stick your leg out, and come out and there's no more rut. Here it was just really long, sustained ruts that I kind of had to tip-toe through. I didn't have to, but I did. There were some bright spots and there were some not-so-bright spots. Learned a lot and looking forward to Red Bud.
After a tough ride, can you leave here happy with 10th overall?
Yeah, I think there were some positives. Of course I'm not happy about it. I wasn't that disappointed qualifying like that just because it was so muddy in practice. I knew what I was struggling with and I knew coming in how my body felt. I was confident that I could get a good start. I feel like when I'm 100 percent when I get good starts I can pretty much run up front with anyone, or at least stay in the top 5. I did that for a while and then just started thinking a little too much. But I don't think you can go away here happy but I think you can go away here knowing what you need to work on and excited about the future.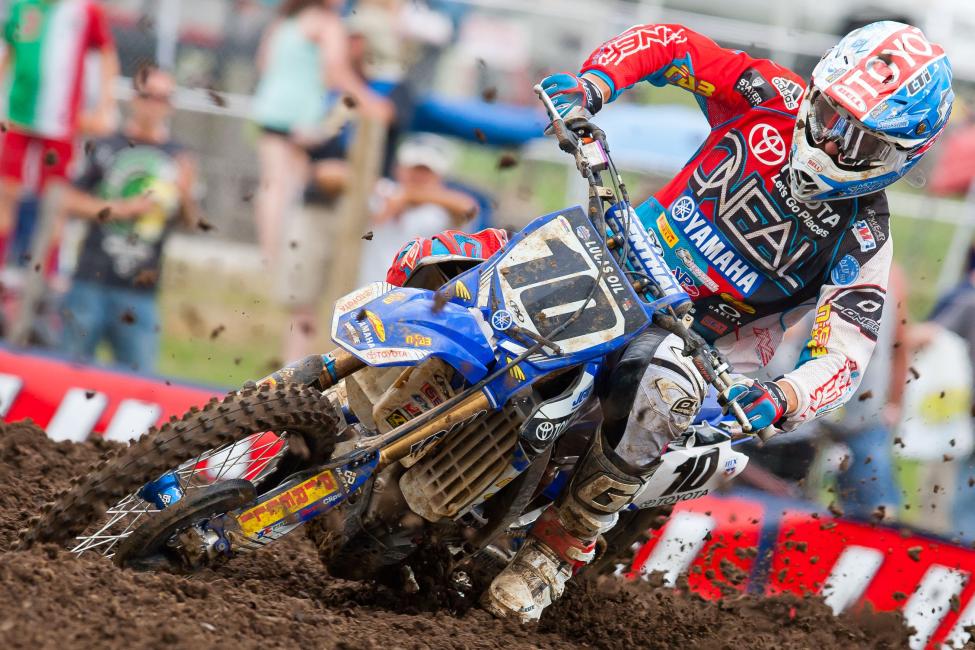 Do you think the fitness is there?
Not quite. Not fully there yet. It wasn't that hot today or anything. The track was fairly tough on the body but not too bad. I still have some work to do there also.
And you're actually a new dad, which I don't know if a lot of people know. How's that changed your riding, your life, everything?
It's honestly totally changed everything, for the better for sure. The hard part is my wife, Paige, had our baby girl, Parker, three weeks ago and I've really been kind of in the meat of my training. I've had to balance that. Of course I want to spend time with them, but then again, she totally understands that I've got to go to work, too. It's been a tough balance but I think I've done a pretty good job of it. There's definitely some sleepless nights, but those are kind of awesome, too. I think you kind of go through all phases of it. I'm honestly super excited to get home tonight and to be with them. It really just changes your perspective. I came off the track and I was super bummed at the second moto but then you start to think about her. My wife sent me a picture of her sleeping and she had wrote in the text that she had been cheering me on all day. She was tired and fell asleep. That just puts a smile on your face, honestly. Like I said earlier, I really want to get back to work and get up front. That's the bottom line. I think I belong in the top five. It may take a couple rounds to get there, but I'll get there. – Chase Stallo