When we created last year's Racer X 30 Greatest AMA Motocrossers list, we ranked Steve Lamson as #22, sandwiched between Tony DiStefano (#21) and Jimmy Weinert (#23). And while the record books show Lamson as a 125cc two stroke specialist, with the 1995 and 1996 125 National Championships under his belt, he was one of the first racers to enjoy a nearly twenty year professional career, racing his first outdoor national in 1988 and his last in 2007. That puts him close to John Dowd for career longevity.
Today, Steve can still be found working in the paddock, where he serves as team manager for Yamalube/Star Racing Yamaha. He's also known as one of the good guys of the sport—humble and friendly when pressed on his racing accomplishments. We found Lamson getting ready for his flight home after the Muddy Creek National, where one of his team riders [Cooper Webb] scored his first career outdoor win, and asked him about his life today.

Racer X: Hey, Steve, what's going on? Thanks for talking to us! What do you have going on in your life?
Steve Lamson: Well, right now, we're just getting some motors packed up to ship back to the shop, and I have a 4 p.m. flight home. We normally spend the day after a race back at the hotel and working on the bikes. I work for Star Racing, and I'm the team manager. Along with Bobby Regan, I try to run the day-to-day affairs of the Star Program. Last year, toward the end of the 2013 season, Bobby and I spoke, and he asked me to manage his team for him. So far everything has been good, and my deal is that in addition to the day-to-day management stuff, I try to work with riders and give them some of my knowledge from all the stuff I learned and experienced over the years.
The Star Program has been around for a while, but for this 2014 season, you guys have really improved your results. Between Jeremy Martin's domination of the first four motos, and now Cooper Webb putting in very strong ride in Tennessee, you must be very proud!
Oh, for sure! This has been the best year for the team without question. Been a lot of work behind the scenes to get to this point, and it did not come easy. But with the wins, three of them, it's all worth it! When I stepped in last year, we had a really small crew compared to the GEICO and Pro Circuit efforts. We have just three mechanics, our truck driver, myself and Brad Hoffman, who is our motor guy. From my viewpoint, one of our biggest benefits is that we are not over loaded. We have great communication within the team, and when looking at the whole package, everyone gets along very well. A lot of teams always seem to have a negative piece, or a bad apple—or moreover someone on the staff that causes issues. But with our program, we are small and tight. Also, that new Yamaha 250 is really good, and that certainly helps as well!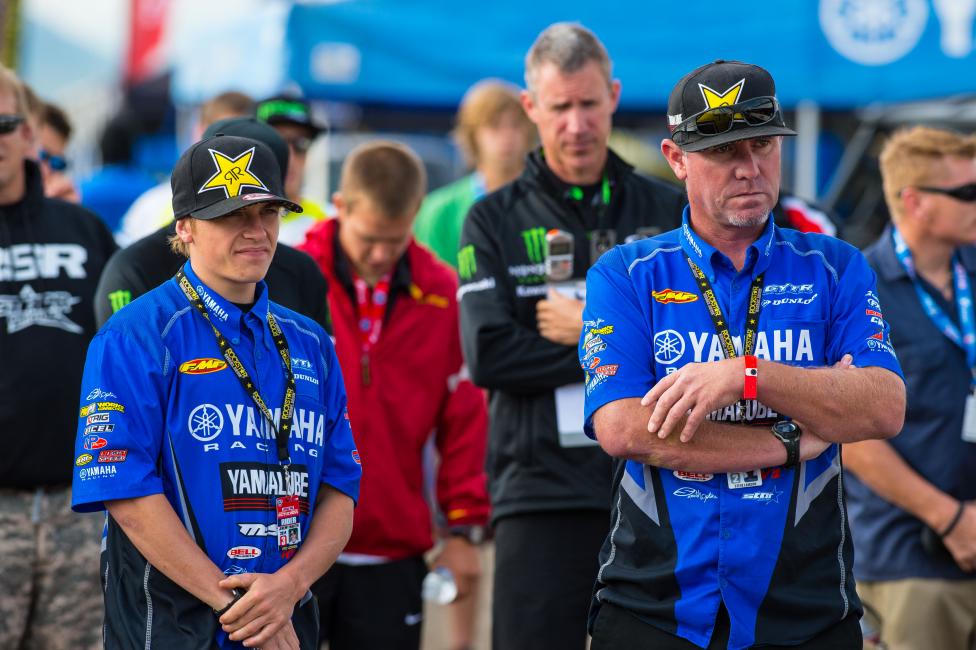 Jeremy Martin came out blazing. But now, it seems like the others have caught up a bit. Are you surprised about that?
For sure Jeremy was killing it in those first two California races. But now, it seems like he is struggling with his starts, and it's hurting him. And that means he has to work harder to keep the points lead.
Cooper rode amazingly well this weekend, and scored his first career win. What are your thoughts on that, and do you see it as a breakout ride for him?
Yes, for sure. But Cooper has been stepping it up the last couple races, without question. He's the only one of our riders who is [still] living out in California, and as the season goes on I think that's helped him, we can work very close with him each week. Our mechanics fly out on Thursday to the racers, but he gets the benefit of being with us as much as possible. Every time he rides, either myself or other team members are present to help and assist him. That's one thing Bobby [Regan, team owner] wants. If a rider is in California for practice, he wants the team to go out and be there for the rider. But when the guys go home, or back East, it's hard for us to be there every day. But as for Cooper, it has been really good to work with him so closely. But for sure, his confidence in himself and his trainer [Gareth Swanepoel] have really had a good and positive impact on his program.
What exactly does your role as team manager for Star Racing entail? And from a day-to-day basis, what do you do?
Well, it's a lot of stuff. But it starts with the admin stuff—I do all the flights for the team staff, I book all the hotels. That stuff alone is really time consuming and always changing. Booking travel for twenty-eight weekends a year for several people is no simple task! I also do the team parts ordering, which includes product from all the sponsors as well, and some of the specialty parts from Yamaha. We also have to make sure we have enough graphics and tires to keep everyone happy, in stock and supplied. I'm based out of our race shop in Lake Elsinore. The shop is not huge, but it works for our program. We have our own motor room and dyno, and Brad really helps me a ton. He has his own office space as well, and it's just enough to make it work for all of us. Again, compared to some of our competition, we don't have the same resources or space available but we make the best of what we have.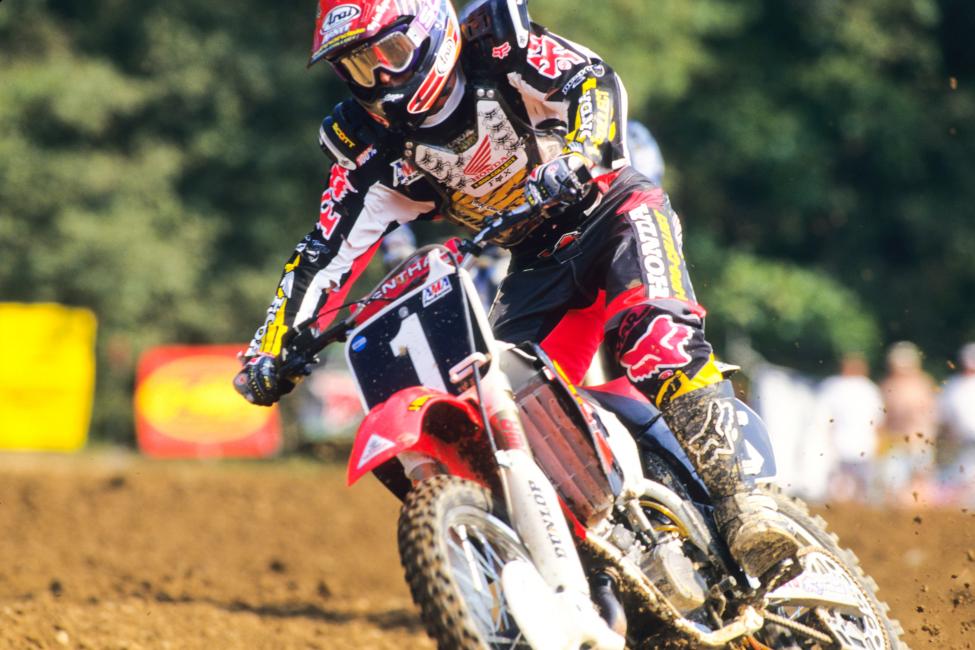 You have been around the industry for a long time, what else have you been doing since your retirement?
Yeah, that was back in 2005! I pretty much laid low at first and did some motocross schools. I stepped back from racing scene and took a breather. But then in 2006 I worked for the Blake Wharton and his brother Tyler doing some training. Then I got a job offer from MDK Motorsports. I was basically the team manager for that program as well. We had Nick Wey and David Vuillemin on the privateer Hondas, and then the following season we took over KTM factory program. Then I worked at MotoConcepts in 2009, and then for 2010 I switched to the product side for MotoConcepts and was helping them out with the stuff they were selling. But that kind of fizzled out after about a year. My next gig was with Team Tedder, but I was mostly doing training with them, and from there Bobby asked me to come help him out over here.
Wow, that's pretty cool. You seemed to have found a good niche. Do you still ride yourself?
Actually I don't really ride any more. I don't have the desire to actually ride. It's funny, I love everything about the sport, I live it every day, but I just don't enjoy the riding part of it. I think I'm just around it so much, that when I do have a day off, the last thing I want to do is load up my truck and go riding!
Tell me about your family life outside of motocross?
I live in Menifee now, and have been in my house since 2009. I have two daughters from a previous marriage—Bailee is 13 and Taylor is 16. I also have two sons with my partner Jennifer—Cooper is seven and MaCoy is ten.
You have had a long career, and looking back, what do you think was your personal key to your longevity?
I think it would have to be my dedication and the heart that I put into it. I trained hard and worked hard and always knew it was a young man's sport. I never did much as an amateur, but I got a ride and gave it 100 percent and worked my way up each year.
Early on, you had a non-traditional career path, racing 125 West Coast Supercross and then the 500 Nationals in one year!
Yeah, that was 1989. I did Loretta's that year, which was my last time. I had that 360 Ohlins Yamaha and we made our way to the 500cc Nationals—me and my dad in our old box van. I was all over the board that season, but was doing whatever I could to get to the races. Then in 1990 I had the DGY Suzuki ride, and did as many races as we could afford. Then I rode for Mitch in 1991, and that was both my first ride and his first season with the Peak Pro Circuit effort.
I think sometimes people forget you were part of that program. What do you remember about that year?
Well, for a first year team, the bikes were awesome and I just remember everything was really good. That ride was what really got me my start at the top. It was really good. Mike Hooker was Mitch's guy back then, and I was friends with him. He was the one who convinced Mitch to take a shot with me. He was really a top-notch guy. I wouldn't be where I am now without him!
How was the money during your career?
For the time, it was really good—but not like today! I think my biggest salary was around $275,000, and that was after I won the championship with Honda. Back then, the contracts were good, but the win bonuses were terrible. For me, if I won an outdoor national, it was $6000 bonus, and an additional $1000 for a moto win. So if I went 1-1, I could make an $8000 bonus. Then in 1997, which was right at the end of my winning years, Honda restructured the bonus program and increased the payout to $30,000! But then my other good money came from my time with Husky. With my money, my dad helped me out and he put it a lot of it away for retirement for me. I tried not to spend it.
Do your two sons ride, or have an interest in the sport?
My younger son Cooper really looks up to Cooper Webb—I think because they share the same name! He has a PW50 and loves the sport, but doesn't ride much, maybe just once or twice a year. Riding isn't a big deal for us, and we try to keep them on bicycles and show them other sports as well. But the hardest thing is keeping them away from the video games—that's our biggest challenge!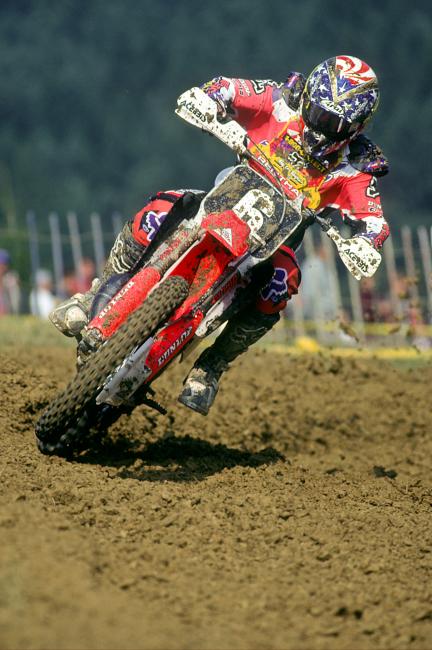 On an off weekend, what do you and family do for fun?
Jennifer and I basically just spend our free time with my kids. I travel so much, so staying home and going to the park or movies is my idea of a fun weekend. But we do like to go camping up in the High Sierra's several times a year, and fishing is something we all enjoy.
Where do you see the sport going?
When I was racing, things were more mellow and relaxed. Now it's more corporate and structured. But I think it's going in the right direction. As for the racers, I know it's really stressful now. But I do feel that the top guys need to spend more time with fans and less time hiding in the motorhomes. Today, and in the pits, you see signs saying the riders will sign autographs for 15 minutes. Come on! I remember signing autographs all day long, and literally sitting with my helmet on just before practice, saying, "Hey, I gotta go, I'll catch you after practice." But the social media has really impacted the sport as well—it's 24-7 now. But for me, I got my email, my phone, and my text messages—that's all I need. I don't follow the rest of the stuff.
What was your favorite race bike?
My 1995 and 1996 Honda CR125. That bike was really good. It wasn't like cheating, but I knew my bike was better than every bike on the line. They were really unreal, just heads and tails way better than every other bike out there.
Steve, thanks for chatting, I am going to wrap this up. Good luck!
Thank you! It has been a great ride, and I still love this sport just as much as I did when I started.