Muddy Creek Raceway
Blountville

,

TN
Tennessee (Muddy Creek)
Lucas Oil AMA Pro Motocross Championship
By: Jason Weigandt, Steve Matthes and Chase Stallo
Blake Baggett, Monster Energy/Pro Circuit Kawasaki, 1-3 for second in 250MX
Tell us about your afternoon.
This morning didn't start out great. I crashed pretty big and I was debating whether or not to even ride or just to call it a 50-point loss and call it a day. But then the first moto was epic. Cooper [Webb] passed me and pretty much left me right off the bat. I just started plugging away at it and feeling more comfortable. I made a last ditch effort, a last ditch hack in that last turn. Probably the best corner I've ever done in my whole life! But it was pretty gnarly. I've done a few of those now that are nail-biters. It was definitely good but he fought hard and same thing with the second moto. He fought hard and I ran out of tear-offs. I was just kind of in survival mode. I was going to give one last ditch effort on the last lap and I was going to try to make something happen but before we got there I collided up with a lapper and went down. Then me and [Justin] Bogle and Christophe [Pourcel] had a little tea party down there. All three of us were sitting in the ruts looking at each other like, "How are we doing this? We're in the middle of a race!" Hats off to him [Cooper Webb] for getting his first win. I'm sure there'll be many more.
You talked about that last lap of moto two where you got all balled up in there. I looked at you down on the podium after the race and you looked pretty dejected, but are you one of those guys that can shrug it off and move on to the next event real quick?
Yeah. I felt like I had the speed. This track's a little bit tough to pass. So I did what I could and lived to fight another day. I made up a lot of points on his [Webb's] teammate so they're right there in sight now, 17 and 9 points ahead of me. It's a long series. I think there's 14 more motos to go and anything can happen.
When you crossed the line in that first moto did you know you had it or were you looking to see if you had it?
I was kind of in debating because I was like, okay, I think I got it, but then when he rode up on the stage I was like, "Oh maybe I didn't! Maybe I gave everything I had and just came up short!" I was like, "It's got to be within thousandths of it." Then Tom [McGovern] from Kawi's like, "No, you won!" And I was like, "Really? By how much?" When races are like that, it's good. It's good for TV and it's good for our sport. It makes everybody else that's at home watching it go buy bikes and gear. That's what makes all of us be able to come here and enjoy it and race motorcycles for a living.
You mentioned the points chase. Earlier in the year did you kind of think that maybe it had got away super quick or did your professionalism tell you, no, just keep your head down and you'll chip away at this?
Not really. Moto 2 of Hangtown when I was pushing my bike off I pretty much knew it was going to be a long summer from there. I was just hoping for some big point breaks. So now that we're real close, it's going to be a good series and let the best man win at the end. – Jason Weigandt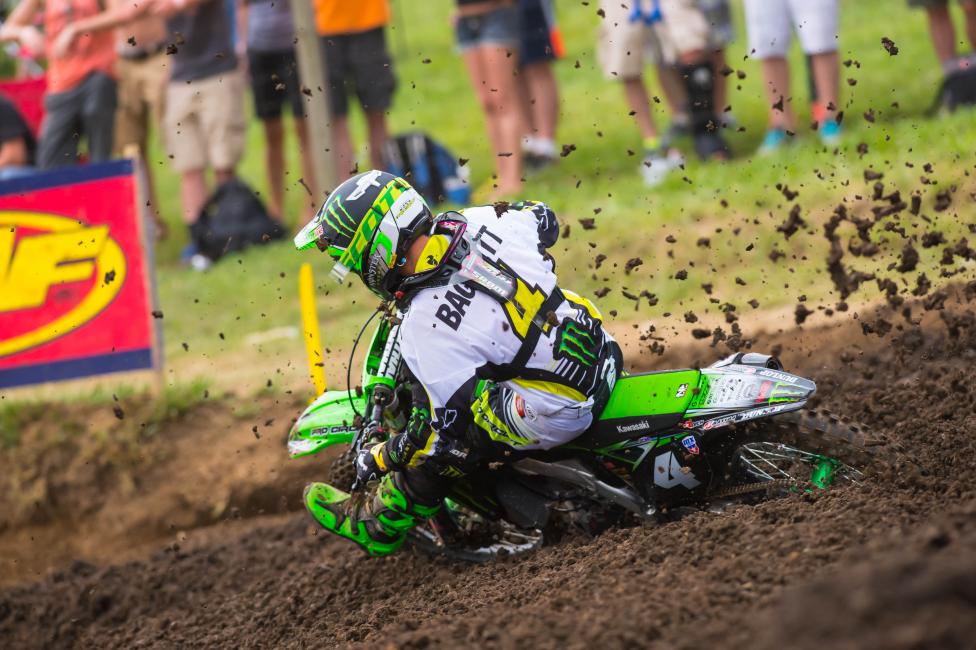 Justin Bogle, GEICO Honda, 4-4 for third overall in 250MX
How'd you do?
It was good. I got good starts, went 4-2. Second moto was a lot better. I hung in there a lot longer. I had a good battle with Pourcel, finally got around him. Definitely a tough dude to get around.
Tell me about the Pourcel experience. Every week I have another guy say, "Wow, I've never had to pass a guy like this."
Yeah, but I'm pretty used to it now. I've had to deal with it for most of the year so far. He's definitely difficult to pass. You've got to take those opportunities when they come. I had one and I didn't quite make it happen and I was like, "Oh man, now I'm going to have to hit the reset button here and try to make it happen again." I made it happen, so it's all good. He's definitely a tough dude to pass but he's a good dude to race with.
Second moto you were creeping into the picture, you were still in it late. You could probably see Webb and Baggett for most of it, it seemed like.
Yeah, I could actually see them at the end and they weren't pulling me once I got to third. It's all good. Those guys got away and I obviously didn't have enough to reel them in or anything but it's good. Making progress, making steps every weekend. Getting back up on the box and try to get me a moto win here pretty soon.
What was the carnage at the end there with like two laps to go? What the hell happened?
That was interesting. I came around the bend and I couldn't see the flags. I don't even think they were out yet. I came around and Baggett's sprawled across like three ruts! I'm like … nowhere to go, so I just run into him, stop, next thing I know Pourcel's running into us. I came out of there pretty good, I just got going first. That's always a bummer when that kind of stuff happens, but it's not my problem. I was happy I got going quick. – Jason Weigandt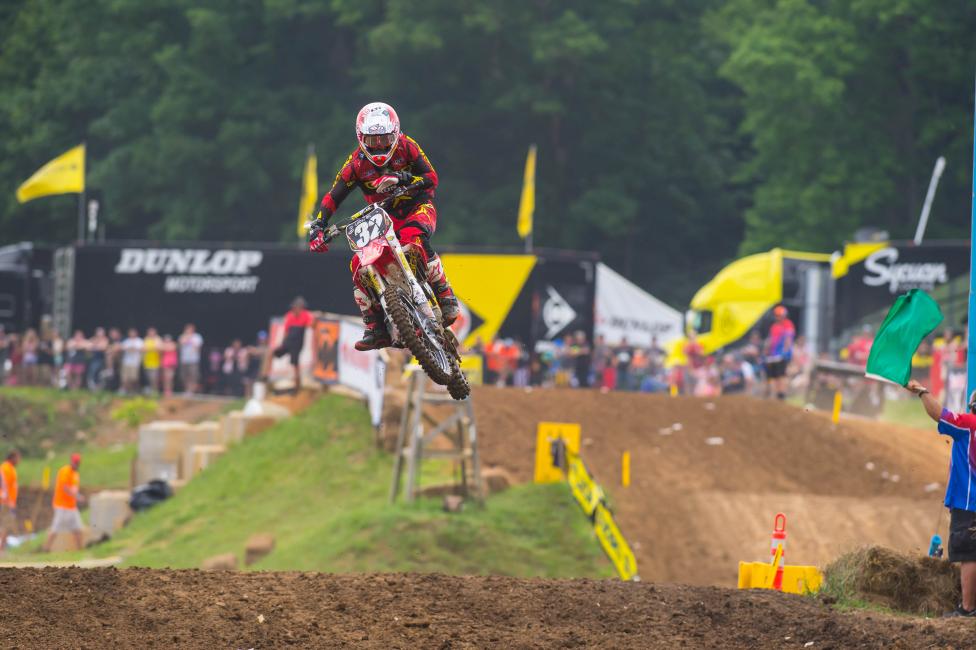 Marvin Musquin, Red Bull KTM, 5-5 for fifth overall in 250MX
Fast times in practice, you won here last year, your whole day could have been different if you hadn't fallen in that first moto.
Yeah. I did [crash]. I like this track, it was really rutted and stuff. I had fun even though it got a little dry. I had a good start and I was right up there with those guys, but I went off the track and came back on, slid with the rear wheel, and [Jason] Anderson ran into me. It was my fault. I came back from 20th, to fifth, so it was okay. Second moto, same thing again, right behind Pourcel … it's been tough but I'm getting better. I know I'm kind of far in the championship points right now so all I can do is try to get podiums. – Steve Matthes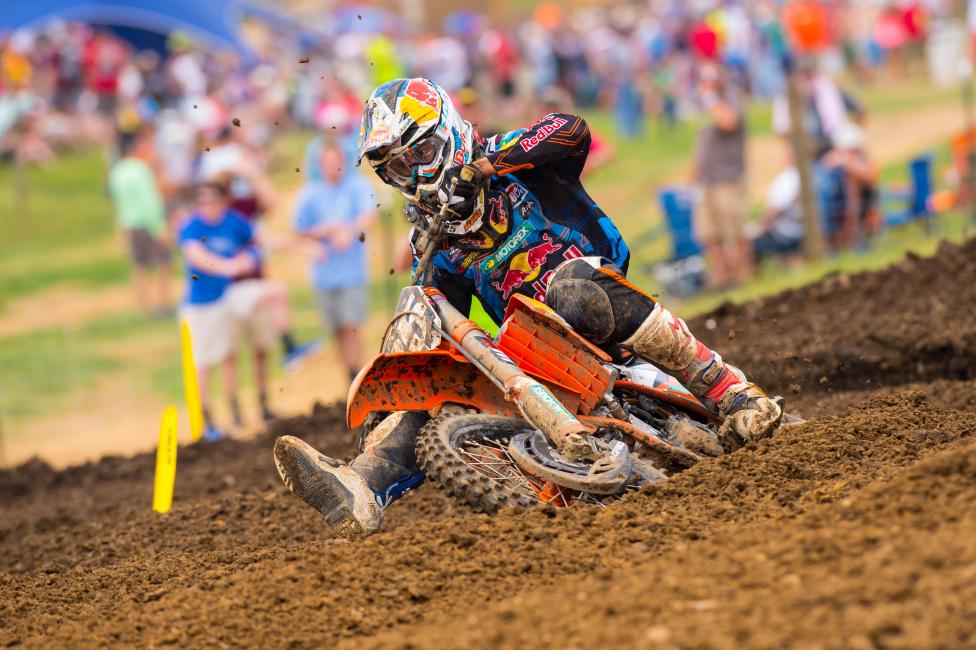 Jeremy Martin, Yamalube/Star Racing Yamaha, 10-6 for seventh overall in 250MX
Take us through the first moto. It was tough from the beginning. You went down on the start. Take me through how you had to dig deep and come back through.
Unfortunately some guys got tangled up in the first turn and I didn't get off to a good jump so I was behind them. [Dean] Wilson went down and I had nowhere to go and I ran into the back of him. I was dead last exiting the first turn. Did some damage control and I had one heck of a battle with Anderson. I battled for probably 20-25 minutes with him. I caught him really fast; just couldn't get around him. For the second moto I got a little better jump. I tried to start further out wide but I was just about mid-pack. I tried to be really aggressive the opening lap to try to get some people. I was able to get three or four guys. It wasn't the best day but I gave it everything I have and at the end of the day that's all that matters. I can walk away knowing that I didn't leave anything on the table.
This is the second race that you've had to bounce back, not necessarily from bad riding, but just whether it's a first-turn pileup or something, you've had to really come through the pack. How much energy does that take out of you? Do you see it being something you have to keep overcoming or is this just a couple races?
I don't even look at it like a race-to-race deal. I just look at it moto to moto. You try to improve on the mistakes you made during the week and try to get better for the next race. I'm trying to get better on starts and trying to be a little more aggressive. These guys are fast. They've gotten better. We're about the halfway point so some people will get better, some people will start to whatever. So you've just got to be on your game.
You've had to dig yourself out of a hole before. Do you think it'll help you in this situation, as far as coming back from two races that were pretty tough?
That's why I'm so relaxed about it. The hole I was for supercross was way worse than this. I made drastic improvements and I'll improve again. With that being said it's going to be good. It's really cool to get your first win. I experienced it at Glen Helen with my mom and dad and everything. Congratulations to Cooper. I know what it feels like and it's a good feeling.
It was your teammate that won today. What's that do for team morale and the team in general?
I think it's good. The Star team hasn't had this much success and they've never won overalls and stuff. It's a really good thing and it's a good breakout season for our team. It's good for our sponsors. It's a nice way to say thank you guys for all the hard work and all the support they give us. – Chase Stallo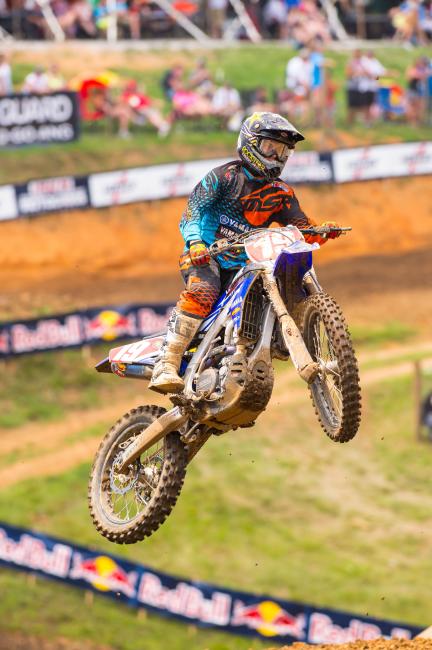 Jason Anderson, Rockstar Energy KTM, 9-DNF for fourteenth in 250MX
Take me through your day.
My day wasn't that good. Practice wasn't that good. And my races weren't that good. I think I went 9-DNF, so not a good day.
You've been coming back from injuries. How are you feeling?
I feel 100 percent now. Even High Point I was riding good and I was fine but the previous round before that I did have injuries. But I'm good to go now. It's just kind of me dropping the ball. I guess I've got like a supercross hangover.
Take me through the DNF. What happened there?
My foot came off and I ended up going through the banners and then my wheel locked up, so I couldn't get my wheel going and I was already like two laps down by the time I got going. So it was over.
The supercross season really did drag out for you. A lot of people probably already started outdoor training when you were still having to train for supercross. Has that had a little bit of an effect early this season?
I guess so. At this point, today, I just struggled. It was not a good day from start to finish. But we're going to RedBud, Budd's Creek and then Millville and those are the three rounds that I feel my best. No matter if I'm not feeling good like during the week or whatever I know when I ride there I'll be pretty good there. – Chase Stallo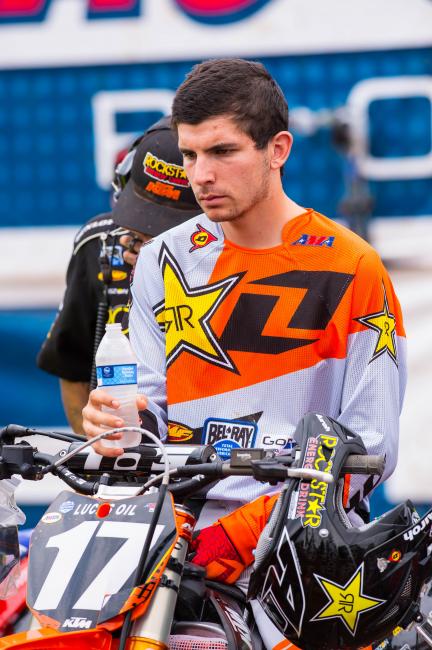 Zach Bell, GEICO Honda, 38-12 for sixteenthoverall in 250MX
Take me through your race.
The day started off good. Was second in timed qualifying, ended up fifth overall so that was good. Second practice hit a deep rut, foot pegs caught and went over the bars and hurt my shoulder. Went out for the first moto and was top five for about 15 minutes and went as long as I could and the pain was just so bad that I had to pull off. I didn't want to get myself hurt out there. So second moto I was way outside and almost pulled the holeshot, which was pretty cool. I tried to run with the guys as long as I could until my shoulder started hurting. I faded back to about ninth and just backed it down a little bit and just rode my own race to the finish. I'm going to get this thing checked out next week and see how it is so I can get back to training.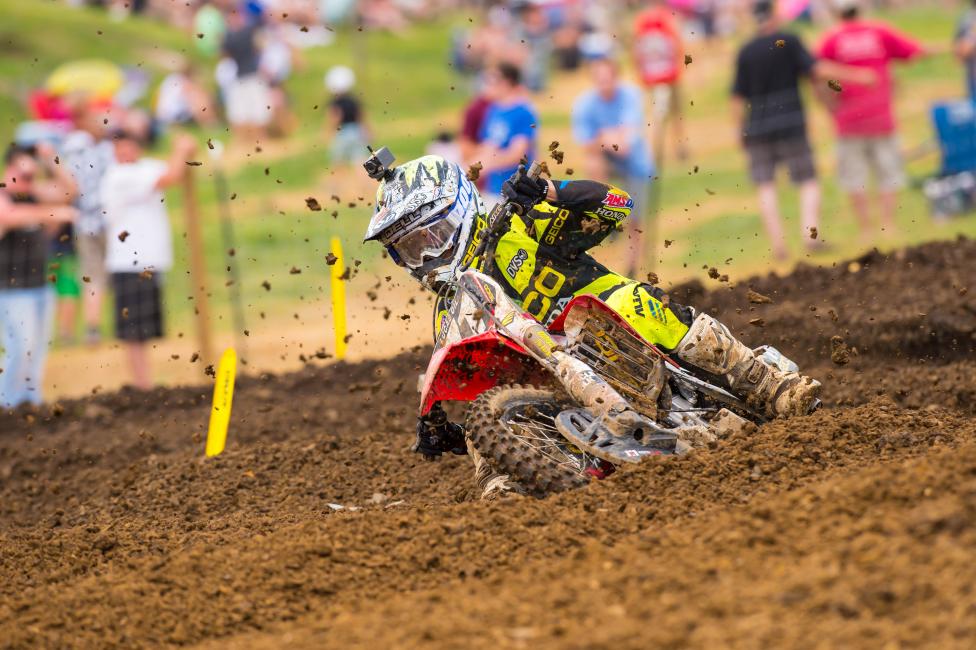 Same shoulder or different shoulder?
It's a different shoulder. It's always a problem with my shoulders. Hopefully it's just a little bruise. It doesn't feel too bad compared to last year, so I'm expecting it's just a bruise.
You're got to ride press day as well. How was the track different?
The track was so gnarly today. The ruts and the breaking bumps it was pretty rough. I'm just glad that I'm in one piece still. – Chase Stallo