Occasionally, a Barcia/Roczen type situation will pop up and we get all pumped on the drama. Yeah! These boys are going to be fired up! This is the gladiator mentality we're all looking for, complete with the "Voice of God" laid over AC/DC during the intros, with slo-mo shots of each rider looking all gnarly for the camera. We want to assume these riders eat nails and piss excellence.
This is combat! This is war! Let's go!
The reality is, though, that this sport is something we all love. It's hard to really be in a bad mood at the races. Plus, the grind and danger factor are serious enough—no one really wants to pile on any additional seriousness. So at the races the atmosphere is much friendlier than you'd think. Most shoulders do not have chips on them. There are occasional flare-ups, but you'll see more smiles in the pits than scowls—and even when there is an issue, it usually gets ironed out pretty quickly. I'll take you through the day in Arlington and try to set the mood.
As always, it's Racer X all-star utility player Jordan Roberts and myself headed for the track on Saturday morning. Jordan runs the Racer X subscription booth all day but also volunteers himself to posting the results, Super Spoiler Report and Race Report on the website. If he wanted to, he could close the booth at 6 p.m. and get off-duty drunk in the stands, but he instead watches the races in the press box. A few weeks ago, Jordan realized he could shoot decent videos with his still camera, so he got some lights, a mic and editing software and bam, now he's a video guy. You might have watched his post-race Aftermath interviews with the likes of James Stewart and Adam Cianciarulo from Dallas.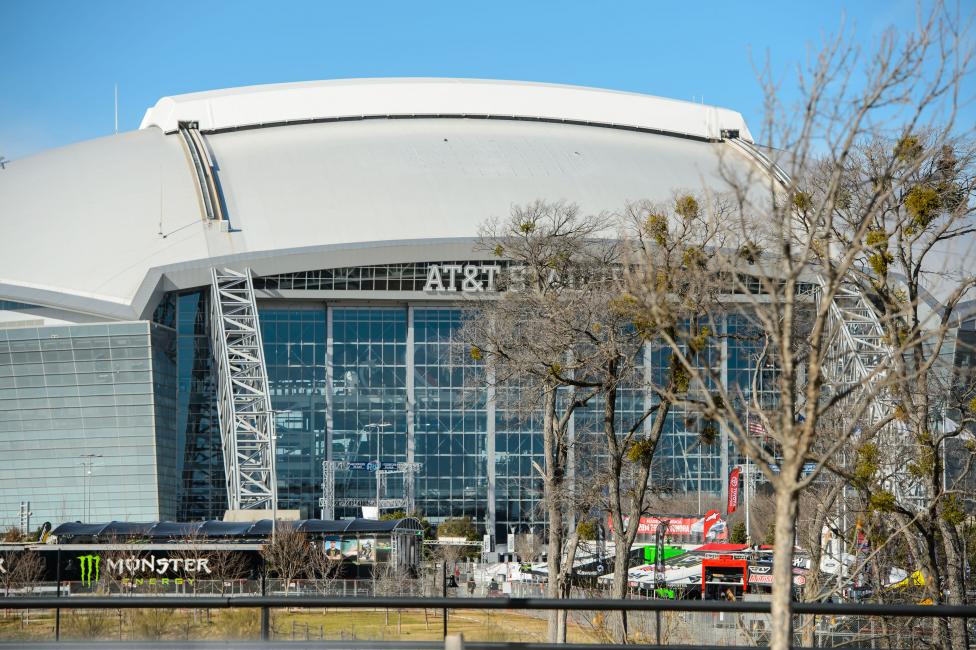 Anyway, Jordan and I go to the races together (he does all the work listed above, I hang out, tweet a bit, and steal free food from the teams). Andy "Rev Up" Bowyer was also heading to Dallas so we picked him up on way to the stadium. Once we hit the pits at about 10 a.m., I visited the Monster Energy Kawasaki rig because I had not checked in there for a few weeks and I had a "theory" I wanted to share with Ryan Villopoto.
Ah, too late.
Our man Steve Matthes was already there and RV had his own theory to share with him. Villopoto was very, very passionate about it. Like, very. I can't tell you what this theory is, but I've said this before: Ryan might not be the most dynamic TV interview ever, but behind the scenes the dude gets fired up. Why does he not bring this into the public? Because as Jack Nicholson would say, "You can't handle the truth!" In this day of sound bite fodder, everything he says would be picked apart and dissected and analyzed … better to just water it all down. Sorry, that's life these days. But man was RV fired up on Saturday morning. Matthes and I asked if this was grounds for any Kawi HR violations but riders are contract labor, not employees, so no dice. Either way, it was hilarious.
Aldon Baker and Adam Cianciarulo were also on the scene. Cianciarulo explained that racing East is harder simply because Aldon put him through a December boot camp just in case he needed to be ready for A1, and then a few weeks later he had to do another one to be ready for this race. (By the way, AC told me about doing 5 sets of 20 pull ups with 30 seconds of rest in between like it was no big deal. He wasn't bragging, he just really didn't think it was a big deal. Sorry, Adam, most mortals don't do 100 pull-ups in a week. I might not have done 100 pull ups in my life.)
At that point I decided to grill Baker a bit about the individual training program for his three riders—AC, RV and Roczen. Baker isn't one to keep secrets, because he says different things work for different riders, anyway. Villopoto's program is much different than Roczen's, for example, because RV has been doing this for three years, while Roczen is still new to it. Also, the boys are separated at the moment.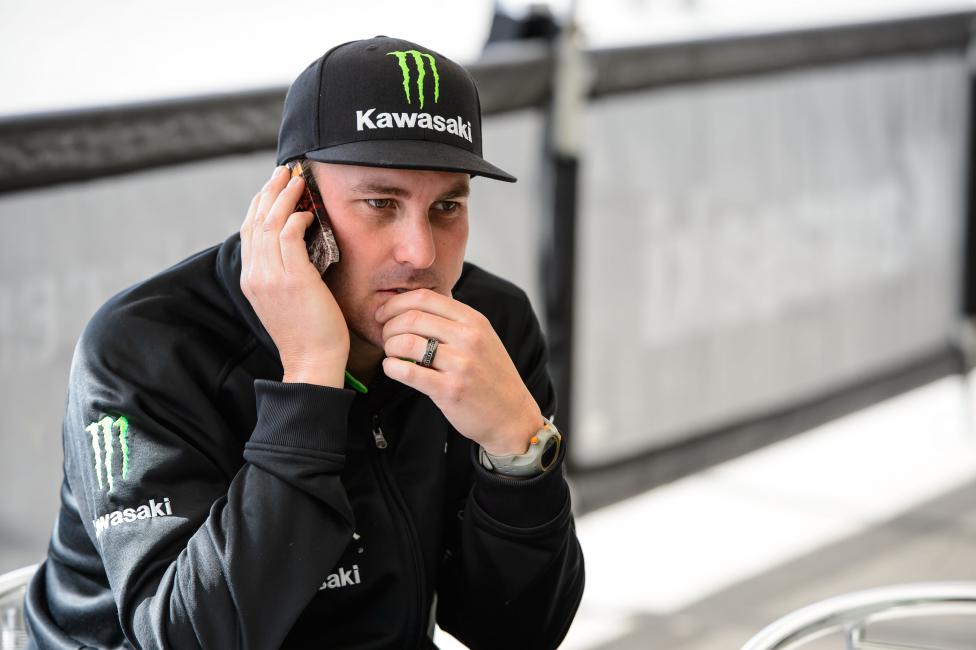 In Florida, they all ride together, but during the California swing, Roczen's at the KTM track and RV is at Kawi, so Baker is usually with Villopoto and then doing his best to keep tabs on Roczen. The personal connection really matters because Baker knows the only way to really know how his rider feels is to talk to him. If they're tired, he can see it in their eyes, their body language and even their riding. It's so critical that Baker stays in California for the full eight weeks, while his wife and kids stay home in Florida. Aldon's kids are in school, so they can't hang out during the week in California. So, besides a weekend or two, he basically doesn't see the family for two months. That's the kind of effort these dudes are paying him for.
Next came track walk. Everyone is waiting for Chad Reed to make an appearance, and he finally does. Chad is, literally, someone who does have a chip on his shoulder. After studying his every move, I chatted with him to file this morning report. As we all know, he wasn't able to race. Also on track walk, I saw Malcolm Stewart, who was indeed wearing overalls like he said he would after San Diego. Relaxation mode! Mookie says he might just be racing Daytona on a 450. His Lucas Oil/TLD team will send him a race motor, he'll prep up his practice bike and head down in a truck and trailer, "Just like a local race at Dade City but instead it'll be Daytona!" he said, smiling huge over the idea.
Not 100 percent sure yet if this will happen but you know he'll have some fans rooting for him if it does.
Finally, I see Blake Baggett and his dad and get the typical laughter-with-no-indication-of-anything answers from Blake. Like Villopoto, Baggett might not make the most dynamic TV interviews, but every time I've seen him hanging next to the track—be it as an eight-year-old at Loretta's or now—he's laughing and smiling as if he has some joke inside of him that he's not telling anyone about. I asked repeatedly if he will actually be good at supercross this year. He laughed and said, "I don't know" each time. For more, see this.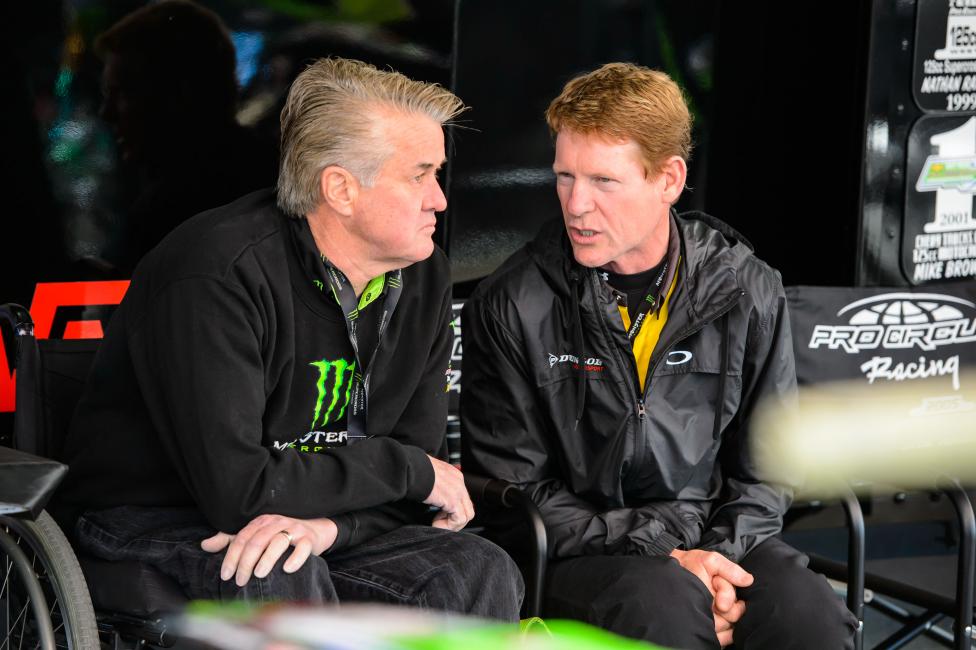 Track walk always ends with a rider's meeting and then Steve Hudson's chapel service, which is inspiring no matter what your beliefs. Steve does a good job relating things back to the daily grind and lifestyle of the racers—and tries to make sure they don' have a chip on their shoulder 24/7.
Then practice begins. We watch both sessions from the press box, then it's time to head to the pits for lunch scoops. The new Crossland Racing/Motosport.com team has made a brilliant play by catering lunch every week, whereas most teams only serve diner. For some reason, the Crossland hospitality section is VERY popular with journalists around 2 p.m.
Next it was off to the Rockstar Energy Racing pit to do some fact checking on a Jason Anderson story I'm working on. When I walked in, Joey Savatgy and Ivan Tedesco were shooting a little commercial for a sponsor, and everyone was ribbing them to see if they could get it in one take. How'd they do? This clearly is not Tedesco's first rodeo.
En route to the Rockstar truck I passed by Honda Muscle Milk. Barcia's mechanic Snikey has had a long running joke about building holeshots into Justin's bikes. He'll usually tell me ahead of time if he has one or two of them in there. Lately, the starts haven't been there and the joke is trailing off, but last week I noted a variety of buttons had sprouted on the handlebars, most likely equipped with start mapping and such. I joked about the buttons till the point where I was equating the bike to a laptop. Then I started giving baseball third-base coach signals, and things really started to stop making sense. It's just a lot of buttons on those bars, okay?
Maybe you saw our interview with Ryan Dungey's dad Troy this week? Chatted with Troy and Ryan's mom Michelle for a long time about life as a moto parent. Michelle explained the nerves of it all, and how she totally admits she's not the same person during those moments when Ryan is on the track. Nothing to do with results, either, just safety. Do you think she's any different watching Anaheim 1 than a mom watching her son at a local race? I doubt it.
I saw Roger DeCoster and we talked about practice, and how his riders have performed so far this year. He told me the practices were extra crowded this week and Ryan and Kenny couldn't even get in clear laps. Oh, and they watered the first turn.
Then it was back to the press box to watch the final practices. Chad Reed rode a few laps and pulled off. Once the practices were over and I logged the practice report on the site, and then headed to the TwoTwo pit to talk to Ellie Reed. Contrary to what you might think via social media, we're all good there. No chips on any shoulders once everything was hashed out. And speaking of all good (but not hashed out) I went over to the JGR Toyota Yamaha truck and stole dinner.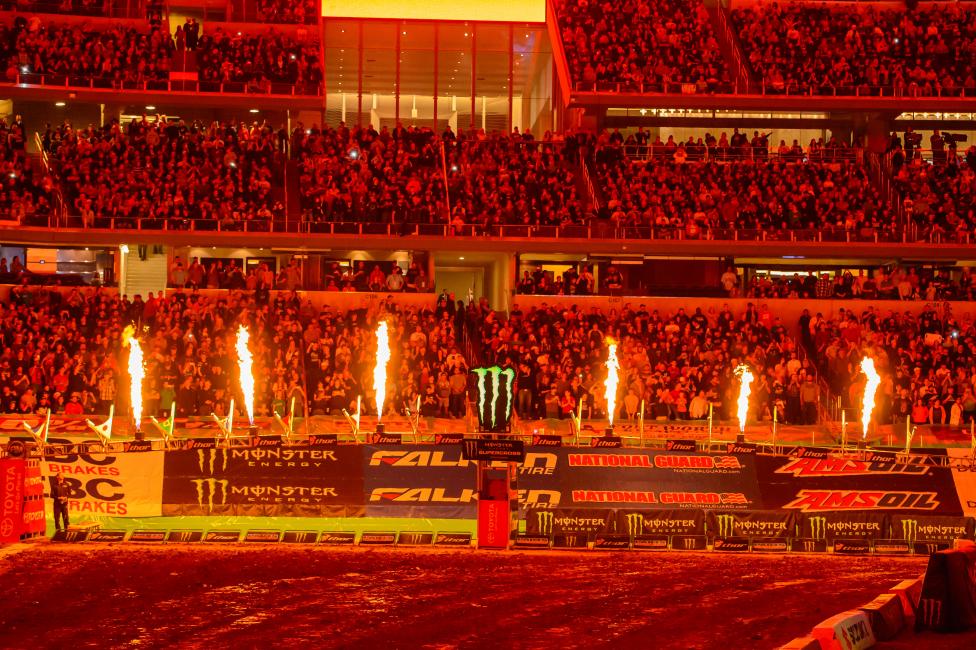 Before the night show I record a pre-race podcast with Matthes and JT$ for Steve's Pulpmx.com site. Basically, we're usually exchanging notes and ideas about what we saw in practice anyway, so now we just record those convos. Also, JT hosts VIP tours for the BTOSports.com KTM team and we let those guys listen in while we do the podcast. This basically becomes a built in laugh track as we make fun of each other.
The race begins and the race ends. Then it's onto the pits for post-race interviews, which you read on Sunday night and Monday morning on the site. All three Pro Circuit riders were jammed into a tiny dressing area and stuffing their gear bags and luggage to get out of there. Several of us noted the Blake Baggett "ride bye" when Cianciarulo tried to get the team to stop on a jump to celebrate the podium sweep, but BB and AC were getting along fine when I saw them. Cianciarulo said he was going to Steak and Shake to celebrate, which Aldon is okay with. Baggett says he did the same thing when he also won his first pro race in Dallas.
While waiting for Barcia to sign autographs and get some interview time, the Honda guys offered me cookies (heart shaped for Valentine's even!) that I gladly accepted fully knowing I'd later be making fun of all the buttons on Barcia's handlebars in an article this week (check). I have to hash out another situation about something I wrote with Justin's mom, but we end it back on good terms. Then Barcia does his interview and says he didn't mean any harm on Kenny.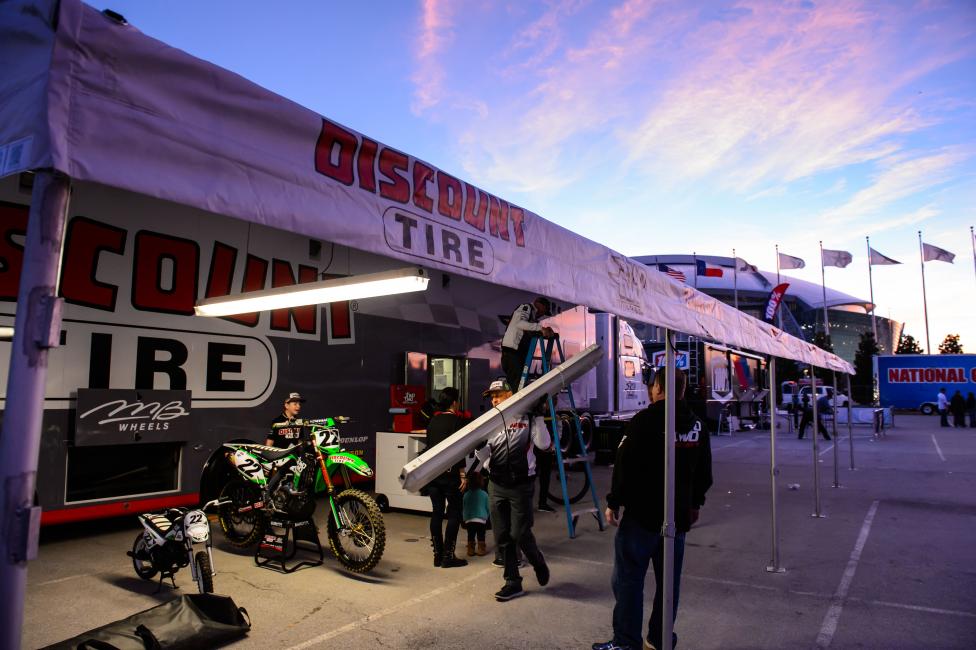 I waited on the Dunge to come out of his motorhome so we could talk about his race and #angrydungey, which he says never existed. Then it was off to the Yoshimura Suzuki rig to find Stewart, but Jordan had already gotten him for a video interview so we were set. But Stewart's publicist Greg was there and me, Jordan and Bowyer started bench racing with him. Soon Matthes came over and then Transworld's Michael Antonovich. The group of us probably spent 20 minutes bench racing. Yes, even though Antonovich is technically a competitor of ours.
Like I said, in the pits, people get along much better than you think.