AT&T Stadium
Arlington

,

TX
Dallas
Monster Energy AMA Supercross Championship
Welcome to Dallas, and the most carefully-studied track walk this year. Yes, everyone was eagle eyed on track walk, but not because of the track, or because the 250 East SX riders were taking to the track for the first time this year. No, everyone was watching Chad Reed just walk around to see if he looked somewhat normal. And there he was, entertaining his son Tate, even picking him up at once. "Oh, he picked up a three-year-old, that means something!" was the thought.
Finally, we talked to Chad (who crashed on the last lap last week while battling for third, in case you were living under a rock). He explained the main injury is a broken bone near his shoulder which anchors the pectoral muscle and some shoulder ligaments. Right now, he has four fractures, but it's that one that is the real factor. Right now, none of the bones are displaced, so as long as he can deal with the pain, he's okay. But that one bone, with so many ligaments pulling on it, could come displaced, and if it does, it's over—he will need to have a screw put in and he's done. So that's the whole key for making this work—that bone has to stay in place.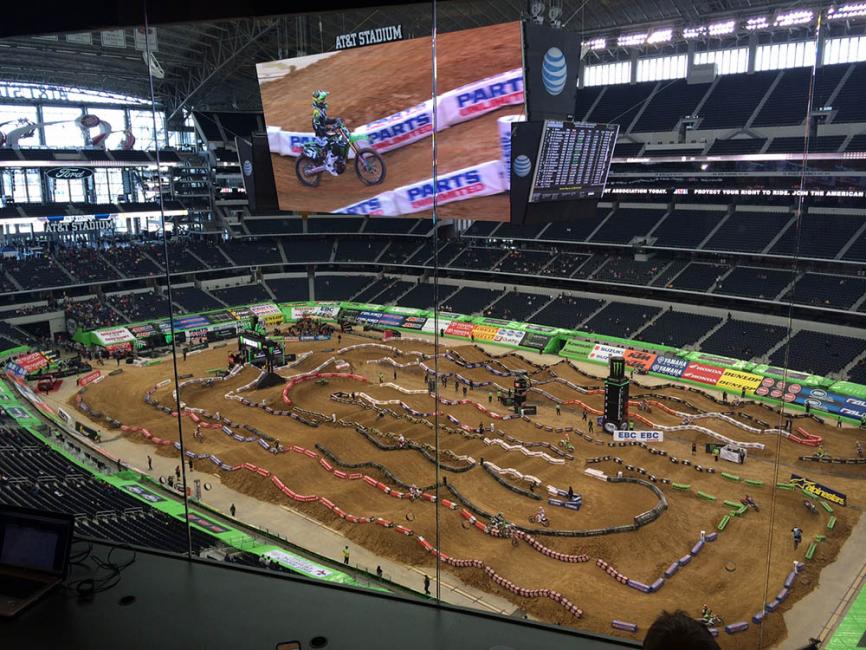 Will it? Chad has no idea. He hasn't ridden, run, cycled or exercised in anyway since the crash. Pushups? "I don't need to do pushups, I just need to be able to ride a motorcycle," he said. "They way I see it, if I don't try to race here, the championship is over. If I try to race here, and I can't, the championship is over. So why not try? Even if it doesn't work the result is the same."
When he went out on the track for the first practice, he rolled most of the jumps, did some doubles here and there and hit the whoops. At no point was he charging or logging fast laps, but he got around okay. We hear he'll probably skip the second practice in a bit, which was his plan all along. We'll see how it goes from there.
Okay, you want more than just Chad Reed news?
The dirt here is crazy hard. It felt like walking on a brick sidewalk. That's the way it usually is in here in Dallas so no one is surprised or anything, and riders commented that you'll have to be perfect with the jumps, because if you clip anything it's gonna hurt. The whoops look gnarly but they're close enough together that the riders can just clip over the top pretty easily, not much separation there. We do also have at least one quad in play, very similar to last week's into the bowl turn, but now it's into a 90 degree. It's pretty simple and most riders are already doing it.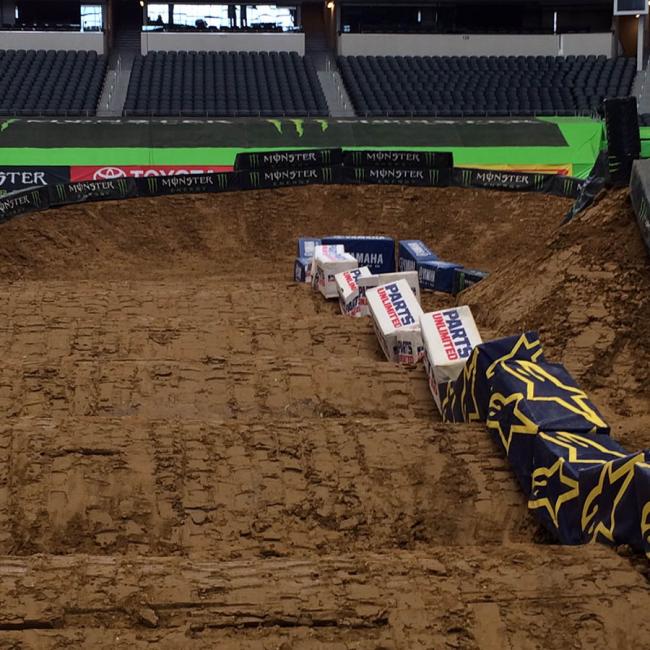 250 East riders had a practice session already, Martin Davalos looked fastest first, but late in the session his rookie teammate Adam Cianciarulo logged the top spot. Yes, that was an untimed session but they showed the times on the big scoreboard here anyway—they don't count for anything 'cept bench racing. Most of the 250 East riders weren't putting in full hard, fast laps yet anyway so it's hard to get a good measure on speed this early.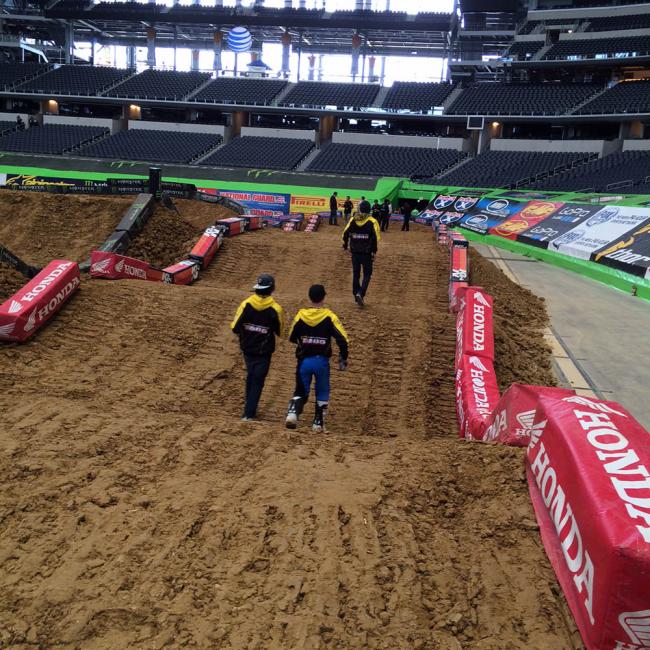 Now timed practice has begun. Look for more updates on twitter and instragram @racerxonline See ya!