Troy Dungey is Ryan Dungey's dad. He's been part of Ryan's racing career since day one and is a familiar face in the pits. Although Troy is a big guy in stature, he generally keeps a low profile and lets Ryan's results speak for the family. During the races, Troy can usually be found off in a corner, quietly watching his son do business. If you didn't know who he was, you might think he is just another fan in a KTM jacket.
At a recent supercross, we caught up with Troy, who was standing off to the side of the KTM transporter and trying to teach a Japanese race fan some English. We chatted with him about what life is like being a parent of one of the best riders in the world.
Racer X: Hey, Mr. Dungey, what's happening? You're keeping a low profile over here in the shadows.
Troy Dungey: Yeah, you know, we try to keep things on the positive and avoid the drama. We're just hanging out waiting for the night show to start. This guy here (he nods to the Japanese fan) is over from Japan; he's a friend of ours. He does not speak much English, though!
So what's new with you this season?
Well, I just bought a new truck, actually. It's a work truck, and I'm going back to work. I just bought it out in California and I'm going to drive it back to Minnesota this week.
Oh nice, what kind of truck is it?
It is a Ford F-450. It has a flat bed on the back, and some ladder racks and tool boxes. Basically everything I need to get back into the concrete business.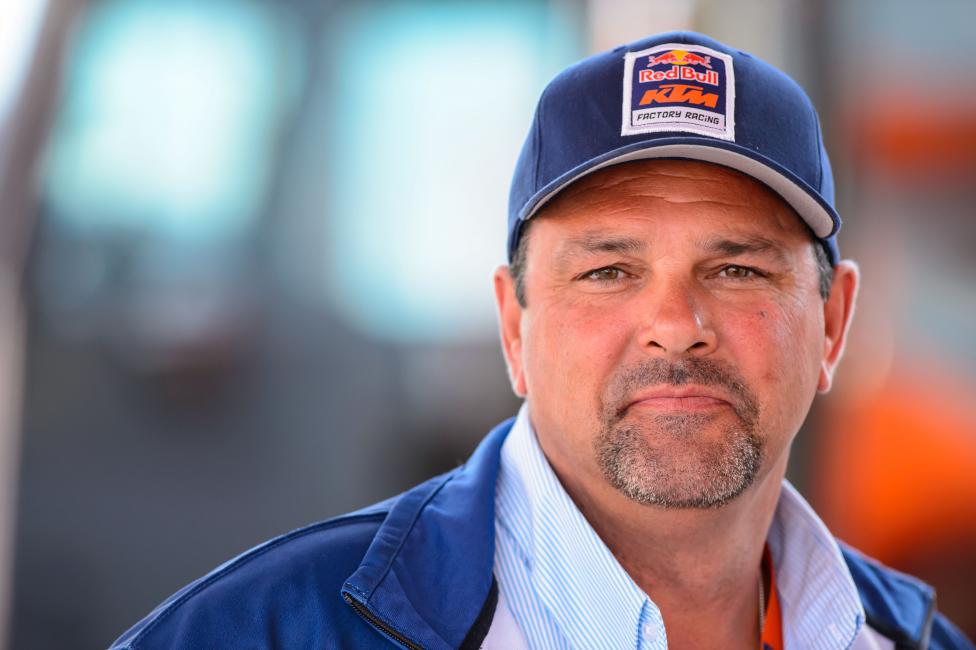 Wait, I thought you were Ryan's practice bike mechanic during the week? Isn't that what you did since he turned pro?
Well, yeah. When Ryan first turned pro, I would come out to California to help him. I would stay out there for two weeks at a time, and then my wife would come out. Ryan was real young back then, only 16, and he was pretty much too young to be out there by himself. So we split our time with him while raising our other two sons. But then in 2007, he (Ryan) asked me to quit my job and come on the road with him full time. I was working with my dad in our family concrete business. So I stayed with Ryan and basically became his practice bike mechanic. My wife Michelle would stay back in Minnesota and she would fly in to the races on the weekend.
Ryan is based for the most part at Ricky Carmichael's place just outside of Tallahassee, right? Were you living down there then?
Yeah. Ryan and I moved to Florida back in 2007 or 2008. I would be his practice bike mechanic, and we were living together as well. At first he rented a house down there, but then after three years of renting, he bought a house. So for all intents and purposes, I was his practice bike mechanic, but I was also his father. It was a lot of fun, and something real special to be part of.
How involved was Ricky with everything?
At first he was around a little more—that was right after he retired—but now we see Ricky only a few times per month out at the farm. But every Tuesday night his mom Jeannie has family night, and we would go over for that all the time. We would hang out, Ricky and Ryan would talk, and I would have a beer with Big Rick. That's always fun and that whole family has been great friends for us.
So what gives with the work truck? Are you no longer with Ryan in Florida?
Well, you know, my dad is 72 years old and he wanted to retire. I'm 51 right now, and it was time for me to go back to work. If I stay with Ryan for the duration of his career, I don't want to go back to work in my mid to late 50's doing concrete. Plus, I would have to start all over. My dad wants to retire now, so it's easier to do this now than try to start everything over by myself in a few years.
How did Ryan feel about all this?
Oh he's good, he has all the same people around him, so it's cool. But I waited to talk to him about it until after the Monster Cup. I just told him that his grandpa wanted to retire and that I wanted to take over the family business. I think he was good with it. But our agreement is that I still come to the races every weekend. He wanted that, so I'm doing that for sure. I wouldn't miss it anyway.
So what exactly is the business that you guys do?
We do concrete flat work. So that's basically basement floors, patios, stoops, all types of flat work—and we stamp and stain them. We have three salesmen that work for us getting us jobs. At one point, we had 19 guys working for us, but that was before the housing crash. I think that with a good crew of five to six guys, we can make really good money, though. But I'll let you know in March. We'll be starting as soon as the frost goes out.
Well, I'm here for the passion of the sport. But it's certainly a family thing, and it very much still is for us.
That's cool, and good luck with that. Do think stepping away from the day-to-day stuff has had an effect on Ryan?
No, I don't think so at all. We talk all the time and we're still really close. He's in good hands. He has his fiance, Lindsey, to take care of a lot of personal things. I just had a passion for this, and I loved working on his bikes. It's just fun if you are a fan of the sport. Heck, I even love the doing the lap times and every thing that comes with it!
What exactly does a practice bike mechanic do?
Well, for every rider and every team it is different. But basically just routine maintenance. I had to clean the bikes, prep the air filters, oil, etc. I wasn't allowed to work on the motor. With the KTM practice bikes I swap out the motors about every 15 hours. I would also take care of the tires, chain and sprockets. But we had all the parts we needed at all times, so that stuff is pretty simple. But I didn't dig into the bike—maybe just do a clutch or whatever if it was needed.
So you were living in Florida and traveling to races on the weekends. How was this for your marriage, with Mrs. Dungey back in Minnesota?
(Laughs) Well, you wonder how we made it 25 years! No, living apart was hard, but it all worked out. A few days here and there apart aren't too hard. It was what we had to do, and we knew it wasn't permanent. But she was taking care of our youngest son Blake, he 14 or 15-years-old when Ryan moved out to California at first. You can't just change everything up because of Ryan and his career.
One of your other sons was a pretty competitive amateur racer, if my memory is correct?
Well, we all ride and race. But Blake flirted with a career in racing. He came down and was doing Ryan's program, but after a few months, he just wasn't into it. I think that was around 2012. Roger gave him a bike, but he went two months and decided it wasn't for him. It's really a grind, and he was smart enough to know that he didn't want to do it. But he loves doing design work and he's a good tech guy, so now he's doing websites and design work. He liked the riding, and enjoys that for fun, but he is now following what he wants to do. And he's growing up quick! He just moved out of the house and in with his girlfriend.
Your other son Jade, your oldest, has quite the career going on turning wrenches. I see him over there working on Dean Ferris's bike right now!
Yeah, he's killing it right now! Back when we first came out to California, he started dating Whitney Langston, Grant's sister. When that got serious, he moved out from Minnesota and got a job working at the dealership Grant and his father own. From there, he got in with Mike Brown at KTM and started working as his tech. That was before Ryan had even signed with them. Then a few years ago, Roger asked him to come to the motocross team and work as the in house practice bike mechanic. Then a year later, Ryan signed with KTM, and now we're all together! But it wasn't planned that way.
That's cool that he got his start at Langston's dealership.
Yeah, it's a neat place. Then Jade and Whitney got married a year or two ago down in San Diego, so now we're family! They live in a nice five bedroom house in Menifee, so when we're in California, we an all stay at his [Jade's] place. It works out good for us.
So how do you steer clear of some of the drama that seems to plague other families in the sport?
Well, I'm here for the passion of the sport. But it's certainly a family thing, and it very much still is for us. It's fun hanging out on the weekends with everyone. But we keep our circle small, and we don't care what the others do, we let the drama go somewhere else. It was our job to raise our kids and get them where they need to be, and I think we did well. The choice of sport doesn't matter—it could be motocross, baseball, whatever. But for us, it worked out.
Tell me about your own career racing. I see in the Racer X Vault that you raced Loretta Lynn's back in 1982 and 1983?
That's right! That place was really different back then. But believe it or not, it was Fritz Kadlec, the woods guy, who got me into dirt bikes. We were neighbors back in the day, and he always had bikes around. That was around 1979, or so. I made the expert class locally, but it was nothing too serious. We lived out in the country and you could ride right through town, and the riding was really good locally. But I did race Loretta's for two years.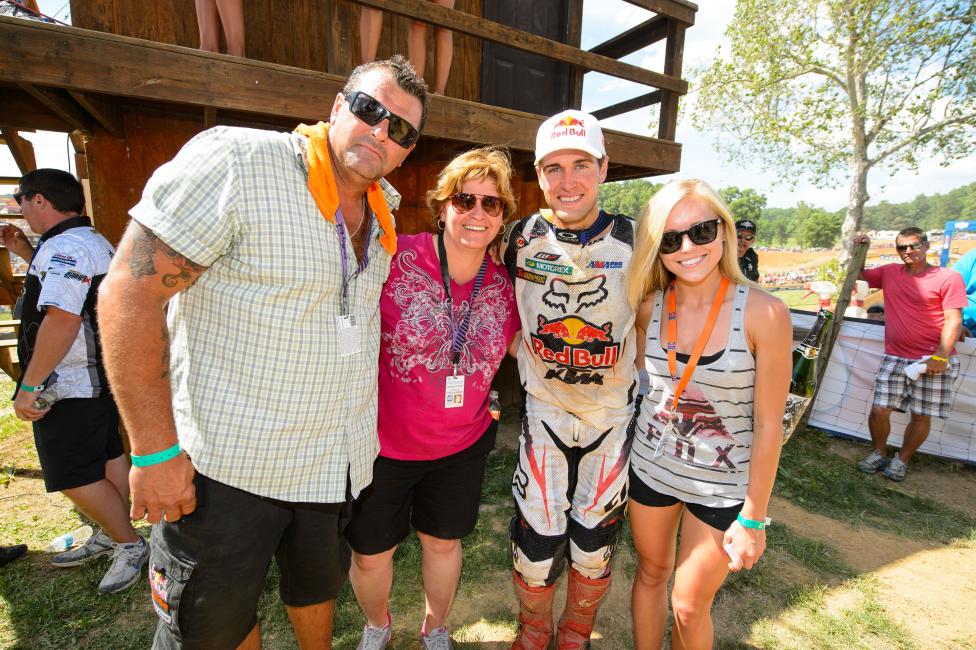 What's the hardest thing about being a parent of a big racer?
Oh man, that's hard to say, I just love being part of this stuff! I think the hardest thing now is the expectations of always being a winner. Back when we started, top ten was great. Now, if we don't get on the podium, it's hard on everyone. But that's a hard question to answer. Maybe it is the, "Oh my gosh" moments when things look strange from the stands. That might set me back a little. One time when Ryan got sideways in the whoops, I jumped and knocked a guy down by accident. It was one of the Dunlop guys and I felt real bad about it.
I know it's hard to say, but how many more years do you see Ryan doing this? Well, I don't think he is anywhere near burnt out yet, but it's real hard to say. He always said he would quit when he is riding for a paycheck. I can see another three or four years, but I'm not sure.
You know, I don't know where he gets it—he works so hard at this thing. I would see him ride for two hours a day, then we would go to the gym, and he's just an animal there. Then after that, he goes for a bike ride! The burn out comes from all that stuff, and doing it over and over. To be on top, you have to work that hard, and yet he still has the drive, for sure.
Well, Troy, thanks for chatting, and good luck with the business and everything else!
Thank you. When you've got kids, it's your job, and luckily for us it's been a real fun trip.