Reliant Stadium
Houston

,

TX
Houston
Monster Energy AMA Supercross Championship
We're all starting to feel the anticipation for this summer's Lucas Oil Pro Motocross Championship, but there's one very huge hole in the pre-season prognostications. Where the heck is defending 250MX Champion Blake Baggett? After breaking his wrist at the Monster Energy Supercross opener in Anaheim, we haven't heard much from El Chupacabra. We tried to track him down and get some info, but, as you'll see, he's throwing up smoke screens.
Racer X: You said you couldn't call me yesterday because you were skiing. So you are able to do some sports.
Blake Baggett: Yeah—jet skiing. We took them down to my friend's private lake and did some motoing on them. It wasn't a moto track, but it's the closest thing I've got right now.
Jet ski is as good as it gets right now?
Yeah, that and mountain biking. We're counting down to round one, but we've still got time.
Yeah so if you're counting down to round one, are you nervous? Is that a lot of time or a little time?
That's a lot of time. I'm not nervous. Plus, I'm riding the jet ski so I'm keeping the skills sharp [laughs]. It's good to have a fun day and break it up instead of just mountain biking and going to the gym all the time. Without that motocross riding thing in the morning, it's kind of boring.
From all this, I take it that you're not riding a dirt bike yet.
No.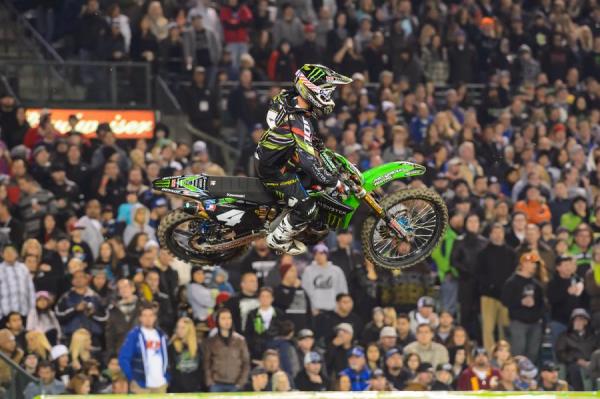 Baggett was injured at the opening round of Monster Energy Supercross in Anaheim.
Simon Cudby photo
Is that a problem?
No. No worries, man.
But you're racing Hangtown?
Yeah. I'll be there. Round one at Hangtown.
Listen, Hangtown has been good for you the last two years, so you need to come out swinging at that race or people are going to start freaking out.
Yeah, but the last few years I kind of waited until halfway to get going! I better start charging on the first lap this year, because I'm definitely not going to have an advantage coming into it like I have in the past.
Is there a chance your wrist will not be 100 percent when the race begins, but then the extra 15 minutes of healing time during the first half of the moto will help, and then you can do another second-half charge?
[Laughs] I can't promise you. That could happen!
You sound like you're in pretty good spirits, now. But you had to be bummed when you got hurt, because I know you wanted to prove yourself in supercross. Did you feel good coming in?
I did—this was the most comfortable I had felt. I felt like I do when I go into outdoors, where I know what I have to do, and every day runs smoothly. I just felt good coming in, and in A1 practice I felt good. I kind of got bumped around a bit in the heat race, but no big deal, we have the main. I had a good start in the main, but when we came around the first turn, [Jessy] Nelson went over the bars, and his rear wheel basically blew my hand apart. That was the end of my season right there.
You think it would have been good?
Yeah, I think I could have been up there battling Eli [Tomac] and Ken [Roczen] for wins.
So where does this put you in the future? Because of the injury, you haven't pointed out, so you could come back. But do you want to?
I don't have any thoughts on that right now. I just want to go to the outdoors and try to defend my title, and win as many motos as I can. When it gets to the end of that, there's a lot to think about, especially with the way the points system is working out this year. There could be a lot of guys moving up to the 450s, and not a lot of guys staying in the 250s, so, who knows what spots are open or what's going on? Silly season will definitely be silly this year.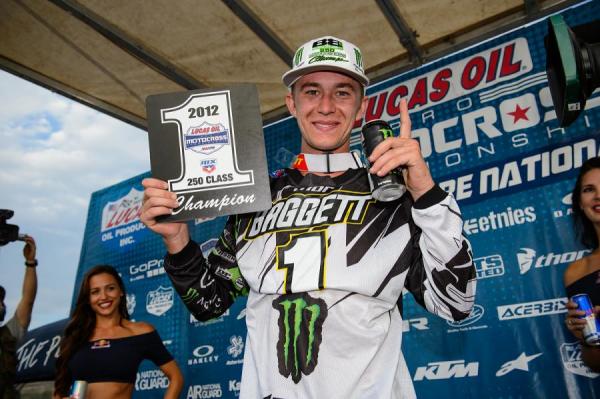 Baggett says he will be back to defend his 250MX title.
Simon Cudby photo
Have you stopped by the Pro Circuit shop lately? The way things have gone this year with all the injuries, they must have a real festive atmosphere.
No, I try to stay away from there.
[Laughs]. Okay. They must be pumped the way things have worked out.
No, definitely not. I'm sure things are tense over there, but I haven't been to the shop at all since I haven't ridden. I've just been hanging out at home and talking to my mechanic, waiting until go time. But I'm sure they're not in the happiest of moods over there. Hopefully we can turn that around.
Hey, do you even have a bike with a number-one plate on it? Have you seen one?
No.
Do you have a bike to ride at all?
I do but it's at the shop. My jet skis are all I can ride right now. I don't have any numbers on them but maybe I can put some 1s on them. That's the best I can do right now.
If we do an outdoor preview story, do we say, "Baggett will have a late start and we don't know what to expect?" Are we stupid for saying that? Should we say you're the automatic favorite no matter what because you're champ?
Hey, nobody has seen me ride, so nobody knows, man.
I know this! No one knows what to say or think! What is the deal?
I told you I'm on the DL, man. The only thing I've even Instagrammed are a few mountain bike photos and one jet ski photo. Other than that, no one knows anything. No one even calls me or anything. So I'm just going to come into Hangtown totally unseen.
Sounds like it. Maybe wear a plastic bag or a mask all day at the race, then pull it off at the starting line.
I'm thinking no one is going to see me until round one.
No one?
Not at all, man.
What about days out at Glen Helen or Milestone when everyone is testing?
No, you won't see me. Who knows where I am? I could be down in Mexico playing with the chupacabras.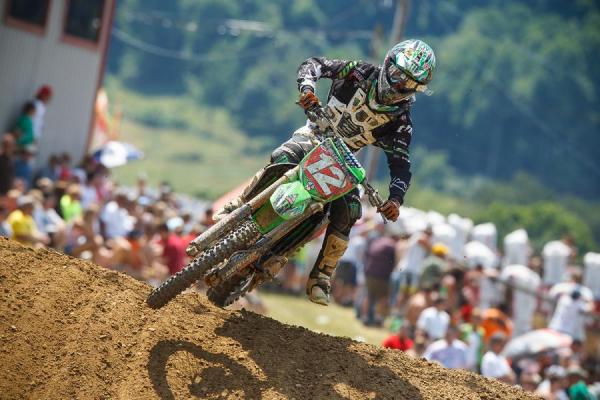 Baggett has yet to ride since his opening round injury.
Simon Cudby photo
So this is a total mystery?
I will send you any information you want, but I won't send you any information on my location. Hey, my heart rate monitor doesn't even have the GPS turned on, that way there are no mix-ups when I download the info. And I'm going to start using pay phones for these interviews. I can't have people tracking my phone.
Don't you need to test?
No way, man, I've got a bike that won at Lake Elsinore. Worst case, I can just take that championship bike out of my room.
[Laughs] Okay so there's nothing new to try for 2013, no advancements. No one will see you testing.
Hey, I could be out there in some blank plastic and fake gear, you'll never know it's me.
Maybe you can use someone else's numbers and someone else's gear so you can ride but no one will know it's you.
I'm just going to keep everyone guessing.
So we have no idea what to expect. But you will show at Hangtown and you're not worried at all.
I'll be there. Hey, I may show up and pull a holeshot or something! That would be crazy—then you'd know it's an imposter.