I've watched every lap of every moto this year (ha, suckers, I even get to watch the races during commercials. Too soon?). Here's some stuff I've, ahem, observed in the 450 Class.
And I'm not even going to bother with the Ryans because they've been talked about forever. Plus, the other guys deserve some love because they are all, I repeat, all, working their asses off. Because if you want to be top 20 in the world at any sport, that's what it takes. Lately, I've heard some wonderings on why some riders can hang with the Ryans for 10 or 15 minutes, but not a whole moto. Are these guys just not fit? Hardly. Do not forget the impact pace has on endurance. If Villopoto is going 100 percent, and another rider has to try to go to 110 percent to keep up, who is going to make more mistakes, burn more energy and get tired first? Exactly.
Let's check these dudes out in order of points. By the way I'm going to throw in some #realtalk here and hopefully since I won't see any of these riders this weekend, they'll have plenty of time to cool down and not be mad Saturday at Washougal. You probably won't even think this stuff is harsh, but riders can be a sensitive lot.
3. Justin Barcia: After leading a bunch of laps at round two in Thunder Valley, and then challenging the Ryans at Muddy Creek, I'm sure many are disappointed that Barcia hasn't sustained that pace and make it a three-rider duel. I know, the Ryans are going super fast and what better candidate to match speed than a fresh, wild-child rookie?
Not really. I've said it over and over, Barcia may look the part of the win or crash crazy man, but he doesn't actually ride that way. Does he Bam Bam people? Yes. Does he (usually) run long hair? Yes. Does he whip it and scrub and did he used to abuse the rev limiter on his 250F? Yes. But look at Justin's career results and you'll see he's actually done more damage through consistency than speed. Go on YouTube and look for the "Justin Barcia's greatest crashes" clip. You won't find it because it doesn't exist (some dude tried but it's basically all whips and takeouts with a few washouts sprinkled in). He doesn't lead and yard sale. In fact last summer, speed was his weakness and consistency his strength. He grabbed a ton of starts and if he was just a smidge faster, he would have turned more of those starts into moto wins. Instead, he rode his heart out but couldn't always match the blazing pace of the likes of Baggett and Tomac when they caught fire. Similarly, prognostications that Justin would be a very fast lawn dart in his first 450 SX season were unfounded, too. Save for one big case job early in the year, he was consistent. That's what we're getting out of him this summer. Consistent, but a tick off of the other dudes in speed.
Silver Lining: He'll obviously find more speed as his time on the Honda 450 continues, and he's a lot better off learning every week than sitting on the sidelines with injury. By the way, do you think there's a massive difference between 2010 Ryan Dungey and 2013 Justin Barcia? Probably not. Unfortunately Justin has mega-comp to race compared to 2010.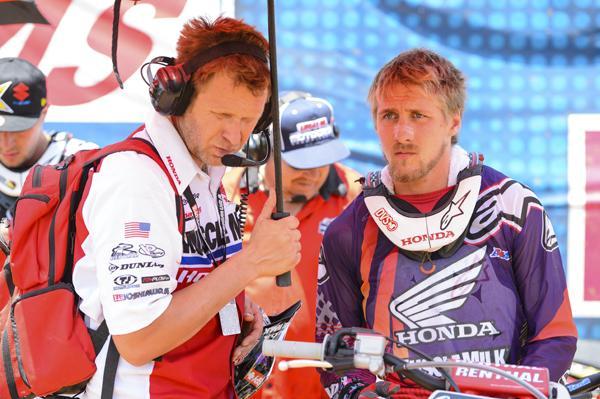 Since he's a rookie, you would assume Barcia would be crazy fast but also a crasher. That's not his style, though.
Cudby photo
4. Trey Canard: First of all I'm just pumped Trey is at the races. There is nothing, nothing, worse in sports than an athlete with both talent and desire who gets a raw deal due on injuries. I know, we just can't look away from talents like JLaw, but we can say he earned what he got. Trey? He deserves better.
That said, dude still scares me. He hasn't had huge injuries this season, but he has had too many close calls. I think the new Honda is a work in progress and everyone on it will smooth out as time goes on (there were big struggles when the previous-gen bike showed up in 2009, but it soon became a bike to love. This bike stated much closer…watch this space and you'll see how much better it becomes) but Trey just…man I love the scrub and whip abilities, and you have to applaud the desire that makes someone come back from so far down and still push the pace. But sometimes he just seems too sideways too often.
Silver Lining: Doug Henry came back from a near career-ender with a cage in his back in 1996, and was a non-factor for most of the year. By the next year, dude was on the gas. I have this vision in my head of Trey becoming a Doug Henry/Kevin Windham hybrid folk hero and all-around good guy. The sport could use someone like that and Trey has the goods.
5. James Stewart: I'll just put his name here and then let the Racer X comments section sort out if we're giving him too much love and affection or if we just have it out for him. What we actually write seems to have little impact on the reaction so just have at it, boys!
6. Mike Alessi: Everyone seems to have an opinion on why Mike went from super-am to a pro with only a handful of race wins and no titles. The two theories I hear most are A) blame his dad or B) Mike was too good a starter coming up and never learned to come from behind. Or both.
I submit neither. Tell me the last time you saw Mikee boy do something crazy balls, like "Oh my god did you see Alessi do that?" At this ridiculously extreme level (trying to be the best in the world) there's just a certain amount of super human ability needed to win. Mike is like a quarterback who has intangibles and desire and work ethic, but does not have a cannon arm. Did you watch the NBA finals? The Spurs played perfect basketball up to the precipice of a title, but LeBron James was able to get the Heat back in it by ramming freak-of-nature talent down their throat (once he got ride of the headband, especially). He just physically overwhelmed all other humans. Ryan Villopoto is going freak-of-nature fast right now.
What Mike does have can get him solid finishes and a nine-year pro career with assorted successes, but it does not mean he can just blow the field away on pure speed, no matter what his bike/team/family deal is. It's wishful thinking to believe Mike would be going two seconds a lap faster if some outside influence changed. I think he makes the most of what he has and so you really can't blame anyone or anything.

We know what to expect from Mike, terminator lens and all.
Cudby photo
7. Andrew Short: Short is what you'd wish every racer could be. He works as hard as he can, he's a good guy, he loves the sport and realizes just how lucky he is to be in the position he is in. Shorty might not have stacks of titles but every one of us would trade our lot in life for his—he's made a great living racing dirt bikes, and at one time or the other has battled the best in the world.
Shorty used to pride himself on finishing top three in every 450 series he competed in, and he's seventh this year. But I submit that this is going to turn into one of his better seasons on the whole. Shorty is getting older, the field is getting younger and deeper, and his entire team/equipment situation has been a work in progress this season. Shorty switched teams (twice!) during the season, and because he's more honest than most, hasn't said crap like "As soon as I jumped on this KTM 450 I went two seconds a lap faster!" He and this bike have not gelled overnight.
I think over the second half of the season you'll see a lot more strong motos from Shorty and he'll end up reasonably close to where usually is, despite the new bike, age, younger comp and the rest. And that's pretty impressive.
Silver Lining: I think I already covered that.
8. Broc Tickle: First of all, we covered the Shorty/Tickle rivalry back in supercross, and here they are again, just four points apart outdoors after 14 motos.
Anyway, I took mega-heat earlier this year when I said Tickle was a disappointment, but what I mean to say is, he's only disappointing if you have unrealistic expectations. And plenty of people did have unrealistic expectations! I know, Broc now has access to Ricky Carmichael and factory Suzuki equipment, but even Ricky himself wasn't expecting Broc to become GOAT part deux. Broc is a good fit for the Ram RCH team right now. He'll show up healthy and ready every week, and he's consistent. Actually, the consistency is a bit ridiculous, with Broc somehow finishing either tenth or eleventh in eight of the last nine motos. Dudes crash in and out and he somehow ends up in the same spot every time. That's nuts!
Two things we can learn from this. First, at this level, everyone works hard. It's not like Broc is down at the RC farm busting his ass while his competition is sitting on the couch texting all day. It's hard to make massive gains when everyone else is also on full-max.
Second, Tickle might not be putting the RCH bike on the podium, but he'd be the perfect second banana if the team had one of the mega-dollar guys on board, too. For example, imagine if RCH had won the Tomac sweepstakes or got Dungey to leave KTM. If one of those guys grabbed a podium while Broc was running as a solid top ten guy, suddenly the team would look awesome while Broc turned in the same results. Note at RedBud JGR went third and sixth in the overall and it looked like a great weekend for them.
Silver Lining: Broc never finds overnight success, he's a slow and steady progress guy.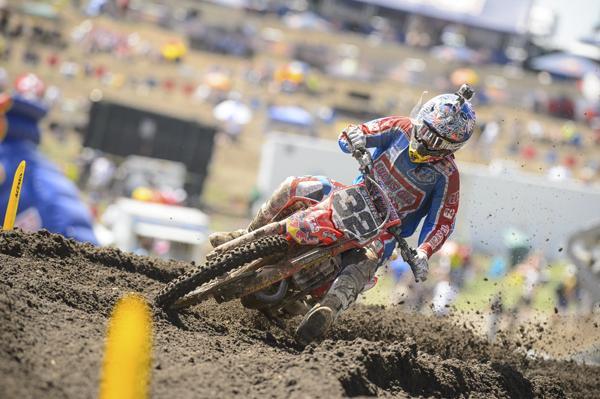 Mookie is actually the replacement for Christian Craig on the TLD 450--and he's giving Christian some big shoes to fill.
Simon Cudby photo
9. Josh Grant: People are going to complain about a dude like JG getting rides year after year and them missing significant time with injury, but when he rolls out a ride like RedBud, you see why he gets paid. It's nice to think that teams want to reward consistent finishes, but long ago, a high-up, been around forever team guy told me, "We look for two things. Wins and potential for wins." Manufacturers can't run advertisements around a 10th place finish. With a guy like JG, you get that puncher's chance of a breakthrough, and of the seemingly 100 guys to get some level of Yamaha support this year, Josh is the first to put the YZ450F on the podium this year.
Silver Lining: You just saw it last Saturday.
10. Jake Weimer: Yikes! Weimer doesn't command the attention of guys like RV/Dungey/Stewart et al. (it's that second banana thing, the same reason no one would be worried about RAM RCH Suzuki if Tickle had a teammate winning races) but his 2013 season has been very disappointing. In fact, Jake is going low profile right now, because there really isn't much good to say.
Like, I really don't get this, though. Weimer is way, way better than this.
Silver Lining: There's always another race….
11. Malcolm Stewart: On the flip side of Weimer, there's really not much to say except Mookie has been awesome so far. Isn't it funny how the guy in tenth is having a sucky year and the guy in 11h is having a great one? It's all about the expectations.
12. Tyla Rattray: There's a darned dark cloud over Monster Energy/Pro Circuit Kawasaki right now. Tyla's last gasp to make it work was this summer's 450 Nationals, and after his podium at High Point it looked like he might just rally his career back into gear. And Southwick loomed, where he crushes it. Alas, first turn crashes there combined with crashing out of Budds and RedBud….let's just skip to below.
Silver Lining: There's always another race….
13. Phil Nicoletti: This article is already way long and I could have cut it off at top 10 to save space, but there's no way you can leave out Filthy Phil! Much as it pains me to give him credit, Matthes was way ahead of the curve on this one, building seats on the Filthy Phil bandwagon last summer. No one wanted a ticket. Now Phil has become one of the coolest stories of the summer. Damn you, Matthes! Hey, at least I still have early reservations for the Jason Anderson train.
Silver Lining: The "field is deep" thing has been beaten to death this year, but most of the riders in this class can't use that as an excuse because of Phil. I guarantee you other dudes have had post race meetings where a team manager said, "You're getting beat by Nicoletti."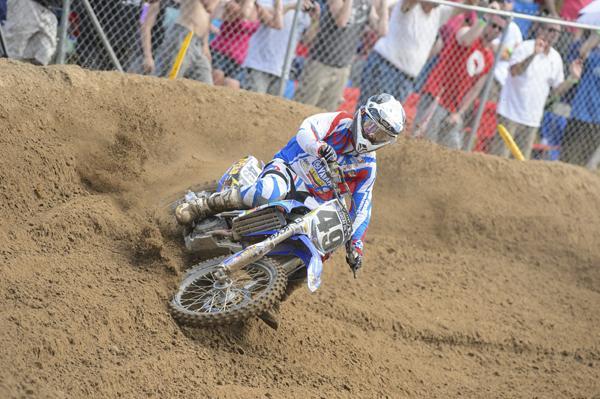 One of the Ryans will win the title, but 2013 could also be remembered as the summer Nicoletti broke through.
Cudby photo
14. Ryan Sipes: I'm actually shocked Sipes is this far back in points because at times he's been "next guy" in this class, like right behind the Honda duo and past champs Dungey, Villopoto and Stewart. I really expected him to have a shot at sixth or seventh when the year was through.
Alas, more Sipes from Sipes. On any given day, he can be really, really good. He just can't do it every week, for some reason.
15. Justin Brayton: I remember watching Brayton get literally lapped last year at Hangtown and Freestone and thinking "Uh, yeah, he'll get better than that but a whole lap better?" Well, he actually did, and he's doing the same thing this year. Full on lapped in some early motos, but now finding his stride and finishing around seventh in five out of the last six motos. Seventh is much closer to where he should be. So let's just ignore those first few races and where he is in the points. That never happened, okay?
16. Chad Reed: The memory is still clear. Chad Reed was getting passed by someone you never expected could pass Chad Reed, and Matthes and I looked at each other and said "Hey, that's what you're going to get now. Reed is just another guy out there."
The race? Hangtown this year? Thunder Valley? No. Anaheim 1. Of 2011!
By the end of that SX season Reed was back to winning races, and he darned well could have been the 2011 450 MX Champion. The moral is, count out Chad Reed at your own risk. As owner of his own team, I could see if Reed was just riding out the string this year because he has to. But, he's indicated he'll go back into the well and work on 2014 deals, so clearly he's not retiring. If he was going to suck forever, he'd hang it up. So Reed still believes in himself.
Oh there was also the time when someone told me Reed had made too much money and was done winning races. This was 2006.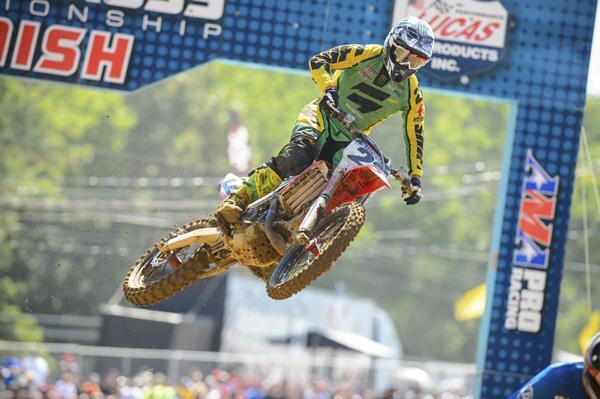 Reedy wouldn't race next year if he didn't know he can get better. And he said he's racing next year, so you do the math.
Cudby photo
17. Clemente Desalle: This dude should come on back. What is he, racing another series or something?
18. Kevin Strijbos: Ditto.
19. Les Smith: More proof that hard work alone does not make a motocross champion. I don't know why we have such an aversion in this sport to saying some riders have more talent than others, but I'll just say that Les Smith doesn't have Ryan Dungey's talent but he does have his work ethic. In fact Les is usually working under the thumb of Jeannie Carmichael so you know nobody is doing more than him. Go ahead and say Ricky Carmichael didn't have talent and just worked his way to success and I will come through this computer….
Where was I? Yes, Les. I'm just happy to see guys like this finding a way, just because you're 19th in points doesn't mean you're 19 times lazier than the dude who is winning. It's a myth in this sport, and if this year's 450 top twenty doesn't prove that everyone at this level puts in the work, nothing will.
20. Weston Peick: Wait, still top 20 in points and he hasn't raced in a month and a half? A darned travesty here. This is a guy who has improved approximately 3000% according to my unscientific scale, but teams still must see the 2011 Peick, not the 2013 one. Linebackers have feelings, you know.