Rice-eccles Stadium
Salt Lake City

,

UT
Salt Lake City
Monster Energy AMA Supercross Championship
We probed, we prodded, we tried. Monster Energy Kawasaki's Ryan Villopoto has a shot at locking up his third-straight Monster Energy Supercross Championship tonight, and we were hoping to find some nugget of information, some sign that something was different for him today.

Not happening. Over in the Monster Energy Kawasaki pits, RV was joking around with everyone in sight, and showed no signs of nerves at all. This is typical RV. While his on-track aggression and overall commitment to excellence might tell the story of a really serious guy, Villopoto and his team have done a good job with having fun at the races. At this level, the pressure and nerves can undo all the hard work during the week. When you see Villopoto inside the Kawi truck, smiling and laughing the whole time, it's not an accident--you have to literally build fun into the program to make the big moments, like tonight, that much easier to get.
He's won this title two-straight times, so he's been through this drill before, and certainly this is nothing compared to his 2011 triumph here, which was done in the midst of much closer championship chase.

We asked his mechanic, Mike Williamson, about the extra pressure of trying to seal the title. There isn't any that he will admit to. He said, "Oh yeah, I stripped the bike all the way down to the frame and rebuilt it from the ground up…just like I do every week." He said he did nothing different at all compared to previous weeks. "Hey, if there were something different that I could do to make it better this week, I'd do it all the time."

Williamson summed it up with this: "The goal is the same that it is every week. Try to win the race."

Then we turned to trainer Aldon Baker, who echoed Williamson's thoughts. "Our goal is to try to win the race," he said. There you go.

Baker did say wrapping the title would help in outdoor prep, as they might be able to trade out an extra day of moto testing next week. Regardless, though, Ryan is at least scheduled for a whole day of outdoor testing on Tuesday next week. Williamson will tear down tonight's race bike on Monday, test with the outdoor bike on Tuesday, then put the Vegas SX bike back together on Wednesday to get it off and rolling to Vegas. Will it already be the title-winning bike, though?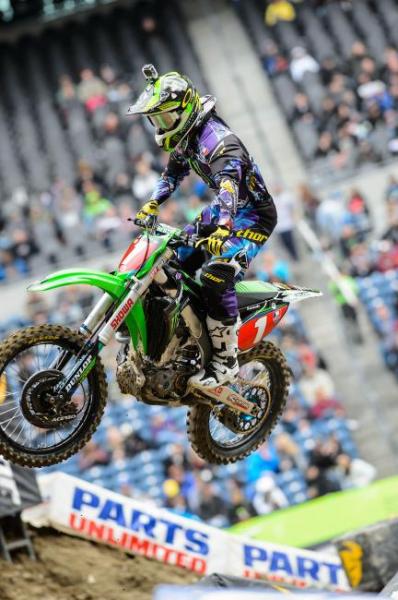 Sealing the title tonight would give Villopoto's plans for Lucas Oil Motocross a boost.
Cudby photo
Today in practice Ryan did have a few crashes, they were minor but they were crashes nonetheless. The hard, slick track here probably doesn't lend itself quite as well to Ryan's throttle-happy steer-with-the-rear-wheel style as some of the tracks in the east do, but we're splitting hairs here—obviously, RV can go fast on anything.

Perhaps the biggest obstacle will be the title competition itself. Davi Millsaps, second in points, was fastest in both timed sessions today. Ryan Dungey, third in points, was second. Villopoto was third-fastest. Villopoto essentially needs to finish ahead of both to wrap the title tonight, so it's going to be close. He could be just a few hours away from being a three-time Monster Energy Supercross Champion. He's doing his best to act like it doesn't matter.