Daytona International Speedway
Daytona

,

FL
Daytona
Monster Energy AMA Supercross Championship
It took longer than expected, but Red Bull KTM's Marvin Musquin has finally found the winners circle in 250SX. Musquin joins a long line of Frenchmen to win in supecross and is now just fourteen points back of Wil Hahn. Jason Weigandt caught up with Musquin after his historic win.
Racer X: You did it! You won a supercross!
Marvin Musquin: I think that's the best one that I could win. I'm so glad. I've been dreaming about that race. Like I said, that's a unique race and really famous race. I had a good day. That track was really technical and sandy. I really had fun, especially at the main event. I had an awesome start. I just start[ed] before the gate dropped, actually. I thought I was going to hit the gate.
Did you just guess?
I don't know. I start[ed] before the gate dropped. That's it. And then I got the holeshot. I knew [Dean] Wilson was behind me, Wil Hahn too. And then he started to be really close to me and I stayed really calm and found good lines. Then I started to pull away from him, and Wil Hahn too. And I did pretty much every lap the same lap time. I had so much fun, and that's it. I had like a 15 second gap, so that's crazy.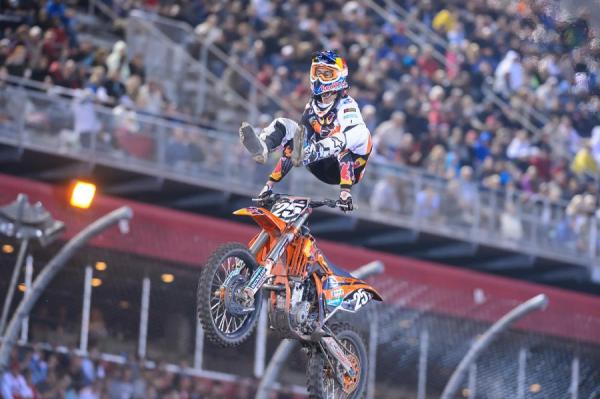 Musquin celebrated his first SX win in style.
Simon Cudby photo
You had races this year where in practice you were super fast and then in the main it didn't happen. Here, you were okay in practice but in the main you were super fast. Can you point a finger at what changed there?
I was really smooth and like I said every lap was the same. I kept doing that triple over there after the wall. I thought it was really tough to do it, and then I kept jumping the triple. And like I said, smooth, and I pulled away from those guys. It was kind of surprising.
You've raced a variety of tracks. You've raced all over Europe, now you've raced all over here. What is this track like? It's really kind of unique. Is it like anything you've raced before?
Well I raced last year on the 350 but it was really muddy. This year it was dry. Like I said, track was really cool and really technical. I like those tracks.
What does this do for you going forward? We figured you'd be a title contender, you'd win some races. Is this a boost?
Oh yeah, for sure. I just want to move on now to the next race and try to do the same thing and get a good start. Now I did it, so let's do it again, for sure.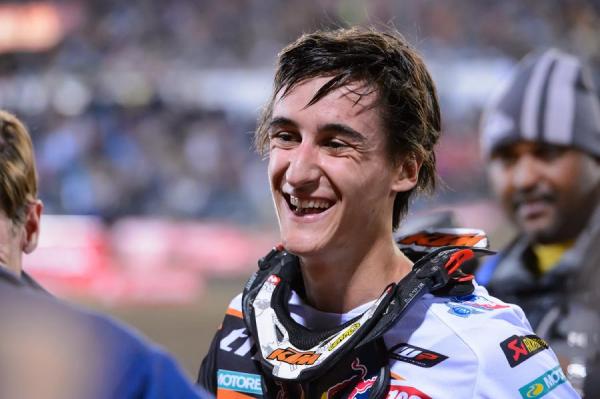 All smiles for Musquin after the race.
Simon Cudby photo
My last thing is Daytona, in the United States, this is a big deal. It's NASCAR racing and all that. Not coming from the United States, is this a big race to you? Do you realize Daytona's a big deal?
Yeah, it is. Like I said, I've been dreaming about winning that race…
Daytona specifically?
Yeah. I always watched that race. When riders win in Daytona they do a burn[out]. But I guess I messed up. I tried, but I was really bad on the burn[out]. I wish it could have been better. But anyway, I was so happy and I was screaming. I'm so happy for everybody, for my parents, who are in France and all my family, my friends, my brother, everybody. A lot of French people came here and I saw the French flag. It was really cool. Thanks to my wife, Frankie my mechanic, and all the team. They believe in me and I finally did it.