Anaheim, CA
Anaheim 1 (A1)
Monster Energy AMA Supercross Championship
This was Anaheim 1 and the race was awesome. The place was packed and the fans were pumped and the buzz was, um, buzzing. And the racing delivered. Couldn't ask for much more. Maybe a little bit warmer temps? It was really, really cold down on the floor and in the pits once the sun set.
Yeah, a bunch of the favorites had a rough go of it, but don't think for a second that Davi Millsaps' win wasn't legit. He was fast every time he rolled out on the track—all three practices, his heat (which he won) and the main. And, he did one of the hardest things of all in this sport, when he got passed for the lead he regrouped, found new lines, and put on another attack. After the race, Millsaps was smiling ear to ear and singing the praises of his new team. We'll have more with him in our Monday Conversation.

Trey Canard is usually one of the funniest, most well-spoken riders out there, but he was rendered almost speechless after his second-place finish. It's probably the happiest we've ever seen Trey after a race, including his wins and titles. "It just feels like a win to me," he said. "It was almost like a dream at times."

Did Chad Reed suck? Not hardly, he got faster as the day went on and his fourth-place points will pay well for the long haul. He didn't have anything for the Dungey/Canard/Barcia/Millsaps group ahead of him, but no doubt, Reed's focused on the long season, as always. And remember not to put too much stock in speed at the opener. Last year Ryan Villopoto blew everyone away at Anaheim 1, but a few weeks later Reed was on pace and battling him for wins. Until Chad himself counts himself out, no one else can.
Ryan Dungey never looked great all day, and never looked bad, either. He's running that new air shock (no external spring on that thing) and admitted the team has to do some real fine tuning before it's perfect. But he likes it. Well, no rider would ever tell us if they did hate something but we expect the shock to stay on his bike.
Lots of hype on Justin Barcia, and we figured he'd do well at A1 since he's pretty much immune to pressure and nerves and things like that. BamBam just wants to race! But, apparently even he can't ignore the scope of A1. His mechanic, Snikey, told us Justin was nervous all day and nervous on the line for the main. He had a crash in the main but wasn't hurt.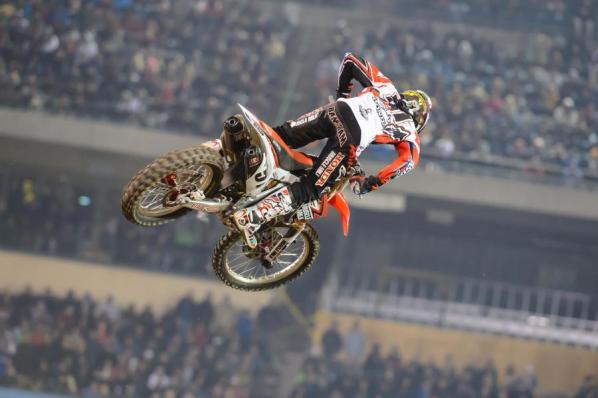 Even the normally stress-free Barcia had a case of the Anaheim 1 nerves. Still could have pulled off a podium.
Cudby photo
Seriously, almost everyone is nervous at Anaheim and that makes it hard to guage what's for real and what isn't. In practice, the only guys that looked consistently on it were Villopoto, Stewart and Millsaps. Everyone else was up and down. It'll be a few weeks before things really shake down.

The Yoshimura Suzuki guys were obviously bummed about James Stewart's knee injury, especially since he didn't even crash. "We have it on video, if you didn't know it was coming, you wouldn't even notice it," said Team Manager Mike Webb. After Stewart suited up and raced his heat race, they realized he was going about three seconds per lap slower than he was before the knee injury. So they softened the suspension up for the main, and Stewart rode smart to collect eighth.

Ryan Villopoto was really, really fast. He duked it out with Stewart for fastest times in practice, then caught Justin Barcia from way back to nearly win his heat. But he blew the start in the main and crashed two too many times coming through---good news is that Kawasaki folks say he's not hurt.

Jake Weimer rode the world's most uneventful race to finish fifth in the main. "Nope, I pretty much didn't battle anyone," he said afterwards. And, really, what more is there to say, in that case?
Eli Tomac did everything he could to avoid his 250—he didn't even get on it until December. That was still enough time to dial it in and go win. In qualifying, he looked way, way faster than everyone else in 250SX, but his lap times only showed the slimmest margins in speed over the competition. In the main, he turned it up and no one was going to touch him.
Blake Baggett got the short end of the stick when Jessy Nelson crashed in turn one of the Lites main. Baggett got caught up and started the race a half lap behind. He finished 14th but was riding pretty well.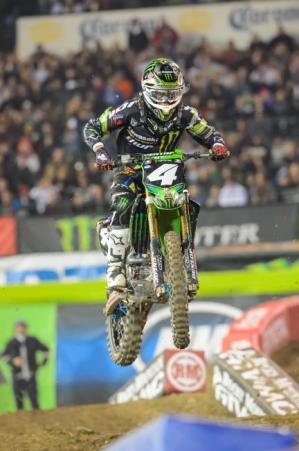 The new #4 didn't get to show what he had.
Cudby photo
Cole Seely wasn't the same rider he was at Anaheim 1 last year, you could see he was nervous after all the time off last year with injuries. He got steadily better as the night went on, and even made a brief run at Roczen for second. He's more than glad to take a podium at this point in the season.

Jason Anderson rode very well and even kept the heat on Seely for a little while in hopes of a podium. Overall, a good night for Rockstar Energy Racing.
Everyone liked the A1 track. The proof was that no one really talked about it—it wasn't the focus of anyone's story, because it did its job. Passing was plentiful and the layout looked fairly fun. Last year, everyone was hating on the opener track.