Angel Stadium
Anaheim

,

CA
Anaheim 1 (A1)
Monster Energy AMA Supercross Championship
This is a year where everyone is pumped on the endless possibilities, the unpredictable scenarios and the depth of the field. But even with all those expectations to expect the unexpected, the Anaheim 1 opener to Monster Energy AMA Supercross an FIM World Championship still produced results no one expected to see.

Ready? For most of the main event, odds-on favorites Ryan Villopoto, Chad Reed, James Stewart and Ryan Dungey weren't even in the top three. Instead, Rockstar Energy Racing's Davi Millsaps, and Muscle Milk Honda men Trey Canard and Justin Barcia occupied the top spots. Millsaps rode well all day long, with speed just behind Villopoto and Stewart in practice, and then a heat race win. He then grabbed the holeshot in the main led the majority of the way—sure, Millsaps finished second in last year's championship, but that was against an injury-riddled field. Could he back it up? His answer here was a resounding yes. In addition, Millsaps he had not won a 450SX since San Diego nearly three years ago, and, this was his team's first-ever foray into the big bike class.

But his performance wasn't the only surprising one. Canard, just under a year removed from a crash that left him with a broken back, was sticking right with Millsaps and looking for a place to pounce. His teammate Barcia, in his first 450SX ever, was also in the hunt. Dungey was, too, looking steady in fourth on the Red Bull KTM. Reed stayed in fifth for most of the night, but didn't have the pace to keep the lead group in sight. The Millsaps/Canard/Barcia/Dungey group let the laps click off, each waiting for an opportunity.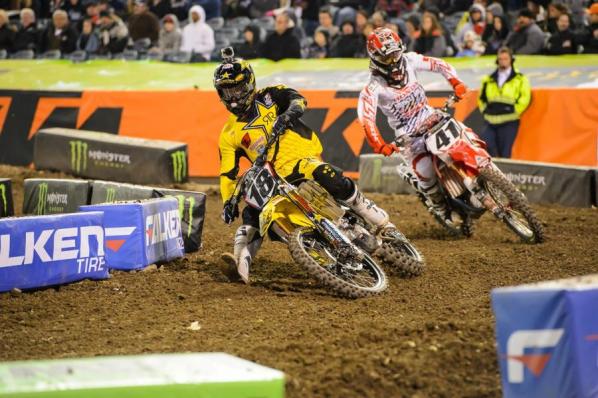 The Millsaps and Canard battle lasted the entire race.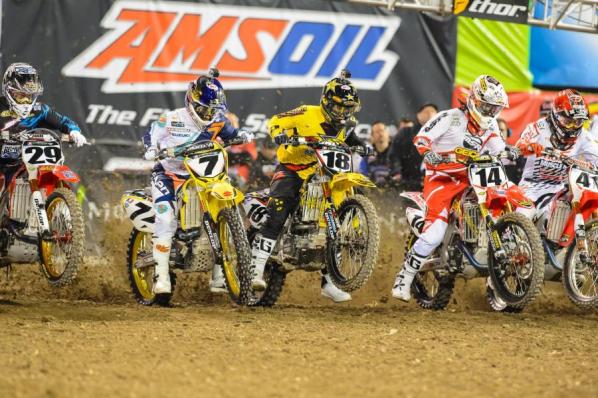 Millsaps (18) was strong all day.
As for Villopoto, he chose the inside gate for the main event but got a bad jump and entered turn one in last. He started slicing through the pack, but then went off the track. He charged again but then crashed huge in a rhythm lane. He seemed to get up hobbling, but went back to work making passes until he crashed for a second time. After that, the wind was out of his sails and he struggled to 16th. Monster Energy Kawasaki team people say the two-time and defending champion didn't suffer any injuries.

Stewart, meanwhile, already had. He threw down the fastest lap in practice only to then catch his knee in a sweeper. In pain, he pulled out of practice, and no one was sure he would even be able to race. He gutted it out, even leading his heat race a bit. Then in the main he rode smart and steady to salvage eighth. Yoshimura Suzuki Team Manager Mike Webb said James will have to get and MRI to check the knee's status, right now they don't know much.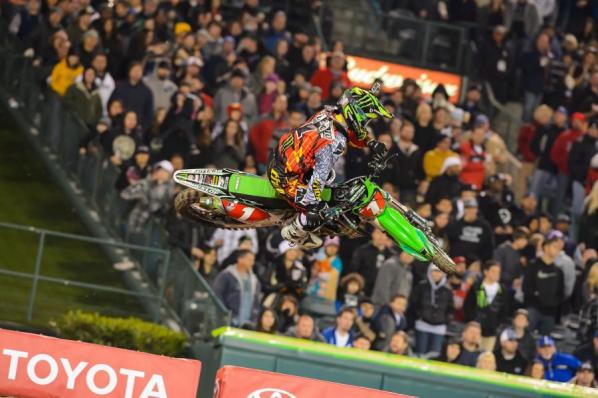 RV showed the same speed that makes him a two-time champion. But boy did he crash a bunch.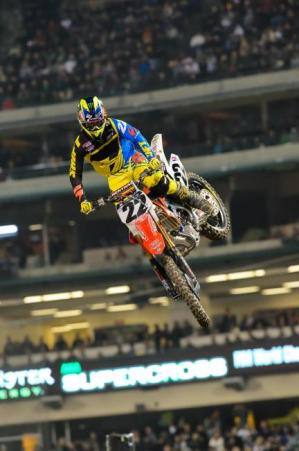 Reed wasn't fire or ice, he was somewhere in between. He finished fourth.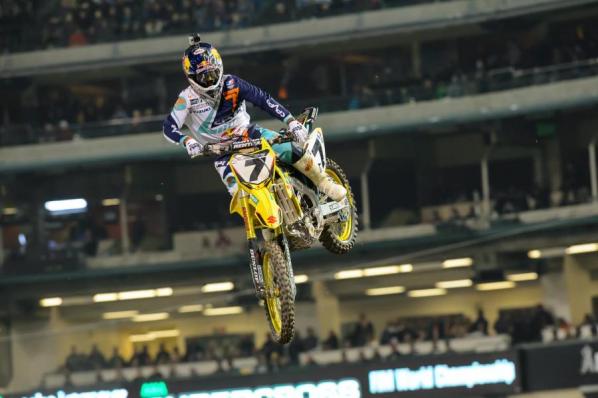 Stewart dabbed his knee in practice and that was enough to jack it up. In pain, he salvaged an eighth.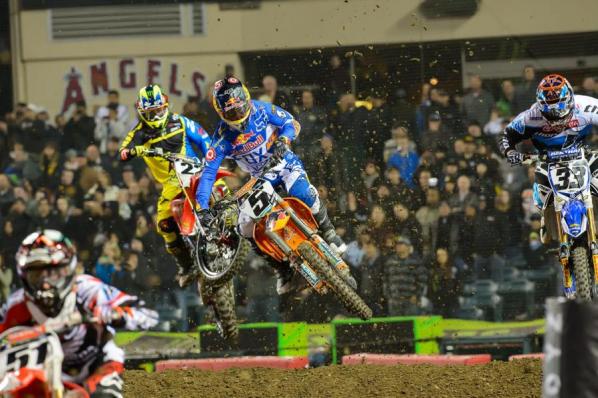 Dungey battled his way to the front, and overcame a small crash, to finish third.
Cudby photos


By lap 15, it was clear the race would be won by one of the four riders up front. Then, surprisingly (there's that word again) Dungey knifed the front end in a corner and crashed. Not long after, Barcia crashed on a double jump out of a corner. Dungey was up quickly enough to stay in fourth, and when Barcia crashed he inherited third. Barcia took longer to get up, and Reed and Monster Energy Kawasaki's Jake Weimer rode past.

So now it was down to Canard versus Millsaps, and they were in close formation up front. Canard got aggressive and made the pass, and even stretched it out slightly. As the white flag came out, it appeared Canard was set for one of the all-time emotional, all-time career comeback wins. But he faltered a bit on the final lap, while Millsaps kicked in one last push and closed in. They battled, and Millsaps found a good line in a rut, sliced into the lead, then blitzed the whoops to build a cushion. On the final lap, Millsaps made the clutch pass to win the Anaheim Supercross.

Canard's second was just as impressive, while Dungey salvaged a podium. Reed and Weimer rounded out the top five. What's next? Who knows?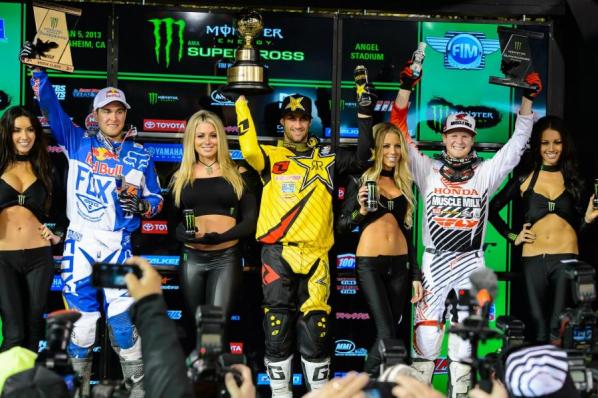 The 450SX podium.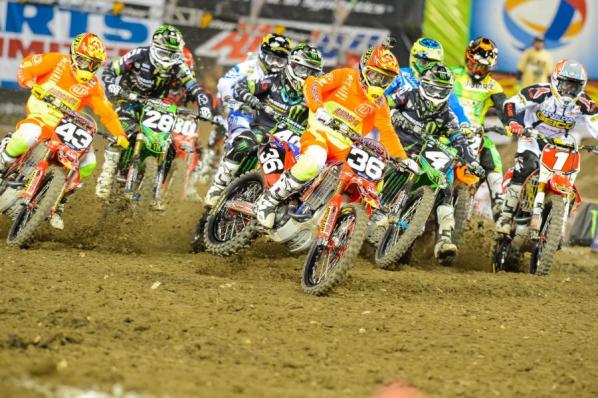 A 250SX start. TLD Hondas were fast out of the gate each time.
Cudby photos
At least the 250SX class lived up to what it was supposed to. Defending West Region Champion Eli Tomac was expected to dominate, and he did exactly that. After Lucas Oil Troy Lee Designs Jessy Nelson grabbed the holeshot—and then crashed on the first jump—Tomac found himself in the lead on his GEICO Honda. Ken Roczen was second on his Red Bull KTM, and he had shown the speed to match up with Tomac in practice and the heats. But in the main, Tomac just marched away

Roczen rode solid in second. JDR KTM's Malcolm Stewart was third early, and engaged in a big battle with Lucas Oil Troy Lee Honda's Cole Seely—last year's Anaheim 1 winner—and Rockstar Energy Racing's Jason Anderson. Seely and Anderson eventually got Stewart, then Seely slowed pulled Anderson to secure third. Those riders rounded out the top five.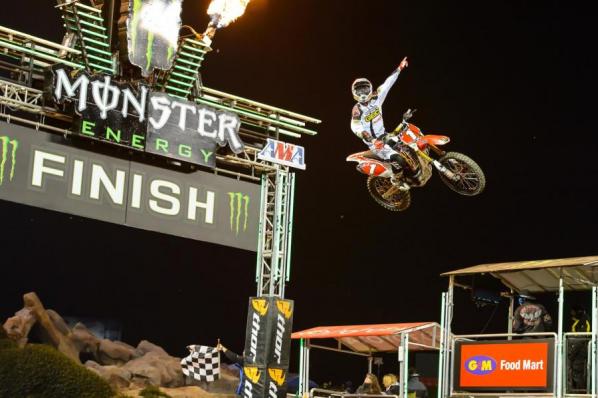 Tomac crushed 'em.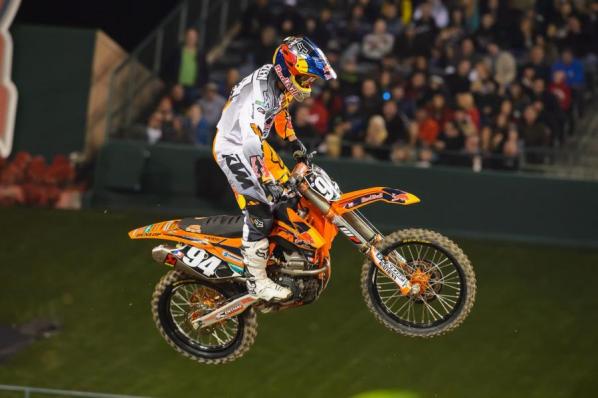 Roczen was second.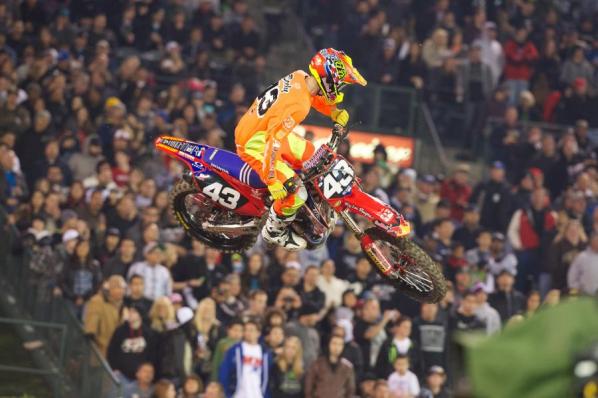 And here is Seely.
Cudby photos
Main Event
1. D. Millsaps
2. T. Canard
3. R. Dungey
4. C. Reed
5. J. Weimer
6. A. Short
7. J. Barcia
8. J. Stewart
9. J. Brayton
10. K. Windham
11. J. Grant
12. M. Goerke
13. K. Chisholm
14. W. Peick
15. M. Lemoine
16. R. Villopoto
17. V. Friese
18. B. Tickle
19. R. Kiniry
20. M. Alessi

Heat 1
1. J. Barcia
2. R. Villopoto
3. M. Alessi
4. J. Weimer
5. M. Goerke
6. R. Dungey
7. C. Reed
8. W. Peick
9. R. Kiniry
10. J. Brayton
11. J. Hansen
12. P. Larsen
13. J. Keeney
14. B. Lamay
15. M. Rivas
16. T. Tapia
17. A. Howell
18. D. McCoy
19. M. Alcorn
20. M. Akaydin

Heat 2
1. D. Millsaps
2. T. Canard
3. J. Stewart
4. A. Short
5. J. Grant
6. B. Tickle
7. K. Windham
8. M. Lemoine
9. V. Friese
10. K. Chisholm
11. P. Nicoletti
12. C. Blose
13. A. Balbi
14. N. Schmidt
15. C. Siebler
16. C. Gilmore
17. L. Smith
18. L. Powell
19. K. Partridge
20. A. Ray

LCQ
1. J. Brayton
2. K. Chisholm
3. K. Partridge
4. A. Balbi
5. C. Blose
6. B. Lamay
7. P. Larsen
8. D. McCoy
9. C. Siebler
10. A. Howell
11. T. Tapia
12. M. Rivas
13. J. Keeney
14. M. Alcorn
15. L. Powell
16. J. Hansen
17. P. Nicoletti
18. N. Schmidt
19. A. Ray
20. C. Gilmore
21. L. Smith
22. M. Akaydin


Main Event
1. E. Tomac
2. K. Roczen
3. C. Seely
4. J. Anderson
5. M. Stewart
6. R. Sipes
7. Z. Osborne
8. T. Rattray
9. M. Anstie
10. M. Leib
11. K. Cunningham
12. C. Craig
13. J. Savatgy
14. B. Baggett
15. T. Baker
16. A. Politelli
17. J. Ramos
18. J. Nelson
19. J. Canada
20. M. Davalos

Heat 1
1. K. Roczen
2. J. Nelson
3. C. Seely
4. A. Politelli
5. B. Baggett
6. M. Stewart
7. R. Sipes
8. M. Anstie
9. J. Canada
10. T. Baker
11. K. Rusk
12. A. Burns
13. J. Chachia
14. S. Champion
15. T. Bright
16. B. Savage
17. D. Epstein
18. B. Stewart
19. R. Dietrich
20. B. Hall

Heat 2
1. M. Davalos
2. Z. Osborne
3. K. Cunningham
4. M. Leib
5. T. Rattray
6. E. Tomac
7. J. Anderson
8. J. Savatgy
9. J. Ramos
10. D. Anderson
11. C. Craig
12. T. Ingalls
13. K. Mosig
14. T. Reis
15. D. Tedder
16. C. Gores
17. A. Siminoe
18. B. Scharer
19. R. Noftz
20. C. Plouffe

LCQ
1. T. Baker
2. C. Craig
3. A. Burns
4. T. Ingalls
5. D. Epstein
6. K. Mosig
7. A. Siminoe
8. C. Gores
9. T. Reis
10. T. Bright
11. B. Hall
12. R. Dietrich
13. S. Champion
14. K. Rusk
15. D. Anderson
16. R. Noftz
17. B. Stewart
18. D. Tedder
19. J. Chachia
20. B. Scharer
21. C. Plouffe
22. B. Savage