FMF MINI FACTORY 4.1
As far as backyard racing is concerned, you need every advantage you can get in the power department. Of course, there's no better way to gain an edge than with a high quality exhaust system like the Mini Factory 4.1. Utilizing technology that we've developed on big bikes, this little system equals big results out on the track.
- Compatible with both stock and modified motors
- Boost horsepower at every RPM
- Titanium canister with formed titanium end caps
- The ultimate mini moto exhaust
- Available for most major playbikes
- Advanced design for painless repacking
- Spark arrestor or QuietCore spark arrestor inserts available
$299.99 (Titanium Muffler/ Stainless Header)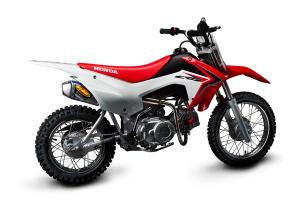 Öhlins TTX22 Cartridge Kit for MX Air-Spring Forks

Breathe air, don't ride on it, with an Öhlins upgrade Cartridge Kit replacing the OEM MX air-spring fork internals. The Öhlins TTX22 Fork Cartridge Kit is designed to fit directly into the latest MX motorcycle air-spring fork legs, providing renewed control and feel. The MX TTX22 Fork Cartridge Kit is based on TTX twin-tube technology. The gas pressurized dividing-piston design is cavitation free.
The Kit features an 8mm steel hollow piston rod, 22mm main piston, and fully adjustable and segregated damping. Springs are ordered separately. MSRP $1,300.00 www.ohlinsusa.com; 800-336-9029.