Sam Boyd Stadium
Las Vegas

,

NV
Monster Energy Cup
Monster Energy Cup
GEICO Honda is going to have a really tough time keeping Eli Tomac down on a 250 now that he's proven himself capable on the big bike—capable as in winning one of the three main events at the Monster Energy Cup, against established names like Ryan Dungey and Chad Reed. Seriously, ET is fired up about riding the 450 again. And not so much about going back to the 250s.
Racer X: Let's start in practice. You looked fast in the first one, and then there was a little problem.
Eli Tomac: Yeah and I was giving it in the first two practices and then just made a little mistake there on the quad over, triple over, whatever you want to call it through the table thing. I hung my rear wheel and I was just like, 'Oh, I've got a 450. I can just power out.' But I got a little looped out and did like a dead sailor and just went flying over the berm. Luckily enough, there was no one there because I landed right in the next lane. I kind of smashed my heel in, but did my shoulder in more. It was hurting. My arm was kind of dead. It just felt like I had a massive dead arm until like the third moto.
Really? Like through the races and everything?
Well, it like wore off, but it was kind of in my head at the start and I was just kind of riding around. It felt like the first two, I was just going with the flow, not attacking. But I also didn't get the holeshot, so I was just kind of timid in there.
But you weren't riding the same after that crash?
No, I definitely wasn't riding the same after the crash as I was just at the beginning of the day. It just took the edge off the sword.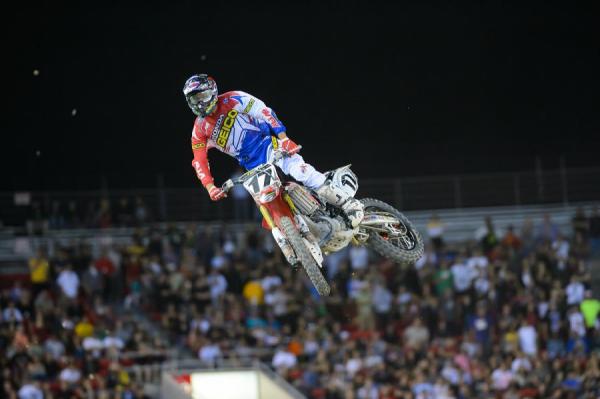 Tomac would overcome a crash in practice to finish third overall on the night, which included a win in the third main event.
Simon Cudby photo
So, by the third one, it was better?
By the third one, I was just like, 'Man, what am I doing?' I finally executed a proper start. [Mike] Alessi actually beat me to the first corner, but then he kind of took a little adventure off into the hay bales. Man, it just seems like I timed the joker lane really good tonight, too. I kind of had a spot in the back here where I could kind of eye guys out. Like, I had Josh [Grant] and that one was a really close one. I was close enough to where I could get a run on him. That kind of saved me because, if I had been behind him for another lap or a couple of corners, Dunge or [Justin] Barcia could've gotten enough to get back in front of me. That was the moment of that race.
You passed Dunge and Barcia with the joker, right?
With the joker, yeah. When they both went in.
So what did you think? Did you get an advantage with taking it early, or you were faster the rest of the way around?
I think there was [an advantage]. In that third moto, I was just a little bit faster than those two.
So you made it up time around the whole track and then used the joker to make the pass?
Yup. Made it up after I took it.
Did you even know where you were in the third race, points wise? Because you were in the middle of the Barcia and Dungey race, and you could have swung the overall either way. Did you know that? Did it matter?
I knew Barcia had like five on me, Dunge must have had three or four. My goal was to beat Alessi and Reed to get third. So that was in my head. First was a little bit of a long shot. Something could have happened out there, but that's kind of where I was at.
Coming in here on a 450, I'd heard you had been riding it pretty well on the test track and then practice obviously started off well. Were you excited? Maybe like, "Hey, I could maybe win this thing."
I would hop on that thing right now for the season!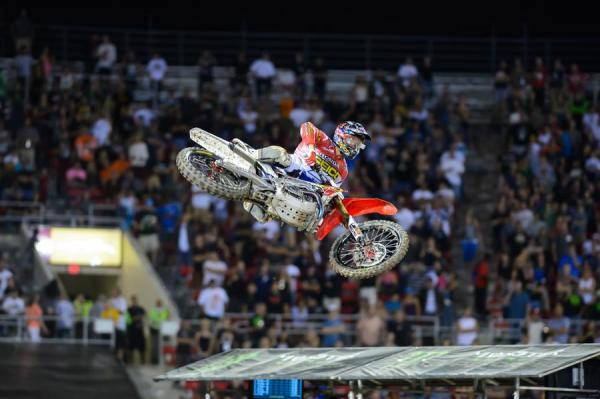 Tomac used the joker lane to his advantage in the third main en route to the win.
Simon Cudby photo
You really like it that much?
It's just home to me. I'm just a 450 guy. I have to go race the pee-wee class for supercross, but I guess that's just the way it is.
Maybe they shouldn't have let you do this.
I know, because now I'm all fired up. [Laughs]
I mean, what is that, confidence wise, to go out and win on of the three mains against dudes that have raced this class all the time?
I mean, yeah, I beat a lot of big names. So it's a good start, for sure.
So you don't even think, "Oh, it'll be fun when I go back to the 250. I can just throw it around." Can you try that, to convince yourself?
It almost feels like a step backwards now.
I'm trying to help you be positive!
I know. It's a bummer. It's just the way it is.