Lake Elsinore
Lake Elsinore

,

CA
Lake Elsinore
Lucas Oil AMA Pro Motocross Championship
Hello, everyone, and welcome to the Rev Up. The summer is over and the 2012 Lucas Oil Pro Motocross Championships have raced to conclusion. First off, I would like to extend my gratitude to the hard working souls that made it come together for each event. I know how thankless those duties can be to the people that are still working into the darkness long after the champagne bottles pop on the podium.

It's an eerie scene after an outdoor national. The once packed hillsides and grandstands are left vacant and strewn with garbage. The meticulously prepared track is now a crusted mess of odd shadows and potholes. As the loose track banners dance in the late afternoon breeze, it always reminded me of a scene in an old western movie. The shootout at the OK Corral is over and the town is left in the company of tumbleweeds. To that point, I kind of like to correlate professional motocross to the tumultuous old west. At its pinnacle, the smiles of the triumphant were still stained brown and peered through weary eyes. There really is no comfort in outdoor motocross. It is a constant struggle with every drop of the gate, and in both classes only one cowboy rides off into the sunset.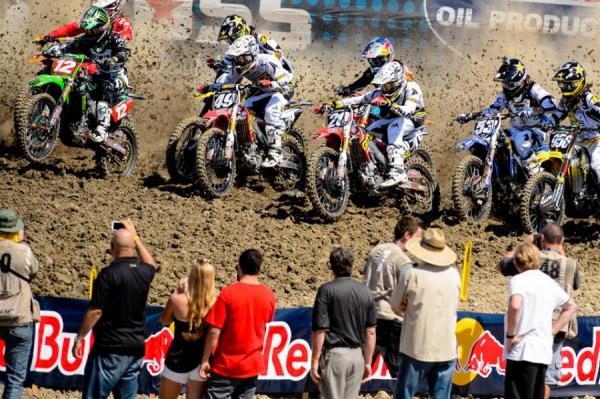 The 250 Class stole the show in 2012.
Simon Cudby photo
With this in mind I wanted to separate this year's dust up into three categories...

The Good

Live television. We're greedy fans, but I cannot stress how important having the races available live in HD is for our product. Money makes the world go around. Sponsors have money and they like to spend it when their logo and likeness shines through our beloved LCD displays. Extreme misfortune arrived in the injuries of our premiere talent, and we took it in the nuts in that regard. More on this in the next category, but a little sunshine before rain...we saw some amazing live television on major networks that will build on next season's live package. Like Gordon Gekko says, "Greed is good." Yeah, we'll always want more and more. But be greatful for what we had this time.

The talk about the drama in the 250 Class is worn out, but I'm going to give it a nod one last time anyway. It seems each year we see new talent, and for the past ten years we've seen winners from Loretta Lynn's arrive with their guns blazing. Some guys move up and some fade away, but the influx of talent over the past decade makes the top 20 in this division down right nasty. But as is typical in our sport, the strongest riders have the strongest machines and there is always a few that rise above. There were four (arguably five as Marvin Musquin also won an overall) that really made the summer special. What a show. Down to the last lap at the final round. Blake Baggett wore his skin like iron, and his breath was hard as kerosene. And if you don't know "Pancho and Lefty," well, you don't need to know.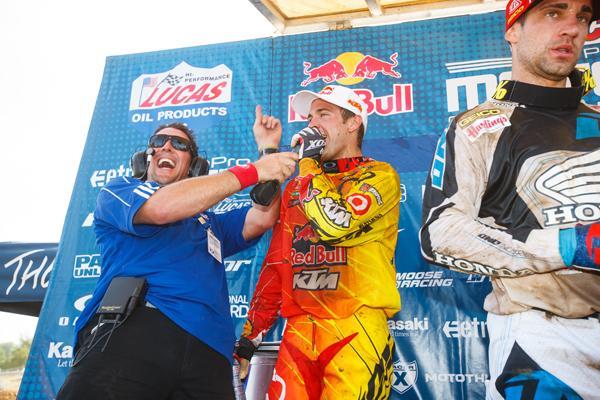 Simon Cudby photo
The Bad

We have to stop watering the tracks so gnarly right before the motos. This is a very sensitive subject as dust not only affects the comfort of the fans, but the safety of the riders. That said, I didn't see any dust. Not even a little. Ever. I did see crashes because of the slickness brought on by watering, and I heard the voices of the riders. A little dust never hurt anyone, and I don't think anything will suffer by monitoring this aspect more sternly.

Interviews. Not every rider is going to be a golden-tongued media darling, but if you say, "um" or "and, uh" more than twice in two sentences it is bad. If we want to put on our big boy pants we need to speak into the microphone and be cognisant that tens of thousands of people are listening to us, along with our sponsors. I know some other motor sports send their athletes to media school, and if I were a team manager my riders would be attending. On the other side of the microphone I don't like it when we interview riders minutes after they just carted huge. Again, this is very sensitive in that its important for us to get the faces of our boys on television, but motocross is different. There are no roll cages, safer barriers, or parachutes. There is no infield care center debriefing. You can have the hell knocked out of you in a motocross crash and be able to speak, but probably shouldn't be. This has always kind of been a thorn in my side, maybe I'm over sensitive? There is room to grow on both sides of the microphone in my opinion.

We didn't get to see Ryan Dungey ride masterfully as he did against Ryan Villopoto, Chad Reed, and Trey Canard. Take a spur to the shin and drink turpentine, this was extroidinarily bad. Bad they were hurt, and even worse we didn't get to harness their talent to better expolit our beloved trade.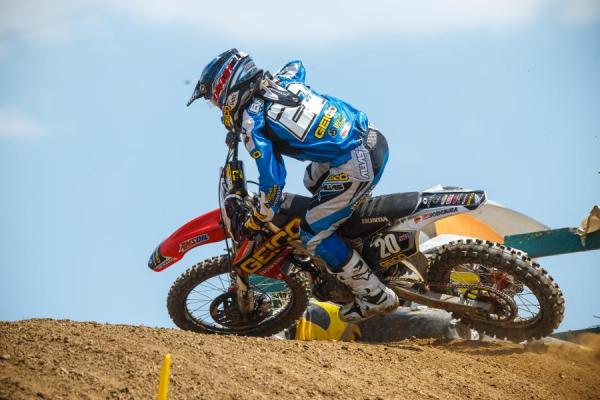 Is Barcia the new king of the scrub?
Simon Cudby photo
The Ugly

"It's hard to be angry when there is so much beauty in the world." - American Beauty

I'm going to use this part in reverse context because, ladies and gentlemen, we saw some down right ugliness out there. I mean ugly in a good way--like bad means good. Many a time I found myself pausing my DVR and going frame by frame on a scrub, or a berm fan. One of the ugliest things I saw all season came in the form of James Stewart obliterating the field at Hangtown. It was so refreshing to see him riding that Suzuk like the James I used to stand in awe at. The way his hands sit on the grips and his forward riding style are mesmerizing when he's on. He has the ability to handle sections like no rider I've ever seen. Maybe one day he'll do it for a full series again.

I mentioned scrubs. Justin Barcia is the reining king of the scrub. I don't even see Stewart perform it with the violence that Bam Bam does. He about took off Ken Roczen's head at Budd's Creek over the finish line jump when he passed him for the lead. Ugly, I say.

I saw ugly displays of PANdemonium all summer. I don't care if it's in practice, mid-moto to loosen up, or in victory you will pan that son of a bitch if you're a pro motocrosser. Roczen was laying it out all over the place, but Ryan Dungey is a silent killer in this speak. Just when we saw a dozen one-handers after moto wins, he uncorks one at Millville that made me spit Coors Light all over my coffee table.

One bummer for me here was that I didn't see anyone twist one off Larocco's Leap. In Ricky Carmichael's last trip over the gap he showed full drain plug. After 30 minutes plus two laps. In the second moto. Upside down over the biggest jump in the land. These kids still have work to do, but Roczen gets the King of the Pan award for 2012 though. Ugly.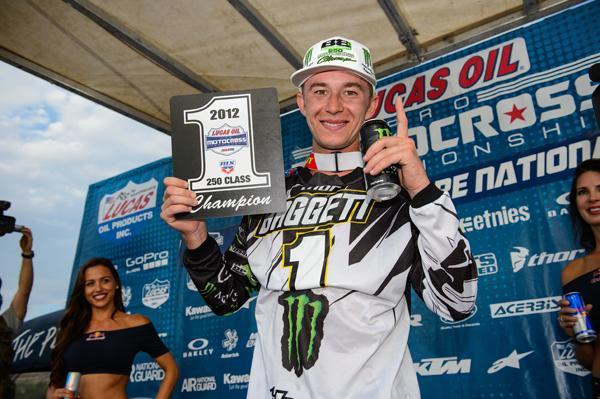 The last man standing in 2012.
Simon Cudby photo
The Charge. The riders who remind me of the charge the most are Jeff Emig, Damon Bradshaw, and Ricky Carmichael. It's something that happens to a rider when they flip a switch and there is nothing you can do. I saw Emig do it to Ryan Hughes at High Point in 1994, Bradshaw do it at Loretta Lynn's in 1988, and Carmichael do it for 10 years. This summer I saw Eli Tomac become a house of fire a couple of times. That second moto charge at High Point was insane. Ken Roczen will never forget letting that one slip away, not that he really could have done anything different. ET laid out the charge last weekend in a big way too. "Big" being the operative word, because I think he was using more energy than Baggett simply because of his large stature. He almost passed out from going for it. Mega Ugly.

But there was one rider who stood above all in this category. What is paramount in the charge is to perform it when it counts. When it is high noon, the eagle is shrieking in the sunlight and it is time to draw, there can be no hesitation. "Bad" Blake pulled the trigger in the climax of the entire summer. He was the last man standing, and the lone cowboy riding off into the sunset.

It was a grand show.