Lake Elsinore
Lake Elsinore

,

CA
Lake Elsinore
Lucas Oil AMA Pro Motocross Championship
Transitioning from racing in Europe to the United States comes with a very unique set of challenges. You are not only adjusting to a completely different style of tracks and racing, you have the added burden of leaving your family and friends behind to adjust to a new country, with a different language, different food and an all-around different lifestyle. MX2 World Champions Ken Roczen and Marvin Musquin have been very vocal about some of the struggles that have accompanied them in their brief time stateside. But both have the luxury of being backed by an arsenal of factory equipment, and surrounded by a support system that they are familiar with (both rode for KTM in Europe). For Sweden's Fredrik Noren, he was dealt an entirely different set of cards. While the 20-year-old has an accomplished background as a two-time Swedish National Champion, it was done on a much smaller stage.
After the 2010 season Noren was offered the opportunity to fullfill a dream of racing in the United States. With the help of Stefan Elvin, owner of MX Heaven training academy in Southern California, the Swedish import made his American debut in the 450 Class in 2011. A successful rookie season followed and Noren returned ready for another opportunity to shine in the States. But just weeks before the start of the 2012 Lucas Oil Pro Motocross Championships, Noren broken his wrist and was sidelined for the first five rounds of the season. He returned at RedBud on a "bone stock" Honda, but failed to score any points. A breakout ride at Washougal, eighth in the second moto, put Noren on the radar, a spot he has yet to relinquish. We caught up with the Swede earlier this week to talk about his transition to the U.S., his brilliant performance at Lake Elsinore and more.
Racer X: Take us back to last weekend at Lake Elsinore. You had a breakout ride in the first moto, but had to pull out of the second moto.
Fredrik Noren: It was nice racing at Lake Elsinore. I really liked the track a lot and it was really different from any other track this year. The first moto I had a super bad start, but was able to stay on the inside line and pass a couple riders in the first turn. I just missed the start crash, which allowed me to get around a lot of riders there. I was concentrating on riding my own moto, and finished ninth, which I was really happy about. I was in about tenth or eleventh in the second moto, and then I jumped too far on the finish line jump and landed on the braking bumps and twisted my wrist, which has been bothering me for a while now. So I decided not to finish the moto.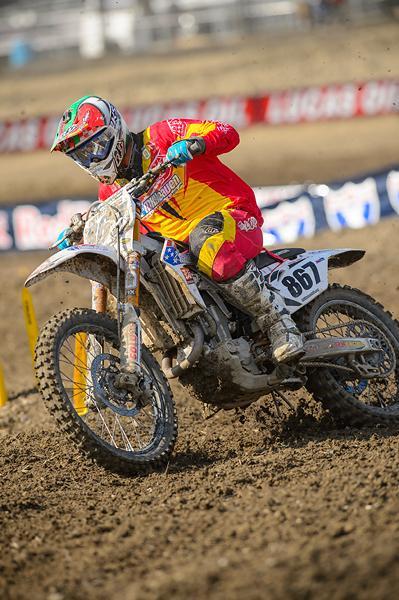 Noren had a breakout ride in the first moto at Lake Elsinore.
Simon Cudby photo
You suffered a broken wrist before Hangtown and missed the first five rounds of the season. Is the wrist still causing you problems? And can you elaborate on the extent of the injury?
Yeah, I crashed a week before Hangtown practicing for the season and broke my wrist.  My first race back was at RedBud and have been struggling with it ever since. I'm not really sure what is wrong with it so I'm going to go back to Sweden and have it looked at.
This is your second year racing in the U.S. How have you dealt with the transition from Sweden to the U.S.?
It's good. The first year was definitely different. But I learned a lot from last year to this year, about how everything works. I think it's good that I got to race here again this year and I hope to come back next year.
Can you take us through the process on how you made the decision to race in the U.S. and what made you want to race here?
I won the Swedish Championship in 2010 and the coach that I had, he asked me if I was interested in coming here [U.S.] to race instead for 2011. I was thinking about racing in Europe [the GPs] that next year like the rest of the people in Sweden do, but I was interested in coming over here. Stefan [MX Heaven owner] put together a team with another Swedish guy, an Italian guy and myself. I thought to myself, 'I can't miss this.' And watching on TV it seemed a lot cooler over here than in Europe so I decided to come over here and race.
Do you have plans to race any of the one-off European Supercross races this off-season?
No, I'm just going to go home now and let my wrist heal up and come back here as soon as possible. I'm not trying to race anything back in Sweden or Europe, I'm just going to try and get some more sponsors and get back to the States.
So as of right now the plan is for you to come back in 2013 and do another full season of the Lucas Oil Pro Motocross Championships?
Yeah, that's the plan. I'm going to work really hard to come back here for 2013.
Where do you live and train while you are here?
I live at MX Heaven. Stefan owns a pretty big house and the entire team lives there. It's really close to Perris Raceway so we train there and Milestone and all of those tracks.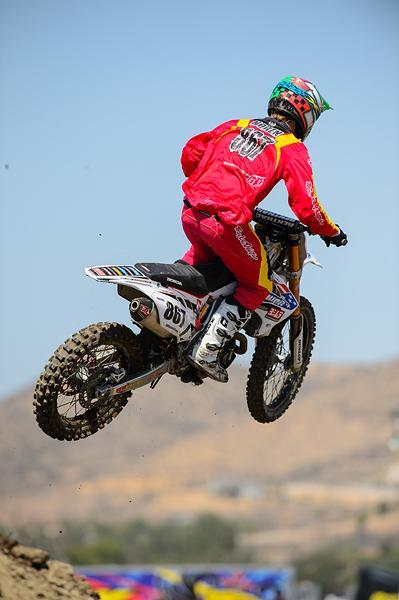 Noren plans on returning to the United States to race in 2013.
Simon Cudby photo
Obviously Sweden and Southern California differ quite substantially culturally. How difficult has that transition been for you?
It's a big difference. In Sweden the weather is pretty bad and the tracks are a lot different. At first racing over here was really tough. I had to learn to adjust to all the braking bumps and stuff. But I like the tracks better here and I feel the style of tracks suit me better here.
For those that may be unaware, you were a pretty accomplished rider in Sweden before moving to the U.S. Can you elaborate on your career in Sweden?
In 2010 I won the Swedish Nationals and the year before that I won the Junior Swedish Championship. I only raced one GP, which was in Sweden. I really didn't race too much outside of Sweden before coming to the United States.
Thanks for you time, Noren. Who would you like to thank for helping you out this season?
I would like to thank MX Heaven, Ohlins USA, Yoshimura, Silkolene, GOLDfren Brakes, Decal Works, Cycra, Troy Lee Designs, Dunlop, NoToil, Gaerne, Warp9, RK-Excel, Wiseco, Works Connection, AME Grips, X-Brand Goggles, my mom and dad and just everyone over in Sweden that has made all of this possible.
For more information on the MX Heaven training facility please visit www.mxheaven-usa.com