Thunder Valley Motocross Park
Lakewood

,

CO
Thunder Valley
Lucas Oil AMA Pro Motocross Championship
Stop right there and let me read your mind. Ready?
Ivan Tedesco? Going for the W? C'mon guys!
Yeah, we know he's a late entrant into this year's motocross tour, and even he admits his fitness isn't 100 percent yet. He's also 30 years old and coming off of some injuries, hasn't really raced motocross since 2009, and hasn't raced 250s since 2005. Sure, he rode well for fourth overall at Hangtown, but Freestone was a disaster by virtue of two first-turn crashes that relegated him to 19th overall. So how can we possibly say Tedesco is going for the W this weekend?
Because IT just hauls at Thunder Valley. Period.
By 2005, Tedesco had already notched two Lites SX titles, and yet had never even won an overall in motocross. Until Thunder Valley, that is. The dude simply dominated there, going 1-1 en route to his first-ever career outdoor win.
In 2009, Tedesco was rebuilding his program after years of injuries had sapped his momentum on 450s. Then, suddenly, when the tour rolled into Thunder Valley, Tedesco caught fire and dominated with 1-1 finishes—the only 450 victory of his career.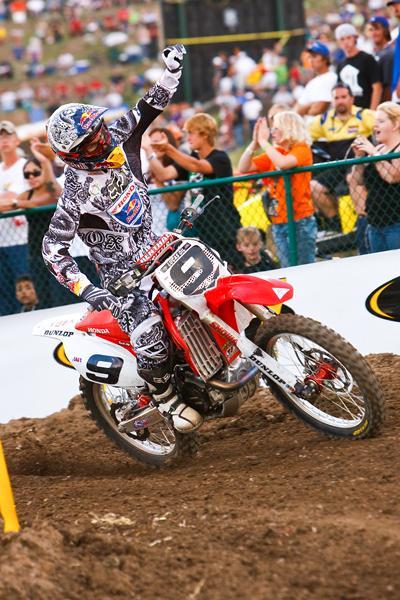 Tedesco's dominant 1-1 performance on a 450 in Colorado in 2009 was a big surprise.
Cudby photo
Tedesco has only won three nationals, total, in his career, and two of them have come at this track. But according to former Colorado pro Paul Lindsey, it's not as surprising as you think.
"A lot of people think Eli Tomac, who is from Colorado, has lots of experience at Thunder Valley, but in reality he's probably only raced here a few times here and there for Loretta's qualifiers," says Lindsey. "But when they were younger, we would see those Alburquque [New Mexico] guys, the Tedescos, the Johnsons, Ryan Clark, they'd all be here racing all the time. Especially our supercross scene. Outdoors it would depend on the track or if they had anything going on, but a lot of those New Mexico guys, Ivan included, raced here all the time."
Tedesco is so comfortable in Colorado that he actually outperformed Colorado's own, Andrew Short, to get those wins at the National. Ironically, when Tedesco went 1-1 for the 125 overall in 2005, Short finished second behind him with a 2-2, and when Tedesco went 1-1 for the 450 overall in 2009, Short finished second behind him again with a 2-2!
"When they were growing up, we'd see Shorty and Ivan battle quite a bit here in Colorado," says Lindsay. "It was pretty surreal to see them battling for the 450 win so many years later at a pro National here."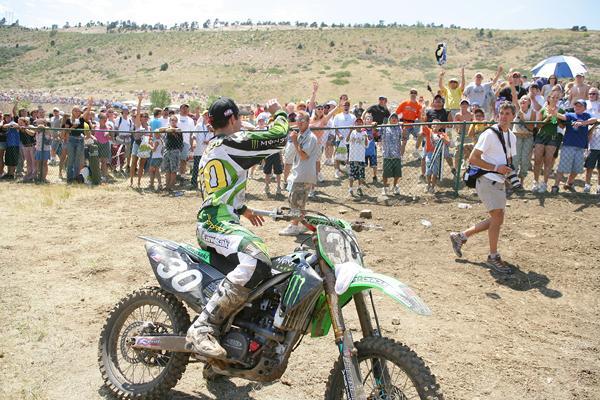 Tedesco celebrates his win at the first-ever Thunder Valley National in 2005. It was also the first national win of his career.
Cudby photo
We will throw one more stat your way to back Tedesco's chances this weekend: Tedesco won the first Thunder Valley National in 2005, and the Monster Energy Pro Circuit Kawasaki team has won every 125/Lites/250 race here since. Pro Circuit is undefeated here at 7-0, and now Tedesco, who delivered their first win here, is back on their bike. We'll see what happens!