Superdome
New Orleans

,

LA
New Orleans
Monster Energy AMA Supercross Championship
Shane Sewell, along with older brother Travis, have shared the duties of "true privateer" for several years now. When one brother was racing, the other was wrenching and driving the van. However, this year has been a bit different as Shane was picked up by Team Violation/Shea Racing/Passportsworld.com/National Switchgear powered by SMS Racing Team for supercross. Although still a privateer, things have improved for Shane; so much so though that he sits 12th in the AMA Supercross Lites East points standings, with a tenth in Atlanta being his best finish. We recently caught up with Shane who's in Georgia preparing for his last few supercross races of 2012.
Racer X: Shane, let's begin with 2012. How do you feel it's been going?
Shane Sewell: I feel that supercross has been going pretty well. I know that I'm capable of top ten finishes every weekend since I took tenth in Atlanta. From that standpoint I am hoping to finish the last two rounds in New Orleans, and Las Vegas very strong. Travel at times this year has been rough; especially when I am doing all the driving by myself, and I definitely have put lots of miles on my van, that's for sure! It has been a little hectic at times, but it generally has all worked out.
After years riding a Yamaha, you are now KTM mounted. How has the adjustment been?
I definitely had to adjust at first, not just from Yamahas to KTMs, but also from a 450F to a 250F. I had not ridden a 250F since back in 2009! I'm a tall guy, and my weight probably about maxes out a 250, but Brian Storrie from SMS Racing built the motor on my KTM and did an awesome job.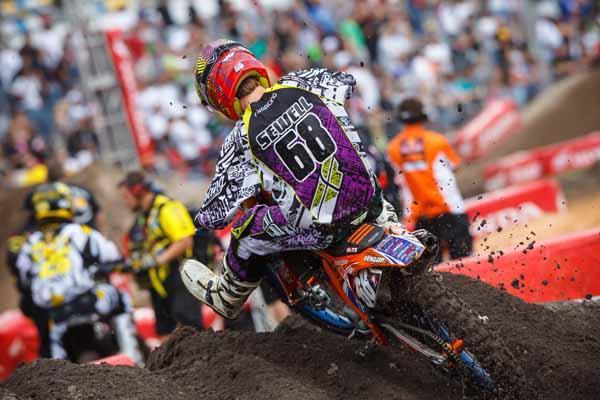 Sewell currently sits nine points behind Malcolm Stewart for 10th in points.
Simon Cudby photo
What else is new in 2012 for you?
2012 has actually been a lot different, because now all I have to worry about is getting to the races. In the past I had to worry about the bikes, the parts, and all that. I have really put a lot of effort into the past few races seasons both mentally, and physically to improve - and it feels as if it is finally starting to pay off. I am even having much more fun racing now than I ever had in the past. The team that I'm riding for is definitely the most professional one that I have ever ridden for, and if it was not for Tim Shea and Brian Storrie, I for sure would not have been racing supercross.
I know that your home is in Indiana. Have you been living there during supercross?
No, during these winter months I have been very fortunate to be able to stay at GPF (Georgia Practice Facility) in Cairo, Georgia – which is owned by the Woods family. Josh Woods has really helped me out a lot the past few years, and I definitely appreciate his help and advice. I'll probably head back to Indiana in May before the outdoor season starts up, then basically hang out there until fall.
Earlier you mentioned finishing up supercross strong. With two rounds left, where would you like to end up in the points standings?
It would be a dream come true to finish the season inside the top ten in points, and I know that the entire team would be thrilled if that happens. I have put the work in that is needed to accomplish this, now I just have to focus to make this happen!
With your current points standing of 12th you are already in some pretty fast company.
Yeah it's pretty stacked in the Lites class this year; as it always is. I cannot even really name all the names, as there are so many fast guys. But I've been lucky enough to have spent time riding with a lot of top riders like the Hahn brothers, the Sipes brothers, Kelly Smith, and Josh Woods. They have all helped me to improve, and I'm still able to learn new things every day.
Has your brother Travis been down at GPF as well?
Yes, he's been down here with me riding, and training. He put together our old Yamaha from last year after he finished up with Arenacross, and is competing in three supercross rounds on that 450. He only missed making the main in Indianapolis by one spot, so that was not too bad of a start to supercross. He'll finish supercross out this weekend in New Orleans, and then focus on trying to get things ready for the outdoor nationals.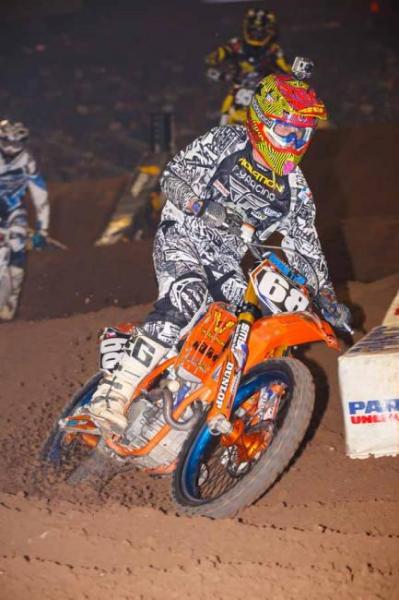 Sewell will make the switch back to the 450 for the Lucas Oil Pro Motocross Championship.
Simon Cudby photo
Speaking of outdoors, what is your plan?
Well the team that I am on is not doing the nationals, but my brother and I plan to find ways to do all the nationals in the 450 class. It's likely that we will put some money into rebuilding our bikes from last year, load up our van, and hit the road taking turns driving.
I hope that things will work out well for you guys!  With that said, do you have any final thoughts?
I want to give Tim Shea at Shea Racing, and Brian Storrie from SMS Racing a huge thank you. Those two have been behind me a 100 percent since day one, and as I said earlier, I would not be racing supercross without them. Along with them, I have a list of special people who have been supporting me; people like Brian at Dunlop Tires, John Kuzo, Max at Fly Racing, Micro-Tech, GoPro, Dr. D Exhaust Systems, DeCal Works for getting the bikes looking great, Guts, Warp 9 Wheels, Engine Ice, ODI Grips, Outlaw Handlebars, Violation One Goggles, National Switchgear, Travisa, Action Sports TV.com, Supersprox, Renegade Fuels, River Valley MX, Slick, DT Filters, Maxima Racing Oils, EVS, and Paul at Leatt.  I'd also like to thank my family for supporting, and sticking with both myself, and Travis, and last but by no means least Dan and Charles Castloo who have been there for us all along!
If anyone would like to contact the Sewell Brothers for helping their 2012 Lucas Oil Pro Motocross Championship campaign, they can be reached by using the e-mail 927151@comcast.net