Superdome
New Orleans

,

LA
New Orleans
Monster Energy AMA Supercross Championship
It was over in the blink of an eye. All the blood, sweat and tears that were poured during off-season training were flushed down the drain. Injuries have depleted the Supercross class, but for one rider, it was over before it even began. Hoping to improve upon on his rookie season, Gannon Audette entered 2012 on a new bike (KTM), a new team (Dragon Racing Fuels/AG Motorsports/Cernics KTM) and with a new outlook. But it was all taken away in the first practice of the East Region Lites season opener in Dallas. A broken wrist would cost Audette his sophomore supercross season. Now the Minnesota native is looking towards the Lucas Oil Pro Motocross Championship for a chance at redemption.
Racer X: How's the injury coming along?           
Gannon Audette: It's coming along pretty good. I got the hand fixated and all that stuff done. I've just been doing therapy and stuff, just trying to get back into my cardio and stuff. During the break, I had pneumonia, but I'm just getting over that and trying to get back to my cardio and getting back in the gym.
When are you expecting to be back on the bike?
I hope to start riding this week. Hopefully just start doing some corners and stuff, nothing too major. Just stuff like that and then slowly working my way back into it.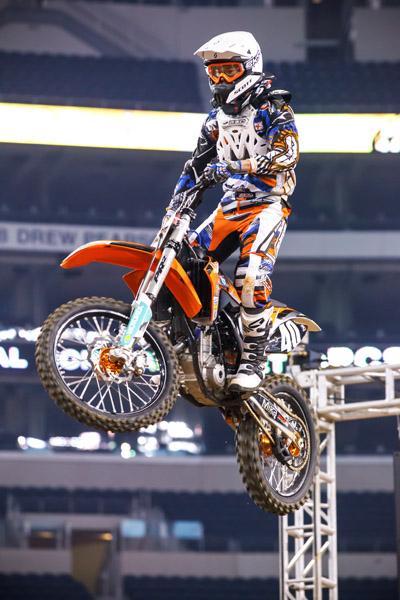 Audette suffered a broken wrist at the season opener in Dallas, ending his 2012 SX season.
Simon Cudby photo
Have you been able to keep up with your off-the- bike training?
Well, when I first got the injury, I was able to. I had the surgery and I took a couple days off, but I was able to get back into the gym and do cardio. Then I ended up going to Daytona and it rained and I ended up getting sick. That Monday I started feeling sick, and then I got a sore throat and whatever. Then I started getting over it and that Friday, I actually started vomiting. So we went in [to the doctor] because I hardly ever do that. So we went in and I found out I had pneumonia, so I couldn't do anything but sit on the couch and do nothing for a week and a half. I lost a lot of fitness there. But I'm just trying to get back into doing my cardio and work my fitness back up.
It had to be tough, preparing all off-season and then, first practice, you get hurt and are out for the year. How much did that affect you mentally? It had to have put a damper on the season before it even began.
It didn't really affect me mentally. It's just, that's racing. That's what happens. I was just having a really good off-season. I was really looking forward to the season. I felt I could really get some good finishes and was feeling good on the bike and my fitness was good and everything was really good. Then one slight mistake and it cost me the whole supercross season. I guess I'm more one of those, "Oh well, its motocross," guys. And I've been pretty fortunate.
You're season's now relegated to the outdoors. One, do you think you're going to be 100 percent? And two, what are you looking to improve upon from your rookie year?
It just really depends. I don't want to go into the season not feeling 100 percent on the bike. I think the bike is going to be a big thing too. I think we're just going to take it step by step with my racing and everything and how I feel on the bike. We're not 100 percent on when I'm going to race. I plan to do all of them, but it just really depends on how I feel when I get back on the bike. Last year wasn't the best year in outdoors. Definitely could've been better. I hope to be top 10, I feel really good on the KTM. I think just fitness is going to play. I want to be in the top 10 for sure. I want to be up there and battle with those guys.  But it really just depends on how my wrist feels when I get back on the bike and how well I can adapt to the outdoors. I've never ridden the KTM [outdoors] and it's got a steel frame, so I've just got to adapt to that a little bit and see where it takes us. I just really want to do a lot better than I did last year. But we'll see. I hope to be in the top 10, if not the top 5.
You obviously haven't had much time to spend around the new team, but switching from Suzuki when you were an amateur to Yamaha last year to KTM this year, how's that transition's been? Getting used to the KTM and a new team as well?
It's been good. I actually adapted to the KTM really fast. I usually adapt to bikes pretty fast and I really liked the KTM in supercross. It's a really good bike. It corners good and I really liked it. The team has been good. Haven't really had any problems with them, but I haven't done any races either, so I haven't really been around them much.  But everything's been pretty good, except for the injury, of course.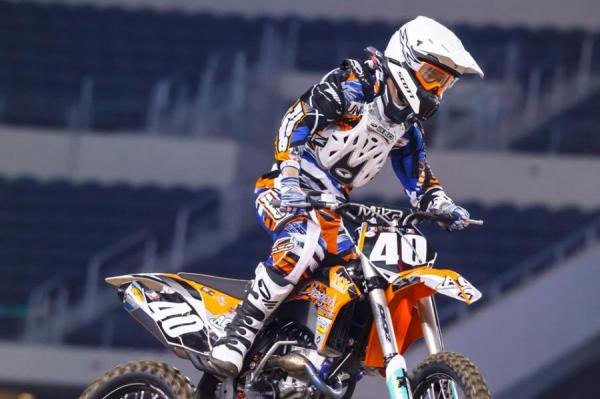 Audette is hoping his wrist will be 100 percent for the start of the Lucas Oil Pro Motocross Championship.
Simon Cudby photo
I know in the past, you've trained down at RC's farm with Dungey and Carmichael. Did you do that this year as well?
Yep, I did that for supercross. My whole supercross off-season, I was down there.  I had a really good off-season there. I really enjoy it there.
Obviously, RC's "The Goat" and Dungey's one of the top riders in the sport. What have they taught you? What have you learned from being around them, seeing how they train, seeing how much work they put into it?
I tried going there last year and Ricky's pretty much retired, he wasn't like in his pro season with all his training and stuff. But I got to be there with Ryan and we did a lot of stuff together and I really learned a lot from him. I think that was a huge thing that really helped me. They're really professional on and off the track. I think I learned a lot from that both mentally and physically. It's just a really good group of people to be around, especially being in the same sport that they've been so successful at. They're just a bunch of cool guys off the track too.
Last year, outdoors, you had some very bright spots. What's your main goal going into this year as long as you're healthy?
As long as I'm healthy, I really need to get good holeshots and be consistently fast that whole time in the moto. That's what I plan to do this year and just get out there and battle with those guys in the front and get to know that pace. As it goes on, just get up each and every weekend and see where it takes us.
Good luck on your recovery. Who would you like to thank for helping you out this year?
Dragon Fuels, AG Motorsports, Cernics, AXO, FMF, Dunlop, Motorex, Fludisigers, Rekluse, Leatt Brace, SCOTT Helmets, X-Brand Goggles, PR 2 Suspension, and my mom and dad.