Superdome
New Orleans

,

LA
New Orleans
Monster Energy AMA Supercross Championship
"Hey, who does the Racer X Twitter during the races?" said
Davi Millsaps
after the Houston Supercross. I quickly told him that I did.
"Man, it said Villopoto is checking out big time!" he said. "He didn't get that far out in front of me, it was maybe nine seconds max for the whole 20 laps. I mean, that's pretty good for me, a guy who was struggling to get on the podium!"
Davi was actually right. I never really watched the clock to see how big the gap had grown, I only knew RV was pulling away and looked to have the race win on lockdown pretty early. And honestly, who didn't think the same way? Villopoto has been killing it as of late, and if he takes the lead on the first lap, well, we are at the point where you just figure he will take the win, as well.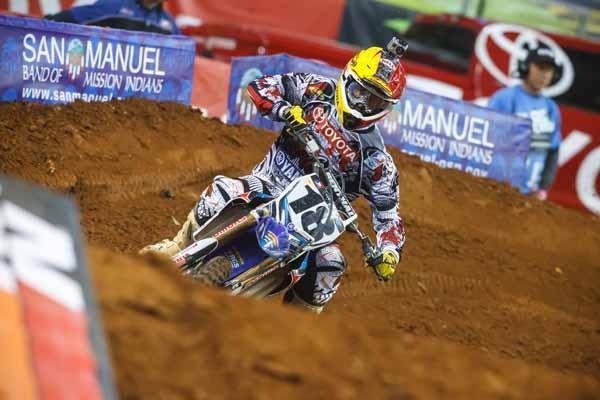 After a slow start to the season, Millsaps is rounding into late season form.
Simon Cudby photo
But late in the race, announcer Erv Braun was trying to find some drama, and he pointed out that Millsaps was closing and wasn't too far back, and if he managed to beat Villopoto, he would actually prevent RV from clinching the title in Houston (Millsaps would have then left Texas down 99 points with 100 potentially left to earn in the final four rounds).
Millsaps, indeed, wasn't too far back, but he never did get back to striking distance of RV. He ended up second by 4.5 seconds, which is, well, closer than
Justin Brayton
finished to Villopoto while taking second at the last two rounds.
But it's not the numbers that really matter, nor are we trying to build up a battle that may not exist. What is telling is that Millsaps cared enough about Villopoto's lead to react to our twitter comment. That means, somewhere deep inside, Millsaps has climbed back up to the level where he is at least watching the leader again, feeling like he's part of the lead pack, and trying to see how much further he needs to go to get a victory.
"But," you say. "He's only doing well because everyone is injured!" Well, that might help his finishes, but there's no doubt at all that Millsaps is riding better than he was at the beginning of the season, when he finished 16th at Anaheim 1. After that race, there's no way you would have put Millsaps into the same category as Jake Weimer, Brayton or Kevin Windham. But something has turned around as of late for the #18. He's actually gone ahead of all of those riders in points (and this isn't due to injuries -- he was already ahead of Windham before Windham crashed out in Houston). He is clearly riding better now than at any point this year or last year in supercross. Why?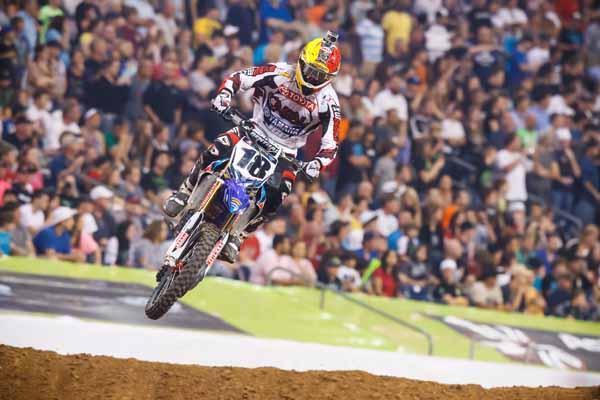 Is Millsaps ready to challange Villopoto for a win?
Simon Cudby photo
In Houston, he finally admitted it. Before the year began, we heard some hype about Millsaps losing weight and coming in ready, but he threw up that 16th clunker at A1 to make us forget him. Turns out, Millsaps re-injured his knee in December (the same knee injury that knocked him out of Lucas Oil AMA Pro Motocross at Red Bud last year) and only got back on the bike two weeks before A1. He started the season hurting, but chose to keep it secret.
He's been getting stronger ever since, and now we're finally seeing the Davi Millsaps of 2010, the one who won a race, instead of the guy that struggled coming back from a kidney injury last year, or the knee problems this year.
Big credit goes to his support group, new trainer Pablo Toribio (who helped him lose all that weight) and of course Ezra Lusk, who is always trying to keep the fire lit. Millsaps was way, way down after that big crash at Budds Creek in 2010, but he finally looks to have gotten his form back.
Is he good enough, now, to get another win? He surely seems like he's trying to do it, and that's the most important part of the equation.