Dodger Stadium
Los Angeles

,

CA
Los Angeles
Monster Energy AMA Supercross Championship
Hello, everyone and welcome to the Rev Up. I'm ready for more. We're still in the gestation period of the beast that will grow fangs around Atlanta, but the opening rounds have been stout. What a great race we got to see last Saturday night live on SPEED! It didn't look like the typical Phoenix soil, but it was good and the track layout was great. The higher speeds, wider corners, and sand section culminated to form a proper battleground. It was a great "racetrack." We saw tons of passing, and while certain sections looked simple, others reached up and grabbed the best of the best. Through it all,
Ryan Dungey
rode 20-laps that were nothing short of legit. When a racer makes a big change such as Dungey did, he wants nothing more than to answer (quiet) the critics. The 2010 Supercross Champion showed the world that he is lethal, and so is his KTM. Did they finally put it together over there in the big orange tent? Hey, they had an Austrian machine on both podiums and for the second week in a row,
Ryan Dungey
looked extremely right on the bike. Last weekend he was gone after the second corner.
Much more needs to be made of KTM's accomplishment. I didn't think they could win coming into A1, but I was obviously wrong. It took them two races, and they'll win more as the season progresses. Huge win. Respect.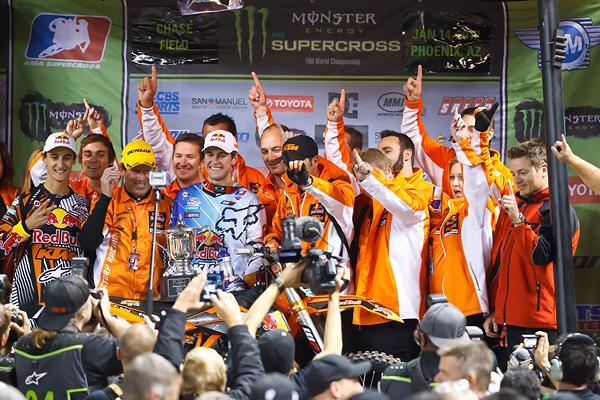 Dungey and KTM broke through in Phoenix.
Photo: Simon Cudby
Now we're going to take the show to the "City of Angels." Los Angeles, California is the most popular city in the world. Packed with 3.8 million people, L.A. truly has it all, from the highest watermark, to the lowest scum pit. From the Laker's floor to Compton. I tend to reflect on the rock band Tool and their cynical perspective, regarding L.A. "Learn to swim." But, it isn't all bad. The indigenous love it, but folks who visit mostly shake their heads. I know I do. None the less, she has supercross on the bill this Saturday night. It's already time to ring the bell and fight again. We're products of our environment and while the charge didn't need any prodding, there is going to be a tremendous amount of juice flowing when the lights go down for pre-race ceremonies. Welcome to the Jungle.

Time to reset the deck and see what round three has.

Supercross

I took a beating last week with my predictions, but I'm going to stick with them. I ghost rode my man, Kevin Windham though, which was earnest. Hey, I miss a few gears now and again. I'm still saying that we'll see at least eight different faces on the podium in this group by round 10. It's a sweet time to be a fan right now because of the uncertainty and scenarios. That said, there is one steadfast constant in that Ryan Villopoto remains the man. He made mistakes last weekend, but he was incredible. Past that, Jake Weimer has made an early voice for himself that could quickly get roaring. He was riding top shelf supercross in the tiddler division, and after some injuries he's back. Winning a heat race and standing on the podium is big. I see some things with Jake that only need a little more confidence and he'll be at the next level. The top level.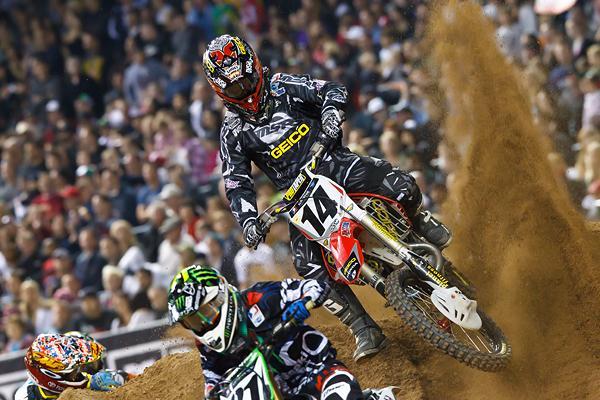 Windham shined in Phoenix with a fourth; can he continue that trend in L.A.?
Photo: Simon Cudby
The Thunder is riding strong, but I think that Chad Reed is still getting going. He'll get smoother, grab better starts, and win races very soon. Maybe this weekend. Man, it sure is cool to see how much faster he goes when he has #7 in his sights.

The storm behind the aforementioned top guns is bouncing around like a tornado. Justin Brayton, Kevin Windham, Andrew Short, Brett Metcalfe, and now Trey Canard can make things happen. Canard will be ready to go soon. I hope he maintains and gets his steam up before throwing on the charge, but he's a racer and who knows, maybe he'll pull the trigger right now. Ice Trey can run.

Don't give up on James Stewart just yet. If you don't think he can rattle off 6-7 wins really, really fast you better think twice. He's been woefully unimpressive in the first two main events, but it's too early to know what he's going to do. I wouldn't be surprised to see him become the third different winner in as many weeks. Wouldn't raise an eyebrow if he missed the podium again either. Pretty substantial head scratcher here, I say that because I'm picking him to win this one. I think.

Trouble is brewing with the big boys and it's going to get nasty.

Lites

As mentioned, I got drilled for my forecast last week, but you just watch Dean Wilson dust these guys off again. He's tall and lanky and rides the track with a lethal flow. I think he is the guy in this group. Cole Seeley has already beat him and Eli Tomac is riding faster than hell, but #15 is my pick to make it two in a row in L.A. Let's see what happens if Tomac and Wilson gate well together. Tyla Rattray and Marvin Musquin have been stronger than a garlic milkshake and could be ready to upset.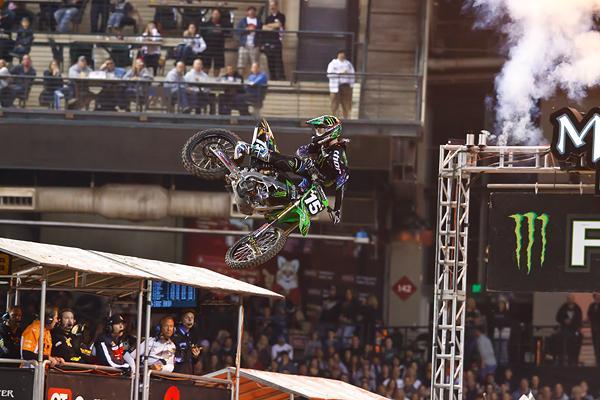 Can Wilson make it back-to-back wins this weekend in L.A.?
Photo: Simon Cudby
Huge weekend, son. It's the championship games in the NFL playoffs and smack dab in the middle is the L.A. Supercross this Saturday night. Who is it going to be this time? Can Dungey carry the momentum and win two in a row, or will Villopoto come back with furious rage? Are Reed and Stewart ready to put it together? Two things are for sure. The gate is going to fall and the boys are going to battle in Los Angeles.

Thanks for reading, see you next week.