Dodger Stadium
Los Angeles

,

CA
Los Angeles
Monster Energy AMA Supercross Championship
For Scott Champion, the past few seasons have had highs and lows. A season-best tenth at Redbud last year was followed by a torn ACL during the outdoors, cutting a breakout season short. Suddenly, he was faced with an excruciating three-month rehabilitation and uncertainty about whether he would be signed. But one phone call would change it all: C4MX, a new team looking for an experienced rider, offered Champion a ride for this season. The SoCal native would begin the year a step behind the competition while still recovering from the torn ACL, but he had a bounce-back ride in Phoenix. We talked with Scott earlier this week to see how the new team was coming and to gauge his expectations for the rest of the season.
Racer X: A little bit a rough start to the season at Anaheim, but you bounced back pretty well in Phoenix. What do you think was the difference between those two races for you?
Scott Champion: I had ACL surgery, and I've only been on the bike since December 9—that was my first time back on the bike. I was definitely a lot more prepared for Phoenix, and obviously the track. I struggled at Anaheim 1 with the track, and in my heat race I made a couple of mistakes that made it hard for me to get out of the heat. I just struggled with the track. In Phoenix, I felt good and the track was easier to pass on and had a lot more options to it.
A lot of riders have been critical of Anaheim. What were some of the differences that stuck out to you between the two tracks? Was it the dirt, the layout?
The layout. Anaheim 1 felt like I didn't really get to find a flow around the track. I just never felt like I could build momentum and build speed. It was just a corner and a rhythm section and then another corner and another rhythm section where I couldn't really find a flow. That was one of the biggest things that I noticed. Just flowing and the one line, there was one definite line in the middle of the track there. It was just hard to find the things that separate people.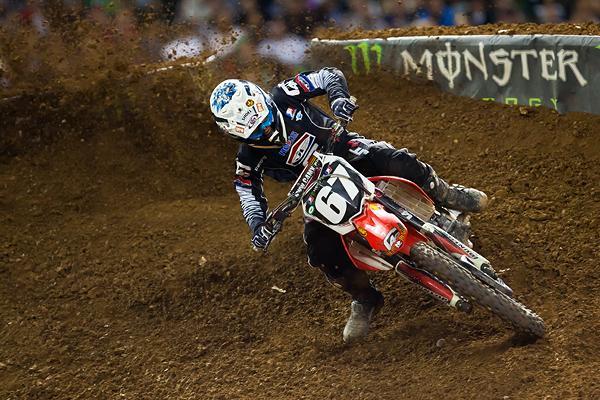 After off-season ACL surgery, Champion is trying to race his way back into shape.
Photo: Andrew Fredrickson
There is a really deep field out West this year, where sometimes just making the main is an accomplishment. What does this do, coming off a good round in Phoenix, for your momentum going forward?
It's a big momentum-builder. In the past two years that I've raced supercross, I've never made an Anaheim 1 main event. But after that, I feel like I can put it together and just start building and getting better. I've only been on the bike a month before Anaheim, so I'm still trying to build my body back to shape and trying to get those fifteen laps in. I'm just kind of racing myself into shape right now. Phoenix was kind of the first fifteen laps that I've done since riding at the practice track, so I've just been working on my strength and trying to build some speed. Now I'm at the point where I have the sprint speed and the speed to run up there.
How hard is it to race yourself back into shape, compared to coming in full-strength at the beginning of the season?
This is my first time racing into shape. It's definitely not fun. All these guys who I've been racing have been preparing for the past three or four months, just building and building and building, whereas I was sitting out for three months. And I'm not even supposed to ride until February. But I had this opportunity with Frenchie [former Yamaha of Troy engine builder] and these sponsors that are helping out the team, and it's an opportunity that I had to take. I'm just trying to get better and better every weekend.
Where are you with the ACL injury? Are you 100 percent, or more along the lines of 80 or 70?
I wouldn't say 100 percent. I started riding three months after I had the surgery, and I guess you're supposed to wait six months. So I kinda cut it in half and I've just been building it up with Eddie Casillas. He's helped me with my physical therapy. I've also been building it in the gym with my trainer, Charles Dao. He's helped me a ton.
You mentioned your team a little bit. The past couple years you've been full-out privateer. What is it like to have more support this year and how is it going with the new team?
It's amazing. It's helping me this year with having more of the pieces to the puzzle than I have in the past. My race bike and my practice bike are the closest thing you're going to have to a factory bike. Frenchie builds an incredible motor and suspension package. I don't think I would get any better support right now than him. It's amazing having him behind me, and we have a bunch of great sponsors that are helping us out. I'm really excited for these next couple of races.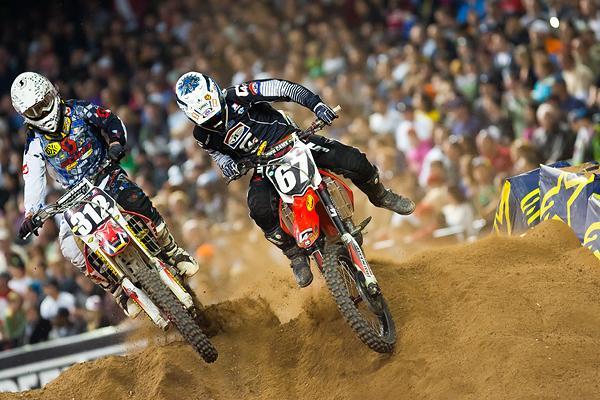 After missing the main at Anaehim 1, Champion rebounded in Phoenix.
Photo: Andrew Fredrickson
Moving forward to L.A., I don't know if you've seen the layout, but there's not really a whoops section. Does that have any effect on you?
I've seen the track map and it seems like they've taken out the whoops and added more rhythm sections. It seems like this year the track builders are trying to go out of the box and try and make the racing interesting. I guess it's all new for everyone. So I guess after this weekend, I'll be able to tell you a little more, but it should be good. I don't know, I'm still not 100 percent sure if I'm going to like it or not.
They're calling for rain this weekend. Does that change your prep any, or will you have to make adjustments on the fly?
It just depends on how much it rains. We don't know. I think it said a half-inch on Saturday. It just depends. Sometimes it'll rain a little bit and the track builders do a great job at covering it up. But if it continues to rain that night, then it starts getting rutty and you really have to pick and choose your lines really well. It's just the same mentality, though. I need to get out there and give 100 percent and just try to get out there in the front as much as I can.
Who would you like to thank for helping you out this season?
C4MX, Nexis, FMF, JT USA, SiDI Boots, Dunlop, Warren and Brown Precision Tools, SPY, iCON Sports Performance and Wellness Alliance, Renegade Fuel, Works Connection, Sunstar, Hinson, DT1, LeoVince Carbon Fiber, End Style, and ODI.