Dodger Stadium
Los Angeles

,

CA
Los Angeles
Monster Energy AMA Supercross Championship
Chad Reed is the all-time career leader in AMA Supercross podium finishes, so anytime he doesn't finish on the podium, it's worth a look. Matthes found Chad after Phoenix to ask about his race for this week's Between the Motos.
Racer X: What did you think?
Chad Reed: Kinda wasn't good. I felt like for the most part it was positive results on paper. It totally blew as far as my heat result and my main result. But for the most part what we worked on this week was better. We learned some things throughout the day, both negative and positive. I think we collected everything we needed to collect and we'll sift through it this week and try to make some changes. But for the most part, we rode better this weekend than we did last weekend, but the result's were not as good. It's one of those when you're in the right place at the right time, good things happen and when you're in the wrong place at the wrong time, you just run into some trouble and it's not as easy or as smooth as you'd want it.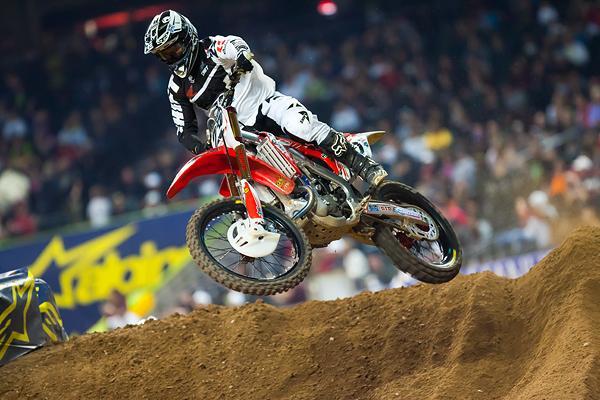 It was a tough night for Reed in Phoenix, but he's hoping to bounce back in L.A.
Photo: Andrew Fredrickson
For you, a guy who doesn't make very many mistakes and is a very precise rider, I saw you making some mistakes in turns and kinda get loose and sideways and clip stuff. Do you agree with that?
Yeah. My heat race, for four laps, I felt like it was good. I went forward and I was charging. I don't want to say I made a mistake because we had some issues and I lost the front, which resulted with me upside down. The good thing that came out of that is that we kind of figured out something that's going on bike-wise. We had an issue this week during testing and it raised its ugly face in the heat race. It's nice to get those out of the way and figure them out before the season gets too deep. Mistakes come from frustration and trying to make things happen. It's always slick in Phoenix and, honestly, I just found myself in the wrong place at the wrong time every time. It was pretty sketchy. Like everybody I came up on was riding hard. And instead of me racing hard and charging forward and putting myself in the right position, I just felt like I found myself in the wrong place. I was just a passenger myself at that point. I should've done what RV did, just bulldoze through them and get after Kevin [Windham].
Considering where you were at one point, getting by Metty [Brett Metcalfe], [Andrew] Short, and [Trey] Canard, it wasn't a bad result.
Honestly, it was just a bad main event for me and it resulted in a fifth. So you're gonna have to be in the top five –- I would've like to have said you'd have to be in the top three every weekend, but I'll have to readjust that now. Hopefully that's a one-time thing and we can continue to be on the podium. It was a track where you needed a good start, you saw it with Dunge [Ryan Dungey], just get out front. It was probably the easiest race of his life. I just need to practice starts this week and get out front.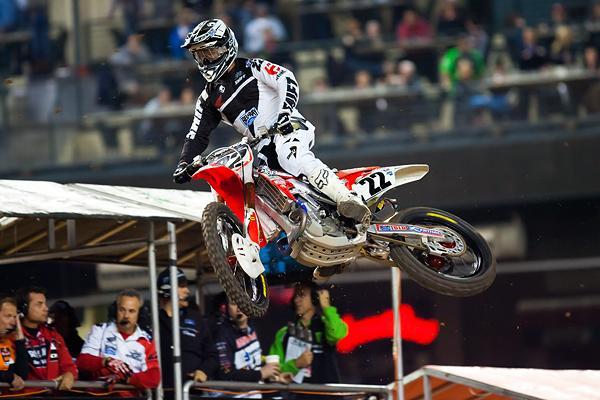 Reed sits seven points back of the Ryans after two rounds.
Photo: Andrew Fredrickson
Thoughts on the track itself? You like it? Much better? I mean, it was slippery, we all know that. But better?
It was slippery, but I think for the most part it was actually pretty decent for what we're used to. Considering that they opened up the roof during the night show, it never got to its blown out, dusty self that we're used to here in Phoenix. I think for the most part, as hard as I was on the track design last week, I felt like this week it was enjoyable, it was fun. The whoops were easy, but they were there. They were more difficult than last week. So, at this point, small baby steps and I praise them for the step that they took this week. Probably, more than anything, because of the track prep and they kept up with the watering and everything like that. So we'll see what next week brings.
Leaving the dome closed helped, I think, most of the day.
Yeah, I think that that's key. We've always, it seems like, had kind of muddy conditions for the first practice and then they open it up in the second practice. And then this weekend they maintained keeping that thing closed until it was dark. It was dry tonight, but I think the temperatures were cooler, so I think the moisture stayed in the track. It was good. I actually feel like I rode great here and there and, like I said, it was a step forward in a lot of ways, but the result wasn't as good. Good days and bad days.