Team Faith/FLY Racing/KTM Cycle Hutt's Kelly Smith logged plenty of success in AMA Supercross and Motocross, but he made the switch to AMA Arenacross a few years back, and his knowledge and experience has helped the Michigan native work both harder and smarter. For example, when the 250F became the only four-stroke allowed in the premier AX class this year, Smith slightly tailored his program accordingly—which meant making the popular switch to KTM in 2012. Long-time fans may recall that Smith delivered KTM's first-ever overall win in AMA Motocross back in High Point in 2000, and now he's on the verge of delivering more wins on orange, this time indoors. We caught up with Smith just after he secured his first podium finish of the season in Wilkes-Barre, Pa., over the weekend.
Racer X: You started off both nights of racing with heat race wins, did that pump you up for the main events?
Kelly Smith: Yeah, both nights of racing here in Wilkes-Barre, I started off qualifying well in the day qualifying practices so I was feeling pretty good, even though we scrambled Friday morning because my bike had issues, and actually my teammate Kevin Johnson and I ended up switching bikes.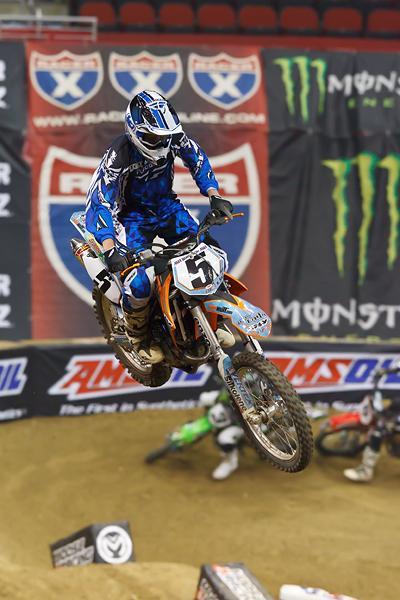 Smith is back on the KTM for the 2012 Arenacross season.
Photo: Simon Cudby
So you weren't even riding your own bike?
Well as soon as I started having problems with my bike, Kevin was gracious enough to say he would ride the Lites class and I could ride AX class and we could share a bike all weekend. But it worked out that we got my back together and got it running before he had to do his second set of practices. So he went out and qualified on my bike with my set up and I had his suspension on when I qualified on his bike so it was pretty funny. It worked out well; I think I qualified second on his bike. Once we made the switch, we stuck with it all weekend. We did end up switching some stuff before the night show; our suspensions are set up a little different because he's a little chubby (laughs). So we just put stuff on that was our preference—like the bars, most of the front end and shock, so it wasn't anything too major. But major enough for us when we didn't have a mechanic with us this round. Our team manager helped a lot too. He's not a mechanic and doesn't claim to be a mechanic but he can turn some wrenches and we did too.
And we heard you had some additional help along the way?
We actually had two random strangers help us fix the motor to begin with. We knew we were in need of some help and low and behold here comes a guy who has worked at a KTM dealership before and helped get us all straightened out with the motor. So that was an awesome blessing for him to come around and he knew what he was doing so it sped the process up. With out them, we really wouldn't have been able to get my bike going for Kevin and he wouldn't have been able to qualify and ride both classes, at least that first day for sure. So a big shout out to Lonnie and his buddy for helping us out! It was stressful at the time, but it worked out in the end and I can't complain about the weekend now.
Talk about Saturday's main event, it had to feel good to finally get a podium finish.
I've been getting a bunch of fourths the last few rounds so I was really looking forward to trying to get on the podium. Last night I came a little short, I had third right in my sights. I was a little bummed even though fourth is pretty decent; I really wanted to get on the podium bad. So the second night, getting a second was much better, it was really awesome. I kind of worked my way from an okay start up into the lead right away. I was making some good moves, I had some good lines going through the whoops and the track was really rutted and difficult so I was trying to use my sight lap to really pick out some good spots. I felt actually really good in the main like I did in my heat. I really wanted to check out, but Tyler [Bowers] was riding well too and he kind of went through the pack with me once I passed him at the beginning. He tucked in with me and was able to pick everyone off, I think pretty much the same time I was, it seemed like. He was right there with me and was riding well and he finally got me somewhere around lap 15-18, I would guess. I tried to stay with him and battle for a few more laps but lappers were everywhere. There was a lot of traffic to deal with, people crashing and carnage with the track being so rutted so I just tried to play it smart. I knew I was going to be at least happy with a podium and second wasn't too bad. I would have definitely liked to pull off a win for KTM, our new sponsor this year. I don't think KTM has ever won an AX Main Event.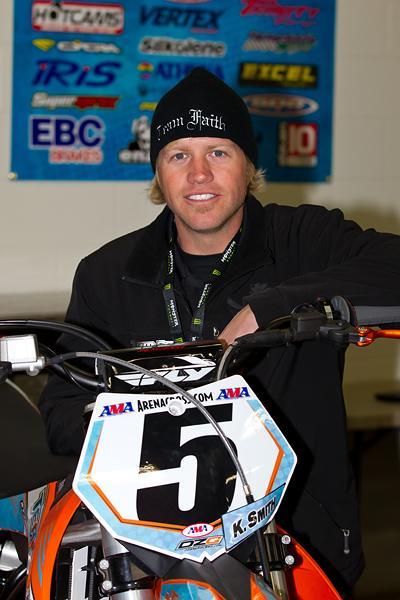 Smith snagged his first podium of the season over the weekend.
Photo: Simon Cudby
Bowers typically checks out in that type of situation, but you stayed close until the end.
I felt strong out there, I didn't get arm pump and the track was nasty—it was one that would give you arm pump if you were in that situation. I felt strong and I felt good. I was happy that I was able to fight back a little once Tyler got by me and not just roll over. I would have liked to have gotten him back—he made a couple mistakes and I almost did pass him back. He cross-rutted after the catapult and I wish our two ruts weren't so close, but I was stuck in my own big rut so I couldn't get by without clipping bars and possibly going down. I would have loved to have passed him back, taken the win and been the hero, but I'm still happy with second and we're looking up and doing better each weekend.
You made the infamous leap to KTM this year, as we've seen from so many. How has the transition been for you?
It was a little different, I mean, we knew it was going to be a big switch going from a 450 to a 250F again, so that was a big part of the reason of why we switched bike brands this year. We wanted to have a fuel-injected motorcycle and I had a couple contacts at KTM and it was a good fit. I knew their bike was really good and it's really improved over the years, so we worked it out to get some KTMs and they've been helping us out a lot. They've got a heck of a contingency package and I think a lot of other riders have enjoyed that as well. I love it when I get out there and do well and then make some good money too.
What do you think about the reduction of 450s in the Premier AX Class?
Well, I'm a smaller guy so I actually don't mind too much and it's such a tight small track that I kind of like the 250F a little more. But with the 450, you can get away with having a stock motorcycle and I think it's a pretty fair and even ground for everybody. I think it's hard on the privateer guys who are having to spend a lot of money on trying to build their motors up and I actually sympathize with the guys that are 6'2" and a 190 pounds. I don't expect them to go as fast on a lesser-powered bike than I have, you know. If they don't have the money to spend with a professional motor builder that can get them all the horsepower they need, so it's got to be tough. I think our KTM bikes are pretty solid and strong this year so hopefully we don't have to mess with them too much.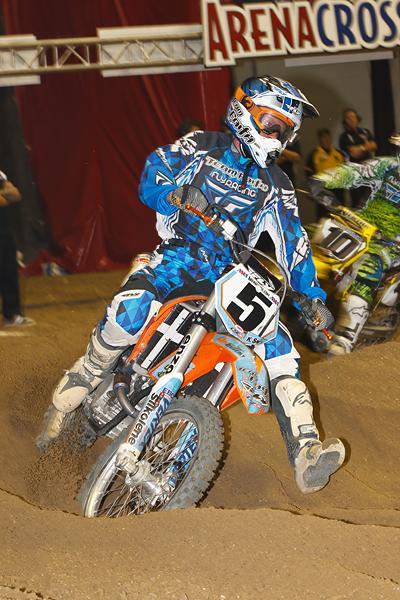 Smith currently sits fifth in the Arenacross Class point standings.
Photo: Simon Cudby
Your results have consistently improved each round, have you changed anything or just gotten comfortable on the new bike?
Yeah, I've been playing some hockey! I'm from Michigan and I guess I never really thought about hockey too much but I got introduced to hockey a few weeks ago and it's really improved my riding! (laughs) No, I thought I was really ready this year, other than the fact that AX started earlier than normal. We only got our bikes barely in time to get our stuff done. We got our motors built the week before it started and we never got to ride our race bikes until we showed up at the first round, so we were hoping to be more prepared because I had been riding all summer and I felt really good. I actually had a practice bike for a while and was riding outdoor stuff on it and I felt really comfortable on the KTM but my results didn't show it right at the beginning. We struggled with a few set up issues and ended up doing our testing at the races unfortunately, but then we dialed in the suspension and did some tire changes—stuff that got us running a lot better. I instantly went from ninth in the first round to getting up there closer to the podium and tonight was close to a win so I can't complain. It's just getting comfortable with the new equipment and I think we're there.
The premier AX Class used to house only an elite few that could win a main event, but now it seems even more stacked each year and the intensity level is higher than ever. What do you think?
Yeah I think the competition level is pretty broad, there's a lot of guys that are capable of running up front. Even at the first round, I was really shocked. It seems like we start separating and finding our groove as the season goes on, but at the first round I was like, "Wow! There's like nine guys that are really fast, guys that could probably win tonight!" And I was kind of maybe even a little deflated at the first round because I didn't do so well. I think that everyone will start finding their groove now and I feel like I should be a podium guy every weekend. It's tough because the older I get, the more the competition gets even steeper, but it's something you have to deal with because so many young guys are wanting to do this. Just like in every other sport, people are starting to groom their children for it and everything else. So it's to be expected and I'm going to keep doing it while I can as long as I can be competitive and think I have a chance to win.