Sam Boyd Stadium
Las Vegas

,

NV
Monster Energy Cup
Monster Energy Cup
Hello, everyone, and welcome to the Rev Up. As we reach the turning of the season, a beast approaches. Suffice to say we abuse the term, "What off-season?" There is no off-season in professional sports. There are only events on the calendar that decorate and determine champions. To be the man, you have to beat the man and that means that you wake up every morning pissing excellence and carry a steadfast disposition against your enemy. There can be no mercy, and 350 of the days in the year better be pure work. You can use the other fifteen to party your balls off. That's fair.
When MLB players are in their off-season, they spend time hitting the ball and working on fundamentals. Nearly every day. When the NFL concludes and the lights go down in the stadiums, the lights stay on in the gym. (And the hatred in the AFC West grows.)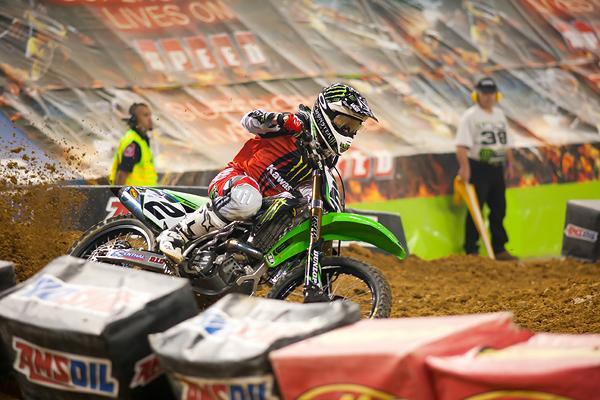 Villopoto is the favorite heading into the weekend.
Photo: Andrew Fredrickson
They are still picking up beers cans at Pala while the quest for the three 2012 Monster Energy Supercross title belts has already begun. The boys never stop riding and training. The SX test tracks of SoCal have been throwing dust for a solid month, and as we have yet to reach the cross flags of October, they're going to go ahead and race for one million dollars. That is a damn crap load of cheddar, Jackson.
How will this dust-up settle? One thing is certain; the effort behind this is the greatest we have witnessed in the weird history of "off-season" supercross races. From the Rodil Cup, through all of the versions of the U.S. Opens, to McGrath's ill-fated swing, these fiascos can be hit and miss. That said, there have been some big hits. The opening U.S. Open events when Fox Racing produced them remain the coolest races ever. From the shark tanks in the V.I.P. room, to the dancing girls, to, hell, even Ice-T showed up—they were original, awe-inspiring, and cool. You can't buy cool.
Moving forward, the Monster Energy Cup comes to us this Saturday night from fabulous Las Vegas. Ho, ho. I mean, I personally loathe Las Vegas in its entirety, but the city remains the greatest platform in sports. Nothing compares to a professional boxing match in Vegas, and from the NASCAR awards banquet to the Pro Rodeo World Finals, to the, ahem AVN porn awards, nothing is as big and brash as a show in Sin City. It makes sense and matters that the biggest money race in motocross history should arrive where so many are buried in the desert. Sorry, saw Casino on cable the other night....
After some consideration, I believe this race has the juice to become something special. Let me clarify that a cool million dollars in on the line. That is a bold statement. And Ryan Villopoto has a very real chance of winning it. The promoters have padded themselves against this scenario, what with the three ten-lap sprint races, and I've read people say that "anyone can go fast for ten laps," which is only true if "anyone" is named Ryan Villopoto. Reedy, Stewey, and RD5 aren't riding...or are they? Money is only money, but I've met some vastly rich people in my travels and all of them would take a solid swing a $999,999 in cash.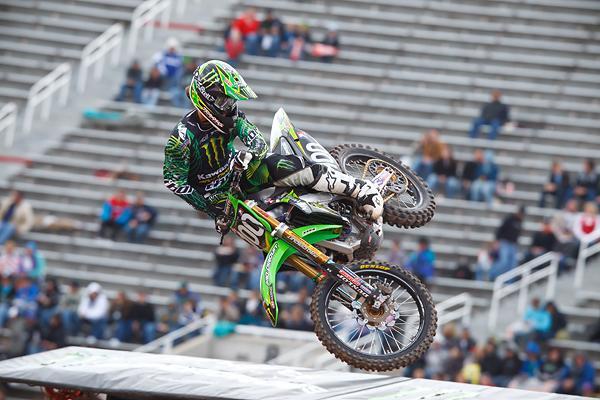 Can Hansen pick up a win in Las Vegas?
Photo: Simon Cudby
Ah, but all of the bling, hype, and statistics you've already read on www.racerxonline.com don't cloud the fact that this could get nasty. No matter what happens, there will be no suspensions, probation, or points deductions going down. You can walk into this one with the shoulders back, take no prisoners, and try to hold on for the ride of your life to the tune of $100,000 per main event win. A guy can pull an "Emig Steel City 1996" on the start, take RV to the tuff blox, then throw on the full blown, "Rowdy" Rodder Piper charge and make it happen in ten laps. Can you imagine the interview if Josh Hansen wins one of these? He could very easily.
Look at the track. She is sans SX "hoops," high-speed, and oddly technical. What else would manifest from a McGrath/Carmichael collaboration? I think it'll develop lines and roughen up, yet inevitably favor the fastest riders. Let's be reasonable here. Do you think Hansen, Tomac, Brayton, or Windham can hold off Villopoto for ten laps? Think about it a little bit longer. Can any of them do it three times in a row? Before you form your opinion, look at how some of this event's predecessors went down. The Bercy Supercross favored French guys like Jacky Vimond, Jean-Michel Bayle, and David "Le Cobra" Vuillemin to win. The Fox Racing-sponsored U.S. Open races were meant for McGrath and Carmichael to win. In this nomenclature, it has been very even in the odds category.
The Monster Energy Cups faces similar instances on a much larger scale. Did I mention somebody could win a million dollars riding a dirt bike this Saturday night? This reality alone is something for all of us to be proud of. How about a resounding golf clap for Monster Energy for being such a lightning rod for what we love to do. Sponsors make the world go around. In everything. We are so fortunate that the "lifestyle in a can" has been such a positive catalyst for the world of moto.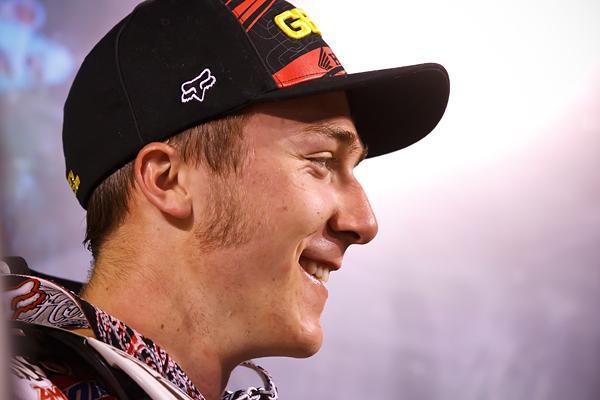 Can Tomac play spoiler?
Photo: Simon Cudby
For better or worse (obviously the better), we are going to get to watch this inaugural event on live television this weekend. On SPEED. This one has all of the markings to be nasty. Through all of the FMX, amateurs, and mini riders, and the paper chase for the Monster Million, we can only smile in knowing there is no off-season.
Time for the Fall Brawl, folks. It's going to be big. And Ryan Villopoto is going to win. All of it. Call me a liar.
Thanks for reading, see you next week.