By James Hanson
Pro rider Cole Siebler drummed up an idea to hold a supercross race during the off-season in Meridian, Idaho. These large pro purse races seem to be gaining popularity, and with $15,000 dollars up for grabs, there certainly was no shortage of riders, and the fans packed the Meridian Speedway's stands. Cole dreamed up a couple different things to go with the typical racing format. First off, he brought back the old SX qualifying format of not just heats and an LCQ but the re-advent of the semi as well, making more action for onlookers. A dash for cash was also instilled but with a different styling. Instead of placing all the top qualifiers in one race, there were several head-to-head races, with the top four from each heat split up into rounds. The top qualifier raced the fourth place qualifier, the second-fastest qualifier raced the third fastest, and they paired down to a final. It was like an event within an event! The SX final would take place after the dash for cash races. Make no mistake, however, this was not your buddy's backyard "SX" track. The track crew built a full blown, technical supercross track, complete with legitimate whoops that had riders dreading the possibility of going over the bars every lap.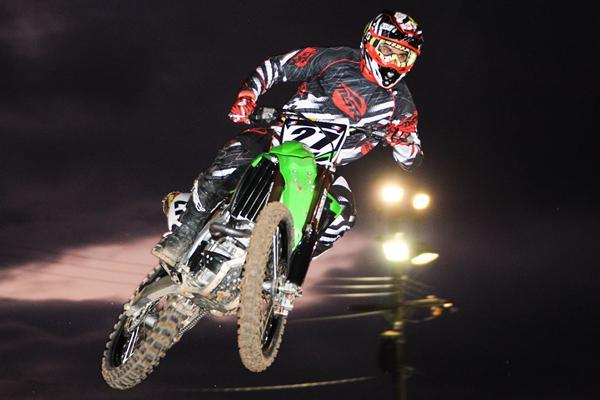 It was a clean sweep for Nick Wey in Idaho.
Photo: Allen Picard
Media and fan friendly Nick "NYK" Wey came out for the event, and was far and away the big winner on the weekend. Nick won the main event on both Friday and Saturday, as well as the finals in the head-to-head each night. Dewitt's "Michigan Mafia" member didn't make it easy on himself however, as he frequently exited the first turn mid pack or worse. This kept the fans on the edge of their seat the entire time as he picked his way through the pack. Then post race interviews revealed the humor of "Weyisms" such as, "Idaho is my favorite state......except for Dewitt." Then Nick gave his giant check to an ecstatic youngster. When signing the check he wrote, "Do good in school," then he looked at me and said, "Well, I wasn't going to write stay in school cause you know he's gonna' do that anyway." The fans were pumped seeing Wey come out and win it.
Rockstar Energy Suzuki's Jason Anderson also came out for the event on a borrowed, virtually stock 250F against all the 450s. It was great to see Jason having fun and just plain ripping the SX track. As a rookie last year he definitely excelled more on the outdoor style tracks. As I stated before, this track was no joke and Anderson looked right at home. A mistake on day one didn't show how well he was riding on paper, but day two he finished on the second step of the podium right behind Wey. Doing this on a 250 with only some suspension work was very impressive. I was proud of the young man.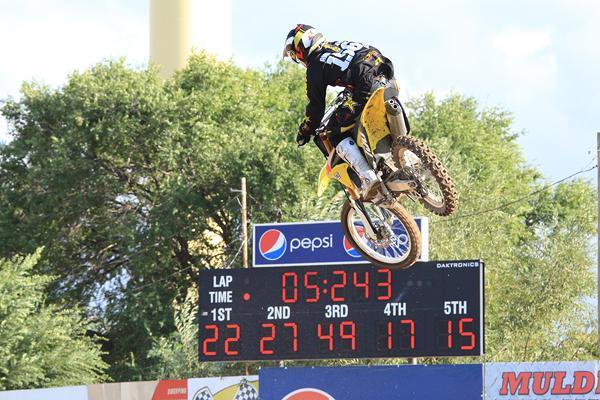 Anderson finished second on Saturday with a stock 250F.
Photo: Allen Picard
Cole Siebler had a big job with running the entire event and racing as well. Siebler also had mixed results on the two nights when he crashed with another rider on the first lap of the latter day. However he rounded out the podium on Friday with a solid 3rd place in the main.
Ben Evans is from Idaho, and he is also a regular on the biggest scenes of SX and MX. Ben was the last rider to be run down by NYK on Friday finishing the evening in 2nd place. On Saturday, Evans was looking to be the second most consistent rider on the weekend until a broken chain with two laps remaining derailed his hopes for another podium.
The biggest surprise on the weekend came from Washington's Chris Howell, backed by Devol Racing. Chris has raced a few supercrosses and done fairly well but he looked like a completely different person in Meridian. Chris finished a commendable fifth on Friday, then a more than stellar third on Saturday. If you do the math, and the mains were totaled for a two race format, Howell's 5-3 would have netted him second overall. Consistency was hard to come by for all but Wey, which just goes to show how technical the track really was.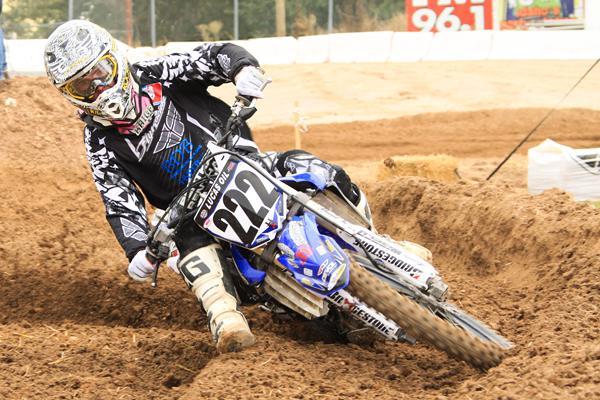 Chris Howell was by far the biggest surprise of the weekend.
Photo: Allen Picard
Friday October 7th
1.   #27   Nick Wey
2.   #49   Ben Evans
3.   #171 Cole Siebler
4.   #125 Daniel Blair
5.   #222 Chris Howell
6.   #221 Tiger Lacey
7.   #156 Jason Anderson
8.   #854 Landen Powell
9.   #45   Damon Bradshaw
10. #620  Brad Nauditt
11. #476  Collin Jurin
12. #285  Rob Floth
13. #35   Jake Locks
14. #192 Beni Williams
15. #641 Cody Bill
16. #604 Joel Barnowski
17. #981 Casey Moran
18. #235 Kevin Nelson
19. #186 Ryan Picard
20. #924 Zack Lowry
Saturday October 8th
1.  #27   Nick Wey
2.  #156 Jason Anderson
3.  #222 Chris Howell
4.  #221 Tiger Lacey
5.  #854 Landen Powell
6.  #476 Collin Jurin
7.  #192 Beni Williams
8.  #501 Ryan Millar
9.  #171 Cole Siebler
10. #620 Brad Nauditt
11. #203 Steele Davidson
12. #641 Cody Bill
13. #35   Jake Locks
14. #604 Joel Barnowski
15. #22   Brady Lasher
16. #235 Kevin Nelson
17. #186 Ryan Picard
18. #49   Ben Evans
19. #125 Daniel Blair