Sam Boyd Stadium
Las Vegas

,

NV
Monster Energy Cup
Monster Energy Cup
10. The Track: There's a reason we heard months worth of news on the Monster Energy Cup track, but didn't actually see a drawing of it until recently. The track is in many ways the star of this event, and the promoters kept it secret for as long as they could. Designers Jeremy McGrath and Ricky Carmichael tried to deliver something we've never seen before. Dubbed as a hybrid track, the course is supposed to offer motocross-style terrain like sand whoops, huge jumps and even elevation change, instead of technical supercross rhythm lanes and whoops. It could lead to good racing, but even if it doesn't, you have to give credit for trying something different.

9. The Format: We're not seeing as much buzz on this element as we would have expected, but running three 10-lap main events instead of the typical 20-lap final could really spice up the show. This presents three chances for someone to get a bad start or a good one. Three chances for something crazy to happen. Three chances for the right riders to hook up at the right time. Three chances to see what you want to see.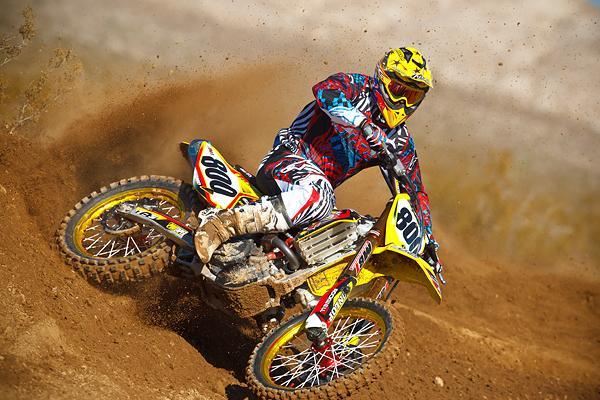 Alessi makes his return to Suzuki for the Monster Energy Cup.
Photo: Simon Cudby
8. Open Class: The production rule is removed, so teams can test and try anything they would like. Also, you'll see riders moving up to bigger bikes since there is only one class--Eli Tomac and Martin Davalos on 450s, Broc Tickle making his 450 debut,  Marvin Musquin on a 350, and if anyone wanted to try a big-bore two-stroke, they could. However, we doubt we'll see too much works trickery or hear many two-strokes. For the most part, people are riding what they know...

7. Alessi on a Suzuki: ...Like Mike Alessi, who is back on a familiar machine with an RM-Z450. He's very motivated to prove himself, which can be a big separator in off-season races like this. Mike has always struggled with supercross whoops and technical tracks, but the hybrid layout will lend itself to his outdoor skills. Okay, yes, his old buddy Ryan Villopoto was faster than Mike this year indoors and out. But if the "Holeshot King" can find his old magic and pull three starts in short, 10-lap races? Look out.

6. Bradshaw's Back?: This one shocked us, but apparently the "Beast from the East" Damon Bradshaw is racing this event. Matthes reported it last week. We don't know what to expect from the man who has won 19 SX class mains (but none since 1993—and he's been retired from full-time supercross since 1997). But we do know that any amount of Bradshaw is awesome. Kids, you don't know what you missed out on!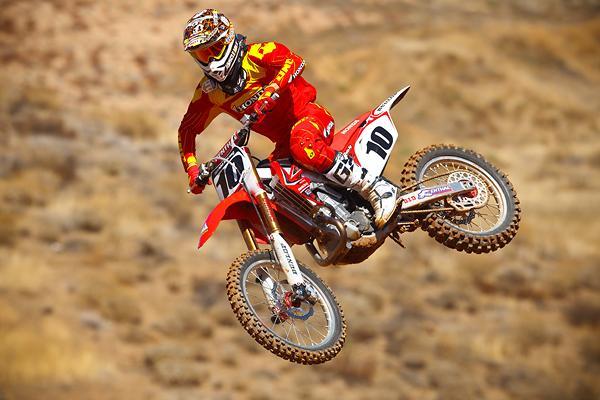 Brayton will make his factory Honda debut at the Monster Energy Cup.
Photo: Simon Cudby
5. Townley Returns: We were also surprised when we saw this one, as Ben Townley has not raced supercross since he won the 2007 Lites East Region SX crown. However, BT101 feels this track will have enough of a motocross element to give him a shot, and, he'd like to show off his skills for a team that wants a 450 MX contender next summer.

4. Brayton's Style: Justin Brayton races his factory Honda for the first time here. Brayton really excels in one-off races like this. He has a King of Bercy crown from the Paris SX (and a second overall at that event, also), a pair of X Games silver medals, and off-season wins in a variety of races in Europe and Australia. Brayton was raised racing Arenacross, and he says that experience allows him to pick up new tracks quickly, and indeed, his number is usually one of the first to hit the lap charts in SX practice. Picking up new tracks quickly? Key skill this weekend.

3. MIA: Okay, unfortunately, there are a few things we won't see. James Stewart still hasn't decided on his 2012 bike or team yet, so he's out for this weekend. Chad Reed needed a break and is staying in Australia. Dean Wilson is out with a broken wrist. Justin Barcia opted out. Trey Canard is still recovering from a broken femur. While there will still be plenty of power names on the gate--Villopoto, Windham, Alessi, Metcalfe, Weimer, Musquin, Brayton, etc.--the battle for that million bucks probably won't be as wide-open as everyone hoped.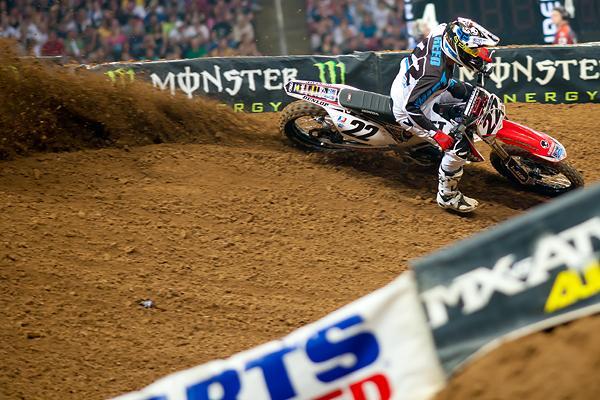 Reed and a host of others have pulled out of the Monster Energy Cup for a variety of reasons, but there will still be plenty of big names lining the gate this weekend.Photo: Andrew Fredrickson
2. Surprise, surprise? Last week, Ryan Dungey told us we was focusing on Anaheim in January and not racing the Monster Energy Cup. But we had reason to doubt that--riders used to show up at the last moment all the time at the old U.S. Open SX. Most recently we saw this in 2009, when Ryan Villopoto decided on Wednesday night to take the drive from the Kawi test track to Vegas and test himself against Stewart. If you're Ryan Dungey in California, with that shiny new 450, and a million bucks is on the line….
So that's exactly what he did. Dungey is in.

1. The Monster Million: To our knowledge, no one has ever won $1 Million for winning a dirt bike race. If a rider sweeps all three main events, the money is his. Right now everyone is looking at Ryan Villopoto, because he's the new supercross and motocross champ, and he's now on that 2012 KX450F that he loves. It won't be easy, but wouldn't a $1 Million be a nice cap to an amazing season?
Bonus! If all of these changes aren't enough for you--new track, format, riders and rules, do not make a mistake of making a sandwich or grabbing a cold beverage from the fridge between the main events. The Amateur All-Star Race, the Supermini Race and the Best Trick contest will be as different as different gets--the hybrid layout should be perfect for the kids, and big names like Loza, Sinclair, Monea, Strong and Potter are going to bust out big tricks. Stay tuned.