Welcome to Racerhead. It's a rare off-weekend for the American motocross fraternity. Sure, everyone had a weekend off back in April for Easter, and then the weekend off in May, but with the start of the Lucas Oil AMA Pro Motocross Championship just two weeks after the end of AMA Supercross, it wasn't much of a break for anyone. In fact, I think we're still seeing some of the effects in the already-long season to date in newly crowned SX champ Ryan Villopoto, who has yet to show his best speed or strength outdoors, or SX Lites title combatants like Broc Tickle, Justin Barcia, and Eli Tomac. What we've seen instead in the first two races is a galvanized Chad Reed, a very capable Tyla Rattray, and a getting-faster-all-the-time Dean Wilson mostly leading the way—and none of those three are Americans!
Blake Baggett has been extremely fast, but he went down hard in the first moto in Texas and didn't really look the same for the rest of the day. And Ryan Dungey has been fast on the one hand but also unlucky, as you probably know by now. The rest of the guys will get into that later.
But first I want to congratulate Stu Peters and his whole family on his election to the AMA Motorcycle Hall of Fame. Stu and his CMC organization have probably dropped the starting gate on more motocross riders than any promoter in the sport's history. He was a pioneer motocross racer, doing Grand Prix races in Europe back while everyone here was still calling motocross "scrambles." He started promoting races in 1968, and he's still at it today. I am friends with his kids Marc and Sondra, who have carved out nice roles for themselves in the industry, and I know they are extremely proud of their dad. It was well-deserved and long overdue.
The Freestone National in Texas last weekend was not as hot as it's been in the past, and the crowd was definitely up for that growing event. Tony Miller worked hard on his racetrack, bringing in lots of sand and constantly grooming it—albeit without taking out any of the rough spots. As a result, the racers had to work extremely hard. After the race, Ryan Villopoto told MX Sports' John Ayers that the first two tracks on the tour—Hangtown and Freestone—were maybe the roughest he's ever ridden. That's from a three-time AMA Motocross #1 and all-time Team USA rider!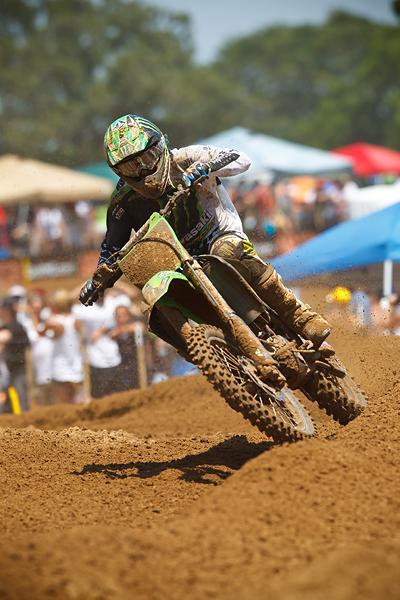 Rattray took the overall at Freestone and now trails points leader and teammate Dean Wilson by five points.
Photo: Simon Cudby
Next week the series moves to the Northeast and High Point Raceway, which is basically our hometown race here at Racer X and MX Sports. High Point sits right across the Mason-Dixon Line, which pretty much separates the North from the South, and if it were just a couple hundred yards farther south it would be in West Virginia. We've been working hard on the track and the facility, and I think we're in for a huge weekend—this marks High Point's thirty-fifty year on the American motocross schedule.
For what it's worth, High Point was the first national won by Tyla Rattray—he did it last year—and I can imagine he will be very pumped up for the event.
The other red plate belongs to Reed—and Reed alone, I should add. Last week's back-and-forth over him sharing it with fellow points leader Dungey was downright funny, and after making some good points as to why he thought he alone should have it—and then threatening not to wear it—he ended up running it anyway, which I appreciate. Whatever that guy has to do for motivation, it's working!
But the big chatter that followed Freestone was about the possibility of some riders cutting the track in timed qualifying. MX Sports and the AMA went back through all of the lap times, the split times, and segment times and could find no real discrepancies in them, as the motorcycles pass three splits along the way—anyone cutting would be much faster in one section that everyone else in that section.
Nevertheless, we are taking steps to further secure the track, including adding a GoPro camera on the end of the signaling-area structure to record all of the riders who pull in there during practice. It will add further backup for us when questions arise as to whether or not someone cut in there to get a faster time. The officials will also radio not only every rider who enters the area (which they already do), but when when they leave as well.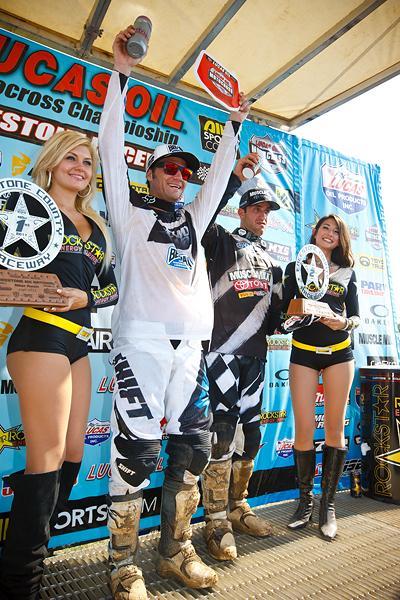 Reed now has the red plate all to himself.
Photo: Simon Cudby
My friend Matt Ware just sent me this link to a very cool Nike commercial featuring Dungey and James Stewart, along with a bunch of their other top athletes, all doing their thing at night.
Add that to the Pac-Sun commercial Dungey was spotted in last week and he's having quite a week splashing down in the mainstream.
Now to some not-so-good news from New York....
It's hard to tell from afar just what went wrong in Ryan Mills' life, but it's obvious that he's struggling to keep it on the rails. The former KTM factory rider and national moto winner was arrested this week along with his younger brother for a string of break-ins in Plattekill, New York. According to police, the brothers (Ryan is 24, Aaron 20) would go knocking on doors with a bogus story of a lost dog. When they found a door where no one was home, they broke it down and stole jewelry, electronics, and more. Believe it or not, the scheme was uncovered after police investigators found a photo of Ryan with his own dog, which had apparently been dropped at one of the houses they broke into.
Add it all up, along with some of the other weird stories and rumors that have surfaced over the past couple of years—stolen race bikes, hacked Facebook accounts—and it sounds very much like rock-bottom so far for Ryan Mills.
Switching gears, we're really excited to announce a new program we're going to try at next weekend's big High Point National and that we hope we'll be repeating at other rounds of the Lucas Oil AMA Pro Motocross Championship. It's called the Racer X All-Day Pit Pass. Whereas most pit passes will get you into the paddock from 9 a.m. to noon on race day, the Racer X All-Day Pit Pass is valid—wait for it—all day long! No more long autograph lines (at least not after everyone else has to go), and a chance to see the riders and the mechanics up close as they go about the business of racing AMA Motocross.
Just come to the
Racer X
booth at
High Point
and for $30 you'll get a one-year subscription to
Racer X Illustrated
, an extra free issue as a bonus, and the new Racer X All-Day Pit Pass. It's that simple. We'll start selling them on Friday afternoon, for those who don't want to have to wait in line on Saturday.
Here's something new we tried: Racer X Films' The Spot. At each national for the rest of summer, we're going to pick one cool spot on the racetrack and point a video camera at it during practice and see what kind of stuff we come up with. It's a chance for viewers to check out line selection and riding styles, or maybe just a bunch of cool whips! The videos are stripped down to just the sound and the action, so if you're looking for heavily edited, death-metal-soundtracked riding vids, this may not be your cup of Lucas Oil. But if you're into the simple things of motocross life, stay tuned!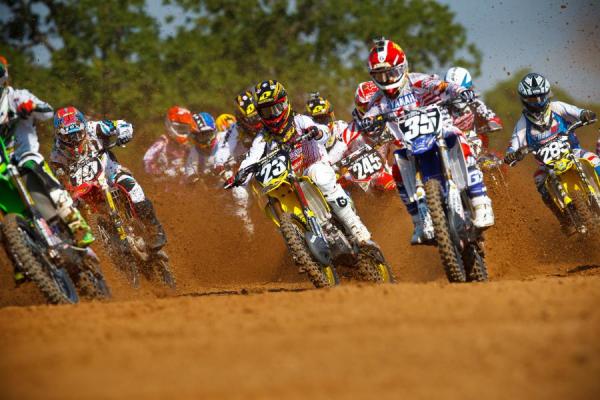 Look closely and you might spot one of the guys wearing GoPro cams for Wes Nobles' latest film.
Photo: SImon Cudby
Wes Nobles, the video auteur and DJ known for those excellent Monster Energy AMA Supercross intros on the big screen, has moved over to the GoPro team, and he brought his A-game with him—check out this excellent helmet cam video compilation from the Freestone National.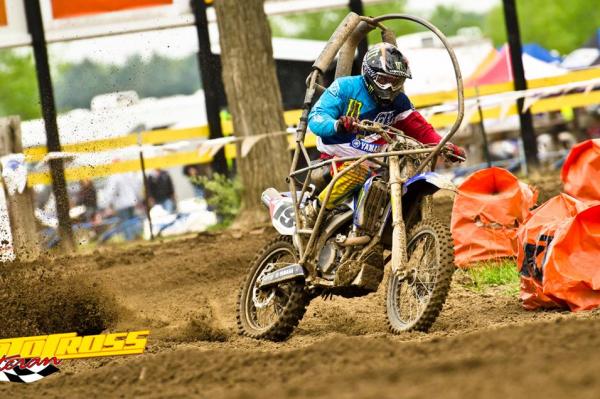 How cool is it to see Doug Henry still blasting around?!
Photo: Motocrossveteran.com
To celebrate our 35th year, High Point Raceway is going to make two lucky Facebook fans … Superfans! All you have to do is visit our Facebook page and Like us and you'll automatically be entered into a drawing to win a mega-mondo, super-duper prize pack!
Here's the goodie list:
—Two Superfan tickets, which get you access to the covered VIP viewing area, food, drink, two pit passes, two programs, and a VIP parking pass.
—Two Racer X Digital subscriptions
—Two 40th Anniversary American Motocross T-shirts
Not bad for just clicking on our Facebook page while you're supposed to be working! Winners will be chosen at the end of Wednesday, June 8, and notified via Facebook. Thanks for Liking us, and we'll see you at the High Point National on Saturday, June 11.
Bona fide American motocross legend Doug Henry has made a career out of never letting anything hold him back, including a broken back—twice! The three-time AMA Motocross Champion competed in the Extremity Games last weekend, along with a bunch of other very tough and competitive men who live for motocross. Check out the highlights right here.
Okay, here's Weege:
We're launching a new series of web features here on Racer X Online dubbed In Preparation. Backed by Nike Chosen—Just Do It, we're going to embody the Just Do It spirit and take a look at those who have dedicated their lives to this sport. Success in this sport comes from proper preparation, so we'll profile all of the different roles in the sport, from riders, mechanics and trainers, to team managers, truck drivers, track builders—anyone who has a role to get ready for on the weekend. It should be exciting, and we'll roll out a few features each week throughout the summer. So crank up the AC, stay indoors, and keep reading. We're sticking some of our best guys on this project, as well as Ping, so we expect it to be packed with good behind-the-scenes information. Here's a peek.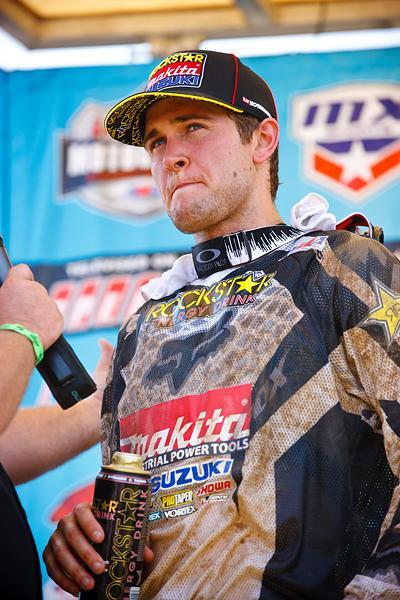 The champ had some bad luck in Texas, and it cost him the overall win.
Photo: Simon Cudby
Speaking of behind the scenes, I had a good chat with Rockstar/Makita Suzuki team manager Mike Webb this week. He's adamant that Ryan Dungey did not suffer from a mechanical problem in Texas, as nothing in the bike broke. Instead, the fuel got hot, boiled, and evaporated out of the vent line. And as I mentioned in my Redux column this week, Suzuki ran the same gas tank in Texas last year, and in the first moto this year, without problems. Such is luck in racing. And really, the best thing that could happen for Suzuki, Webb, Dungey, and everyone else involved is if we stop bringing this whole thing up! So we'll leave this topic with Ping's stuff below and mine.
In Texas, I ran into an old name from the message boards and from the pages of our magazine. Back when I was trying to break into the industry and trolling Motonews trying to get some attention, a guy named Steve Dye started putting together some of the best motocross race reports I had ever read—and just posting them for free! DC and crew quickly snapped him up and had him write some awesome stories in the mag, Steve got a few good gigs in the industry, and then, well, I don't know. Haven't seen him in a while. But he went to Freestone, so I had him write this week's Going For the W essay here on the web. The dude still has some writing chops. Give it a read.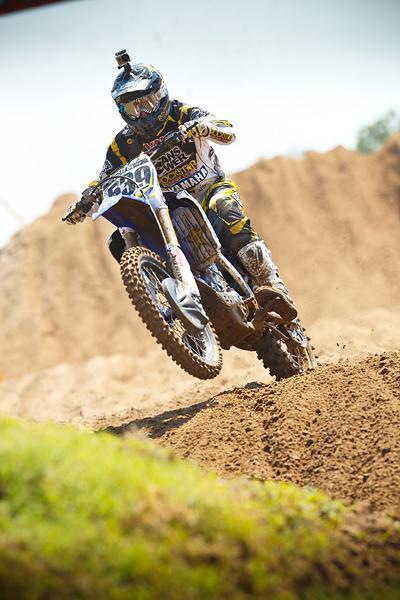 Valli Motorsports Yamaha rider
Ricky Dietrich
would be our pick to win a national... If the motos were 90 minutes long!
Photo: Simon Cudby
Also spoke to ex-off-roader and now motocrosser Ricky Dietrich. RD rode strong in Texas and now sits a solid sixth in 450 points. He expects to get better. Dietrich was under a tremendous amount of pressure heading into the season, as he turned away his lucrative off-road deals for WORCS and EnduroCross to go all-in on motocross.
"Put it this way, I'm taking an 80 percent pay cut, straight up, to give motocross a shot this year instead of staying with Kawasaki off-road," he told me. "I was probably set up to have a good ride for the next ten years. But this is what I wanted to do."
Dietrich didn't race SX, so if he bombs out in moto this summer, he will have gambled and lost big-time. So far, he's doing well, and he's feeling a lot more relaxed. "Now that I'm finally here, finally racing, I feel like a giant weight has been lifted off of my shoulders. It's all mental from here on out. I've only raced a few nationals ever, so I'm just downloading info at the end of every moto. It's mental, I just need to feel like I belong here, and once I feel that way, I know I can be a podium threat."
Here's Ping:
There is a new nutrition bar hitting the market next month. It's made by a motocross racer from Fort Collins, Colorado, and it is geared directly at motocross riders and anyone with a healthy, active lifestyle. Leave it to a moto guy to call his product the Braaap Bar. The ingredients are incredibly clean—no preservatives and soy products like many of the bars currently available. I tried some of the initial samples and the bars taste really good. We'll keep you posted as the product becomes available for purchase in the next few weeks.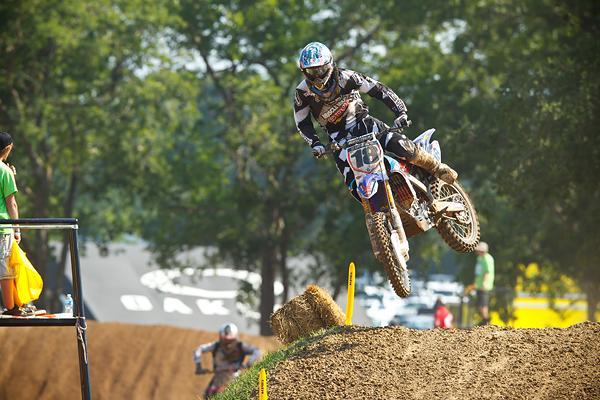 Millsaps is racing his way back into form.
Photo: Simon Cudby
There is a group of people who are likely wearing tin foil hats and collecting in a basement somewhere who believe the truth isn't being told about Ryan Dungey's DNF last weekend. But the word from Mike Webb is that the ambient temperature increased between the first and second motos. They had plenty of fuel left in the tank after moto one so nothing was changed prior to the second moto, and when the fuel started to boil it ran him out of gas prematurely. I think it's a simply case of crap happening. The guys at Suzuki know very well what they're doing and the parts on the bike aren't greatly different from what was used just a few years ago when RC went undefeated all summer. And they are probably identical to what Dungey used to win the title last summer. So, unfortunately, those guys are having a run of bad luck, and I think that's about all you can attribute last weekend's problems to.
I'm more and more impressed with Dungey's composure after something like that happens. Most riders would drop the bike or lean it up against the nearest tree and storm off. Ryan pushed his bike back himself in the heat despite watching his title hopes diminish. Very classy.
DC also weighed in on the way Dungey acted after this latest stroke of bad luck for this week's 450 Words from Freestone.
Poor Marvin Musquin. I haven't seen a guy take a shot to the chin like that since, like, ever. There is video footage on the web of the crash from FUEL TV and it is brutal.Check it out HERE.
The bad news is that Marvin is out with a badly broken thumb for why will likely be most of the summer. I had him picked to win the next round, too.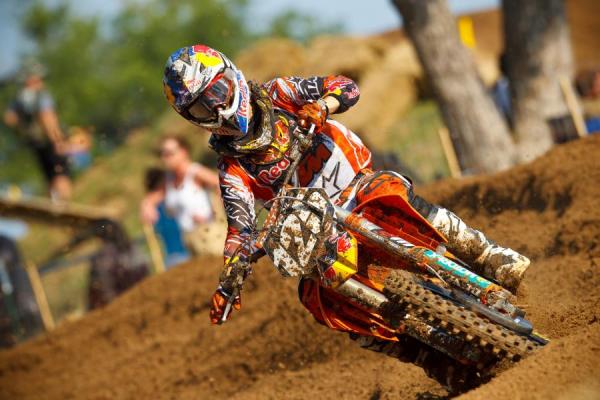 Ping had Marvin Musquin pegged to win High Point, but the KTM rider will now miss the race with a broken thumb.
Photo: Simon Cudby
I talked with Blake Baggett this week and he is feeling much better after his first-moto crash. He was out front and off to a great lead on the opening lap when he lost his front end and hit the deck hard. The crash rang his bell and he says it was mud that caused it.
"I couldn't believe how much water they put down before the moto," offered Baggett. "I think that is why Barcia crashed too. Its a bummer but I'm just glad I'm OK. I'm taking this week off and I'll get going again next week. I should be 100% by High Point." Blake was blazing fast there last year, so look for the #57 bike to be up front at Mt. Morris.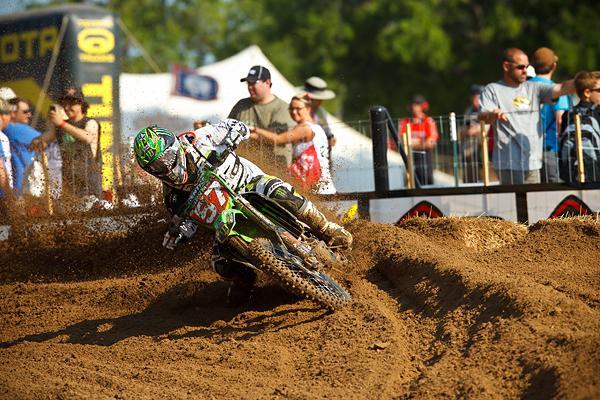 Blake Baggett
might have grabbed another win in Texas if not for an early crash that left him dizzy.
Photo: Simon Cudby
That's it from Ping, though he did get a letter in response to his Ask Ping column question on untucked jerseys, from the iconic (or maybe ironic) Johnny O'Hannah:
Dearest Ping,
Johnny O'Hannah here and I would like to offer an explanation as to why Deans Wilson's jersey was un-tucked at Freestone as I was the first person to greet him as he came off the track at the podium. First, a quick lesson in motocross apparel, equipment and rider technique. The jerseys of the 1980s and '90s were made of thicker 100% cotton, material allowing sweat to be absorbed into the material and it would actually stick to your body. The bike seats were made of standard vinyl covers that were rather smooth. The scrub and hadn't been invented and the seat bounce was less effective on the slippery vinyl seats.... Fast forward to today where jerseys are made of thin, lightweight, silk-like polyester material, seats now are like fly paper and actually pull a riders pants down and riders are scrubbing everything, contorting their bodies on the bike. Couple that with a healthy seat bounce and the riders are getting so much grip on the modern bikes they are breaking the belt fastener on the pants, as was the case with Dean's buckle. It fell off his pants at the podium and I gave it to a fan along the fence. So in conclusion; a combination of thin silky jersey, gripper seats, failing buckles, more powerful engines and techniques like scrubbing and seat bouncing are causing the jerseys to become un-tucked with more regularity.
Your welcome.
Johnny O'Hannah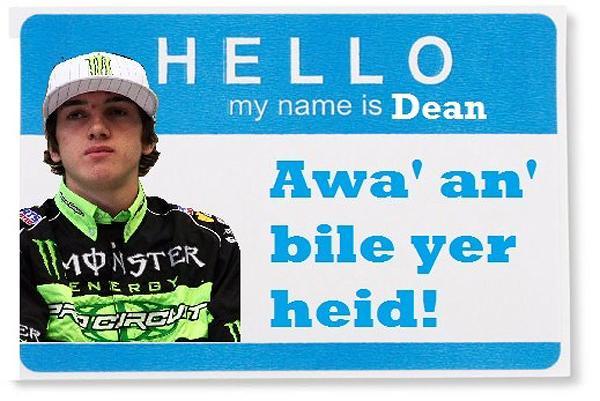 Our friend Johnny O'Hannah sent this butt patch over he made for
Dean Wilson
.
Okay, now over to Steve Matthes:
Well, this being an off-week, there isn't too much to report on. For just the second time this year, I am spending a weekend at home here in Las Vegas. But lest you think that I'm not going to be reporting on anything, oh no—Travis Pastrana's Nitro Circus tour is rolling into town and tomorrow night I'll be at the MGM Grand to check it all out!
It should be a good time—we had Pastrana on the Pulpmx Show a couple weeks back and he was explaining all the things that went into a show like this and how they basically recruit anyone that can flip or ride anything at all to be in spectacle. There are front flips, backflips, cooler rides, skateboard dudes—you name it and it's going to be happening on Saturday night. Myself and Racer X videographer Matt Francis will be there to document the entire ordeal and present it back to you the best way we can.
In preparation for Nitro Circus Live making its U.S. debut this weekend in Vegas, Racer X Online has already given you some crazy Travis Pastrana moments in this week's The List. Well, if that wasn't enough to whet you appetite, here are some more photos of Travis doing what he does best: crazy stuff.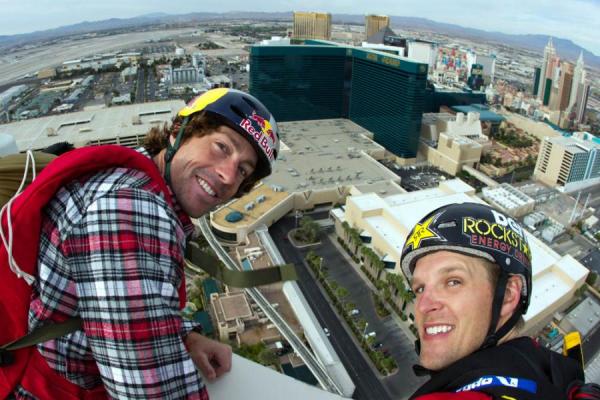 Nitro Circus Live stars
Travis Pastrana
and Erik Roner prepare to BASE-jump off The Signature at MGM Grand in Las Vegas in preparation for the show's North American debut at the MGM Grand Garden Arena on Saturday, June 4.
Photo: Jeff Bottari/AP Images for Nitro Circus Live
As far as the nationals, well, there's nothing going this weekend in America, but our friendly neighbours to the north kick off their national championships in Kamloops, British Columbia, at the picturesque Whispering Pines Raceway (and on that note, what is the deal with the Canadian people and the track names? Whispering Pines? Is that a nudist colony or a racetrack. Other good ones are Gopher Dunes and Shadow Valley).
Dusty Klatt of the Blackfoot Yamaha team has the #1 plate but the man who won every moto he finished (unfortunately for him, he missed a whole bunch), Colton Facciotti, will give him a good run no doubt about it. Those two are Canadians, but behind them are Americans Bobby Kiniry, Teddy Maier, and Matt Goerke who will try to bring the title back south for the first time since Paul Carpenter won it a few years back.
In the 250 class, Blackfoot again has the defending champion in Tyler Medaglia, but he'll be chased by his brother Jeremy (on a KTM) Kaven Benoit and 16-year old American whippersnapper Austin Politelli, who is coming up to make his pro debut, much like Dean Wilson did a couple of years ago.
Make sure you stay tuned to DirectMotocross.com for all the updates on Sunday from the track and for pre- and post-race coverage from Kamloops. It should be an exciting nine race series with plenty of action.
I did a podcast with FMF's Jeff Northrop for the DMX guys to talk about Nor-Cal's career, his new job and what he thought of the series right here.
MISC:
There are no nationals to watch in America this weekend, but after a weekend off, the Grand Prix tour will be back up and running from France. You can watch the races live (pay-per-view) at www.mx-life.tv/.
Win a trip for two to the final round of the Lucas Oil AMA Pro Motocross Championship at Pala Raceway on September 10.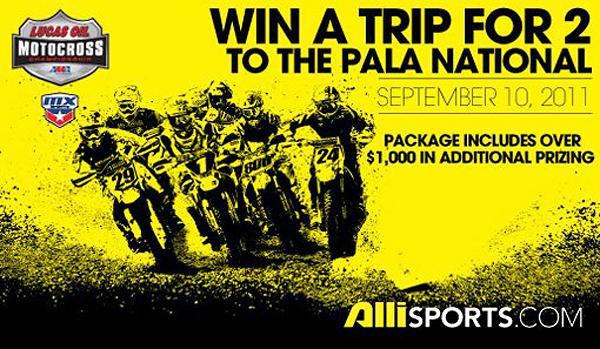 Carly Rauba sent over
this piece
about her experience at her first USGP and a brief interview with
Myles Tedder
.
Here's some PR on a cool race later on this summer:
"Powder Mountain Resort (www.powdermountain.com) is transforming its 8,000-foot elevation ski runs into motocross mania for the third annual Monster Energy Powder Mountain Motocross. The resort, along with event partner Monster Energy and title sponsors; Scott Sports, BTO Sports, and 5050 BMX, will host the high-elevation race on August 18-21, 2011. Jeremy McGrath, Josh Hansen, Michael Byrne and local pro heroes Gray Davenport and Cole Siebler will compete for a $10,000 cash purse in the BTOSports Open Pro Classic. Pro Qualifying will start at noon. The weekend will showcase not only pro classes, but also the best amateur riders in the country. For more details and registration information, visit Powder Mountain Motocross at www.powdermountainmotocross.com."
Eric Johnson caught up with Pro Circuit boss Mitch Payton for a discussion on how the Lucas Oil AMA Pro Motocross Championship is going for his team (pretty darn good right now).
Remember to stay connected to the Lucas Oil AMA Pro Motocross live timing and scoring wherever you are! Here's a hint: on your smartphone, head on over to www.americanmotocrosslive.com/m and create an app-like icon for your home screen. On an iPhone, just load up the page, hit the little arrow at the bottom of your screen, and tap "Add to Home Screen." Now you've got the icon for Live Timing and Scoring on your phone's home screen. It's that easy!
Finally, here is an interesting story from Morgan Curtice of Bristol Core (www.bristolcore.com Bristol Core is a US supplier of muffler packing materials), the man behind the Local Hero Award each week at the Lucas Oil AMA Motocross Championships, where the fastest non-qualifier gets a $275 bonus:
A couple months ago Michael [Rigdon] approached me about supporting a needy and talented privateer with some cash. We liked the guy and he is obviously fast but we concluded that spending money this way didn't really fit with the marketing tools we had decided on using this year. In the process of thinking about it though, all of us here at Bristol Core got really excited about getting involved with someone's national program and that bug just didn't go away. At some point in the daily process of mulling this opportunity over, the idea of spreading some money around to help a greater number of deserving riders was born. Then things started to take shape. The name "Local Hero" came up and it stuck. Figuring out just what we meant by took a few more days.
To us, a Local Hero is one of those guys whose speed and accomplishments defines the local scene back home. For example, as a beginner racing in 1988 at Hogback Hill in Palmyra, NY, the skill and speed of local guys like Billy Silvarole, Joe Ellington, Bruce Stratton, Donnie Schmidt, Pauly Carpenter and the late Peter Malyj inspired awe. From the perspective of this kid on his 1985 KX125, these guys were a kind of hero. Seeing them ride was just a thrill for everyone and I would guess that most of us have similar early memories.
Years later, in the spring of 1997 (Charlotte SX), I started working for Scott Swinehart who ran his national race support business Competition Direct out of Rochester. One of the things I admired about Scott and Mike Tosch (the guy who showed me the ropes at Comp Direct) was the level of respect, time and attention that they gave each pro privateer. There were a lot of fast privateers all over the country just like those I grew up admiring back home. I distinctly remember working long weekends at races like High Point where we'd have a line of 15-20 privateers waiting to see us for filters, seat covers, bars etc. Keeping the perspective that each one of these guys was a hero back home was one of the things that made those long days so much fun. How else do you keep smiling when you're installing seat covers all night long? Thinking that way kept me humble and focused on doing my best for each of them.

Morgan Curtice (left) and Michael Rigdon.
Photo: BrownDogWilson
On our award, we originally thought we'd give $250 to the top placing privateer for each race and then try to recognize their accomplishment on our site and through press releases. We got a little lost on how we'd decide who qualifies as a privateer. At what level of support someone's no longer a privateer became fuzzy and too subjective for us, even though we think we know the difference on a case by case basis. Ultimately, the fastest non-qualifying position was agreed on as an easily defined criteria. We opted to increase to amount to $275 to cover race entry and to alternate between classes each weekend in order to stay within our budget.
So far it has been a lot of fun. At Hangtown, Michael Geise from Sedalia CO was 41st in the 250s. I found Michael and his father in the pits and they were very appreciative of what we were doing, even though they were really bummed about missing the program by one place after driving from CO. In Texas, Tucker Saye from Littleton, CO, was 41st fastest in the 450s so he has a check coming to him next week. Hopefully both of these guys will make the program at their home track Thunder Valley.
Okay, that's it for this week. Thanks for reading Racerhead. See you at the races.