Freestone Raceway
Wortham

,

TX
Freestone Raceway
Lucas Oil AMA Pro Motocross Championship
By Steve Dye
There was nothing in the pre-race discussion of numberplate backgrounds that prepared anyone for the surreal sight of a dejected Ryan Dungey pushing his (now lost) red plate to the pits... with the most successful mechanic in motocross trudging alongside.

Reaction from the scattered Freestone crowd ranged from stunned silence to vocal disbelief: "I've been to six tractor pulls, four state fairs, two calf-ropes, and a hog-matin', and I ain't never seen nuthin' like that."

At the same time, a day that started with visible assertions of willful determination from Chad Reed ended with the TwoTwo Motorsports/Bel-Ray Honda again atop the podium and suddenly solely in control of the points chase.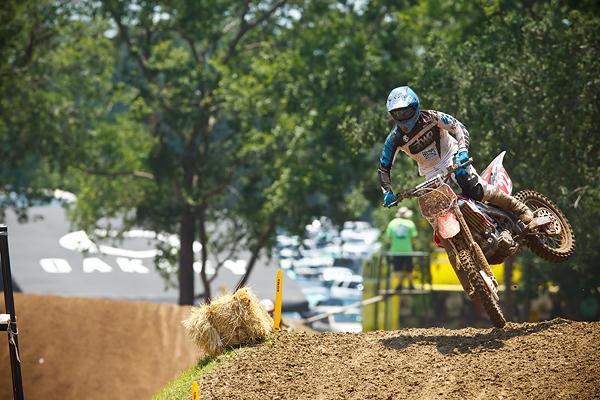 Unlike 2010 (when he failed to get another victory after his opening win at
Hangtown
) it didn't take long for Reed to grab victory number two.
Photo: Simon Cudby
On the heels of a season opening win that some heralded as the second coming of the 2009 outdoor champion -- and others dismissed as an anomaly, ala last year's season Hangtown win -- Reed came into Texas prepared not just to weather the heat, but to bring it.

After indulging in a little red plate gamesmanship in practice, elsewhere documented, Reed rolled to the starting line all business. And when the gate fell for the first moto of the day, Chad dropped the hammer and then swerved right like he was channeling Jeff Emig, circa Steel City '96.

It was on.

Dungey had lined up to the inside of Chad, and to say it didn't work would be to say Texas was a little windy that weekend. Full-on, stiff in the breeze flag-flying banner-ripping windy... no, it didn't work. Ryan along with everyone lined up to the inside of Reed not named Christophe Pourcel got pinched off hard going into the first turn.

And that -- save another 31 minutes or so, a stellar ride by Christian Craig and another inscrutable outing for Pourcel -- was pretty much the race. Chad exited the first corner in fourth, spent a lap dispatching with Jake Weimer, and several more displacing the mercurial early leader Craig (and Pourcel, who ran up front for half the moto before sitting out the other half). But the race was Reed's from the start.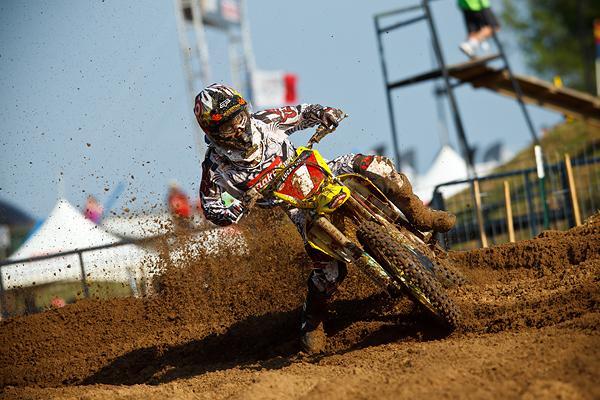 Heartbreak for Dungey and Suzuki at
Freestone
.
Photo: Simon Cudby
Dungey came out not much better than mid-pack, moved quickly to get into the top ten, and rallied into fourth even before Reed moved up from third -- only to slip back from the eventual leader as Chad posted his fastest laps late in the race.

Ryan gated much, much better in the second moto, and had the lead early in the first lap. He also had Reedy right up his tailpipe, with both riders gapping the field.

When Reed pitched it away 10 minutes into the second moto, he was unmistakably going for the win. What's more, after a fairly brutal looking front-end push to high-side, Reedy remounted quickly and set his fastest lap of the race. It wouldn't be quite enough to catch Dungey, who seemed as impervious in his second moto lead as Reed had in the first.

Except that it was enough. Reed and Dungey had both brought the heat to an already sweltering Texas track... unfortunately, too much of it wound up near Ryan's fuel tank.

In the waning moments of the fourth 450 moto of the 2011 outdoor season, it looked like Chad Reed and Ryan Dungey would split up the available 50 points like loot from a heist -- with preseason favorite Ryan Villopoto relegated to running lookout for a second successive week.

Instead, it was Dungey who got robbed. The defending champion dropped all the way from leading the race and the series to trailing some 29 points in this new title chase.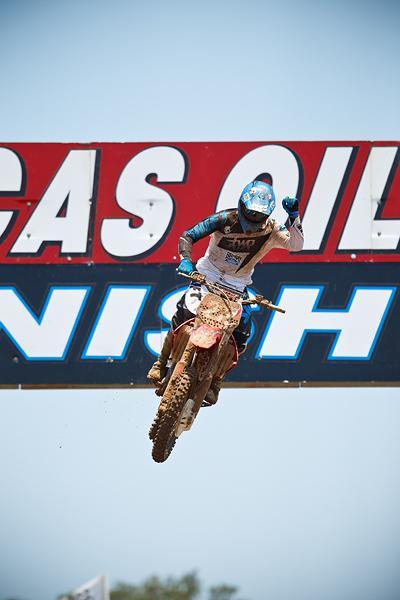 Reed leaves Texas with a 21 point lead over Villopoto.
Photo: Simon Cudby
Chad leaves Texas with a 21 point lead over Villopoto, three moto wins, two overalls, and his strongest season start of his long career in the premier class.

Dungey escapes with eighth overall after a lost moto that seemed a lock. Last year Dungey finished eighth overall in his first race, and won his second... at Freestone, kicking off a string of moto wins. He had another in the bag, but not in the tank.

Both Reed and Dungey were going for the win, and thus far, it's easy to see the 2011 season shaping up as a battle between the 2009 and 2010 champions. Still, two rounds don't make a season. The week off before going into Mt. Morris will allow more of the supercross weary -- read Ryan Villopoto -- to regroup, go test, and get ready to come back swinging in the eastern swing of races that more often set the tone for the rest of the season.