Freestone Raceway
Wortham

,

TX
Freestone Raceway
Lucas Oil AMA Pro Motocross Championship
What was it this weekend with racers snatching defeat from the jaws of victory? At the Indy 500, that rookie had it won until he just absolutely overshot the last turn and blasted himself into the wall. At the Coca-Cola 600, Dale Earnhardt Jr. was headed to his first win in God-knows-when, when he ran out of fuel on the last lap!
And then there was Rockstar/Makita Suzuki's Ryan Dungey. With the win in hand at the rutted-up Freestone National track in Wortham, Texas, the defending Lucas Oil AMA Pro 450 Motocross Champion saw his fuel overheat and boil enough to stop his motorcycle within a lap and a half of the second-moto win. It was painful to watch on Speed as Dungey kicked and kicked at the bike, then pushed it home—his frustrated mechanic Mike Gosselaar hesitant to help push because he wasn't sure if that would mean a compete DQ for outside assistance. (It wasn't until the AMA confirmed that he was outside the top twenty, and thus the points, that Goose was told to go ahead and help, which he did.)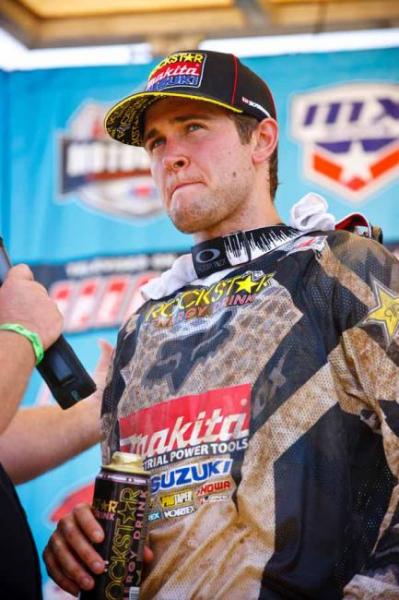 In the face of adversity Dungey acted like the champion he is.
Photo: Simon Cudby
Coincidentally, after Dungey's Suzuki teammate Brett Metcalfe reached the podium in the second moto after holding off a fierce attack from Valli Motorsports Yamaha rider Ricky Dietrich, his bike was sent to the impound area next to the AMA semi, but while it was being ridden from the podium to impound, it ran out of gas after going just a couple hundred feet! Was it a Suzuki problem? Was it a heat problem? Was it just a fuel-robbing track?
All of that will no doubt be discussed at American Suzuki's HQ in Brea, California, this week, but that's not going to make Dungey's day any less frustrating. The #1 rider in both AMA Supercross and AMA Motocross this year has had a lot of unlucky breaks come his way this year, just as he seemed to get all the good breaks last year. It's like he's switched roles with Chad Reed, the beneficiary of his fuel starvation and now the one man with a firm grasp on the points leader's red plate. Reed had health, bike, goggle, and injury problems last year—sometimes seemingly all at once. Now he and the TwoTwo Motorsports/Bel-Ray Honda team are 2-for-2 outdoors, after literally waiting until the last minute to commit to the series. They are getting more and more backing from American Honda, which is going to make them more and more difficult to catch. And he's having fun, and that's dangerous for everyone else chasing him.
But back to Dungey. As he pushed that stalled motorcycle off the track, he acted like a champion. He didn't drop the bike and walk away. He didn't lean it against a fence and pout. He took off his helmet and, in otherwise full moto garb, tried to push that thing to the finish line and get some points. It's been a frustrating year for Dungey, but it's also been impressive to see how he's handled the adversity and the added weight on his shoulders that comes with that big #1.