Rogers Centre
Toronto

,

Canada
Toronto
Monster Energy AMA Supercross Championship
If only Ryan Dungey talked a bigger game. The defending Monster Energy Supercross Champion could have put his own PR spin on his 2011 season, but elected instead to keep it quiet. If he had just used one word consistently—and that word, oddly, is consistency—he'd been looking like the smartest rider in the game right now. And maybe even the best.

Dungey's season has looked subpar for a defending champion. He won six races last season, he grabbed holeshots, and he at least handled whatever challenges came his way, even if injuries limited the challenge of those challenges.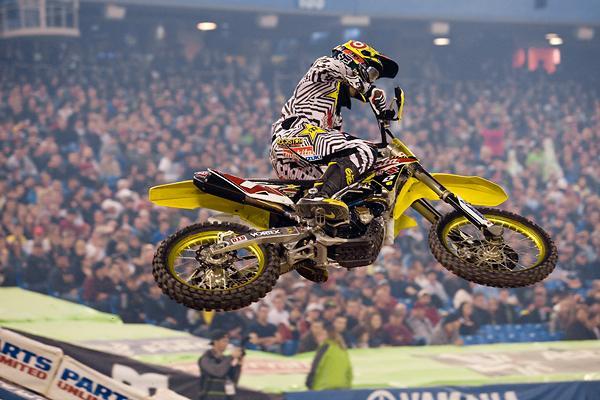 Dungey has been the most consistent rider all year, with nine podiums.
Photo: Matt Pavelek
But he did at least mix it up with James Stewart at the opener. He did take it to Ryan Villopoto a few times—like in Dallas where he scored straight-up wins in the heat and main event. He easily dealt with Chad Reed's pressure in the Vegas finale, the only supercross race where Reed really seemed to care. And he didn't even see much of Trey Canard, except after the race on the podium. There was a certain magic to Dungey in 2010, and that spark wasn't there this year.

Moreover, the competition is riding better this year than last year. And yes, they all scored wins before Dungey did this year. The tarnish was beginning to cloud the polish on his 2010 trophy. But the Dunge could have fought back with one word: consistency.

Dungey doesn't lead the pack in wins or points, but he does have the most podium finishes with nine. Had his chain not derailed in Anaheim, he'd be in the points lead, but beyond that, he's suddenly right there in the hunt anyway, just eight points back with plenty of time to grab the top spot.

It's beginning to look like staying within his limits—and being content to take a third, thank his team, spout off a few more podium clichés and move on without anger—may be the best strategy of all. But imagine if he had used the consistency word. If he had only said, "I'll take a consistent third because I know it's going to be a wild season, and podiums will trump wins." If he had said that, right now you could put the polish right back on last season and this one. "Dungey wasn't slow," we would think. "He was just smart."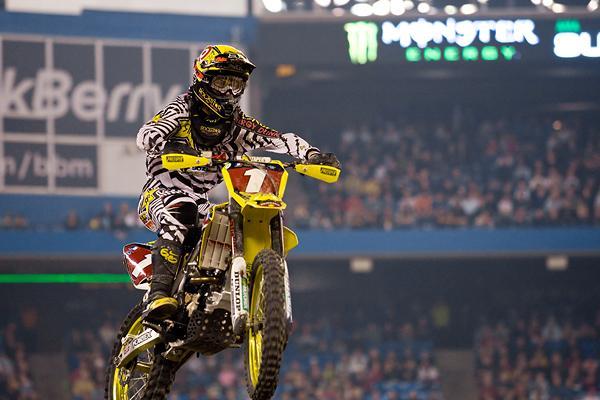 After his win in Toronto. Dungey now sits just eight points back of
Chad Reed
.
Photo: Matt Pavelek
All he has to do is look at the man he's now chasing in the standing for inspiration. Chad Reed has made a career out of riding to his limit but never going over it. He's forever blurred the line between getting second because he's not fast enough to win, or getting second because he was smart enough to not crash. Riders who have gone faster than him may be frustrated by that, but points are points, and titles are title. By Vegas, Dungey may have blurred that line himself.