Angel Stadium
Anaheim

,

CA
Anaheim 2 (A2)
Monster Energy AMA Supercross Championship
Welcome to Redux presented by Yoshimura. Do you know what the Japanese letters on a Yosh exhaust translate into? Really good exhaust system, I think.
Everyone was all super pumped on racing at Dodger Stadium in LA, but when that race ended, and focus shifted to the next event in Oakland—another venue not on the 2010 schedule—the hype was deafening. Or maybe things were just silent because no one was talking about it.
Whereas Dodger Stadium always stood as both a dangling carrot and a forbidden fruit for supercross, Oakland-Alameda Stadium garnered lima bean level enthusiasm. First, it actually had hosted supercross before, and second, it replaced the swank AT&T Park in San Francisco on the schedule. The needle never moved for Oakland.
But after actually attending the races, it seems like Dodger's Stadium is more Dodger Dog than full-course meal, and Oakland might even be worth upgrading to hamburger level, at least. Dodger's Stadium is historic, and that's about it. In Oakland, I expected to find an old, run down stadium, but the place was actually newly upgraded and quite cool. It sits in a sports complex with the Oracle Arena (home of the NBA's Golden State Warriors) next door. The track was unique, and riders seemed genuinely excited after track walk. Matthes' said the track looked small and easy in Obs? Ha! The GOAT himself told me he was talking about the track with James Stewart and Stewie was going on and on about how he couldn't wait to get out there. (BTW-later, Stewart probably wished he had waited).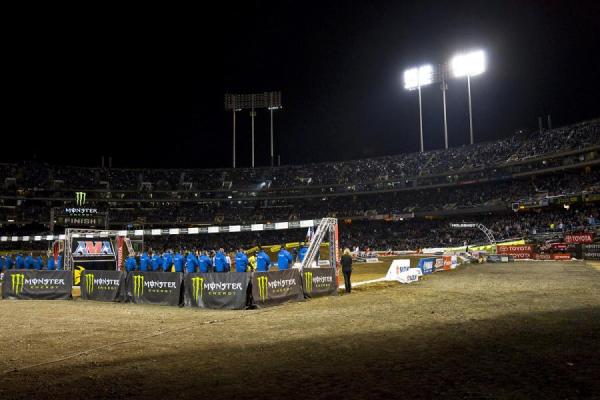 Is it time to elevate Oakland to hamburger status?
Photo: Garth Milan
And even in a steady rain, the fans came out—44,000, in fact, which is 3,000 more than showed up in Los Angeles last week. Few would have expected it, but I think Oakland ended up being the superior new venue.
I try to get to know the new venues by inevitably getting lost and making a wrong turn on the way to the track. This weekend I couldn't find the stadium entrance and blew right past. Thankfully this weekend Toyota let me borrow a Yaris, a car about as long as a Dodger Dog and turns like a Traxxas. I made a fast u-turn to get out of there—if not for front-wheel drive, I could have easily competed in an East Oakland Sideshow on my 16s. http://www.youtube.com/watch?v=Ki8KNyHOs8U&feature=related
You just need to forget what you expect to see when you show up at these races. Detroit has a horrible rep, but the area surrounding Ford Field was actually quite nice (of course, the area surrounding that area wasn't quite so). Orlando is thought of as a magical place, but the only magic going on outside the Citrus Bowl is probably a disappearing car trick.
Similarly, we had some expectations for the Oakland race that were quickly dashed. Stewart took two big headers in practice. Now he had a big decision to make, as did I. Stewie had to decide if it was worth riding the last practice. Meanwhile I, in tribute to the 1989 Oakland A's "Bash Brothers" tandem of Mark McGwire and Jose Canseco, had planned on using the joke "Bashed Brother" at some point during this event if a rider went down. But when I realized I could apply it to Stewart,  I decided not to use it since it could offend some people. Wait, did I just use it here?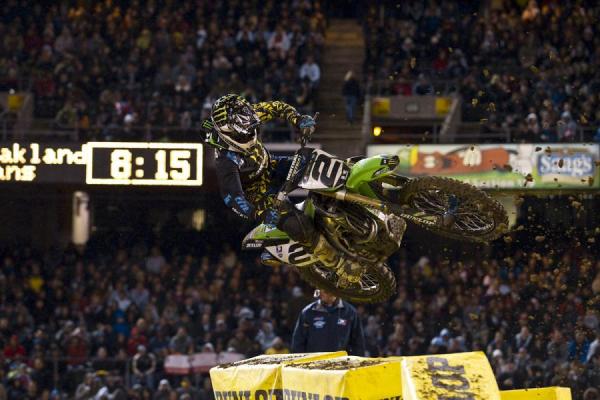 A early mistake by Villopoto allowed Stewart to take the easy win in Oakland.
Photo: Garth Milan
While Stewart sat out, Ryan Villopoto was sprinting around the building like Ricky Henderson, and since he won last week, was the solid favorite for the night. But then Stewart returned to the track for his heat race and went over a full second a lap faster than anyone else. Yeah, RV had a bad start in his heat and didn't get a clean lap, but still, Stewie was all MC Hammer—you can't touch this. (Note: Hammer is from Oakland so I had to use him. Unless I write a column about some rider going bankrupt after building a house with solid gold floors, this will be the last reference).
In the main, Villopoto did some bashing of his own and secured the lead. Stewart got to second, and before they could really battle, Villopoto went down. Didn't Stewart fall last week before they got to battle? These guys are really doing their part to extend the drama each week.
In Anaheim, Villopoto won, but I think Stewie might have been the fastest. In Phoenix, Stewie won but I think Villopoto might have been the fastest. In LA, Stewart crashed while leading, but I think Villopoto may have won anyway. And in Oakland, Villopoto crashed while leading, but I think Stewart may have won anyway. Whatever happens, just expect the exact opposite to happen the next week.
Other leftover Oakland jokes:
When Stewart crashed in practice, his bars took on the shape of Rollie Finger's mustache.
The Dirt Wurx crew used the same equipment Jose Canseco used to dig up dirt on other major league players.
The ruts were so deep, riders were digging all the way down to Jamarcus Russell's career.
The first two laps of this race tell the story of the season. RV and Stew waste zero time going after each other, while everyone else seems to be more conservative. Reed told me his ignition had gotten water in it, and his bike was cutting out right from the first lap. "James passed me doing some jumps that I was pretty scared of doing," he explained. "As a team owner, I'm a little concerned about things like that happening. This wasn't Daytona '08 or anything that bad."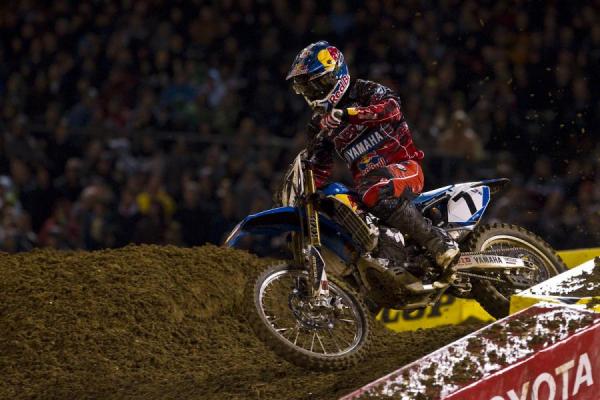 Will Stewart be able to carry the momentum of Oakland over to Anaheim II?
Photo: Garth Milan
Okay so that's a decent reason to be conservative, although I don't think Reed was gonna' go with James even if his bike was perfect. Go watch the TV show and look at how big of a lead RV and JS have on the second lap. It was crazy. Better yet, watch the second turn of the race. Stewart enters in sixth, jumps to the inside and block passed like THREE riders at once, and then goes leaping past Reed. One of the riders Stewart hit the hardest? Dungey. No response from the champ.
So maybe this season will end up like the great Stewart/Reed battles of the past, with a super-go-for-it-but-could-crash guy pitted against a more consistent foe, only now we have two of each, Stewie and RV in the fast camp, and Dungey and Reed in the consistent gang.
Here's something to note. Villopoto got up and caught Dungey immediately. Dungey looked like he was just cruising around and trying not to crash, until Villopoto nearly passed him on the inside of that table top hip jump. Dungey then looked back at RV and took off! He started going inside on the hip jump, passed Reed and checked out. Dungey really wasn't using his full speed early, and I'm just confused as to the strategy here. Does he just expect Stewart and Villopoto to throw it away at some point? I understand the merits of playing it safe on a rutted track, but in the meantime, the top two riders in points left him in the dust, er mud.
But then Villopoto did crash again. So I was thinking maybe Dungey does know what he's doing, until he seemed to coast again on the last two laps, and Reedy snuck past him. Where's the fire from the champ?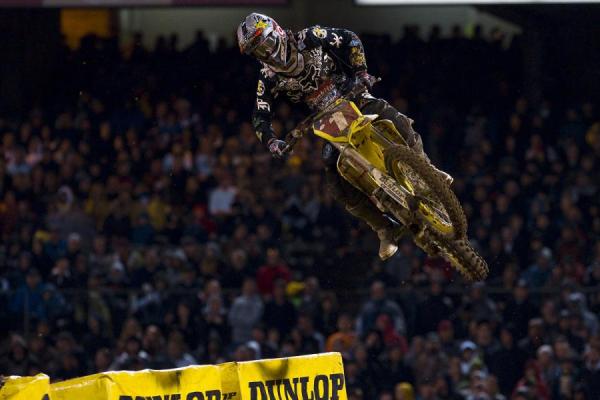 Dungey took home third place in Oakland, but he's looking for more.
Photo: Garth Milan
Trey Canard was off to about a 19th place start and did an amazing job clawing his way through. Austin Stroupe and Davi Millsaps were leading the "besides the big four" train ahead of Kevin Windham and Brett Metcalfe, and you expected Canard to roll the whole group. Fatigue got the better of 'Stroupe and 'Saps, then Canard got around Windham and Metty. He had come from a long way back, and he was going to get fifth, right?
No! Metcalfe refused to lose. Like Reed, he buckled down on the last lap, and made up about three bike lengths in the final rhythm section to get inside of Trey and make a picture-perfect last lap pass.
I headed over to the Metty motor home after the race to ask him about the pass. Lo and behold, the motor home was packed, and everyone was watching video of the race (Metty's wife Sheena records the races on her camera and then Brett watches it ASAP). Everyone wanted to see that last lap pass. As Brett got closer, you hear Sheena yelling "GO METTY GO!" into the camera, and when he made it full-on applause broke out in the motor home! Good times with the Metcalfes.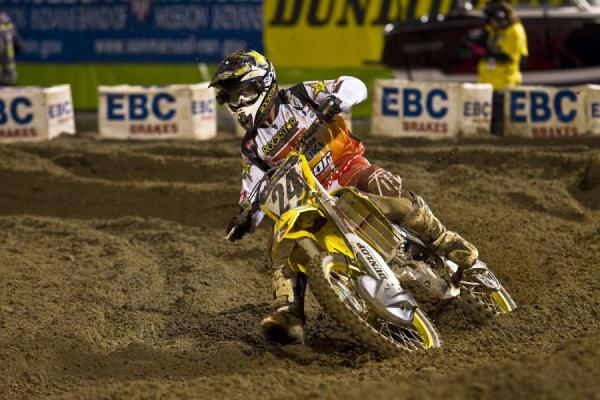 Metty had his best finish to date in Oakland, fifth.
Photo: Garth Milan
Later, when I was thinking about all of this action—Reed going slow and then fast, Dungey going slow, then fast, then slow, Canard going fast but then slow and Metty going slow and then fast—I realized how gnarly that track must have been. The best riders in the world were just trying to stay on two wheels, and if they really wanted to take chances, they could pick up the pace. But it was risky.
Davi Millsaps and Mike Alessi are old amateur rivals. They've both had their ups and downs as pros. They were far apart in Oakland, though. Millsaps, who hadn't done much at all at the first three races, was suddenly on the gas in Oakland during practice. DM18 is still working his way back from a major crash at Budds Creek, and he was lacking aggressiveness. At Oakland, he finally got with it. "I decided to just push as hard as I can, scrub every jump as hard as I can until I couldn't do it anymore," he told me. "That lasted about 10 laps. You ever heard of arm pump?" Hey, Davi doesn't have 20 laps at that pace left in him, but at least he tried this time.
Then there is Alessi. I really think Mike just does not want to race supercross, and his bad results are a self-fulfilling prophecy. He does not want to get good starts because he does not want to get good finishes, and if he does not make the main event, that's okay because it only proves his point that he should not be racing supercross (and maybe a 350) in the first place.
Yes, Mike sucked in the whoops. These whoops were big and Mike has always been bad in supercross whoops. I've always been confused as to why the rider who had the most perfectly planned amateur program never learned how to ride the most important obstacle in racing, but here we are. And he wasn't exactly killing it anywhere else on the track—Dan Reardon, in his first race this year, and also on a 350, passed Mike for the last transfer spot to the main in a sweeper. Mike should not be getting passed by Dan Reardon for the last transfer spot to the main in a sweeper. I believe Mike has downgraded from not trying to do well to purposely trying to do badly.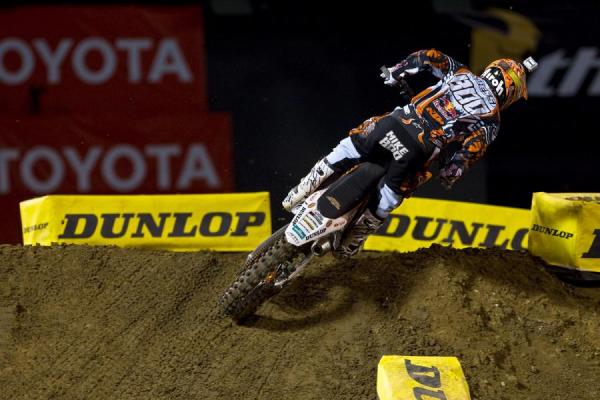 Will Alessi be able turn around his 2011 season?
Photo: Garth Milan
Finally got to the bottom of the Austin Stroupe deal, mostly because Austin is now talking to people again (if you wanted an interview with him from 2009-2010, good luck, which is a shame because before that, he was really cool and fun to talk to). Anyway, Austin told me his shoulder was so bad that he wasn't even planning on racing until Houston, but he decided to test himself in practice and the heat races at the first few rounds, anyway. He quickly learned he wasn't strong enough for main events. That's why the guy was hauling in qualifying but no-showing for mains. He finally went for it the last two weeks. He still doesn't have 20 laps, but the laps he does have in him are good. Don't give up on this kid yet, although it's hard to imagine that he was once supposed to be Pro Circuit's "next Villopoto."
I'm seeing the Lites class shaping up like the Supercross class. You have two veteran dudes—Hanny and Tickle—against two go-for-it kids in Tomac and Roczen. The kids are getting better every week. I saw a glimpse from Tomac in Phoenix, and a full, solid race from him in LA. When he got the holeshot in Oakland, I thought the win was a lock, but he crashed. And also, Hanny's gotten all savvy now and I think he only rolls out his true speed when he needs it, so he may have dealt with Tomac anyway. I'm just trying to point out Tomac's progress so when he inevitably wins soon, I'll get some credit. Yes, I want credit for predicting that the kid who won his first pro race ever will win a Lites SX. I'm nostradamus here.
As for Tickle, it's going to be a good tussle of styles between he and Hanny. Butcher versus surgeon here. When the track got gnarly, Tickle took off. And the way the West works, we could have more gnarly races like that. And even if we don't, Tickle is going to go after Hanny hard. Throw in the kids, and we've finally got some excitement in this west region.
As potential spoilers, Cole Seely had a bad night when he busted his rear brake and DNFed. Kyle Cunningham continues to be fast—he was even faster than usual in his heat race until he crashed, and then he crashed on the start in the main. But if he ever figures it out… same for Martin Davalos. During the race, I had skateboard legends Salman Agah and Steve Caballero sitting behind me, and one of them said, "Man I really thought Davalos was going to be a contender this year." I hear that every year.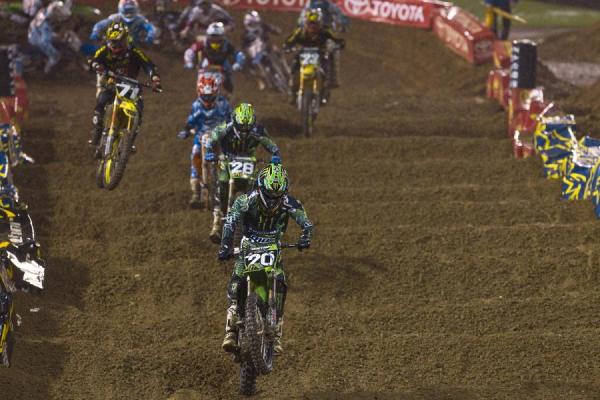 The whoops in Oakland seperated the men from the boys.
Photo: Garth Milan
The whoops were definitely the dividing line in Oakland, because all of the other cool, unique sections became one-lined. The poor track builders. They will build a section with a half-jump on one side to create a new rhythm, and the riders immediately figure out which is faster, and it's over. The whoops were so tough on this track that a lot of riders just rolled through in the first practice, waiting for them to break down and get smaller. I saw Trey Canard go for a blitz, and he got through with the grace of Grave Digger jumping over a school bus. Bikes were sliding side to side like Hammer in a video…wait, no more Hammer jokes. Reed also made Jason Thomas walk into the bottom of a whoop to see if they were actually over JT's head. It was close.
That's it from Oakland. Email me with your thoughts on this week, such as why CBS' supercross coverage sucks. Here's a hint: if you're a big enough fan to read this column, you're not the intended audience. You probably also don't like Bubba's World or seeing Fox shirts in the mall. Anyway, Jasonw@racerxonline.com