Anaheim, CA
Anaheim 2 (A2)
Monster Energy AMA Supercross Championship
Welcome to the
BTOSports.com
Observations column! If you need something for your bike or body, check out
BTOSports.com
and listen to the Podcast show for a discount code to save even more money than you would regularly save just by shopping there. Got it?
Another week in the Monster Energy Supercross series and another new venue! I promise this column will not be blurred out in any way, shape or form unless you've been drinking and then all bets are off.
After a few years of hosting races over in San Francisco, the decision was made to move across the water to Oakland and it was a curious one but in speaking to Feld Director of Operations Dave Prater in a podcast earlier, he mentioned that they sell out (or come close to) in San Fran and wanted to see if they could get more attendance in Oakland. So how was it? Well going off the announced attendance, this race was 44,394 and last year's San Fran race was 41,872 so mission accomplished I guess.
As far as the track is concerned, I thought upon walking it that it lacked a little something. It was very small and a lot of the stadium floor was left exposed. The rhythm lane after the start was an obvious three/three situation and the other rhythm lane was obviously faster one way. So that left the whoops and they, along with the weather, are what saved us from a super short, easy track. The rains that fell on and off during the day made the track slick and helped it get rutty and rough. The whoops were the biggest ones we've seen all year and was a tipping point for many a riders night. Also, the good old trusty over/under bridge made its debut and as always, it was a big hit. Love me some over/unders!
As I wrote in Racerhead on Friday, I might have been a bit harsh on James Stewart last week but I stand by the gist of the article which was that he needed a "James Stewart soul crushing" kind of ride this week so that everyone knew he was the man, everyone understood that he had lost nothing during his long layoff and that the magic was back.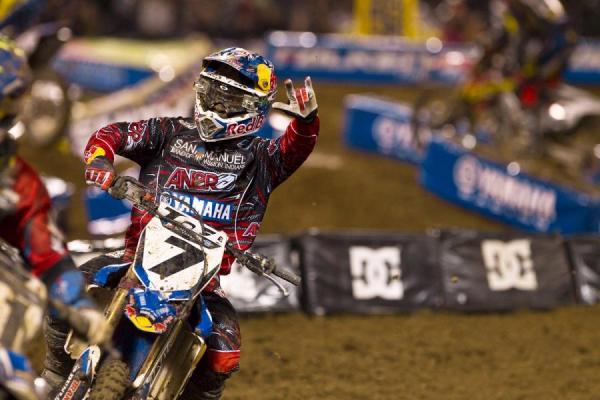 Did Stewart find the "magic" in Oakland?
Photo: Garth Milan
And on this very unlikely day, he did exactly that. What I mean by unlikely is that it didn't look good for James after a rough practice where he crashed hard on the landing of a triple and ended up over the berm. He followed that up with a couple more crashes in the second practice and then said "No Mas" for the third practice and decided to sit it out. In talking to people who spoke with him after the first one, he definitely seemed a bit loopy (and one would think the two crashes in the next practice would indicate that) and the odds were stacked against the Yamaha rider doing much of anything but ride around there to salvage some points.
But oh no, Stewie came out and blitzed his heat race taking the win easily in that and for the main, he made some shrewd moves early on to move into second behind Ryan Villopoto and it was, as they say, on. Unfortunately RV lost his front end in a berm, Stewie squirted by and opened up a lead the size that most teams got on my Oakland Raiders in this very stadium the last ten years. Like a double digit size lead on second place. It was the type of ride he needed to put doubts in his competition's head and make sure that they knew James Effing Stewart was back!
So he got the win, he made the statement and most importantly, he got the 2011 SX series points lead!
I know that James reads the internet coverage of himself and I had to chuckle at his post-race interview with our own Jason Weigandt where he says that "a few people said I would never win again." What? Excuse me? Who would ever say that besides some wack-jobs on the internet and I hope that Stewie wouldn't use them as motivation. Whatever it was, maybe it was my column last week maybe it was indeed the wack-jobs on the internet, he really showed everyone what was up this week.
Chad Reed hadn't been what was expected of him early on this year but I think that a guy with as many wins as Reedy (as well the amount of podiums) should get the benefit of the doubt but that doubt was beginning to creep into my head. Here's the thing that kept beating the doubt in my brain into submission--he hadn't gotten a start yet. We didn't know what he could do if he got the start, but we found out this weekend when he lost out on the holeshot by mere inches to RV.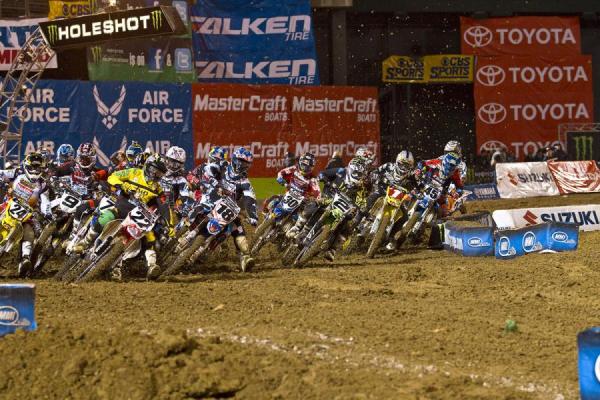 Reed grabbed the lead early in Oakland, which lead to his best finish of the year (2nd).
Photo: Garth Milan
Early in the race he went backwards a little bit as he was having a real problem getting into the ruts (more specifically his inside line on the corner tabletop and his line in the second turn). This wasn't the Reed that I have seen turn approximately eight million laps over the years. It was a little bizarre and I thought well, maybe he doesn't have it. Because after all, this was his best chance of the year, right?
But then he settled down and started figuring things out. Whatever the problem was, he corrected it and started laying down some laps. In fact his fastest lap was his last one of the night when he caught a surprised Ryan Dungey and squeaked by RD to grab second. It was exactly the type of ride he needed (sound like someone else?) to get his mojo back and we'll see if he can build on this. There are some of my friends on the Two-Two team so I'd like to congratulate those guys on their first podium of the year.
The 250 West region title is coming down to the two Pro Circuit riders, Josh Hansen and Broc Tickle. With Cole Seely winning last weekend, it looked like it could be a three man race but Seely broke his rear brake pedal off early in the race and DNF'd. So with that happening, Hanny passed Ken Roczen and Eli Tomac (as he was on the ground) and took off into the lead. Josh was pretty much the only 250f rider to consistently triple/triple the lane after the start and he used it to his advantage to pull out a bit of a lead.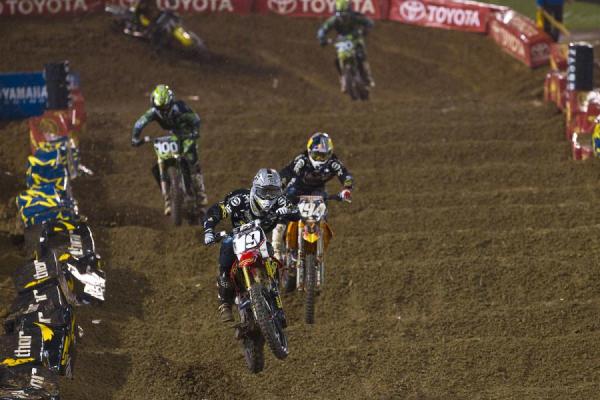 Hanny was able to get around the young guns (Tomac & Roczen) but Tickle proved to be too much in Oakland.
Photo: Garth Milan
But then the rains came down harder and Hanny almost ate poop a couple of times doing it. Him not jumping that section was the opening that Tickle needed to slowly chop the seconds off and make the pass. Remember last year Broc dominated Seattle and although this track wasn't nearly as bad as that, it's obvious he likes the sloppy conditions. Tickle held it to the end with Hanny close by in case something went sideways and now after four out of nine rounds down, there is one point separating the two teammates with Ryan Morais already seventeen points down. See what I mean by a two man race?
There's an interesting dynamic over on the Pro Circuit team where Tickle's mechanic from Star Racing moved over with him to the Pro Circuit team. But that wasn't a big deal because the mechanic, Dave Feeney, had already been there before. Way back in the day (1997 and 1998) Dave worked for Casey Johnson on the Splitfire Pro Circuit team and I asked Mitch Payton and Dave how the reunion was going and what had changed in each other since Dave last worked with Mitch. Almost on cue, each guy said the other was mellower and much calmer.
When I first became a mechanic, Dave was working for Phil Lawrence (1995) and was always a very friendly guy to me. He showed me a few tricks here and there and the Aussie always has a nice word to say to anyone.
It's always story time between me and Mitch and this week he told me, much to my disbelief, that when the phone is ringing off the hook at Pro Circuit he sometimes answers it! When I expressed shock he said "What am I supposed to do? I'm the owner!" and then told me that he usually doesn't say it's Mitch Payton on the phone but he tries to help the customer when he can. He says a lot of the time he's "Dave" and the customers ask him if he's ridden with whatever product they called about. It's at that point that he always says "I haven't ridden in a while…" and when he means a while, he means since 1977 when he was paralyzed in a desert racing crash.
Eli Tomac had a bit of a rough first round but he's figuring this SX thing out and I bet he gets a win at some point this year. It might have happened this week in Oakland but he slid out while in the lead. Tomac is definitely someone to watch in 2012. I like his style and the way he rides, he seems calmer than the rest of the pack of guys around him.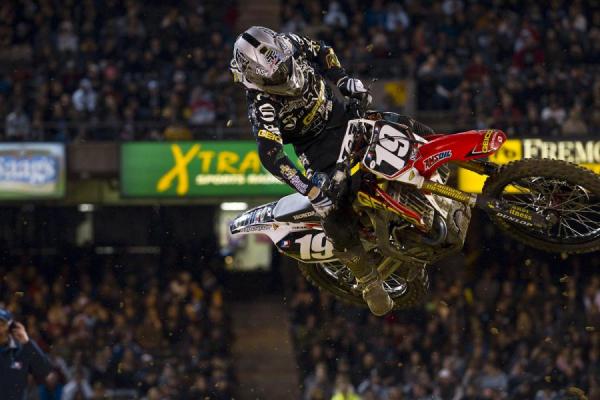 Will Tomac taste victory in 2011?
Photo: Garth Milan
Speaking of calm, Ken "Kid Rocz" Roczen seems to be a little calmer since the opening round but at the same time, he's becoming a better racer. A solid fourth is the result for the German and he certainly looks to be a guy that could make the podium anytime.
Oh lookie here, the results just popped up!
250 Results
1. Broc Tickle- I guess there was nothing wrong with Broc in Seattle, he wasn't in shock from winning like many of us thought he was. He appears to just have ice water in his veins.
2. Josh Hansen- Hanny is definitely the most talented guy in the class. Watching him jump that rhythm section and going through the whoops made me more of a believer of the above statement.
3. Eli Tomac
4. Ken Roczen
5. Tyla Rattray- Ratters rebounded with a solid fifth after a couple of down races.
6. Ryan Morais- I think Mo just hibernates in his truck. I haven't seen him in two weeks other than out on the track.
7. Kyle Cunningham- As I tweeted earlier this week, Cunningham might have had the ride of the night in the 250 class as he went from a dead last, first turn crash to seventh. Great ride for sure.
8. Jimmy Decotis- I was wrong about Decotis last week, he only broke the top ten twice on the East coast so his results have indeed improved on the GEICO Honda.  Tenth in the points without racing the first round is pretty good. With Wil Hahn out until Hangtown, this is Jimmy D's Rudy-like shot.
9. Bruce Rutherford- Top placing real privateer in the main!
10. Ryan Marmont-The Marmit has made all four main events this year and seems to not have the Jay Marmont luck in any way, shape or form.
11. Gared Steinke- Good ride for a dude I had never heard of before.
12. Ben Evans- Solid ride for Evans.
13. Nick Paluzzi- Paluzzi doesn't want to be called Snookie anymore by me or Ping. I understand.
14. Jake Canada- Doing it for the beaver.
15. Antonio Balbi
16. Martin Davalos- I don't know what happened to Davalos but he was way back after a crash. He had to have crashed right? There's no way he gets 16th without a fall.
17. Scott Champion
18. Casey Hinson
19. Travis Baker- T Bakes crashed and knocked himself a bit silly. Tough start of the season for this likable kid.
20. Cole Seely- From hero to zero in a week-- oh what a cruel sport. You know what I mean by zero right? It's nothing to do with his character just a metaphor. Or whatever.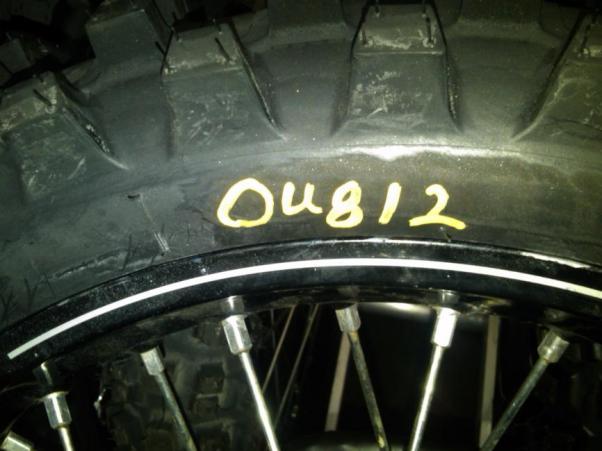 Just one week after debuting their special "5150" tire, Pirelli really brought out the special super high-stick "OU812" tire that Brayton used to dominate the heat race. It was definitely Cabo Wabo time at that point.
450 Class Results
1. James Stewart
2. Chad Reed- Another note on Reed was his ignition appeared to have gone bad with water or something at the end of the race as he came in and revved his bike after getting second. It didn't sound very good according to people who were down there.
3. Ryan Dungey- Dungey was really good but he's a tick off of Stewie (and RV when he doesn't crash twice) right now.
4. Ryan Villopoto- RV was off the box but can take solace in the fact that he still had the fastest lap of the main event.
5. Brett Metcalfe- Metty rode great and like I said in Racerhead, I knew this was coming. I'm a regular Nostra-fatus. Listen to Metty talk about his race HERE.
6. Trey Canard- Canard got a horrible start (again) and just about bought the farm big-time before the sand section one lap.
7. Kevin Windham- KW had a quiet night in getting a seventh. Lots of people were predicting great things for Windham if the rain held up.
8. Davi Millsaps- There was some life in the 18 this week as he practiced well and rode pretty good in his heat. In an interview I did with team manager Jeremy Albrecht, he said that they had asked Davi to "try harder." I did not make that up.
9. Andrew Short- Shorty rode well coming from a so-so start and looked to be hanging it out more than usual.
10. Ivan Tedesco- Tedesco wasn't even going to race the night show so a tenth is more than decent, all things considered. For more on him, listen to THIS podcast.
11. Chris Blose- Blose is one of 15 riders that have made every main event this year but he's done it the hard way by making it through the LCQ in three out of four races this year.
12. Matt Boni- Boni had his best race of the season in getting a twelfth. He's a good rider who should be in the ten to fifteen range every main.
13. Vince Friese- Freise makes his first main of the year and rode solid and steady to get 13th.
14. Weston Peick- I've said it a few times now but Peick is one of the most improved riders this supercross season. He used to have about as much finesse on a SX track as Dog the Bounty Hunter but he's come a long way in making two mains this year.
15. Kyle Chisholm- The Chiz crashed hard in the whoops late in the race and was still feeling it afterwards. He worked on starts all week long but it didn't help this weekend.
16. Dan Reardon- Hey, Dandy Dan is back and held off his teammate Tye "the monster" Simmonds in the LCQ to make the main.
17. Kyle Regal- Regal crashed pretty hard in the main (I believe a couple of times) and isn't off to a good start this year.
18. Justin Brayton- Brayton dominated a stacked heat and looked to be primed for a good night but some crashes in the main hurt him. Still, he's right there with the best as you don't win two heat races by accident.
19. Austin Stroupe- Stroupe's still getting it all figured out but he's got the one thing that you can't teach and that's speed.
20. Nick Wey- NYK tweaked his back at some point in the night and pulled out of the main early. About an hour after the race he was upstairs in his truck still in his gear, lying on the floor. Not a good deal.
I spoke to the always-classy Ezra Lusk about his work with Davi Millsaps and he's behind the 18 in a big way. And before you say "Well of course he is Matthes, he's getting paid" trust me, I know Yogi and he would be perfectly fine to go back into the woods in Georgia and play tennis. He's not going to waste his time with anyone. Ezra said that he's working with Davi more and more and Millsaps is starting to take more of what Lusk says to heart.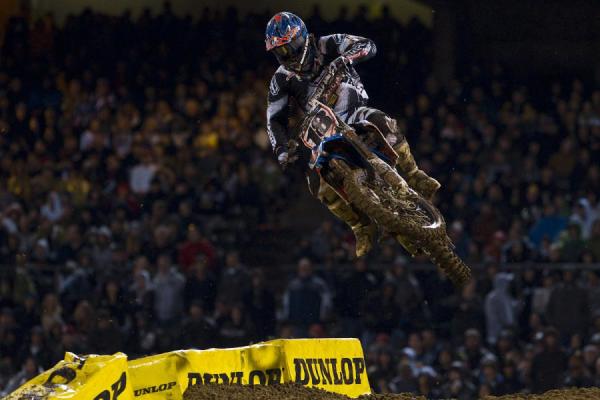 Is Millsaps finally getting back to 100%?
Photo: Garth Milan
I think that what Ezra needs to get into Davi's head is that all of the money, fame-whatever else you want to say, will one day be gone and nobody will care about you anymore. I believe that Millsaps has lost the drive and passion for racing motocross because he's been doing it his whole life and with the injuries, he's seen the other side as well. He's made a ton of money in his career and doesn't know anything beyond being in the spotlight and having people love you. As Lusk knows, it's a steep drop from the top of the mountain and it happens fast. There is no doubt Millsaps has talent but he needs to find the love of why he started doing it in the first place to really start getting results.
Mike Alessi didn't make the main event this week. Even though Mike is racing SX after a year off, he was never that great at the indoor stuff and is on, in my opinion, a bike that is down on horsepower compared to the rest of the class, him not making mains is a bit of a surprise. Maybe it's because I have a high opinion on Alessi and his dirt biking skills but he should be in the main events every week. In Oakland, he was not good in the whoops. He was actually really bad in them and that was his undoing. He wasn't, for whatever reason, committed to them and paid the price. When I spoke to his mechanic Kelly afterwards, he said that in his opinion the whoops were in Mike's head all day.
I would be remiss not to mention something that I wanted to put in last week's column but forgot and then wanted to put in Racerhead but forgot to do that also. I just wanted to congratulate Kawasaki's Rick Asch for his thirty year anniversary at Kawasaki a week ago or so.
Anyone who knows Rick knows that he's always a friendly guy no matter what and just think about the guys he's either wrenched for or done their motors. Jeff Ward, Ron Lechien, Ricky Carmichael, James Stewart, Mark Barnett are just a few of the names that Asch has worked for or with. Guys like Rick, Bob Oliver at Yamaha, and Honda's Cliff White (who retired from Honda a few years ago) and Dan Betley are icons of the sport behind the scenes and have been there and done that. You know what's a common thread with each of these guys? They don't get wrapped up in the week to week drama of a series. They know that it's a long series and what happens on the track doesn't necessary define you as a human being. I wish these guys would be around forever to tell me stories from the old days. Maybe we can cryogenically freeze them and then bring them back out for each new generation?
Last week I wrote about how I thought that the Suzuki of
Ryan Dungey
and the L&M Yamaha of
James Stewart
were using Recluse auto-clutches because of a few different reasons that I laid out. I don't just put that out there on a whim, I thought about these guys and their crashes, looked at video, made some calls to some people in the industry and put out that theory because no one seems to ever stall their bike anymore, they must be using the Recluse. As well, I know a number of top Canadian guys who run them and report no issues and they love them.
Anyways, I got a call from Dungey's mechanic Mike Gosselaar who hadn't read the article but did get some calls from some people that weren't happy about what I had said. Goose and I had a chat about the auto clutches (he has used one before on his personal bike), what they do on the factory bike to help it keep running and informed me they are not running the auto-clutch. He invited me to come on over at Oakland when he was changing a clutch to see for myself. I didn't make it over there but Goose is a stand-up guy and I appreciate the call to inform me of what was up. Suzuki runs a complete Hinson clutch set-up and I regret the error.
The winner of best gear on the night goes to…Chad Reed once again! I know I said that one of the rules is you can't win it two weeks in a row but this is my column and I make (and break) the rules. It's just that he switched it up to Aussie colors for Australia Day (who knew?) and it was really sweet looking. Here's how I know it was sweet--there were a bunch of other gear guys saying that the stuff looked good.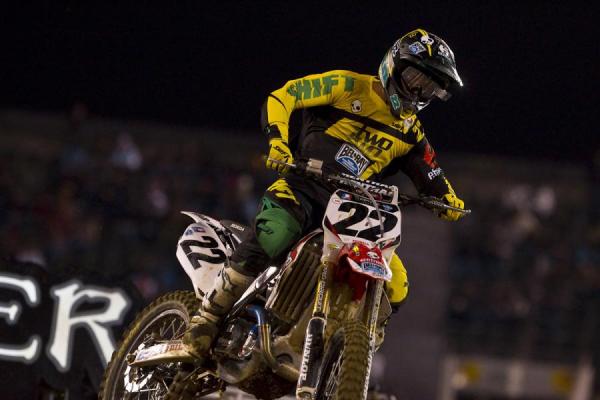 Reed and his Aussi day themed Shift gear took home top honors for the second week in a row.
Photo: Garth Milan
Thanks for reading, email me at steve@pulpmx.com if you want to give me your opinion on Oakland and all that you saw. By the way, I'm not taking any complaints about the CBS telecast at this time, that complaint box is completely full.