Oakland, CA
Oakland
Monster Energy AMA Supercross Championship
Welcome to Racerhead. It's January 28, 2011. That makes it exactly twenty-five years ago that a very big event happened in America, one that most people who were alive that day can think back to and remember exactly where they were when it happened. When the Space Shuttle
Challenger
exploded just 73 seconds into its flight, practically the entire nation was watching. Because schoolteacher Christa McAuliffe was on board, NASA beamed the launch into pretty much every elementary and grade school in America, traumatizing a generation of children when it all went so spectacularly and sadly wrong. There were seven astronauts on board, all of whom perished. It was a moment of collective shock that we as Americans would not share again until September 11, 2001, when an even bigger tragedy played out on live television.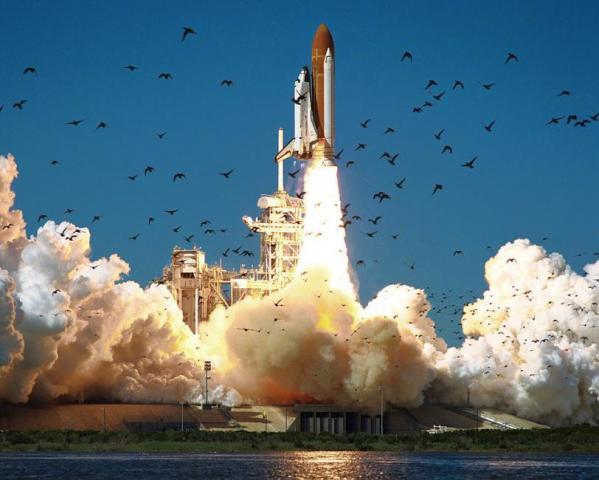 The doomed Space Shuttle Challenger, just before it's January 28, 1986 date with infamy.
I bring it up here because I am one of those people who will never forget where they were, and it involves motocross racing. My big brother Tim and I happened to be in Vienna, Austria, where we were set to race one of those crazy Hardcross races in a velodrome arena. The race was on wood, with ramps and jumps made of 2x4s and railroad ties for whoops. Heinz Kinigadner was in the race, along with a very fast German kid named Harold Ott, a Finnish rider named Arto Pantilla, and another American named Louie Franco. It was one of the greatest adventures of my brief, light-on-highlights racing career, as my brother somehow lost our rental car in the crowded streets of Vienna after parking it in order to, well, go drinking, and completely forgot where the hell this little white Opel (in a sea of little white Opels, as it was apparently the God-given right of every Austrian to have the exact same car) was parked. We spent three days trying the keys in every car we saw.
Anyway, after the Vienna Hardcross race we spent a couple of additional days looking for that car—our next race was two weeks away in Zurich, Switzerland, and we had nothing better to do, and nothing to drive anyway. A group of kids our age we'd met in Vienna invited us out to dinner and to drink coffee and talk politics and all. This was toward the end of the Cold War, and Vienna wasn't very far from the Iron Curtain, and beyond it lay Czechoslovakia and the Eastern Bloc. Being in the middle of an area that would likely be obliterated in the event of a war between the U.S. and the Soviet Union (now Russia), these kids had lots to say about U.S. interference, the U.S. placing nuclear missiles in their country facing the USSR, and also then-President Ronald Reagan's "Star Wars" missile-defense system. We argued that America was trying to protect them but they saw it differently.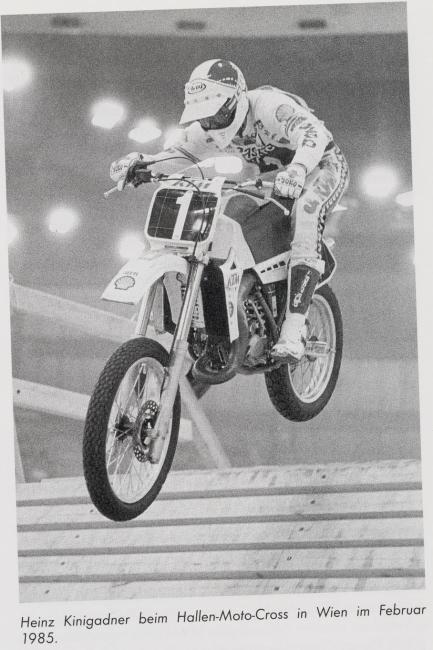 That's Heinz Kinigadner, at the Vienna Harcross – check out the ramp surface!
This was twenty-five years ago, which means pre-internet, pre-cellphone, pre-Facebook, pre-everyone speaks English, pre-everything that makes the world a smaller place to communicate in. So my brother and I had no idea the next evening when we walked into the same pub to meet the Austrian debate team that the Challenger had exploded. They were immediately on us, saying the spaceship blew up because there were nuclear weapons on board and everyone died.... We thought they meant everyone in Florida, where the shuttle took off! Information was sketchy, translation/exaggeration worse, and for the next twelve hours my brother and I were convinced that hundreds of thousands of people had died as a result.
Finally, the next day, we were able to call home from a post office (that's often how you had to do it back then) and my dad explained what really happened: 73 seconds after takeoff, something went wrong, "obviously a major malfunction," as ground control would say, and all seven astronauts perished. It played out on live TV, in schoolrooms all over the nation. My dad was a schoolteacher, and so was my mom, so they were pretty upset by the whole deal. It didn't seem like a very good time to explain why we were still in Vienna—looking for that damned car, which, in those pre-car-alarm days meant using the key on the door of every white Opel—so we didn't talk about it. But when we left the post office, we got on the wrong commuter train, got off at the wrong stop, walked up out of the underground, and there sat a little white Opel with several tickets on the windshield. We tried the key, it opened the door, and our lives finally went on.
Anyway, that's what I remember about where I was on this day twenty-five years ago, when the world was much less complicated, while still being a much bigger place, and the space shuttle exploded.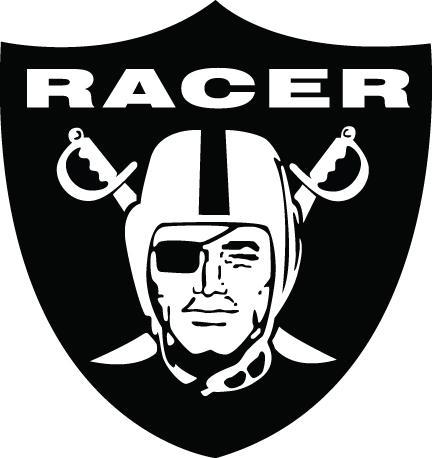 Let's move back into 2011 and the races at hand, Monster Energy AMA Supercross, starting with Jason Weigandt:
Let's start with a TV reminder: Tune in to the AMA Supercross class from Oakland on Sunday at 12:00 p.m. ET, then switch over to SPEED at 6:00 p.m. ET for the SX Lites class. Be sure to check your local listings. Here are 10 Things to Watch for at Oakland.
Trey Canard's heat-race crash was way gnarly. Way. Somehow he survived. I asked him about it after the race. "Next thing I knew I was on the ground with the breath knocked out of me," said Trey. "I was so lucky to be okay … if you don't believe in God after seeing that … I don't know how I was okay. I hit my stomach on the jump and then the bike hit me in the back. I had the wind knocked out of me, but otherwise I'm like 90 percent okay, which is really unbelievable."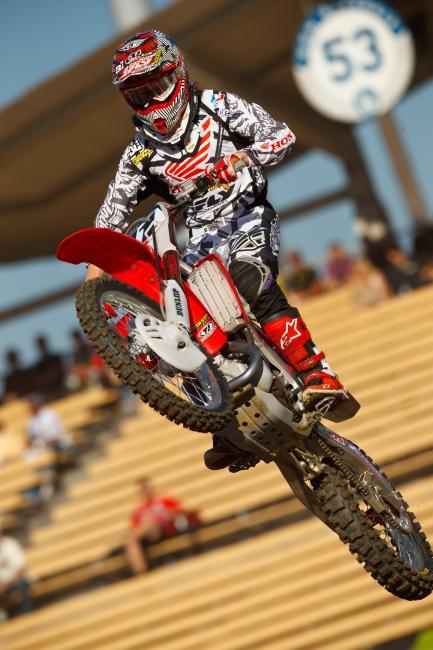 After a close call in his heat race, Trey Canard got back up and finished fourth in the main.
Photo: Simon Cudby
Trey finished third in Phoenix and fourth in L.A., but he was much happier with his L.A. ride. "I was riding hard, I was trying, and I thought at one point I might be in contention for a win. But I got a little antsy there and made a big mistake. But late in the race I kind of settled down and started riding better. I was way happier with my riding here than in Phoenix. The biggest thing for me is to not get intimidated. They're just my competitors, that's all. It's really cool to race with James Stewart. To watch guys like him and Chad and Kevin when I was growing up, it's pretty amazing to be out there with them. I have raced Dungey and Villopoto a lot, but to race with a guy like Stewart, it's awesome. But I have to just treat all of these guys like they're nothing special. Not to put them down, but I that's how I have to approach it."
Trey didn't have his riding coach (not manfriend) Tim Ferry with him. He joked, "The universe got me for not having Tim Ferry come to this race. Hopefully the universe won't get me again in Oakland, because Timmy won't be back until A2."
For a whole bunch of other stuff I saw go down in LA, read my Redux column.
Hold for a quick commercial break:
Haven't tried out Mad Skills Motocross for iPhone, iPod Touch and iPad yet? It's one of the hottest apps on the App Store now, and for a limited time, it's on sale for only 99 cents. That's right, less than a buck for a game that will literally provide you hours and hours of fun. Just ask Jeff Emig, Ken Roczen, Chad Reed, Trey Canard, Matt Lemoine, Wil Hahn, or just about any other pro racer in the pits. Tough to beat this deal, and it probably won't last long, so if $2 was just too steep for you, here's your chance to get it for next to nothing. It's also a good time to send Mad Skills Motocross as a gift to a friend -- then proceed to kick his butt at a challenge. Get it here.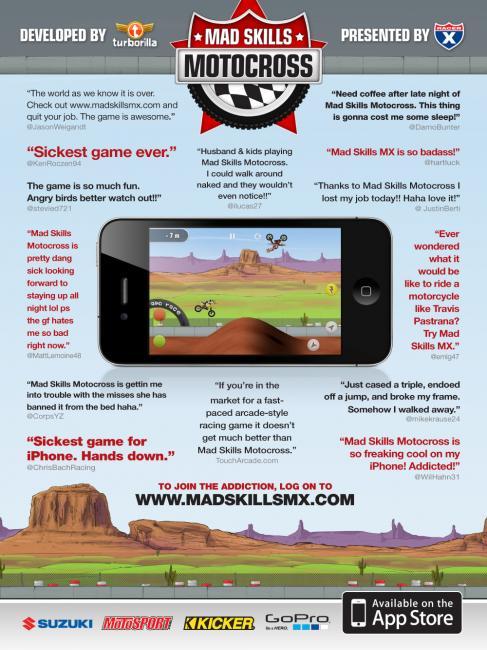 And we're back!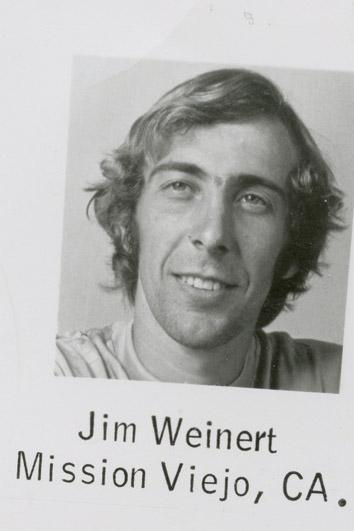 Jimmy Weinert was the star of one of the strangest races in our sport's history, the '79 Oakland SX.
No one is really sure what to expect this weekend as far as dirt goes, but suspicion is it will be pretty soft and may get rutted. That would make things totally different than Los Angeles. It won't be a full-on sand track like the one Jimmy Weinert used a paddle tire on in 1979, as chronicled in our This Week in Kawasaki Racing History. The coolest thing is, Weinert's mechanic from that day wrote in with some additional details on the story in our comments section:
Just saw all the comments & thought I'd post a few "corrective" comments: First the "Holiday Inn Towel" neck brace was for real. Jammer took a head first digger on press day and couldn't even hold his head up at dinner that night....major whiplash, it was for real. Second, this race was not the last race Weinert won as stated in the beginning story. The "Jammer" also won the 5th race of the season @ Daytona, passing Hannah for the lead over a huge (for those days) jump only 2 corners from the finish. The bike Jammer is on in the photos was hand built from a variety of different year parts, weighing-in @ 196 pounds. Finally, when I called our press guys @ the track on Wednesday before the race to see what the dirt was like they said 'you won't believe it, it's like deep dry beach sand.' I said perfect see you tomorrow. I stopped by Dico & picked-up a couple of different paddle tires. Weinert didn't even know. When I showed up on Thursday I showed Jammer and he freaked out. He'd never even seen a paddle tire and thought it would catch on the lips of the jumps & loop him out. I made him ride it in 1st practice (and) he was going by everyone but was still skeptical. He had me put a knobby on for 2nd practice and was going nowhere. When we rode to the pits after 2nd practice his comment was, 'Put that fricken' paddle back on!'....The rest was one of the historical moments in MX."
Good stuff, and thanks for setting it all straight, Roy.
If you want to see and hear more about that crazy race, Todd Huffman sent us over a short clip from Weinert's Motocross Files episode where he and Turner and Bob Hannah talk about the paddle-tire race. Check it out HERE.
This week I participated in a really cool event at Willow Springs Raceway. Toyota and Sony got together to promote a car—the race-prepped Toyota Yaris Club Sport—and a game,
Gran Turismo 5
for PS3, by having us take some laps in both. It was an unreal feeling to take a race-prepped car onto an actual race track and push the envelope. It got even better when Toyota/JGR's "celebrities" showed up to do battle with us: NASCAR star Joey Logano and those supercross guys,
Justin Brayton
and
Davi Millsaps
. I was worried for 'Saps and Brayton, since most of the media on hand just thought of them as pro drivers, and in reality they had never raced a car on a track before.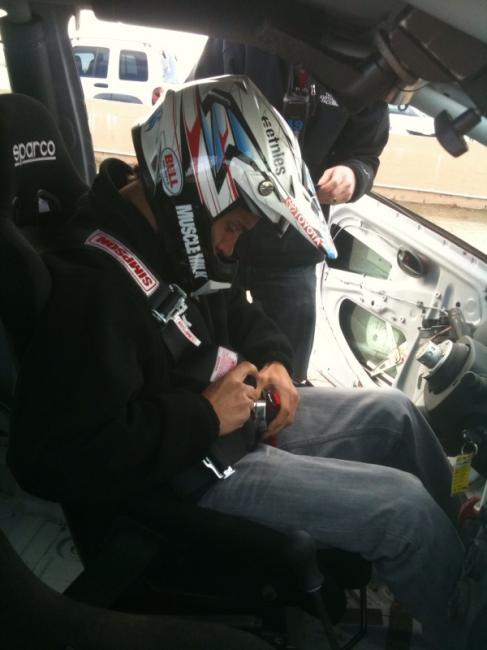 Brayton getting straped in before the big showdown with Millsaps.
Photo: Jason Weigandt
But they held up. Brayton edged Millsaps by just .1 seconds, and only one journalist was able to beat them—and that guy worked for a front-wheel-drive performance car magazine and had plenty of track time under his belt. Unfortunately, they didn't hold a third portion of the event, with the dirt bikes, but clearly their moto experience gave them some sort of advantage in a car, too. Probably just the guts to brake later, if anything.
The cars were definitely fun, though. I doubt many folks think of a Toyota Yaris as a sports car, but I don't think any of us were left asking for more on the Streets of Willow circuit. Think of it like riding a YZ125—there are faster bikes, yes, but, is a first-timer really going to wish he had a 450?
Okay, now it's Steve Matthes' turn...
Everyone keeps going on about the Jammer's '79 win at Oakland with a paddle tire, but what about Ron Lechien's win there in '84 (which is the last time a supercross was held in Oak-town)? It was the second year for Ronnie as a professional and first at the mighty Honda factory team. It was also his second or third career supercross win (depends if you count his San Diego one at the end of '83 as that one was not AMA but on the other hand, all the top guys were there) and later that summer, the Dogger would battle Rick Johnson to the bitter end (and get second) for the '84 250 national title.
I spoke the Lechien about what he remembers about that night in '84 and he said "not much!" but added that he holeshot and led the entire way and that it was his only SX win in '84. He thinks it was late in the year and that it was indeed at the same venue we're going to this weekend.

Strangely, I looked through every Motocross Action, Dirt Bike and Motocross Magazine from 1984 looking for more info on this race and there was nothing. It's like the race never existed! Weird deal.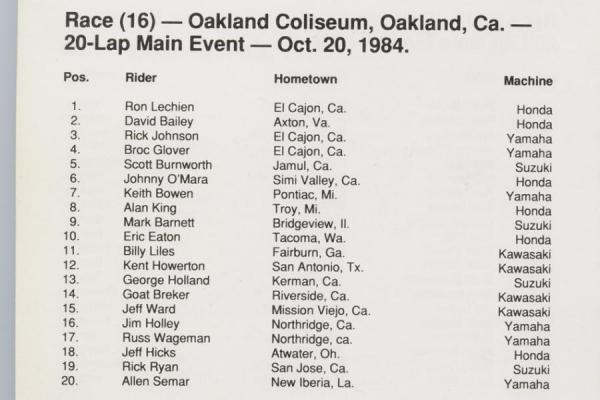 Matthes couldn't find anything, but DC was able to.
So let's give it up to Ronnie Lechien, your defending Oakland Supercross champion!
Anyways, Weege can go on and on all about the third race being the "one" to talk about in a series but to me, and I wrote this in Observations this weekend we need to see just what we're dealing with in regards to James Stewart. He needs a check-out win this weekend to reclaim some confidence in himself and at the same time put a dent in his competition's thoughts. This series is starting to turn into something really special, which is what we were all hoping it would before the year.
Looking back at the Observations column, I might have been a bit harsh on ol' Stewie, because let's face it, it's not like anyone has him covered or anything like that, and he's clearly been the best rider or the second best through three rounds. It's just the ridiculous high standard he's set for himself over the years. He hasn't just won races, he's won a majority of them going away. All of our minds were blown when Reedy not only kept him in sight but swapped aluminum with him on the Suzuki and that's not a slight on Chad, it's just that James has shown us that he's that good.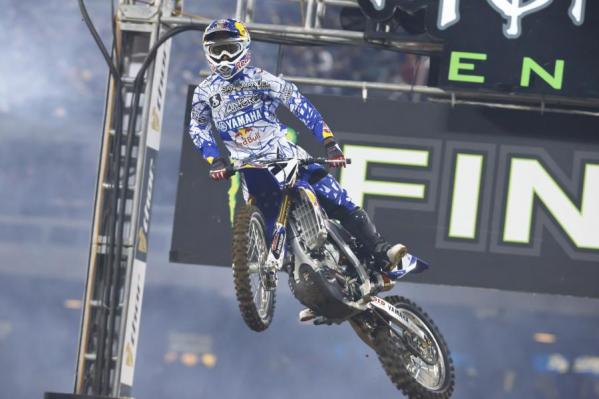 James Stewart knows that he let one get away last Saturday night in LA.
Photo: Simon Cudby
So what are we going to see this weekend? Well I think we know that
Ryan Villopoto
and James will be there the whole year, barring injury, and we just saw
Ryan Dungey
's best race of the year, so he's got to be feeling pretty good about himself. What about
Trey Canard
? Well yeah, if he can challenge the leaders like he did this weekend after a horrendous crash and having to go to the LCQ, then maybe an error-free, transfer-through-the-heat type of race will give him the edge he needs to get up there.
All of the above is obvious, but I think we're going to see more of Brett Metcalfe up front now as well. He holeshot the main last week and now has an idea of how fast those guys are going. He's got to have gotten some confidence from that short run up front. Metty's a gamer also. I don't think people realize that he's working hard and doing the right things to be up front. We saw last summer how much confidence affects him either positively or negatively.
Ping, Weege, and I did a podcast talking about the LA SX and everything that went on. You should listen-it will fill you up with some knowledge.
We had Kevin Windham on the Pulpmx Show on Monday along with Josh Hill and Phil Lawrence in-studio the entire show, and it was a '90s moto extravaganza! We touched a bit on what's going on with KW now but really, him and Factory Phil reminisced about the old days while Hill kept saying he wished he raced in the '90s over and over.
I've gotten a ton of tweets and emails about the show. It touched off something in a lot of people to call it the best show we've done and all that. That's not for me to judge but if you want to hear the show go here, and tune in on Monday nights at 6 p.m. Pacific to hear more. Myself and Hart & Huntington team manager Kenny Watson break down the races, have some guests on, have some laughs and generally have a good time. Check it out!
Got a note from two-time 125 national champion Steve Lamson that his gig at Motoconcepts has come to an end and he's out there looking for some work.
Lammy's one of the nicest guys around and has experience managing race teams as well as working on the product side with his latest venture. Anyone looking to hook Steve up, send an email into Racer X and we'll put it together
Want to relive 1986 through the eyes of the Wrecking Crew?
Eric Johnson had this observation on Saturday night at Dodger Stadium:
"I had a pretty crazy observation last night. I stood down by the tunnel to watch the mains at eye level. When the 450 guys started to congregate for the main event in the darkness, Stewart, Villopoto and Dungey came walking up with at least 9 or 10 people surrounding them. It was wild. Nobody was saying a word. I had not really realized how deathly serious it has become. Snuck up on me. I'd never seen anything like that in the sport before. It was sort of like a heavyweight fight with all these corner men. I guess when that much money is now invested in these guys and these programs…"
And Browndog Wilson had this observation:
"I thought this was interesting. While everybody else was doing podium stuff, Larry spent at least 10 minutes in the corner where JS tipped over, analyzing the dirt and trying to figure out what it was that made him fall."
Now let's turn it over to Nick McCabe with some industry news:
Our friends over at the Motorcycle Industry Council (MIC) have released the overall motorcycle sales results for calendar year 2010, and the overall numbers show a 17 percent decline in sales. No one was surprised that the industry had another down year, which is the fourth year in a row that overall motorcycle and ATV unit sales have declined.
Taking a closer look at these numbers, we saw that the Off Highway segment was off by 23 percent over 2009. Total Off Highway units reported sold in 2010 were 80,962. To put this in a little more perspective, at the peak of the market (which was 2006), total sales for the same Off Highway segment was 252,140 units. So basically, the market for dirt bikes has dropped nearly 70 percent over a four year period. Ouch! Anyone who runs a business, and regardless of industry - will tell you that a 70 percent decline can be very, very challenging.
Now, on the flip side, all is not doom and gloom for our industry. While perhaps fans are not buying bikes in the same volume like they used to, they are still coming to the races and still riding. Spectator attendance at last year's Lucas Oil AMA Pro Motocross Championship and this year's Monster Energy Supercross is (way) up. Also, 2011 attendance at the Advanstar International Motorcycle Shows (IMS) is also reported to be up nicely as well.
So, what does all this mean? While we have seen a drop in overall unit sales, people are still coming out to enjoy the sport and watch the races. The entire Action Sports category continues to grow and flourish as well, and companies like Parts Unlimited, Tucker Rocky and Western Powersports (WPS)  are doing well selling replacement parts and accessories to those folks who are holding onto there bikes for longer, and instead of buying new ones.
One thing worth noting here: The numbers include all off road bike sales, which are mostly comprised of play bikes and woods/enduro bikes. The "competition" (aka motocross) segment, which we are all familiar with, is a much smaller subset of the Off Highway segment.
We rang up our friends at the MIC, and to hear their take on things. Paul Vitrano, executive vice president, had this to say regarding the decline in dirt sales:
As we're discussing lower sales for off-highway motorcycles, we do want to note the terrible impact that the Consumer Product Safety Improvement Act (the "lead ban") has had on this category. Half of the major manufacturers, and many dealers, are not selling youth-model motorcycles (and ATVs), even as there is a stay of enforcement for the ban (they don't currently penalize dealers for selling youth models). And this has been going on for nearly two years. It's impossible to say how many youth models have not been sold due to the ban, or how many whole families have been discouraged from buying new dirt bikes because of it, but we have no doubt that sales have suffered as a consequence. The law, which will become permanent in May without Congressional action, needs to be changed. And the focus needs to be on Congressional action, instead of extending the ineffective and incomplete CPSC stay of enforcement. We're aiming for a permanent reversal of this legislation, with regard to youth-model motorcycles and ATVs, to ensure the availability of appropriately sized vehicles for everyone. It's a matter of safety, in that we don't want kids on bikes too large for them to handle. It's a matter of helping small businesses across the country, as dealerships are hurting from not being able to sell these perfectly safe machines. And at stake is the next generation of motorcycle riders. How many young people will miss an opportunity to take up motorcycle riding because of this lead ban?
Okay, some random stuff:
Pole Position Raceway and Racer X Illustrated would like to invite you to a special event this Thursday in Corona, California. Join two-time Supercross Champion Chad Reed, KTM's Andrew Short, Suzuki's Brett Metcalfe, FMX superstar Robbie Maddison, AMA & FIM MX Champ Grant Langston, Racer X's own David Pingree, Troy Lee, and other icons of the extreme sports world at the Racer X/Pole Position Raceway Endurance Challenge on Feb. 3. The 150-lap indoor kart race will combine the world's fastest motorcycle racers with Racer X readers and other members of the public. Yes, you can actually be on the same team as the guys you watch on TV and see in the magazines! Space is limited, and the entry fee is only $45 per person.
Past participants of Racer X/Pole Position Raceway events have included Jeremy McGrath, Travis Pastrana, Kevin Windham, Andrew Short, Davi Millsaps, Todd Potter, Kurt Caselli, Ronnie Renner and Ricky James, to name a few. Pole Position Raceway is America's #1 Chain of Indoor Kart tracks, and those behind the brand include McGrath, Reed, Langston, Mike Metzger, Kenny Bartram, Randy Hawkins, Dick Burleson, Barry Hawk, Ricky James, Kurt Busch, Jamie Little and more. Advanced registration is required and can be done by contacting Debbie Cocanour at 714/851-4854. Spectators are free and the race starts at 7:00pm. For additional information check out www.PolePositionRaceway.com. The event is sponsored by Racer X, Monster Energy, Corona Motor Sports, Works Connection, Medieval Times, ZLT, and Smithline Industries.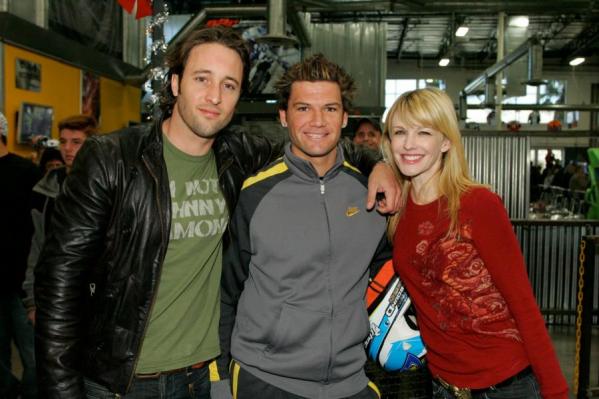 Chad Reed won last year's main event and is shown with Hawaii Five-0's Alex O'Loughlin and Kathryn Morris, star of Cold Case, at Pole Position Raceway.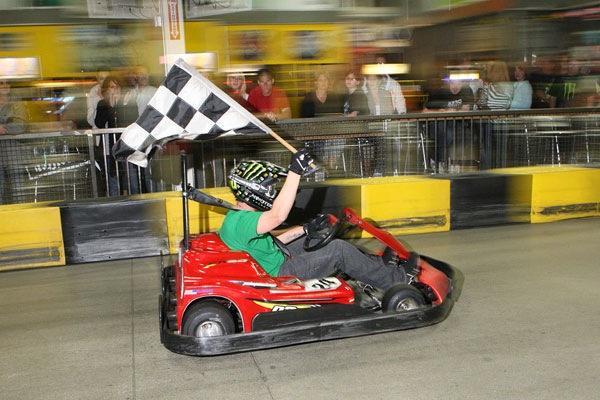 Chad Reed takes a victory lap at Pole Position Raceway after winning in 2010.
An energy-drink sponsorship seems like an almost standard deal for any team nowadays, but one very successful team in this sport is still looking for one: TUF Racing Honda in Arenacross. Jeff Gibson just won his third straight race this year (he's running a perfect season so far) and the team came up with an innovative way to put the word out for potential sponsors. Check the podium photo!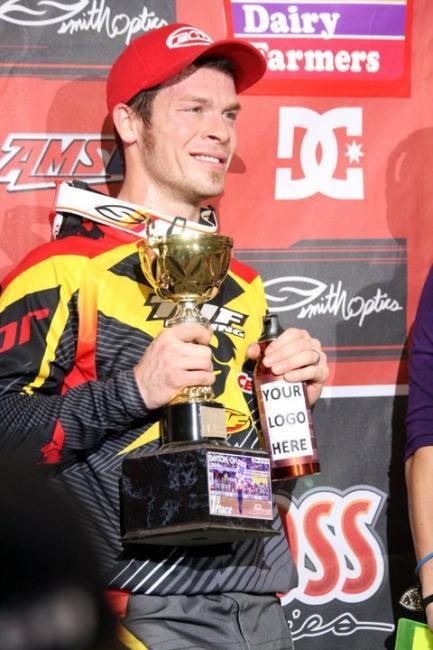 The winner was Chris Stajdel from Sanford, Florida, who won the Josh Hansen autographed poster. The post had 145 likes and 46 comments/guesses.
Attention East Coast privateers: Are you looking for help for the Jacksonville SX? Check out this email we received from Jeremy Wetherbee:
"I am writing to ask if you guys know of any Lites rider that's racing the Jacksonville SX that is looking for help for that one round. If you know of anyone could you please put them in touch with me. Thanks for your time."
If you're interested, shoot us an email to letters@racerxonline.com and we'll put you in touch with Jeremy.
Michael Leib and his family are over in Italy now as he prepares to race the 2011 MX Grand Prix tour as a Husqvarna factory rider. Andi Leib, Michael's mom, is the person behind the On-Track education program that allows riders to continue their schoolwork through her curriculum and earn their diplomas. So it should be no surprise that Michael writes a very tight, interesting blog. Here's his latest, from the team's official announcement this week.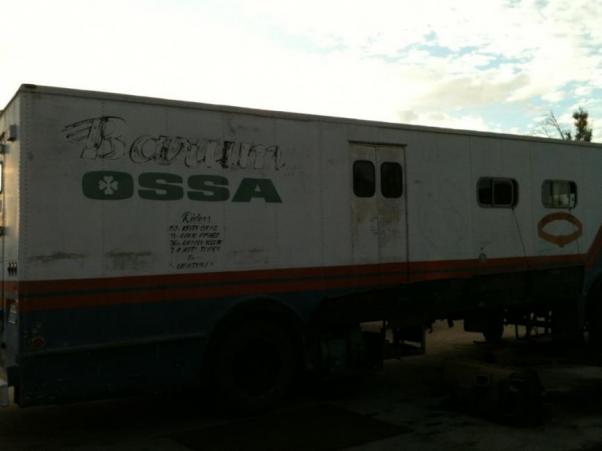 MX Sports' Nick McCabe was down near San Diego on the 10 when he spotted a full-on Ossa trailer in a tow yard. Ossa was a Spanish-made motorcycle that none other than Marty Moates raced professionally at one point in the seventies. He asked the tow company where the trailer came from and they told him it was just out in the weeds on the fringes of the desert. Someone alert Keith "Ossa Man" Lynas!
Troy Lee Designs is auctioning off the special helmet that they made for the SX this past weekend in L.A. on eBay, and 100 percent of the proceeds is going to the Wings For Life Foundation for spinal cord research. Click here to bid.
Pastrana to race Toyota All-Star Showdown this weekend at Irwindale Speedway.
From our own Matt Francis: "I don't know if these pertain to anyone's RH contribution this week, or can be cross-referenced somehow, but I posted Red Bull Jams, Cairoli, and Mickael Musquin videos this week. Direct links below."
/2011/01/25/racer-x-films-red-bull-jams /2011/01/26/racer-x-films-antonio-cairoli /2011/01/28/racer-x-films-mickael-musquin
Daniel Lamb (DanDunes on Vital MX), aspiring moto journalist, got with Cole Seely after he won the Los Angeles SX last weekend. Check it out here.
Daniel also spoke with Jason Thomas.
French-rooted, Vegas-based moto journalist Stephan Legrand stopped by his neighbor Steve Matthes' place to make a video of Matthes in action as he hosted his popular Pulpmx.com radio show. Check it out right here.
Here is a Oakland SX preview from Racer X's own Aaron Hansel for norcalmotocross.com
Here are a couple of photo's MX Sports' Jeff Canfield shot of the track at Oakland.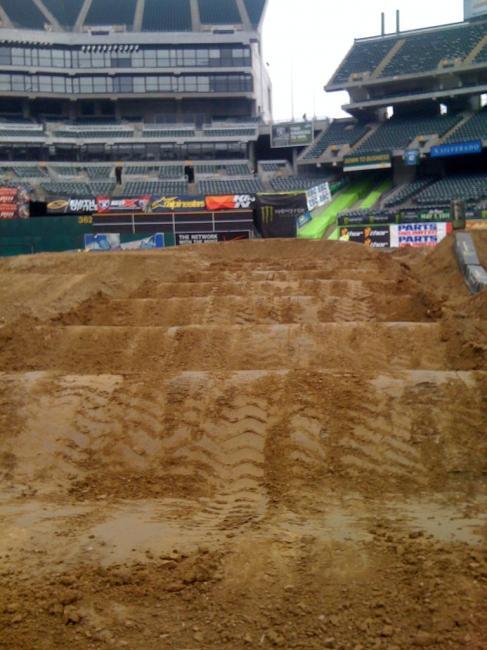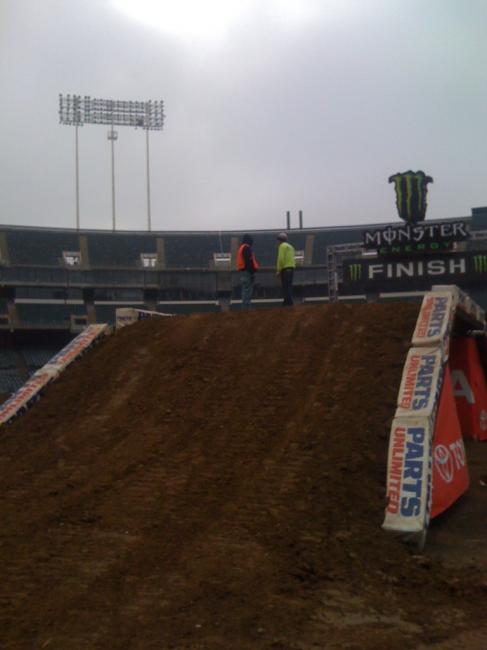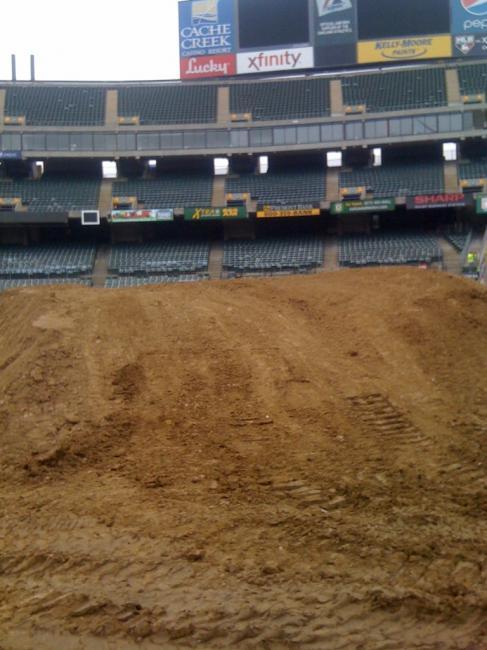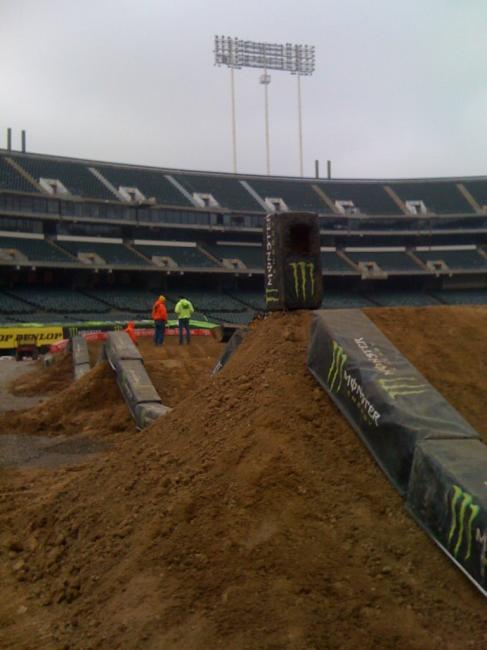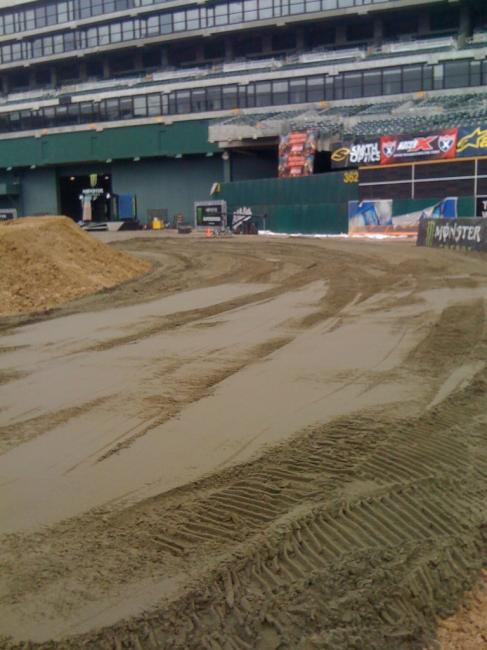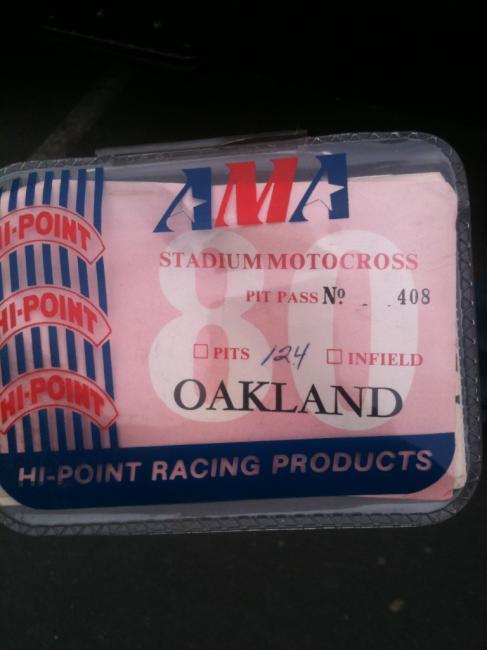 Okay, that's it, but that's a lot. Follow Racer X Online's Thor RaceCenter all day tomorrow and you won't miss a thing from the pits at Oakland!
Thanks for reading Racerhead, see you at the races.