Oakland, CA
Oakland
Monster Energy AMA Supercross Championship
Welcome to the BTOSports.com Observations column! If you need something for your bike or body, check out BTOSports.com and listen to the Podcast show for a discount code to save even more money than you would regularly save just by shopping there. Got it?
Brand new venue on the SX tour and brand new thoughts as well! It's amazing how that works, right? This week we were in Dodger Stadium and it was pretty cool. There is something about going into new buildings on the tour that energizes everyone, and when you end up going to an iconic baseball park at the same time, it's like, extra energy man.
I couldn't believe the lack of events that have been held at Dodger Stadium in the past. This actually was the first time that a motorsports event had been held at the park and actually only a few different events that didn't include a baseball had ever been held at the park in general. The Pope visited, U2 and the Beatles had some concerts and a few more here and there.
Now onto the track, there was some confusion whether or not the dirt was actually from the X-Games or not, but it did come from the Home Depot center somewhere. No matter what or where it came from, it stayed pretty good the entire day. Nice and sticky for the track walk and it stayed decent all day. I liked the track because it seemed to be the toughest one of the series so far--two big whoop sections (they were so deep I think I saw a Humpback Whale surface for air in a heat race) and a cool sand section that was sort of crooked or something. It added a different dimension to the whole deal. Thumbs up for the track!
What a race we did have, yeah we're still looking for an Atlanta 1990 and all you who sent me emails saying "ohmygodmatthesthatwasthebestraceever" should calm down, but we'll for sure take some more of LA 2011's this year. Four guys going at it back and forth, lots of heavy contact and psychological cat and mouse games galore! And that was just me fighting to get another Dodger Dog!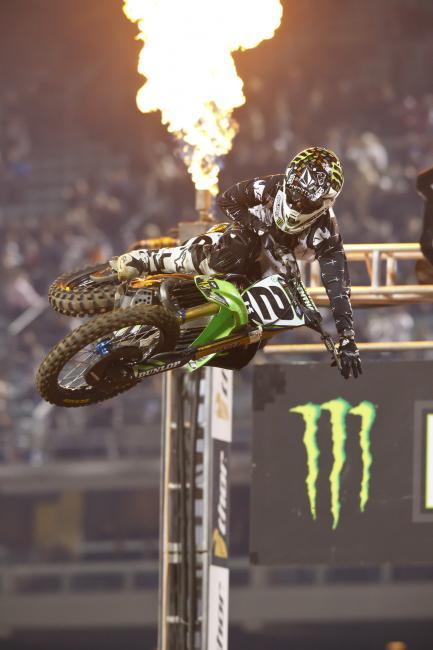 Everyone happy? Good.
Photo: Simon Cudby
Nah, just kidding we all watched it on CBS and Speed, the 450's was a great race with Ryan Villopoto coming out on top with a great ride. Man, RV has really stepped up his game this year and to me, when I look at his riding style he's combined the best things he did with some new wrinkles that he's thrown in. Y'see, he's always been great at doing the little things out there like over-jumping the crap out of stuff, he blows up his turns and generally, he's what I would call a throttle jockey. He uses his right hand and when in trouble, just gasses it.
But now he's added some finesse to his game, yes I think James Stewart still gets lower than anyone else, but RV ain't bad either. He's more technical, more precise and more dangerous than ever. So how did that happen? Well I don't recall hearing anything about RV going to some Tony D or Marty Smith MX schools in the off-season but I'm sure he worked on his technique-all riders do. No, the biggest difference I think was Ryan getting into great shape. When you're in great shape you don't panic, you have more control over your thoughts and movements and your actions that you do and those around you do, slow down.
We've all heard the greats such as Jordan, Gretzky or Montana talk about how they were in the zone or feeling it or however else you want to put it, but that's where Villopoto is at right now. Everything is easy, everything is slowed down and he's able to finesse his bike around but hasn't lost his will to just gas it.
So back to the race and it was a fantastic one at that. Brett Metcalfe led early, then Dungey, then Stewart and finally, RV. Coming from a bad start and around ninth place (he says twelfth as evidenced by this podcast I did with him HERE. Ryan jammed his way past Stewart only to have James give it to him right back. While getting reloaded, RV was helped out with James washing out his front end and the win was his.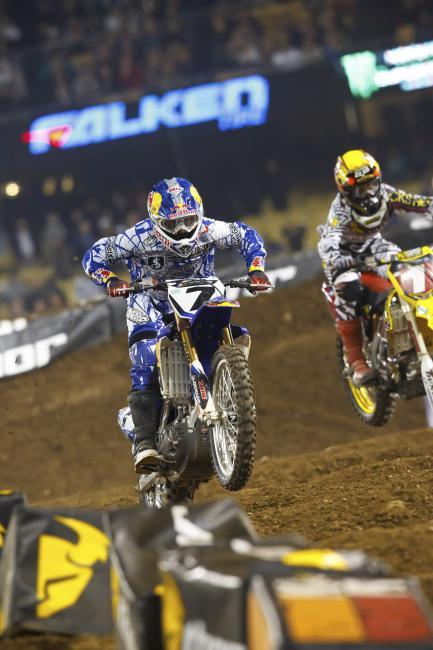 Stewart lead in LA before a critical mistake would allow RV to grab the win.
Photo: Simon Cudby
Stewart fans would point out that he was in the lead and gave it to RV when he made the mistake (and how eerily similar was Stewie's LA crash to his heat race in Phoenix?) but I would say that he came from probably six seconds or so back to the front and was probably going to come back once he dealt with Ryan Dungey. Full marks to RV for this win. Great ride!
As far as James Stewart is concerned, he's still mega-fast and all that but I, and many others, am waiting for his "I'm James Stewart and you're not" type of ride where he destroys the competition. He's clearly 1A or 1B with RV right now, but that's not good enough for all of us jerkys. I'm not sure what's going on, maybe he's lost some speed somewhere or everyone else has stepped it up.
I've got an 11 or 12-year-old Basset Beagle named Buddy who's always, always chased after squeaky toys. He's made it his mission to tear apart the toys and kill the thing that makes the noise. It's what he lives for; it's what drives him every single day of his life. He's like the Lance Armstrong of getting the squeaky things out. A little while ago I came home, grabbed a Snoopy doll, squeaked it a few times and threw it, but the weirdest thing happened.
He just sat there. Buddy wasn't feeling it and that's when I knew he wasn't the same anymore. He's got arthritis, has some hip problems and has a hard time getting up the stairs now. He's still a squeaker killer but now without all the rage and fury that he's had before. He's getting old and I'll always remember the time I came home, threw the Snoopy and he just sat there looking at me. It was as clear of a signal as I've ever seen telling me that he's not the same anymore.
So how do I bring this around to Stewie? Well I'm certainly not saying he's old and decrepit like Buddy, but in his heat race he roared into the first turn and then awkwardly slid to the outside, teeter-tottered there for a moment and then fell over the tuff blocks. It was his "I can't get the Snoopy anymore" moment. It was the type of crash/mistake I see out of guys not named James Stewart. So far this year, I've seen him get beat straight up at Anaheim, get caught in Phoenix and get caught and passed a few times in LA.
It makes me face the fact that all my praises before the season about him killing it this year, all my talk about him being able to do things that no one else can out on the track might have been wrong. Perhaps he's just another rider out on the track right now, perhaps the competition smells blood in the water- I'm not sure. James now needs, more than ever, a dominant soul crushing ride this weekend in Oakland to get everyone back to knowing that he still always wants to get the squeaker.
His crashes in Phoenix and this weekend in LA were, very, very similar and I bet the team is hard at work on the front forks (Stewie has always ran forks that could hold up a grizzly bear) and trying to make them softer but yet still hold up. Or maybe they will look at the front tire, go back to an 80 sidewall or even drop some air pressure. Something to prevent another front end wash.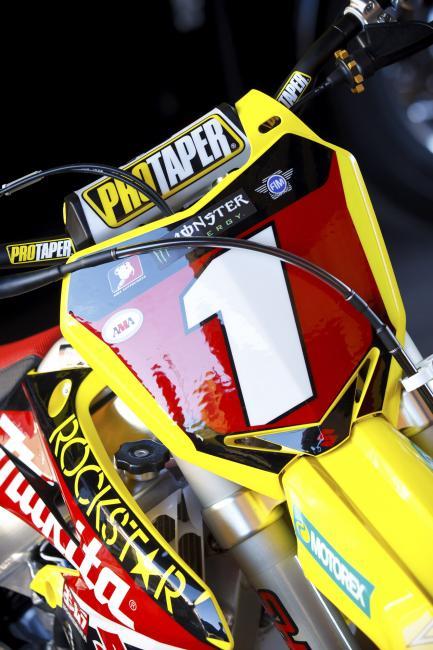 Matthes believes Dungey is using a Rekluse auto-clutch in his RMZ to help keep the bike from stalling.
Photo: Simon Cudby
In the 'I want to know more about these bikes' department, I had a team manager tell me to go back and watch some of Ryan Dungey's crashes last year and how, amazingly, the bike never stalled. This told that gentlemen that he was running a Rekluse auto-clutch in his RMZ and I went back and it appears the person was right. The Dunge's bike is 40 feet down the track from him and is still running when he picks it up.
I also believe that Stewie's running one as well after watching him crash this weekend. The bike never stalls and his hand is off the clutch completely. It's a smart move by these teams to run one, the new models of Recluse Clutches act just like a normal clutch in every way but one--they allow your bike to keep running. If I was in championship contention, I would definitely make my riders get used to one.
Great job by Cole Seely in winning the 250 main event. It was almost a flawless ride by a kid that was hauling ass last week in Phoenix but never got much mention because he was off the podium. He's a very technical rider whose weaknesses have been being able to string 15 laps together without making a mistake. Well he did on this night and big congrats to him and his Troy Lee Designs team.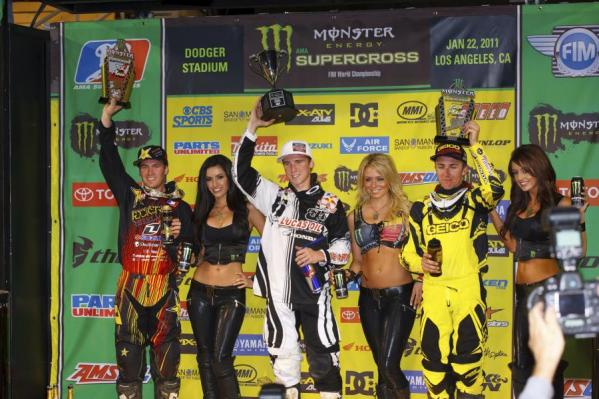 Seely took home his first ever SX win in LA.
Photo: Simon Cudby
Bummer for the TLD team as they lost Christian Craig to a broken leg in the heat race. Man, this kid just cannot catch a break. He's got a great riding style and I keep predicting big things for him but for now, he's got to heal up and get back at it. With the kind of luck he has, next thing you're going to tell me is that he tripped over his boot in his hotel room.
As I wrote HERE Pro Circuit's Josh Hansen had a great ride in coming from pretty much last to fifth to save his hopes for the west title. He had the fastest lap of the night and only lost two points to his rival Broc Tickle in the point's race. It was a good race and he had to get a bit nasty with some guys to get them out of his way but I didn't see that much wrong with it.
The little dog-leg sand section was cool and early on there was a line to the far left if you jumped the double or one on the right if you didn't carry as much speed. Sometime in the LCQ's, the middle of the sand (and actually the straightest shot into the next corner) became the hot line as the edges started getting rough.  The rider that figured it out the fastest could get inside on the dude on the outside and block the other guy in the next right-hander. Hanny figured it out quick as did Dungey. Both quick adjustments made on the fly that helped them out.
Trey Canard went down hard in the heat race. Like really, really hard and we all held our breath while he was getting checked out. Then he rode off to get ready for the LCQ, which was even more amazing. The Okie holeshot that race from the outside and then did a little fist pump in the air over the first double! Amazing really, he's having fun and, shocker, showing it. In the main he challenged for the lead at times and generally rode very well. He's an absolute joy to watch out there and I hope he never loses his "happy to be here" mentality.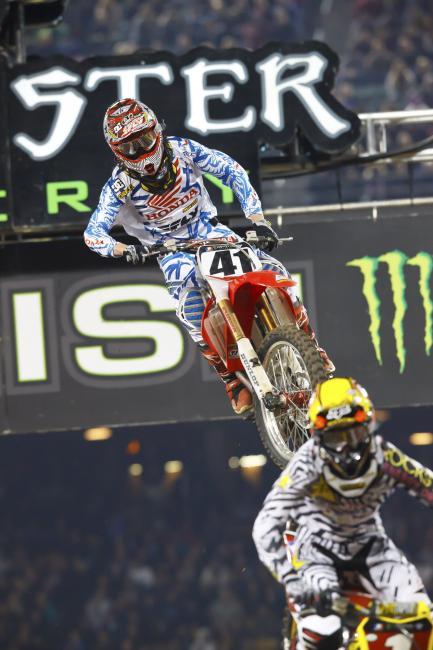 Canard went down hard in his heat race but would regroup and finish the night fourth overall, right behind Dungey.
Photo: Simon Cudby
Having said that, it's a little worrisome that he's had to make the main via the LCQ twice in two races. I'm sure team manager Eric Kehoe is also a little worried about this habit.
Let's take a look at the results shall we?
AMA Supercross Lites Class:
1. Cole Seely Hon
2. Eli Tomac Hon- Tomac is getting better after a not so hot first round. That's the thing with these kids, they just keep figuring it out.
3. Ryan Morais Suz- Good job for Mo on getting his 739th third place trophy.
4. Broc Tickle Kaw- Tickle doesn't look to do anything really well but he's just a solid, fast rider.
5. Josh Hansen Kaw
6. Ken Roczen KTM- Roczen rode well and he literally took my breath away watching him from behind scrub a triple. He's unbelievable at it.
7. Ryan Marmont KTM- The Marmit did great. Look at JDR KTM, both guys in the mains!
8. Jimmy Decotis Hon- Decotis on a privateer Honda from a dealership? 6th-8th. Decotis on a GEICO Honda? 6th-8th.
9. Nick Paluzzi Yam- Snookie has been riding well considering it's his first kick at the SX can.
10. Kyle Cunningham Yam- KC rode well and it could have been a great night for him. He's got the speed, got the talent, got the bike but…stop me if you heard this before. He crashed.
11. Martin Davalos Suz
12. Travis Baker Hon
13. Antonio Balbi Kaw- Balbi has been riding well on the Kawi this year. His placing made him the best real privateer on the night.
14. Tyla Rattray Kaw- Ratters ate poop in the heat and had to go to the LCQ. From there his night got worse.
15. Daniel Blair Kaw
16. Travis Bright Kaw
17. Jake Canada Kaw- Canada came "together" with Hansen and learned a valuable lesson. When you're on the outside, you generally lose.
18. Casey Hinson KTM
19. Scott Champion Kaw- At least he has Erin.
20. Cody Gilmore Kaw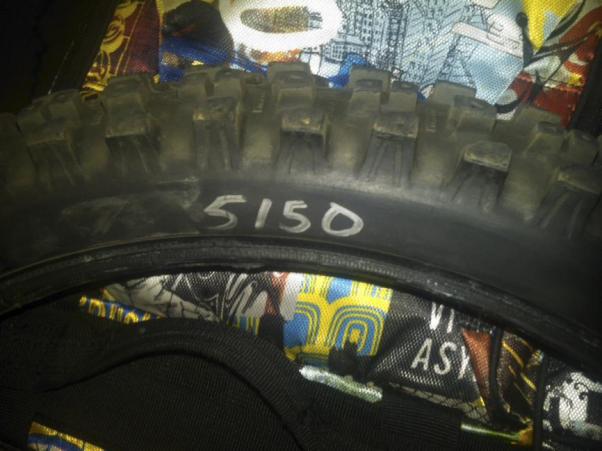 Pirelli is now my favorite tire company in the world because this 5150 code that was written on the side of a tire Justin Brayton was carrying is also the title of the best Van Halen CD ever and therefore the best CD ever. Maybe Pirelli uses this code for 'awesome tire'.
AMA Supercross Class:
1. Ryan Villopoto Kaw
2. James Stewart Yam
3. Ryan Dungey Suz- I thought that LA was the best weekend so far for Dungey. He was on it in practice, won his heat and was just a bit off in the main. He's figuring it out…
4. Trey Canard Hon
5. Justin Brayton Yam- Brayton told me after the race that he was happy with his ride and just needs a tiny bit more and he'll be there. You know what? He's right. By the way, JGR had Wahoo's Fish Tacos again this weekend and they were fantastic.
6. Kevin Windham Hon
7. Chad Reed Hon- Reed went down off the start and had to come from last to seventh. He had the fourth fastest lap time of the night, which was decent. He's been testing a ton on his Honda trying to get it to turn better.
8. Brett Metcalfe Suz- Yeah Metty! He holeshot the race and was in the lead before losing the front end early on. That's what a guy needs sometimes, to get out front and see how fast he needs to step it up to.
9. Andrew Short KTM- Shorty had an ok night, he's still waiting to get that break out race on the new KTM. His start was horrible but he snuck in the inside to come out ok.
10. Kyle Chisholm Yam- Chiz is what he is. We know who we're dealing with. Just crown his ass.
11. Nick Wey Yam- Didn't watch Nick much but I did watch his dad T-Wey a bunch before the night show. Great guy, classy, good looking and all that. Maybe I'm going a bit far?
12. Austin Stroupe Yam- Stroupe rode pretty good in his first main event of the year. He's taking it easy in coming back from a shoulder injury. I mean, like real easy.
13. Davi Millsaps Yam- Davi hasn't had a great start to his year but to me, he gets a bit of a mulligan while he tries to find his stride. New bike, new team, and coming back from serious injury, let's give him a bit of time to pull it together. Then if it's not working out, we can break out the torches.
14. Chris Blose Kaw
15. Tye Simmonds KTM- Good ride for the first timer! Have you seen this guy yet? He's a monster.
16. Kyle Regal Yam- I want more. Maybe I'm being greedy but…
17. Mike Alessi KTM- Mike didn't have a good night, not sure what was up but he looked to just be riding around out there.
18. Jason Thomas Suz
19. Ivan Tedesco Kaw- Ivan went down hard and was way back early on. He needs a good rebound this weekend.
20. Tommy Hahn Yam- Hahn went down in the whoops and was barely able to walk after the race, we'll see if he misses any races but his team manager DV told me that there were no broken bones.
One of the casualties from "Traction-Gate" last weekend was us, the TV viewers. We lost the ability to hear what the JGRMX team was saying to each other on their radios. I definitely do not agree with this, as we need new innovations like this to maybe make more people get into our sport on TV. Seems that Yamaha do not agree as they are the ones that contacted Feld (and I heard that James even called the head of Feld Entertainment the next morning to voice his unhappiness) and read them the riot act of airing one blue crew talking about the other.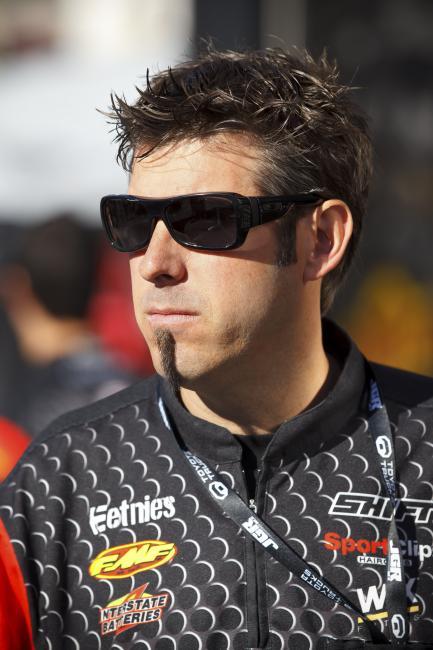 JGRMX team manager Jeremy Albrecht.
Photo: Simon Cudby
Which I don't get, the JGRMX was not saying San Manuel Yamaha was cheating or anything like that (even manager Larry Brooks, when I spoke to him on Sunday, was saying that he heard JGRMX team manager Jeremy Albrecht was calling them cheaters. LB hadn't seen the telecast yet but that was the old, whisper something to someone and then listen at how the story changes when it gets back to you thing) and for Yamaha to get all conservative and climb back into their shells kind of sucks to be frank.
This just in- Dodger Dogs, while not bad, are not all they're made out to be.
Sometimes you just got to stick with what you know is better. In the main event, after the second set of whoops there was a rhythm section where you could go outside and double/triple or hug the inside down the whoops, roll the single and double/double. Early in the race when you're protecting your line you go inside but when James and Dungey were doing this, RV was railing the turn and doing the double/triple.
It was much faster and he passed both riders in this spot. Amazingly, Stewie did not change his line back to that, but Dungey did. It's all a game of cat and mouse out there and tenths of seconds matter. Like the line in the sand pit, this helped RV win the race.
There's something to be said for the men, nay-the gladiators, who roll out on to a supercross track and without hesitation, launch their bike 67 feet in the air over the triple cold. It says that you have faith in your mechanic, faith in your machine and most of all-faith in yourself. In short, you're a bad-ass!
Here are the riders that jumped either triple on the first lap of the first practice. Congratulations men, you are true American bad-asses:
Daniel Blair
Christian Craig
Jesse Kangas
Nathan Malyszek
Preston Mull
Dakota Tedder
Josh Hansen
Jake Canada
And then every one of the 450 in the seeded practice (except for Kyle Regal) did it and I lost interest in the Bad-Ass Club because it seemed too easy.
The award for the nicest looking gear/bike this weekend goes to:
Chad Reed and his Shift ensemble! I've been on this train for a while, I love the modest designs and clean lines Reedy has going on these days. The colors are nice and solid and you can't go wrong with white (Jeff Ward never looked better than the all white Sinisalo get up he had in '84). I'm not a fan of some of Shift's other stuff like skulls, guns, rainbow colors and angry beavers (I might have made that last one up) but I am giving them a big thumbs up for the two-two's gear.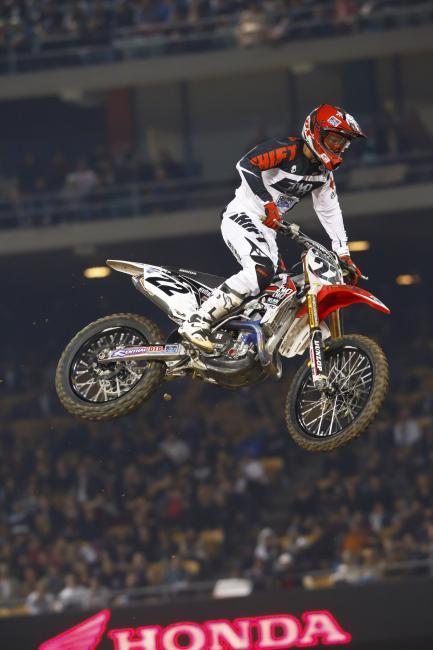 Reed caught the eyes of Matthes in his new Shift TwoTwo gear.
Photo: Simon Cudby
That's all I got this week, hit me up at steve@pulpmx.com if you want to tell me what you observed this weekend (and first smart-ass that says he observed a "pit party" gets a ticking package in the mail from me).